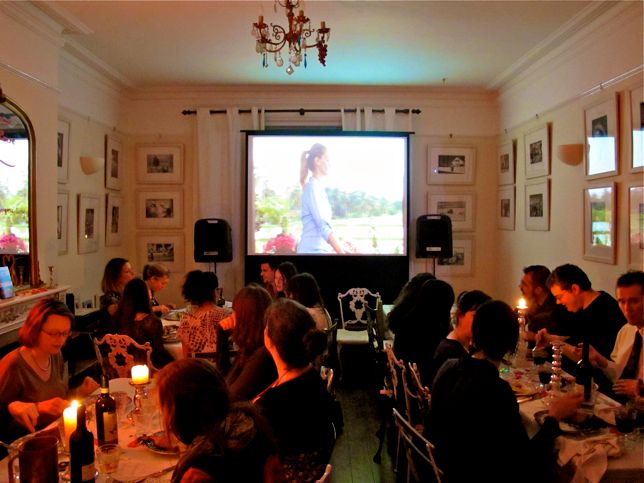 Three countries, three courses, it seems such an obvious way to theme a meal that I'm surprised it's not done more often.
Long haul travel is not my thing so the likelihood of me visiting Indian or Bali is remote, less still to go there to pray or meditate.
The food however, the food, I am perfectly willing to travel in my mind's eye via exciting things on my plate. This is what I was invited to do at the recent DVD launch of Eat Pray Love courtesy of Ms Marmite Lover's Underground Restaurant where each course was matched to the three countries Julia Roberts' character visits in the film – all with a home cinema screen playing the film alongside.
Now I've already published a fairly lengthy review here so I won't cover old ground other than the tell you Eat Pray Love is now available on DVD.
As I said then, this is a film probably best suited to casual background viewing on DVD with girlfriends and as such, at Ms Marmite Lover's Underground Restaurant I had a blast.
For virtually the whole time I've been blogging (nearly two years folks) I have wanted to visit Ms Marmite Lover's Underground Restaurant, arguably the most famous of the supperclub movement. Alas she lives on the opposite side of town and her nights are on Saturdays the only babysitter who can successfully put Ted to bed usually only visits on Fridays (i.e. grandma).
So when I received an invite to go on a Thursday (minus my husband) I said yes in a flash.
Eat Pray Love opens with Julia divorcing her husband. He's not very attractive and has terrible taste in music as we later discover. Julia has everything she's supposed to want but she's not happy. Cue whinging and whining about finding oneself. Meanwhile I get to chat with Cook Sister, Eat Like a Girl and Crump Eats. Julia is folding James Franco's pants in a dingy laundrette. She's still not happy and with her fabulously convenient mega book deal she says ta-ta to New York and goes to find herself. (I'm not a James Franco fan. I can't disassociate him with his role in Spiderman).
As anticipated, we were eating an Italian starter, an Indian main and a Balinese dessert. Julia is spurning the attention of attractive men in Rome. She's eating so much spaghetti she can no longer fit into her jeans (yeah like we believe that). Rather than pasta we get pizzette, mini pizzas made in the Aga with goat's cheese.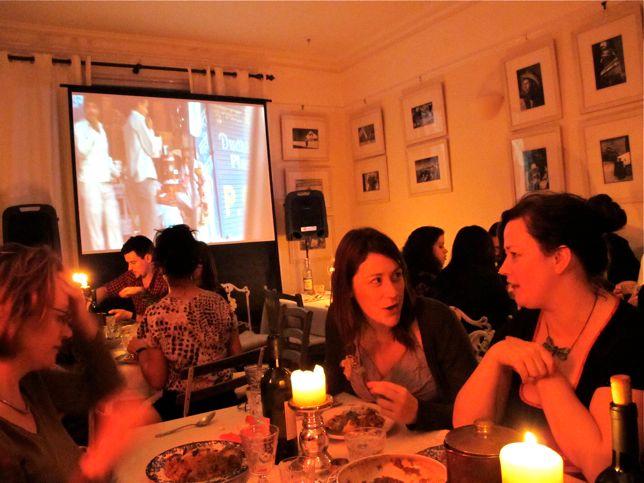 I am in awe of Ms Marmite's generosity to repeatedly host dozens of people in her small flat, I kept wondering "where does she sit to watch the telly" with all these restaurant tables filling her living room. I've read about the exhausting ironing sessions to crisp up all the white linen and considering how making a blasted cake can take over my admittedly fairly large kitchen, how the hell she turns out dinner for 25+ people in one go amazes me.
I love her French taste in tableware too and interior decor too. The walls are adorned with black and white travel photography. The room gives off that white Nordic Elle Deco-magazine look I really love but can never achieve in my own badly lit home with its mish mash of not quite right inherited furniture and Ikea.
On to India. Julia is bumping about in a tuk tuk with children begging at the window. Her guru person is not in India, but back in New York apparently. She has to get up at 3am to meditate. (Why? Why? Will someone explain the point of this? It's all starting to unravel now isn't it.)
Julia is scrubbing floors in the ashram and being pestered by Richard from Texas. We were having more fun being served with pomegranate seed, onion and cucumber cachumber, home made lime pickle, egg and coconut curry and a fruit, nuit and aubergine curry with dill rice.
I love Indian food and especially how creative Indian vegetarian food can be. My favourite part of this course was the egg curry with whole eggs. I've never curried an egg before all I remember reading about "curried eggs" in an 80s cookery book my grandmother gave me (in around 2002!). At the time I'd laughed at them as being very naff but nearly 10 years later I stand thoroughly corrected and will never associate curried eggs with Edwina Curry and late 80s salmonella scares ever again.
Onscreen, an elephant appears from nowhere and the woman who married the bald guy in Four Weddings and a Funeral (who Hugh Grant witnesses having sex whilst he's hiding a cupboard) is wearing a badge saying she's taken a vow of silence. Then she takes it off and you wish she hadn't.
Our lime pickles were a sparky treat too. I keep meaning to make some of these myself.
Finally to Bali for pineapple in chilli syrup served with coconut and rum ice cream. This had a good flavour but I did regret not chasing after someone to get a knife to cut it. Possibly I'd had too much to drink to get up. But the ice cream was super.
Julia meets Javier Badem. I lose interest and check out Ms Marmite's loo with a peak at the kitchen on the way.
And all too soon it was time to leave, frantically running for late night trains to get Greedy Gourmet back to deepest darkest Essex and send Fuss Free Flavours home in time to bake madeleines at midnight.
I hope to return soon with my husband so I can nag him "why doesn't our house look like this."
Eat Pray Love is rated 15 and now available for £19.99 for the DVD and £24.99 for the Blu-ray.
Supperclub: Recipes and notes from The Underground Restaurant by Kerstin Rogers is due out this April and is available on pre-order.
With thanks to Sony Pictures Home Entertainment and Kerstin Rogers AKA Ms Marmite Lover.