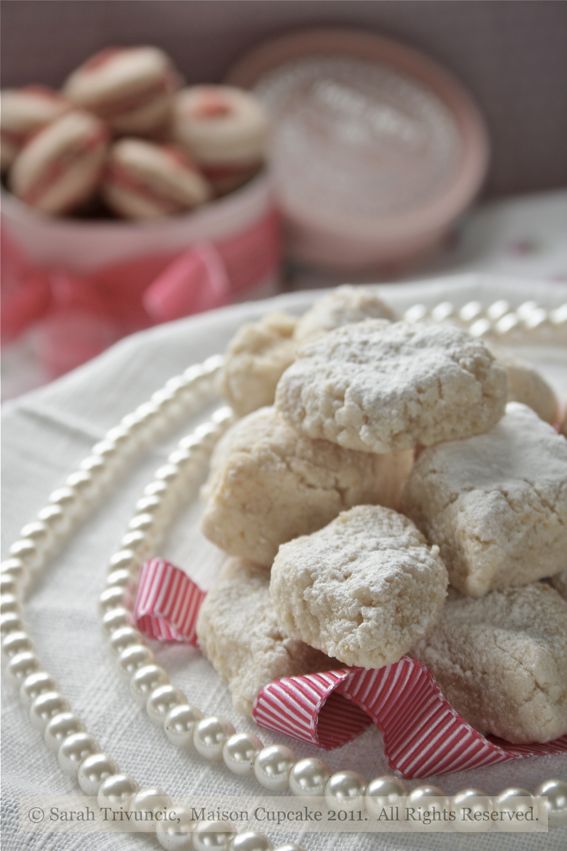 Forever Nigella #2 "Seduced by Chocolate" closed yesterday and as if in complete defiance to smash the record of our inaugural month, it appears that the Nigella love is indeed radiating far and wide to lure scores of you in, hook line and sinker, totally seduced by Nigella and her chocolate.
People. We had SIXTY entries for Seduced by Chocolate. SIXTY.
As if that wasn't enough, four or five of you submitted two posts making the final total even higher. The round up, you'll be pleased to hear will be published as soon as Dom at Chocablog has chomped his way through to decide a winner for the slinky Nigella Living Collection melamine serving hands.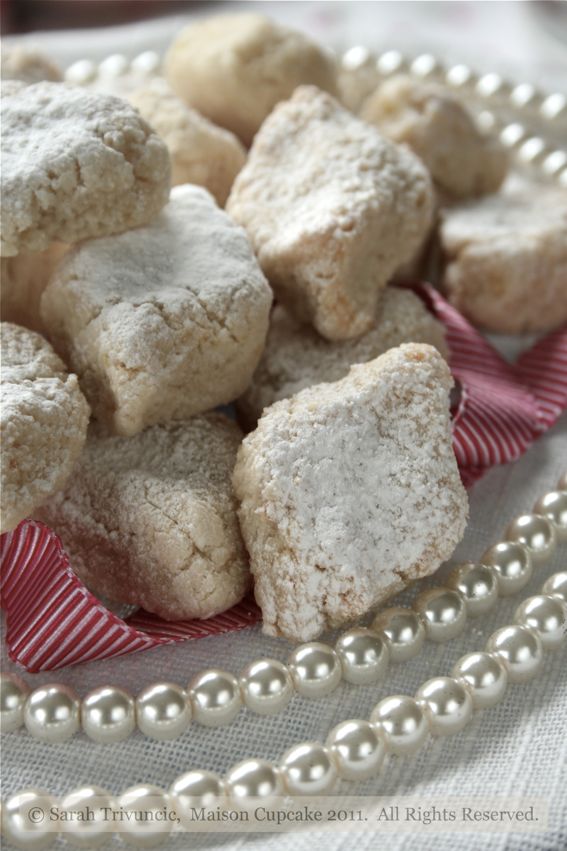 Now I know this upward trend will not continue indefinitely (although it sure is nice for a little while) but I am quietly confident that Forever Nigella #3 will draw in bakers and non bakers alike…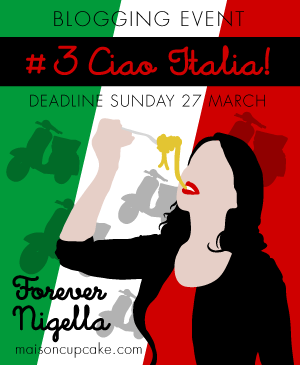 This month's theme is Italian. For Forever Nigella #3 "Ciao Italia" you may submit any Nigella recipes for Italian dishes or those which showcase an Italian ingredient.
Once again you are spoiled for choice. Nigella spent some time living in Italy and she has published many many Italian recipes. It can be sweet or savoury. Whether you fancy cooking pasta or churning some gelato, try to squeeze in a Forever Nigella post this month.
The prize
It's Italian-ish. This month our prize for the post which "exudes the most Nigella-ness" is a copy of:
Eat Pray Love book
Eat Pray Love DVD (yes yes I know the picture is a blu ray. But "they" didn't give me a blu ray)
Eat Pray Love CD soundtrack
NB. I regret that the DVD is only available in Region 2 format (Europe and a few other places – check here). If you win and live outside this area, you'll need to come up with your own techy solution to get it to play. Apparently this is possible, just don't ask me how.
With thanks to Sony Pictures Home Entertainment who gave me these items at the recent DVD launch party.
This month's Forever Nigella judge has the perfect pedigree to oversee our proceedings; Juls of Jul's Kitchen for she is both Italian and passionate about Nigella's recipes!
A reminder of the rules:

Forever Nigella #3 "Ciao Italia"

Challenge: To cook any Italian or Italian influenced Nigella recipe or adaptation (see notes below). Nipping out to buy your ingredients astride a Vespa with a scarf round your hair is actively encouraged.

Deadline: Sunday 27 March, midnight wherever you are.

Round up: A few days later. Maybe a week. It depends how many of you enter. The next challenge will be publicised as soon as this one ends and most likely before the Italian round up.

There are:

No rules about how often you must take part

No rules about stuff being secret until certain dates (although you are encouraged to tease us on Twitter about what you are making)

No rules that everyone cook exactly the same thing

No rules about not being able to submit to any other blog contests – in fact I actively encourage you to do this. Just make sure it doesn't contravene any rules the other guys may have.

But there are 3 rules:

1. We want everyone to keep buying lots and lots of Nigella books so that she keeps writing them so you must NOT reproduce recipes verbatim as shown in Nigella's publications. If you are sticking exactly to the original recipe, just tell us which book it was from and if available, provide a link to it on Nigella.com which publishes a lot (but not all) of her recipes. (You may also find some recipes on sites for some TV stations and newspapers).

Alternatively, you may blog an adapted Nigella recipe so long as you have changed at least two ingredients and write the directions in your own words. Tell us what you changed and why.

2. Publish your Forever Nigella blog post (in English) by the closing date including the latest Forever Nigella graphic and giving a link to this post and/or that month's announcement post. Your entry must have been published since the announcement post. You may only re-blog something from your archives if you republish it with the badge and links to this post before the deadline.

3. Email the details to me at sarahATmaisoncupcakeDOTcom, we need your name, your blog name, a link to your post and a photo no more than 300 pixels wide. No billboard sized images please.

That's it!

Don't forget to tweet your post with the hashtag #forevernigella – I will retweet whichever ones I see.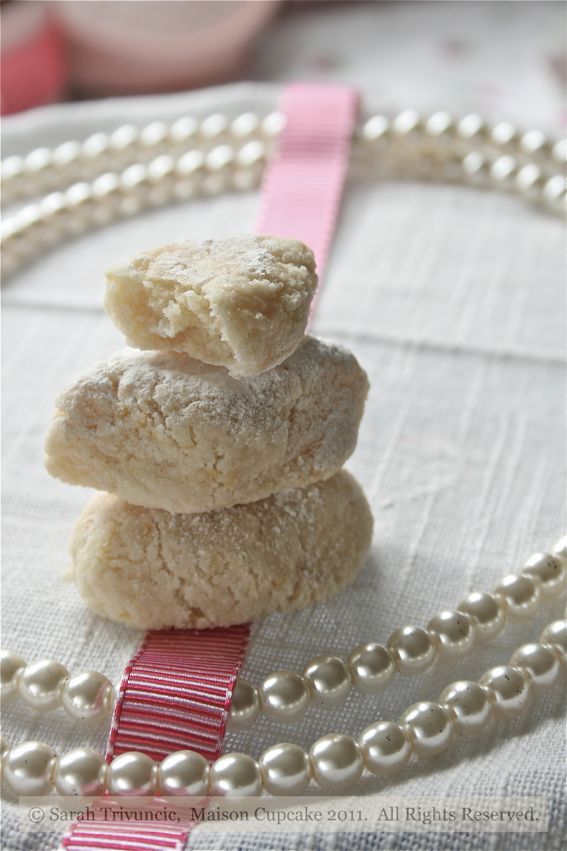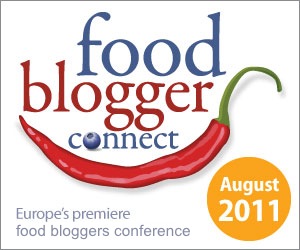 Juls and I first met at Food Blogger Connect last year. (Psssst! Registration for Food Blogger Connect 2011 opened yesterday…. I will plug this in more detail soon but be quick! Early birds have the chance to book into an exclusive photography workshop with Bea from La Tartine Gourmande)
I didn't yet know that Juls would be judging when I baked these ricciarelli but it is uncanny that I did since they are Sienese macaroons, a local speciality to where Juls lives in Tuscany.
I've had my eye on ricciarelli since I first saw them in How to be a Domestic Goddess but amazingly it's taken me ten years to get around to making them for the first time.
They're really easy and my favourite type of recipe – one you can leave lying about for 24 hours until you finish it! The macaroons need time to dry out before baking.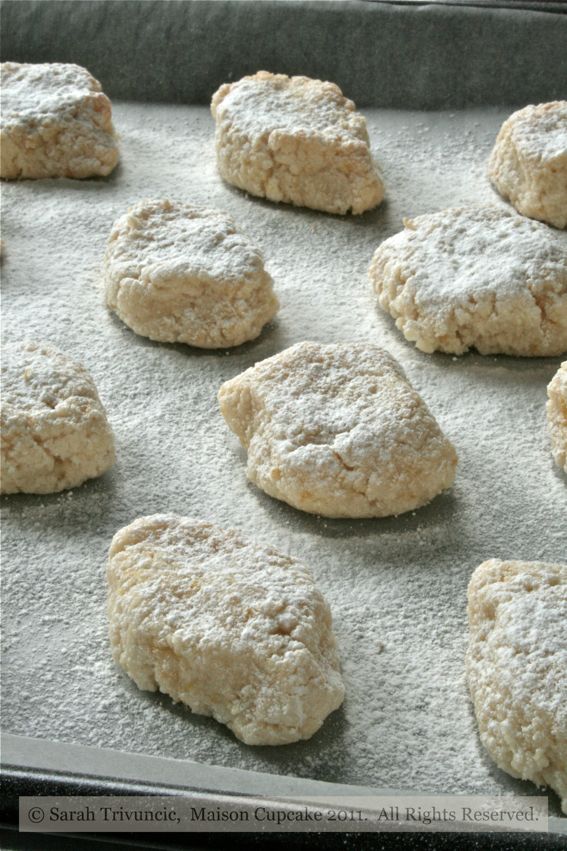 Ricciarelli
From How to Be a Domestic Goddess by Nigella Lawson

In keeping with the rules of Forever Nigella, as I have followed the recipe without any adaptations, I am not reproducing it here.

Fortunately for those of you without the book, an antiquated link on The Telegraph's website here back in 2000 when Tamasin Day Lewis reviewed HTBADG (persevere, it's right at the bottom of a rather long page).

It's poignant to note in this review of several cookery books (including Nigel Slater's Appetite), that baking was not as fashionable at the turn of the millenium as it is now.

To quote Tamasin; "It takes an I-dare-you kind of confidence to write about cup cakes, fairy cakes and sponges in a postmodern way rather than about Tuscan char-grilled vegetables… If anyone can convince you to get out your Springform, Nigella can." And oh how she did!
Arrivederci… or should I say, Ciao! Hop off your Vespa into La Cucina!
I can't wait to see what you all make!