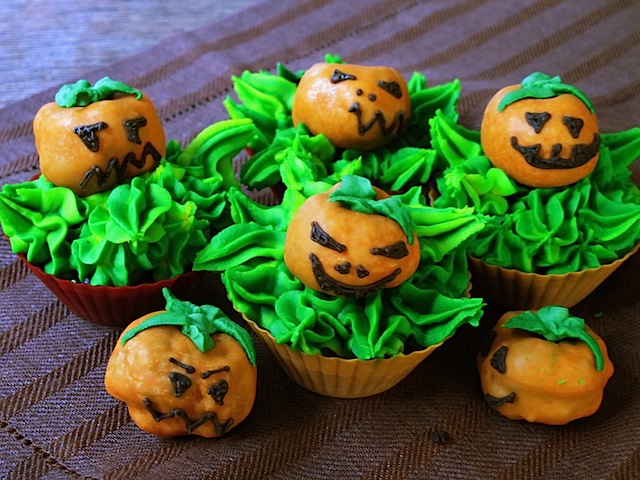 The more evil a pumpkin the better so far as I'm concerned.
Outrageously for a blog with the word "cupcake" in the title, unless I'm mistaken, these are the first cupcakes to feature on here in eleven months.
I'm fairly ambivalent about cupcakes these days and have agonised with changing the name of the site… only I've never thought of anything better so it's down to folks to realise that I am not a cupcake bakery. Well not very often at least.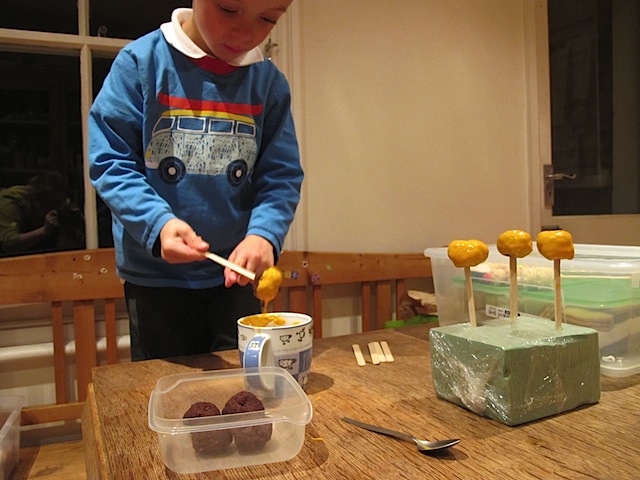 We do seem to have turned in a cake pop factory though. Or "Pop Cakes" as Ted calls them. Left with two tubs of cake pop balls after the last book shoot and supplied with some of the new Silver Spoon orange buttons (similar to Candy Melts), I set out to make some evil looking pumpkin cake balls.
Like the cookies in my last post, cake pops are also a project suitable for doing in stages with small children. You can roll the balls one day, dip them another (or let your children – as above!), decorate them yet another.
Crucial to success is a block of oasis from the florist's or a block of polystyrene. After making do with cake pops standing in Play Doh pots, I am now confirmed to the oasis method if only because I can pick several of them up at once without fear of them falling over!
The Silver Spoon orange buttons (also available in pink) are another example of supermarkets now stocking something that used to only be available in specialist stores or online; no more trekking to Hobbycraft or waiting days for parcels to arrive, you can now buy coloured buttons in mainstream stores.
I found them easy to use, they taste super, however I noticed that the finish was a bit uneven once they set. You get a more even finish with Wilton Candy Melts but I'd definitely buy these again for the convenience factor and flavour.
I also piped the faces on the pumpkins at this point although with Ted around forgot to photograph this bit.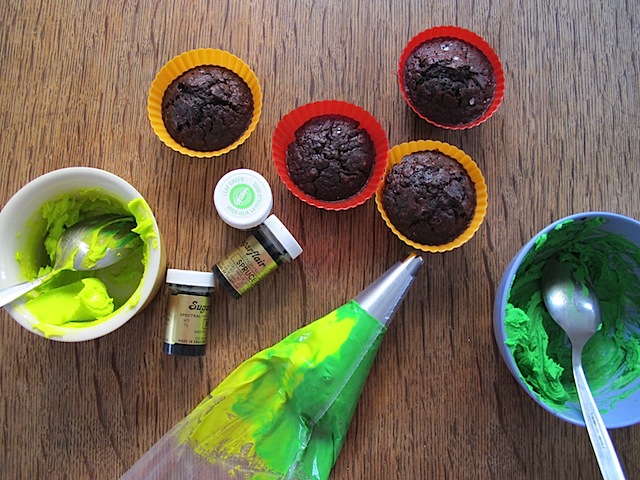 Pumpkins mounted on sticks to dry, things took an evil turn the next day. I have on my mind all things green and with my current piping bag obsession, tinted some buttercream in lurid shades of green and at the suggestion of Helly (who frequently suggests all manner of useful things), stuffed two shades of buttercream into a piping bag at once to create a more interesting effect)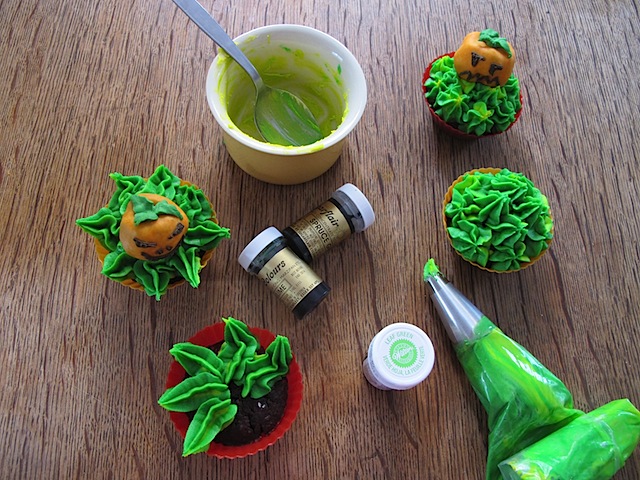 I used three types of food colouring; Bitter Lemon/Lime from Sugarflair for the lighter shade and a combination of Spruce Green from Sugarflair and Leaf Green from Wilton for the darker shade. The spruce is a bit muddy on it's own and the leaf green too bright but mixed together they're just right.
The buttercream is piped with a big star nozzle from a basic Tala piping bag set. The bag got wrecked long ago and I rely on plastic disposable ones for buttercream these days. Is there anything more unpleasant than washing out a greasy re-usable piping bag? I think not.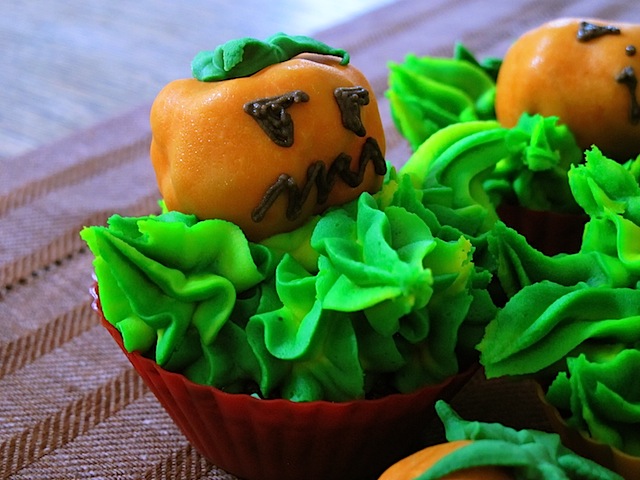 Now for the fun part. The pumpkin cake balls took on a whole new personality when pressed into their new buttercream pumpkin patch homes.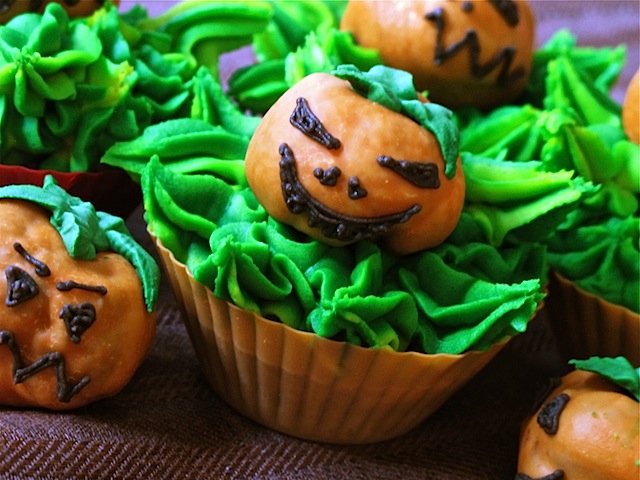 This is my favourite one. He looks really evil.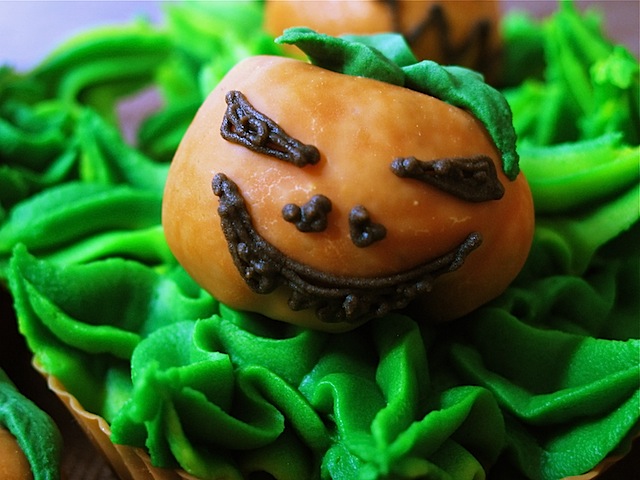 In fact let's take a closer look. Grrr! What noise do evil pumpkins make? Do they howl? I'm sure I read somewhere in Peanuts that some evil dark spirit of the pumpkin patch makes dreadful howling noises leading up to Hallowe'en? (Whereas in Walthamstow Village it's merely urban foxes)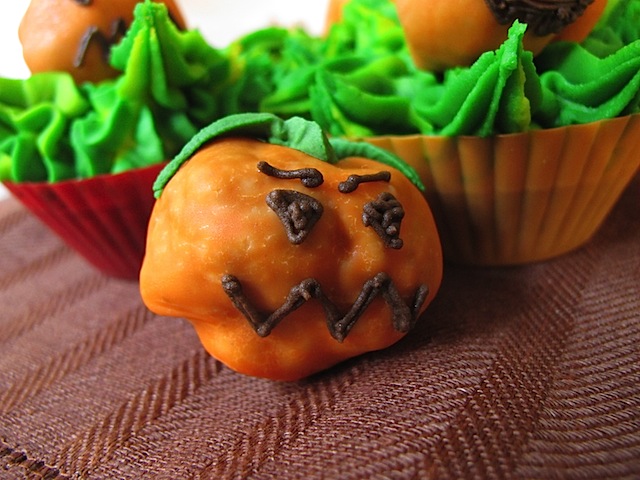 This one looks grumpy. Possibly because there were no pumpkin patches left for him to sit on.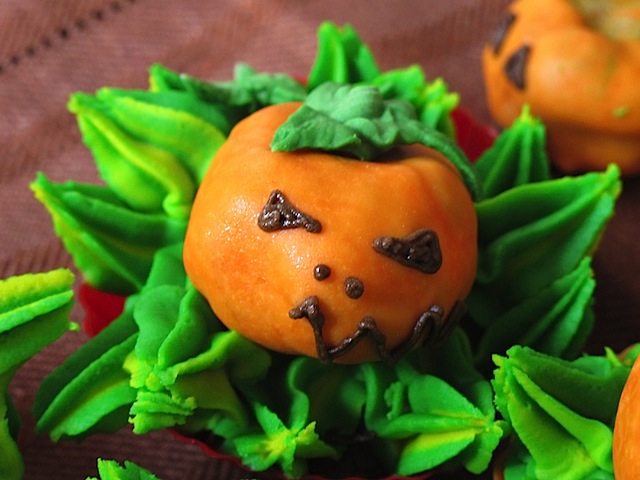 This one looks thoughtful. I'm not sure why but this looks like a Charlie and Lola type expression.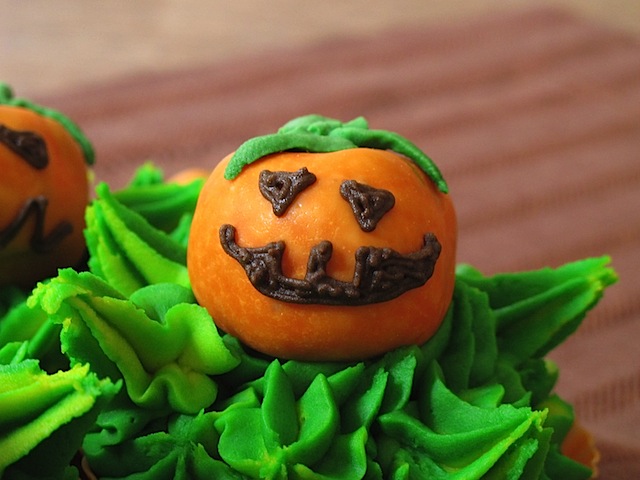 I named this one "Zippy". If you're a child of the 70s or 80s you'll know why.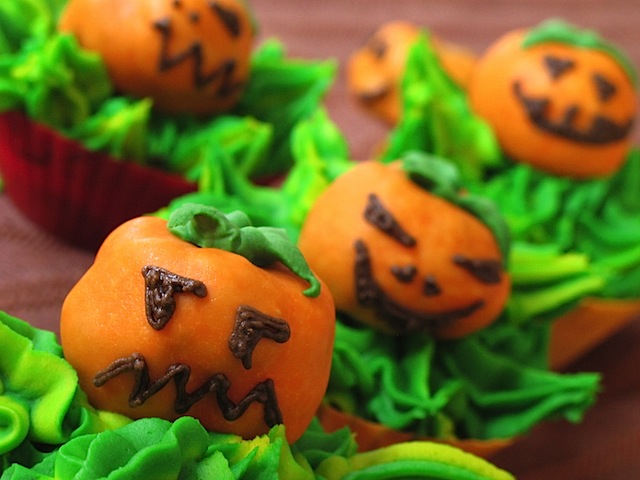 Here they are all together. The one at the front looks confused.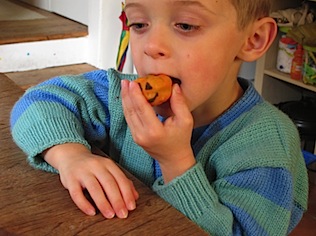 Meanwhile a tiny person is looking impatient whilst he holds up a silver cake board as a reflector. (See I told you he was getting useful in the kitchen now!).
I thought it was time to reward him with a pumpkin cake ball!
And if you thought I'd gone completely evil, guess what… the chocolate cupcake cases are vegan.
The recipe was called "A Good Chocolate Cake" taken from the wonderful new Leon Baking and Puddings book recently sent to me to review. It's a beautiful book and this is by no means in lieu of a review, I will gladly tell you more about it shortly, possibly there is already too much in this post today as it is!
If you really can't face making your own pumpkin cake balls, why not CHEAT and just plonk the Silver Spoon buttons on a blob of buttercream on top of some little cakes. You don't even need to make royal icing for the faces, you can squirt a bit of chocolate icing from a tube such as Dr Oetker.
I think that's the most evil idea of all…
Enjoy!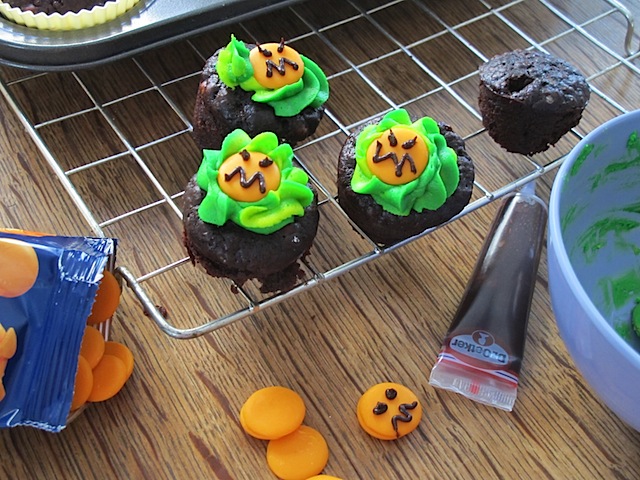 I hope you've enjoyed this post… Don't forget to check out my current WICKED Giveaway of a PAIR OF TICKETS to see WICKED the West End stage show. Click here to enter.
Until Saturday 29th October, you can also try to win one of three pairs of tickets to Cake International thanks to Renshaw. Click here to enter.