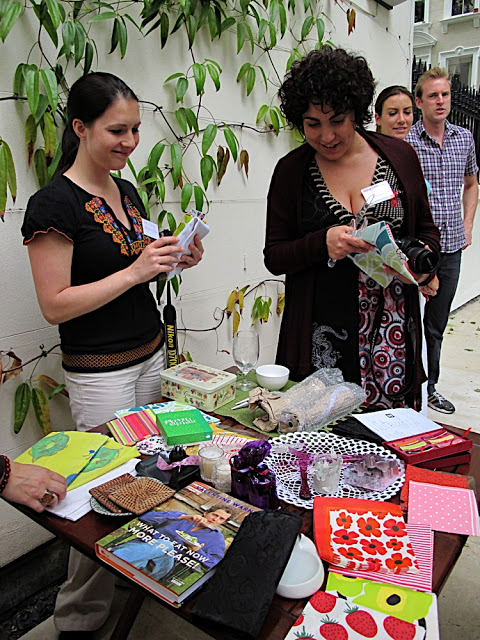 Ilva at Lucullian Delights is hosting the successful Food Props on Sunday series. Over 8 weekends she has published tips on crockery, linens and backgrounds.
A round up, "Show us your props," will be published at Lucullian Delights on 4 July.  Ilva is also a contributor to the sensational photography blogging collaboration,  Between Hemispheres.
Props, as food bloggers know, can help create fantastic photos.  My collection mostly comes from sales with vintage items inherited from my grandma (such as plates in the 
chocolate aubergine cake
post or sundae dishes here). The cellar shelves groan with odd glasses and plates. My back bedroom has Ikea boxes stuffed with napkins, odd cutlery and small dishes. Never mind the
kitchen
. After just 12 months' food blogging!
Small is good when looking for props. A full size plate or spoon can look enormous in proportion to the food. I constantly have an eye out for dinky cutlery and containers or dishes.
Quite often if you have a set of napkins or small dishes, it's boring using them repeatedly in photos. What better way to broaden your collection than to swap your spares with other food bloggers?
At Food Blogger Connect earlier this month, there was a brilliant food prop swap. Armed with a bag full of spare napkins, place mats, cute boxes and ribbons, I picked up new props cast off by other bloggers.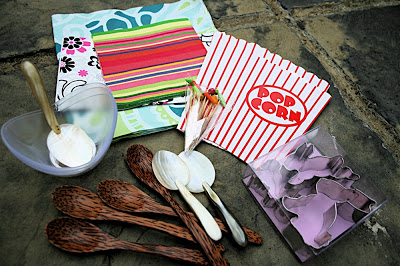 Here's what I got:
a selection of patterned paper napkins;
2 x stripey cardboard popcorn boxes;
4 x African style wooden spoons;
3 x Oriental style spoons made from shell;
3 x shaped plastic serving dishes;
cute packet of cocktail sticks decorated with miniature fruit (centre of picture, difficult to see)
and a box of rabbit cookie cutters!
So do expect some of these items to pop up soon in my food photos. I wish I could tell you who else shared their stuff but apart from Sarka and Guilia above, my memory fails me – my eyes were more on the table!
Other booty gained at Food Blogger Connect: GOODIE BAGS!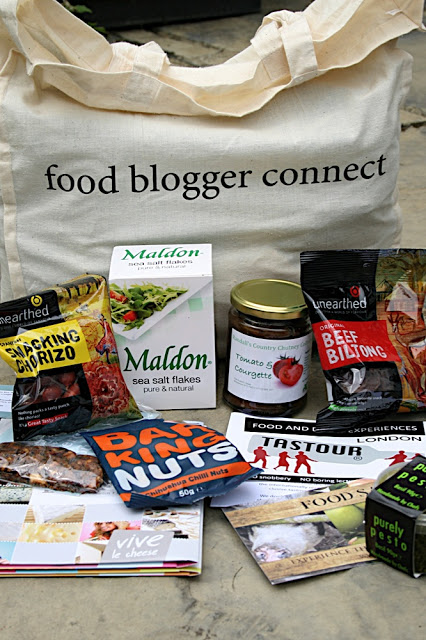 This year we were treated to:
Foods Unearthed Biltong and Snacking Chorizo
Maldon Sea Salt Flakes
Randalls Country Chutney in various flavours – mine was tomato and courgette
Purely Pesto  Pesto (they also make things like hummus and taramasalata)
Barking Nuts Chihuahua Chili Nuts by Olives et al
An information pack from Vive Le Cheese with some wonderful cheesy recipes I hope to use soon
And a yummy chewy bar which unfortunately I've forgotten the name of the company.
Not forgetting, on our chairs upon arrival, delightful (and award winning!) elderflower marshmallows from Caroline at Sugargrain.
If you are fortunate to be meeting up with any lovely food bloggers, why not suggest a prop swap of your own?
Finally, props are only part of the story. For further advice on improving food photography, check out Neel's invaluable blog, Learn Food Photography. He has recently published a two part post summarising the tips that Meeta and Mowie delivered in their Food Blogger Connect presentation on food photography which is well worth a read whether or not you saw the original talk.