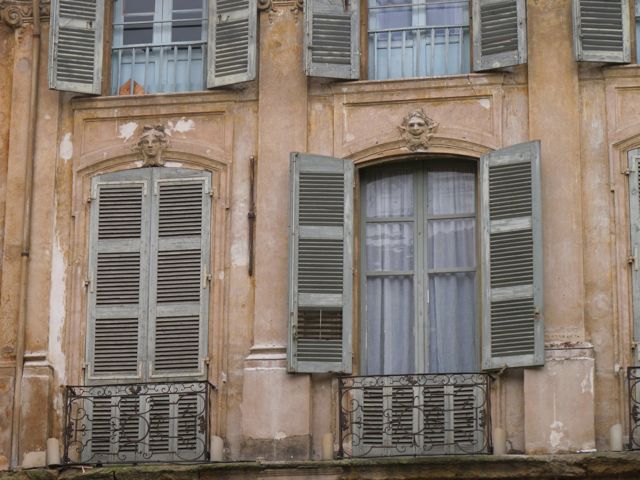 For a long time I have wanted to write a blog about my travels in France. Despite having bought a domain and built a site, I never seem to get the project fully off the ground.
When you already have a site with an established audience, it's tough to start again from scratch feeling like no one is listening.
Whilst I make my mind up about what I might write on my French site I have decided to introduce a new regular feature here on Maison Cupcake. I figured if I always posted a brief France related post on Fridays, I would effectively be giving myself a day off before the weekend.
So it might be like tumbleweed, you might love it, I don't know. You might convince me to get writing that material for the French travel site after all. I will post a picture from one of my trips to France alongside a short story about it.
Today's picture is from one of the squares in Aix-en-Provence.
Aix-en-Provence will always be special to me since it was the first place I went on holiday with my husband (before we were married) and also where we began our honeymoon. At October half term last year, we spent a week in St Remy de Provence which we ended with a day trip to Aix.
I realised we had not been to Aix since 2002 and that had only been for one night. We arrived late at night from the plane, had dinner in our favourite restaurant before travelling on to the Languedoc region the next morning. On our honeymoon in 2004, we didn't leave the hotel – which isn't quite as raunchy as it sounds – the hotel, Villa Gallici of the Relais Chateaux group, was in its own grounds outside of Aix and SO over our usual budget we stayed within its confines for the full 48 hours before transferring somewhere cheaper for the rest of the fortnight.
So this meant that Aix, a place that felt so familiar, was actually somewhere I'd not been in daylight since 1999. Thirteen years earlier.
Now that makes me feel old. Oh and our favourite restaurant was now a mobile phone shop. Plus ca change!
Have you ever been to Aix?