"Postcard from" is my regular series of weekend non-recipe mini posts.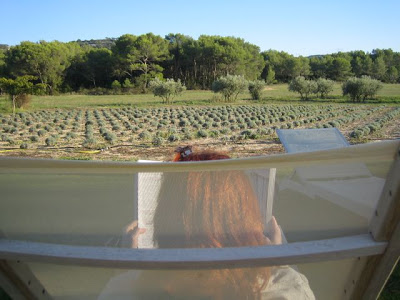 Spring has sprung in London this week, I had the unfamiliar experience of saying, "Look Ted! The sky is blue."


My thoughts are turning to the summer holidays and how I am going to entertain the little person for six or seven weeks whilst preschool is shut.


Nowadays, the days of sitting reading a book overlooking a lavender field with olive trees are behind me for the time being. As are the days of having hair this gloriously red as I now do it myself rather than going to a West End hairdresser.


This photograph was taken in the garden of a bed and breakfast outside the village of Eygalières near to St Remy de Provence in around 2005. Usually we would stay in town but thought we would try out something different.


We found it a bit lonely really. There were not many other guests, it was over a mile into the village (where the restaurants were verrrry expensive) and we preferred being in St Remy where fortunately we were moving on to after 2 nights.


One morning, as we sat in the cold echoey breakfast area, the patron started talking to me but my French is a bit rusty. He appeared to be telling me about someone but I was very confused why he would be telling me this.


"Qui est-ce Monsieur Figaro?" I asked.


It turned out he was offering me the newspaper. My husband teased me for days.


My French used to be excellent. I could hold conversations with strangers in restaurants and sort out the various messes that cropped up on holiday. So what happened?


Simple. We had a holiday in Italy twice in a row and I learned how to get by as a dumb tourist. My French skills were never really the same again. Secondly I blame the advent of the internet as I no longer need to make my hotel bookings by telephone. Fortunately I can still cope with ordering food from menus.


So for this year, top of the list is a hotel/apartment complex in Brittany where we have stayed in pre-Ted days and we know has an onsite paddling pool, barbecues and hog roasts for evening entertainment, isn't too far from the beach and can be reached by car within Ted toleration distance.


We will hopefully also spend some time in the Midlands and visit Grandma on her narrowboat (as seen in this slot last week).




In the next few days I expect to be publishing my 100th blog post. If you have anything you would like to ask me about baking, blogging, holidays in France or anything else, then please leave a comment underneath and I will publish answers in the next few days.