It is I (who have been shopping at) Mnsr Leclerc…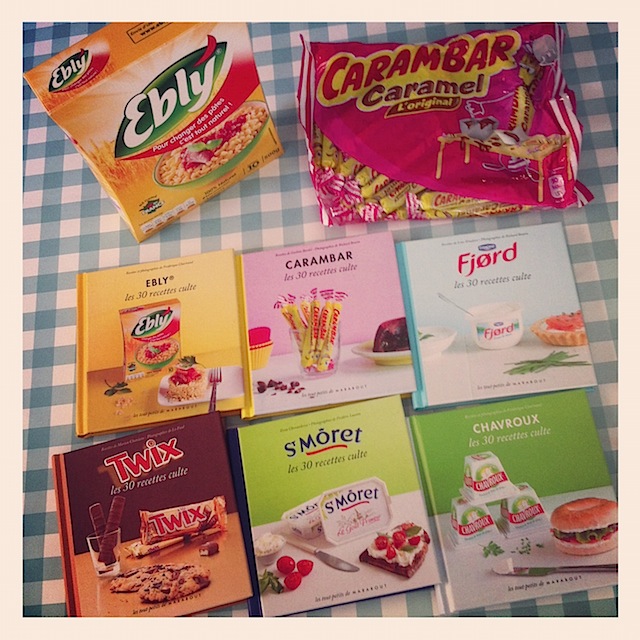 You know I just cannot resist a chance to add to my collection of Les 30 Recettes Cultes whenever I'm in France. I have about 18 of them now and actually could do with a list of which ones I already have so I don't double up.
On our recent trip to Biscarrosse during August I tracked down copies of this series for Ebly (French wheat grain brand), Carambar (caramel sweets), Twix, fromage frais, cream cheese and goats' cheese inspiration. Yes there's a British series called 30 Best Recipes but they don't sell it as a convenient one off, they sucker you in to buy it as a part work and in any case, the recipes in the French editions are way more sophisticated.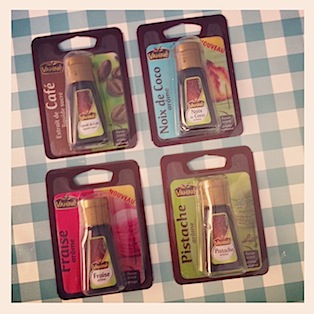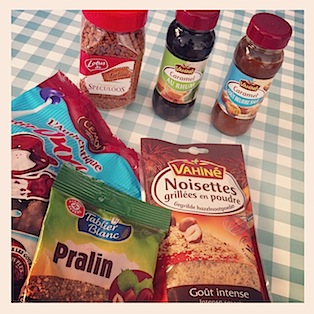 I also picked up this selection of flavourings that I'd not seen duplicated by brands in the UK; coffee, coconut, strawberry and pistachio.
And in the baking aisle I also picked up caramel sauces in rum and salted flavours, ground hazelnuts (rarely seen in the UK), praline mix and chocolate marshmallow "Petit Oursin" bears. You might also spy a jar of Speculoos crumbs which I enjoy on top of yogurt and fruit for an easy pudding.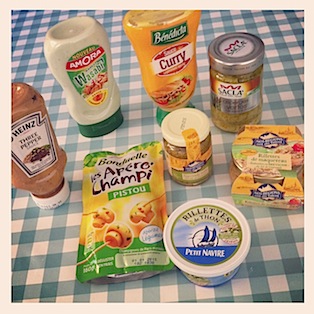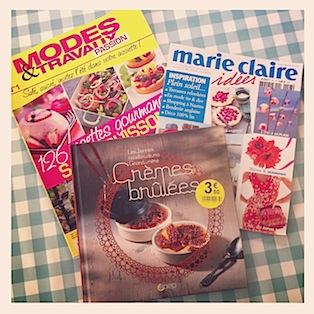 The savoury selection includes sauces I'd not seen in the UK; Heinz pepper sauce (curious!), wasabi mayo, curry sauce and a Sacla asparagus pasta sauce. I didn't buy as much canned fish as previous visits limiting myself to these tuna and mackerel rillets in pretty tubs.
New magazine Modes & Travaux Passion caught my eye as did the latest issue of Marie Claire Idees. Finally I spotted a book full of creme brulees at the service area on the way home for the bargain price of 3€50. French motorway service areas can be surprisingly good for a cookery book bargain – last trip you may remember I found a Trish Deseine chocolatier kit including a book for just 5€.
Did you bring any foodie things back from holiday?