This goats cheese soufflé has gone down a storm in my household – it's a cross between roux and cake. What's not to like?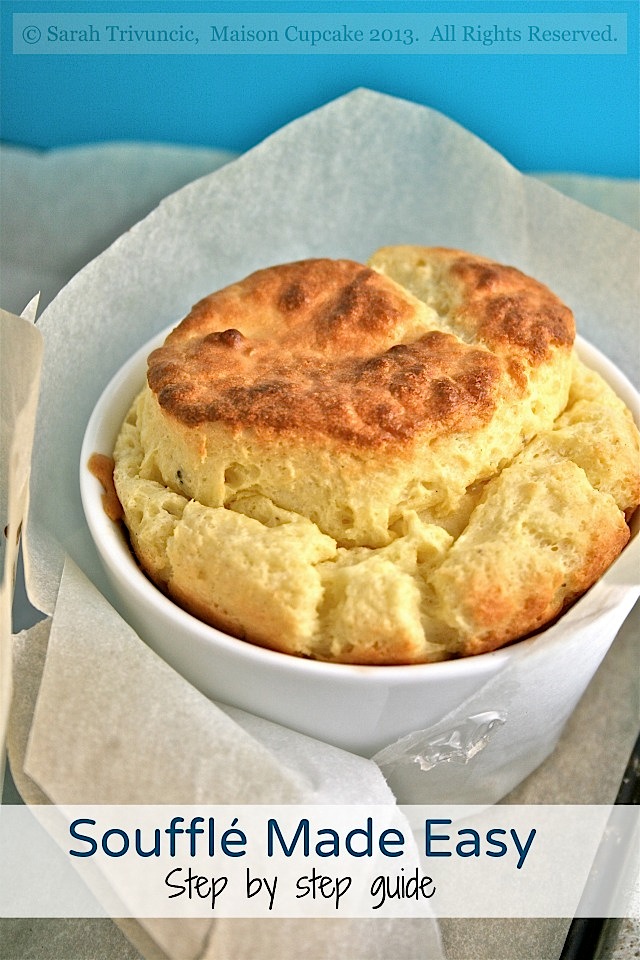 Believe it or not, this was my first ever souffle. Both eating and making it. Weirdly, despite my extended travels in France, I don't recall ordering it on a menu. And I'd never cooked it myself at home.
Soufflés have a reputation for being tricky. Admittedly they're not something you make in advance (although there are various twice baked versions around which purport that you can).
I just hadn't got around to trying them, not cheese varieties, not chocolate, not any souffle whatsoever.
This all changes now.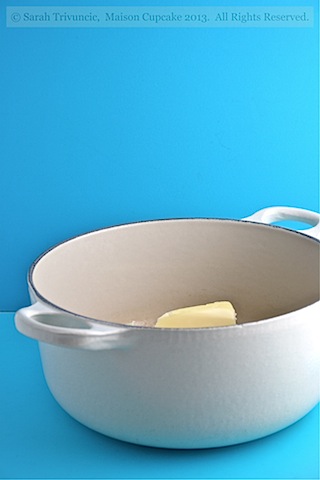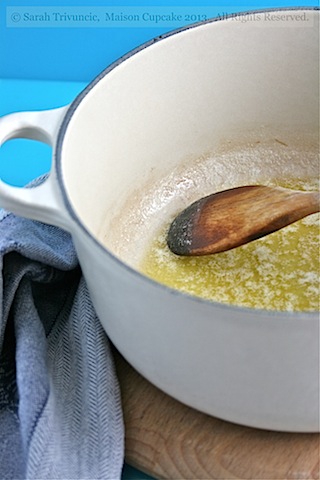 How to make goats' cheese soufflé
First we start with some melted butter.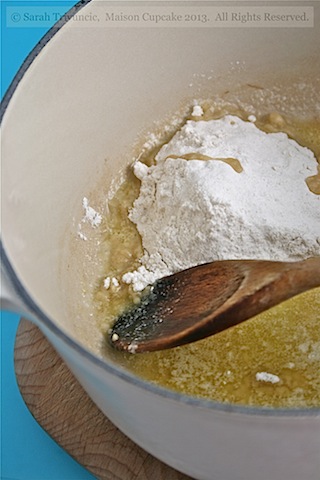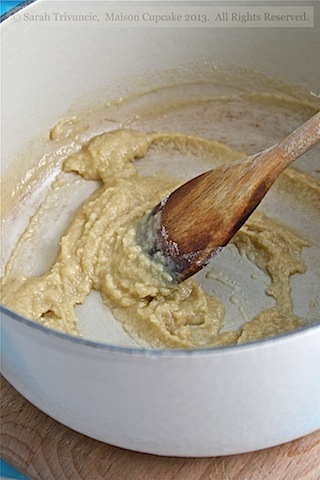 And gradually add flour to form a generous quantity of roux white sauce.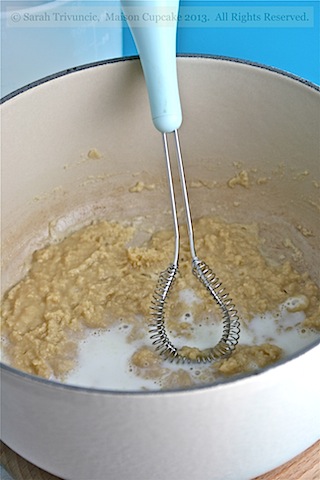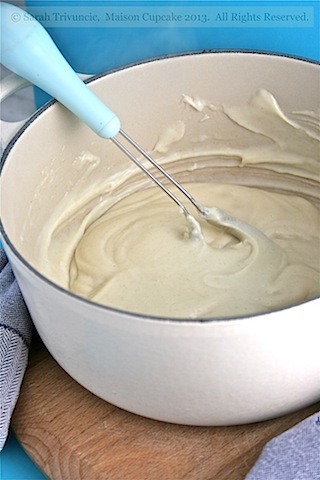 A Nigella Lawson style whisk isn't essential but certainly looks pretty.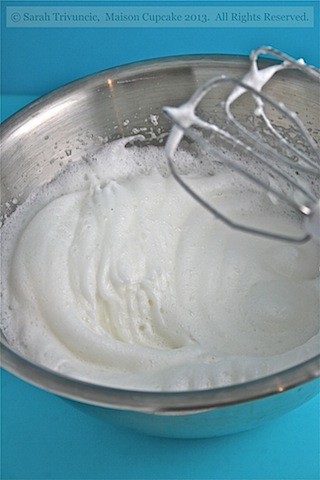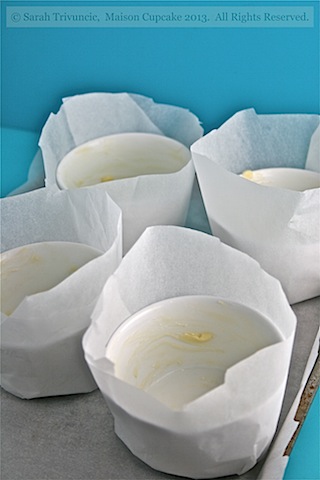 Meanwhile separate the eggs and whisk the whites until stiff but not dry. If you live in hope your soufflés will stand up then make little coats to surround your ramekins with parchment paper.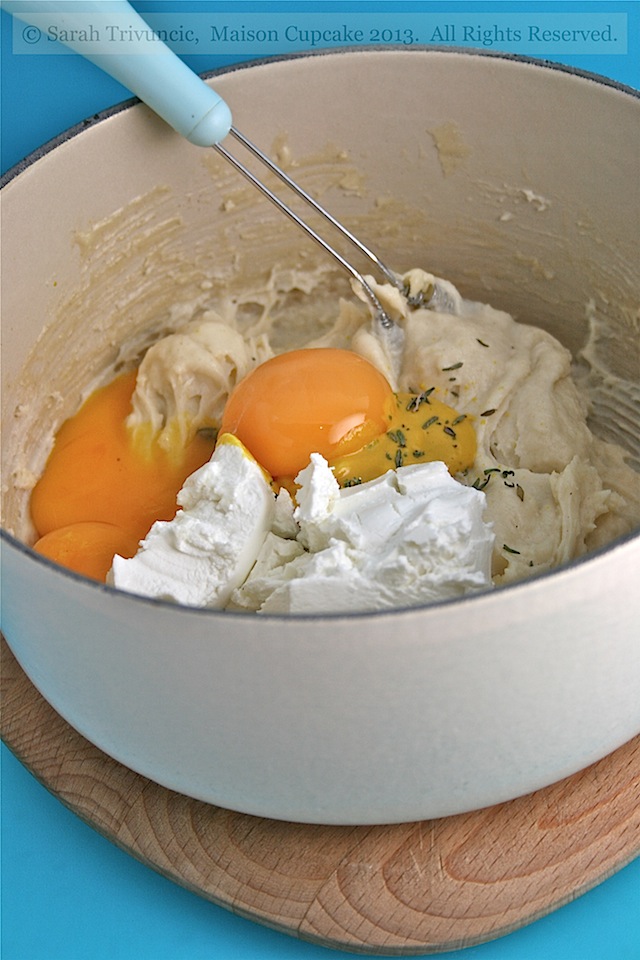 Gently beat the egg yolks and whichever ingredients you are using to flavour the soufflé. In my case today that would be soft goat's cheese and thyme.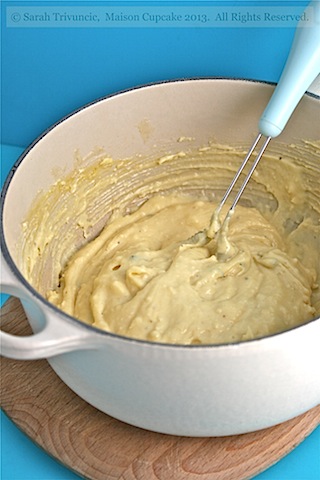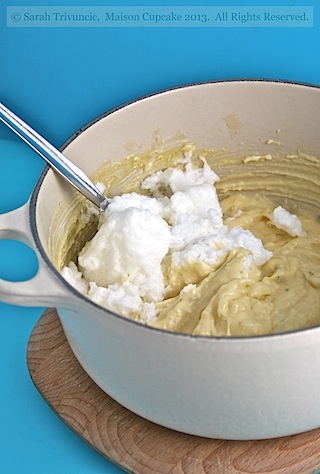 When combined fold in the egg white with a metal spoon. You might like to fold the first third in quite quickly before taking more care with the remainder so not to lose air.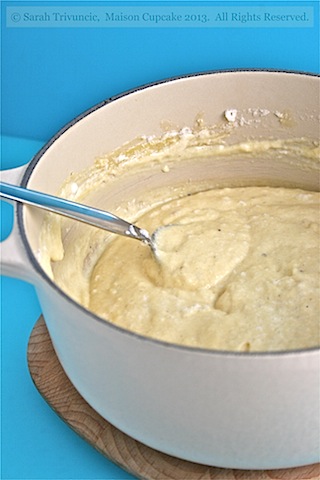 Spoon the inflated goats cheese soufflé mixture evenly into ramekins. This recipe yields 4 large individual portions or 6 smaller ones.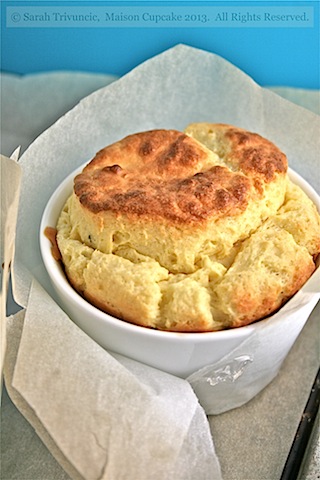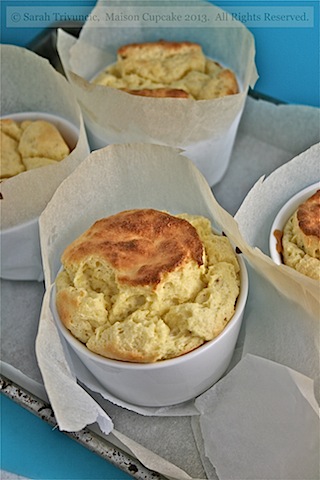 Bake in the oven at 190c / Gas 5 for around 30 minutes. Don't open the oven door until they're ready to come out. Ta dah!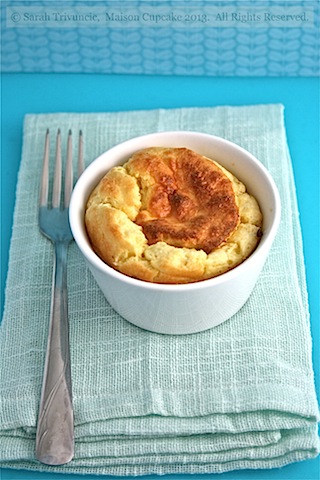 Now these little babies did hold up their crowns quite nicely for a good ten minutes after coming out of the oven. I will admit though that by the time I'd faffed with photo styling arrangements on props that they'd deflated. A lesson for next time!
We enjoyed our soufflés for weekend lunch and will DEFINITELY be trying them again. Ted thinks they're the business and I'm inclined to agree.
Have you been scared of making soufflé?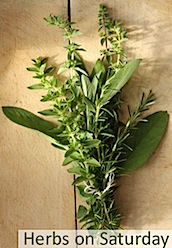 I am sending these goats cheese soufflés to Vanesther for Herbs on Saturday and Jen at Blue Kitchen Bake for her Classic French event which was themed "soufflés" this month.
Goats Cheese Soufflé recipe with thyme
Serves 4-6
Ingredients
50g butter
50g plain flour
300ml lukewarm milk
100g soft goats cheese
large pinch of salt
3 large eggs separated
1/2 tablespoon thyme leaves
You will also need 4 large ramekins or 6 smaller ones well greased with butter and each surrounded by a cylinder of parchment paper.
Directions
1. Preheat the oven to 190c / Gas 5. Melt the butter over a medium to low heat and mix in the plain flour stirring continuously.
2. Using a whisk, mix the milk in gradually to form a roux. Allow the mixture to come to the boil and then simmer for a couple of minutes until the mixture is thick and comes away from the sides of the pan.
3. Remove from the heat and allow to cool. Meanwhile whisk the egg whites in a large mixing bowl until stiff but not dry.
4. Beat the egg yolks, goats cheese, thyme and salt into the milk mixture.
5. Beat one third of the egg yolk into the milk and egg yolk mix to break some air. Then fold the remaining egg white in one third at a time until just mixed taking care not to over do it and crush the air out.
6.  Spoon the souffle mix into your prepared ramekins and bake in the oven for around 30 minutes. If you make one large souffle it will take longer. Serve the soufflé immediately.