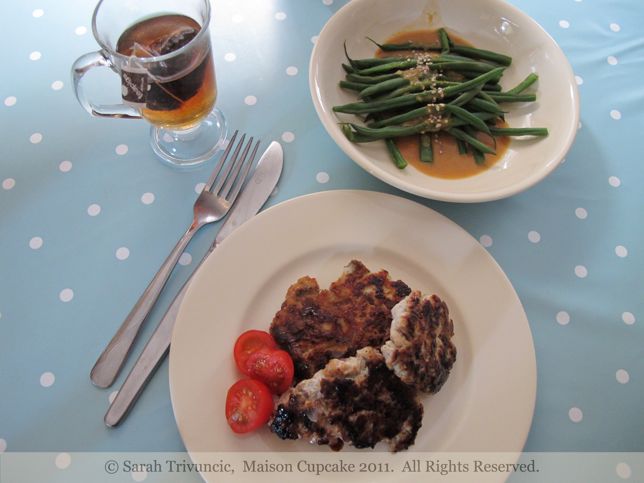 Following on from my review and giveaway of Gwyneth Paltrow's Notes From My Kitchen Table this week, here are two recipes that I have tried out.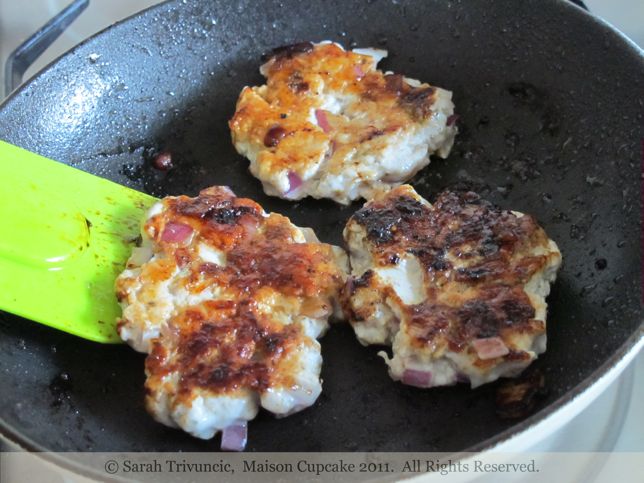 "Home-made turkey sausage patties" are in the breakfast chapter but I cooked them for dinner in burger form.
I refuse to call these mini burgers "patties" as described in the book. Rissoles, fair enough. Patties are something cows poop out.
They're ideal for a family tea. I omitted the chilli and didn't have "herbes de Provence" salt to hand. However as luck would have it, I had "sel de Mouclade" from last year's holiday on Ile de Re. This is a kind of mild curried rock salt so I used this instead.
I also added a finely chopped red onion because it was hanging about in the fridge needing using. Gwyneth herself notes that you can make this recipe kid friendly by leaving the chillli out.
Whereas turkey mince can be a bit anaemic, the maple syrup or in my case, agave nectar, caramelises to brown the burgers. They're still not that pretty but tasted very good indeed.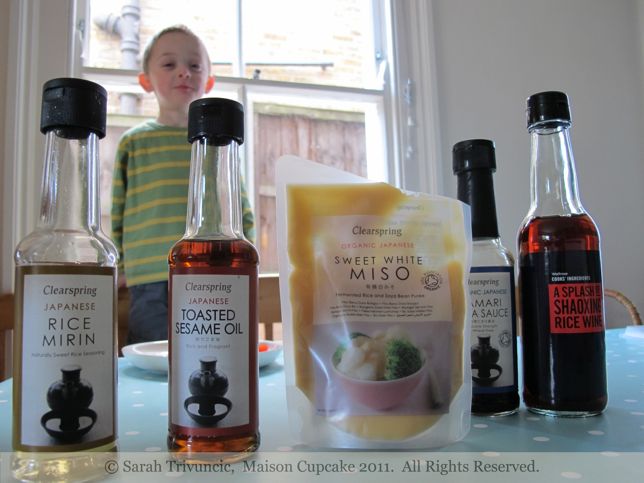 The miso dressing gave me an opportunity to use lots of lovely Clearspring products as talked about in my post last week. I bet Gwyneth loves Clearspring.
Above from left to right you can see Clearspring rice mirin, toasted sesame oil, sweet white miso and tamari soya sauce. I found shaoxing rice wine amongst the Cooks' Ingredients section in Waitrose.
Gwyneth says her son Moses would dip his whole hand into this miso dressing and lick it… I can see where he's coming from, it has a peanut butter like compelling-ness about it. Ted's response was "that is yuck."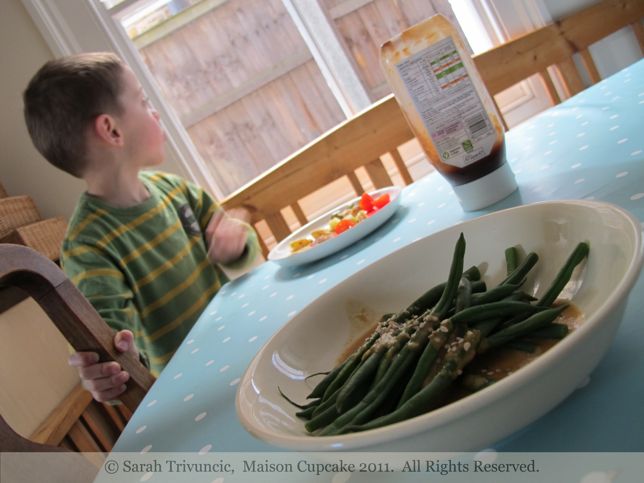 Fortunately he ate the turkey burgers although he said "no" when I asked whether he'd like me to make them again. All the more for mummy then.
The miso dressing will keep in the fridge for at least a week. It's versatile enough to be used on fish, meat, vegetables or tofu.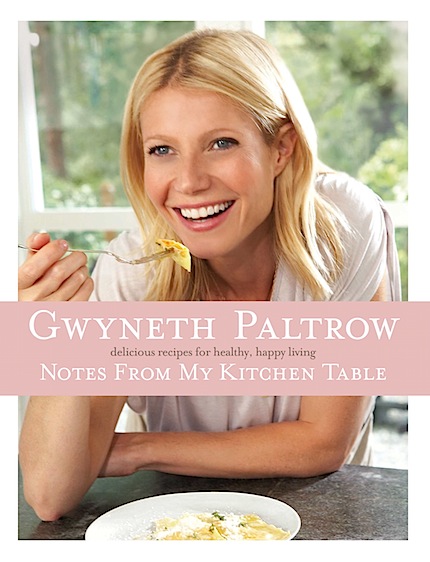 Win one of three copies of Notes From My Kitchen Table up until Sunday 29 May 2011 by checking out my giveaway here.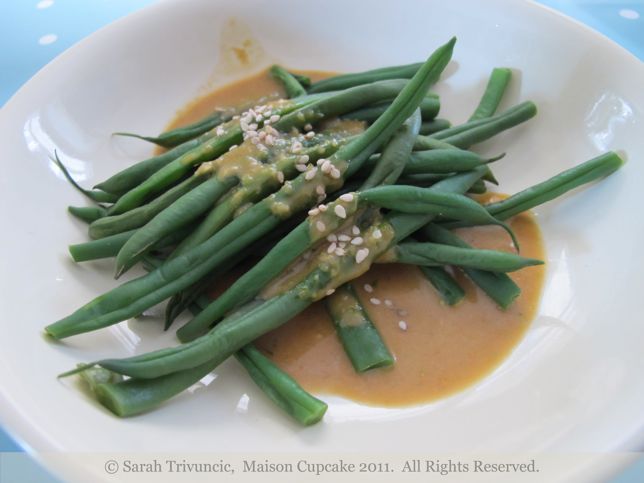 Miso dressing

Makes 300ml

Total preparation time 5 minutes

You will need a stick blender

Ingredients:

1/2 mild onion, peeled and roughly diced (I used 4 spring onions)

1 small clove of garlic, peeled and roughly chopped

75ml white miso

2 tbsp toasted sesame oil

35ml soy sauce

2 tbsp rice wine vinegar

2 tbsp water

large pinch coarse salt (I didn't bother)

a few grinds of black pepper

75ml vegetable oil

Directions:

Blitz everything but the vegetable oil* together in a blender until smooth. While the blender is running, slowly stream in the oil. Season to taste.

*I blitzed whole lot together. Works fine.

Home-made turkey sausage patties (oh go on, I'll call them this since I'm reproducing the recipe but they're rissoles or burgers really)

Makes a dozen small patties

Total preparation time 15 minutes (this is not realistic, I'd say 20-25 minutes)

Ingredients:

1 tsp fennel seeds

pinch crushed chillis

pinch cayenne pepper

pinch herbes de provence salt (normal salt with some dried herbes de provence would be fine)

1/2 tsp coarse salt (not necessary in my opinion if you've already used salt above)

1/4 tsp freshly ground black pepper

1 tsp finely chopped fresh sage

225g minced turkey

2 teaspoons real Vermont maple syrup (one of Gwyneth's obscure ingredients… presumably any maple syrup will do the job although I didn't have any at all and subbed with agave nectar which worked fine)

2 tbsp extra virgin olive oil

Directions:

Using a pestle and mortar, a Flavour Shaker (gotta love Jamie Oliver) or mini food processor, bash the fennel seeds, crushed chillies, cayenne, salts and pepper together. Combine this spice mixture with the sage, turkey and maple syrup in a bowl until thoroughly combined.

Form the mixture into small, thin sausage shaped patties. Heat the olive oil in a large non-stick pan over medium-high heat. Cook the sausages for about 1 1/2 minutes on each side, pressing down with your spatula to really brown them and keep them thin. Serve warm.

Gwyneth's note: You can even freeze the cooked patties and reheat them in the oven.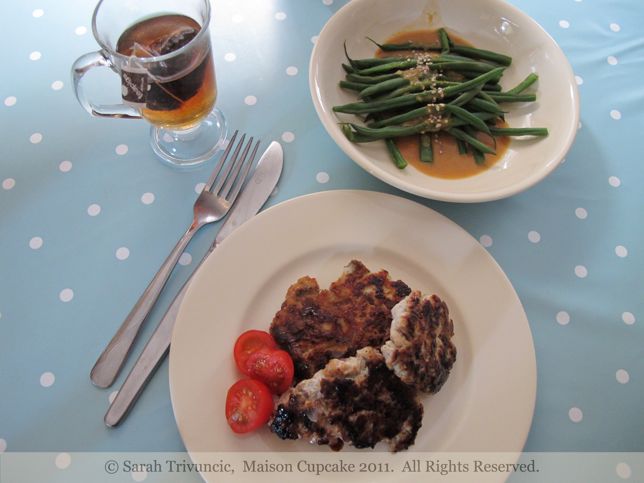 If you're wondering what this drink is, it's Tea Pigs chocolate flake tea. Well you didn't think I'd deprive myself completely did you?
Recipes reproduced with permission from Gwyneth Paltrow's Notes From My Kitchen Table, available in hardback from Boxtree RRP £20.