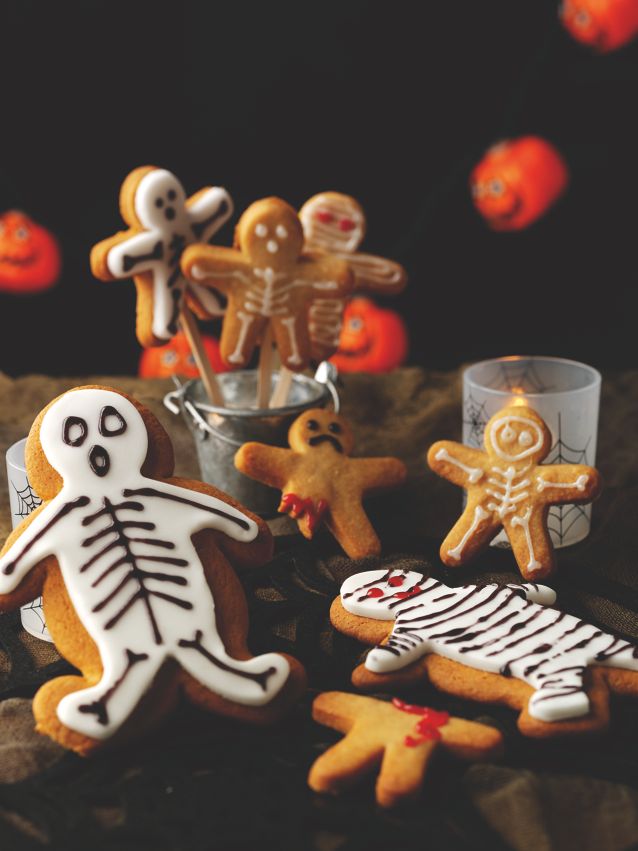 Having grown up celebrating Hallowe'en with little more than apple bobbing in a bin bag, the explosion of this spooktastic celebration still takes some getting used to. Trick or treating appeared in my neighbourhood some time after The Goonies rather than E.T., like carol singing only with menaces passing without event just in time to get Penny For The Guy out.  Whatever happened to Penny For The Guy?! I loved raiding my dad's wardrobe for clothes to burn although these days kids could probably spend their trick or treat money in Primark and still have enough left over to buy bangers.
Bin bags, in the days before supermarkets sold ready made outfits, were of course the lazy answer to the witch costume. No Harry Potter or Twilight aspirations for kids in the eighties, just talcum powder wiped round your chops and an excuse to go out looking like Siouxsie Sioux for one night. My girl guides meeting always had a hallowe'en party on the Monday night and I'd always visited my grandmother the day before. My grandma was responsible for costumes for the local pantomime society and kept an Aladdin's cave of costumes and props in her front room. Each October I would plead with her to borrow an outfit for the girl guides' party and after some fussing about in the infamous front room, she would emerge, rather like the shopkeeper in Mr Ben with an array of suitably witchy garments for me to try on.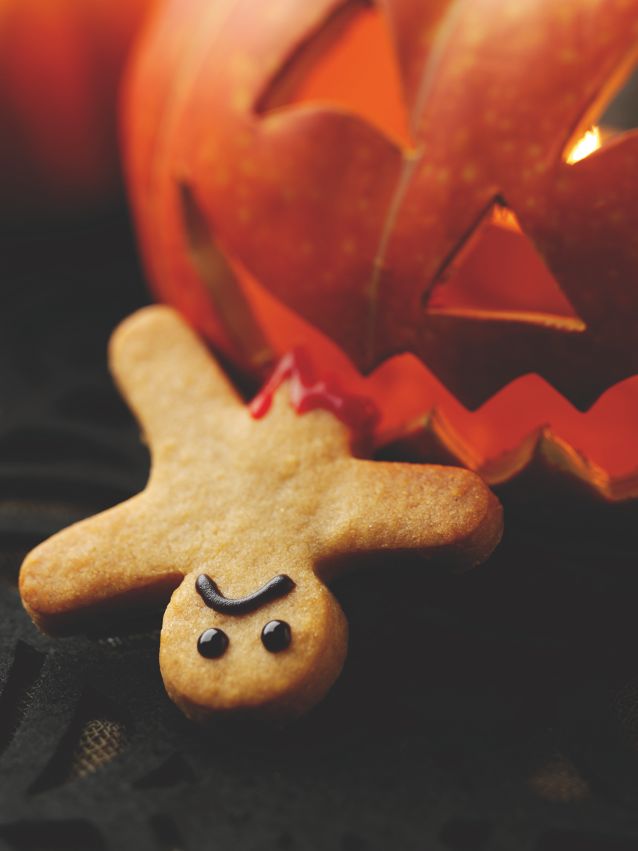 Invariably I would dress up as a Gothic witch with backcombed barnet and deep purple Constance Carroll lipstick although one year I was tempted by the black unitard and balaclava with skeleton bones painted on it in luminous paint.  The guides' party was always well, a scream.
Food never featured prominently then, just the aforementioned apples and a plastic spider buried in flour (to be picked up with your teeth). Pumpkins were confined to Blue Peter, noone did them in real life, I don't think I ever saw a pumpkin for sale until I moved to London. How we would have been spoiled by the treats available today!
I have a few of my favourites here.  Above are the results of a Sainsburys' suggestion how to use their Eric Bakes Gingerbread Men kit – this is available instore, I cannot find a link on their site but you could use any gingerbread biscuit recipe to achieve the same effect. I so wish I could have made these ones myself but I am using the excuse that I've just been away to Montenegro for a week (way scarier than Hallowe'en incidentally….). I love these little skeleton biscuits, they remind me of the Mexican day of the dead.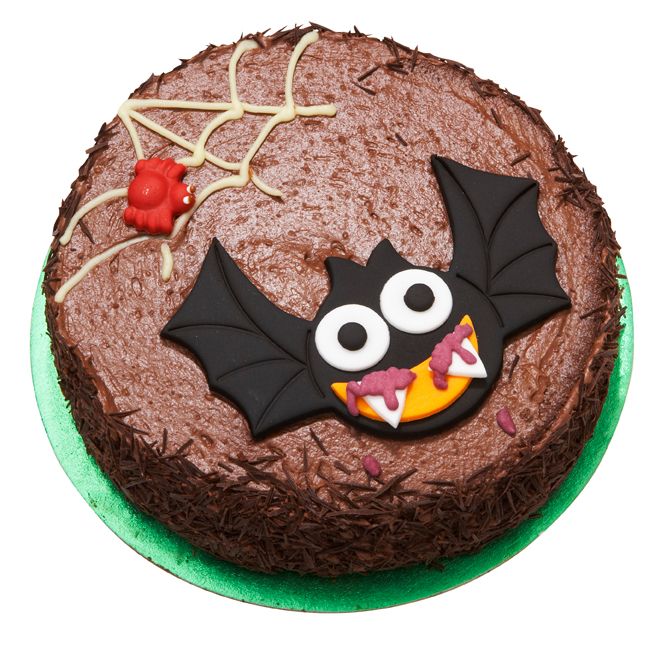 More cute than frightening are these two offerings from Tesco, a chocolate cake decorated with a fondant bat and some fondant pumpkin covered cupcakes. Eee-yuk, the bat even has blood on his fangs!!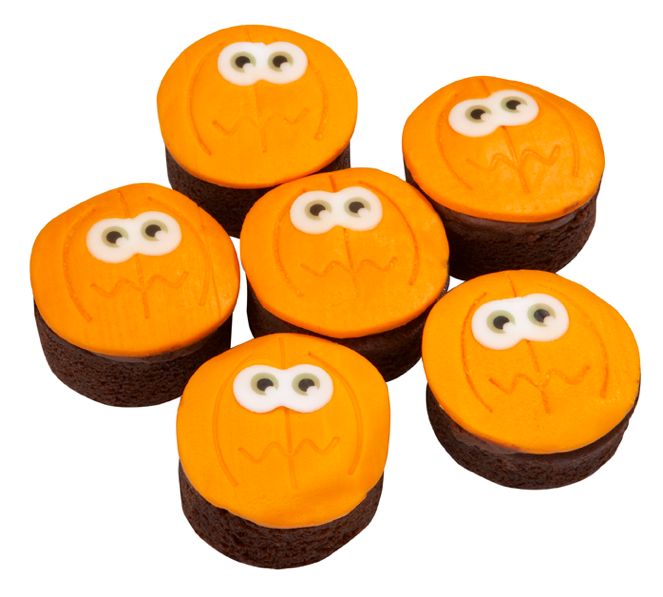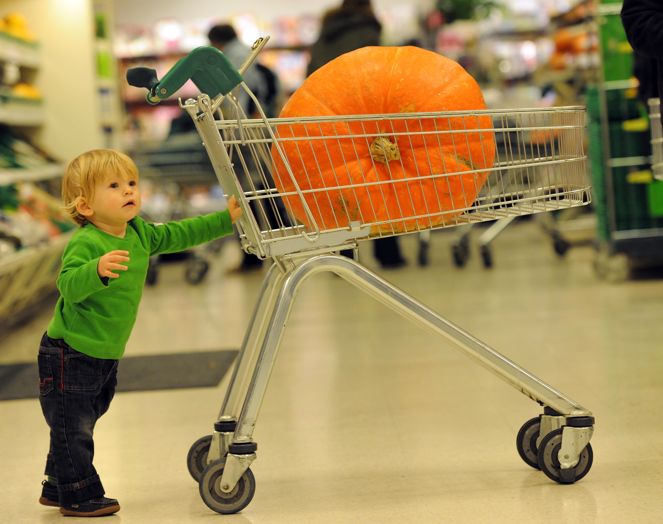 Finally, for those of you brave enough to get the scalpels out, I present The Sumo Pumpkin from Waitrose RRP £25. Normally I wouldn't eat anything bigger than my own head but how cute is this picture above? I could get a similar one taken with Ted only I have to keep him out of Waitrose as he goes nuts if he doesn't get one of their miniature trolleys.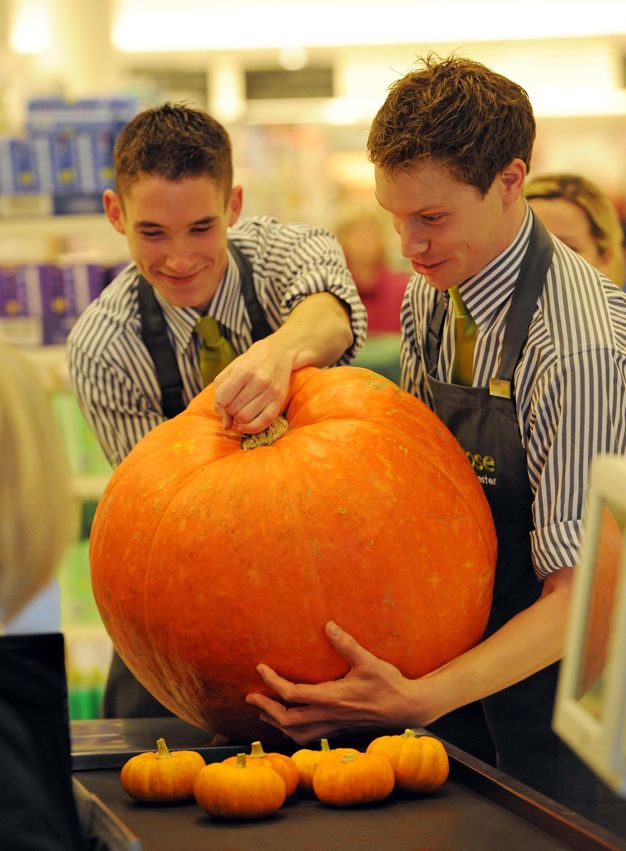 I will attempt some Hallowe'en goodies of my own in the following week but since it's half term I cannot promise anything definite. But I think I'd be hard pressed to beat these ones from Sainsbury's anyway.
Think of me next week repeatedly answering the door to the usual well behaved bunch of Walthamstow Village whipper-snapping Trick or Treaters with my tin of Celebrations. Fortunately it's hard to be scared of a Scream mask when the person wearing it is only 3 and a half feet tall.
This last picture is begging for a caption in the style of Have I Got News for You. Go on… do your worst! Failing that, tell me what you used to dress up as for Hallowe'en.
Images courtesy of Sainsbury's, Tesco and Waitrose.