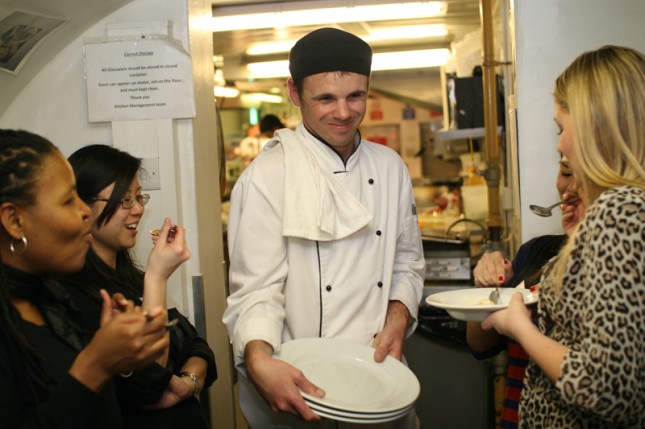 Somewhere in a parallel universe, a sensible career choice led to me being decked out in chef's whites, working efficiently in a professional kitchen, knowing what I was doing and possibly showing other people how to do it.
Instead, I was docked marks in my home economics GCSE exam for casually blowing bubbles through a cheese grater. For hygiene reasons apparently, although I beg to argue as I'd not finished washing it yet. So whilst my friend continued to catering college and a serious of good career choices I opted for random time killing with a sewing machine at art college to avoid the antisocial working hours that would have faced me in the hotel or catering industry.
I often wonder what would have happened if the butterfly effect had flapped the other way in a few places of my life. Who else would I be instead?
There's bleach blonde haired Sybil Fawlty version of myself quietly running a West Country hotel.
Skinny Parisian moi, had I done that French module at university and stayed there. She wears Agnes B t-shirts and probably smokes cigarettes with camels on the packet.
Incense wafting feng shui practitioner? (She didn't last long)
There's the dead me too, the one who didn't ask questions of dismissive medical staff in the maternity unit nearly four years ago. I think about her now and again ever thankful that the me I am in this existence is more assertive.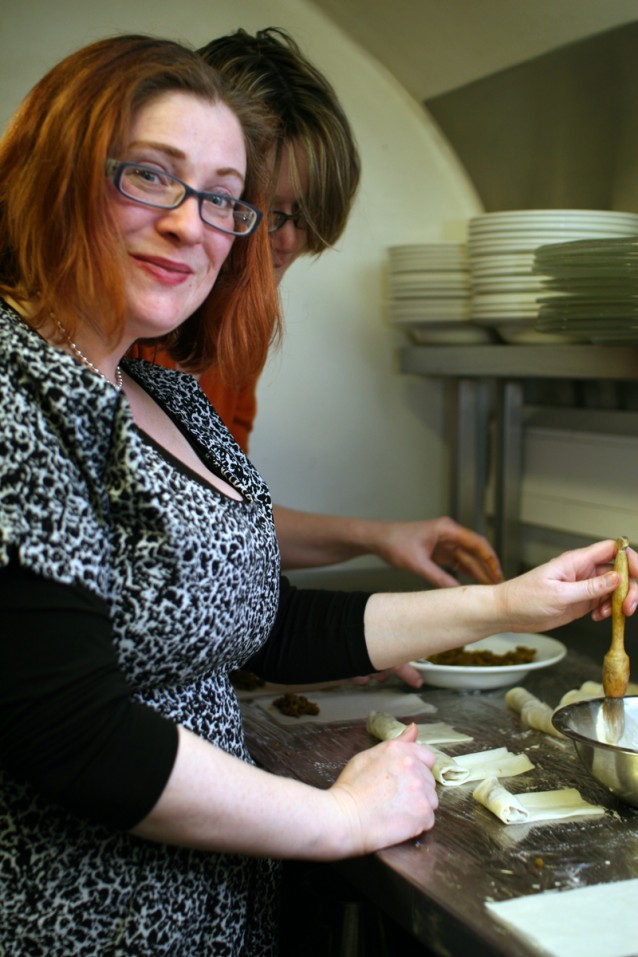 But tonight I find myself folding spring rolls in the back of a professional kitchen, a glimpse of how my working life might have started. I love the practicality, no computer, buried out the back whilst someone else deals with the customers. Disappointingly no chef's whites either!
Tonight the customers are us. I am one of around eight bloggers invited to a dinner at South African restaurant, The BBar in London's Victoria hosted by South African Tourism. No free lunch for us today, in groups of two or three we're summonsed out to the kitchen under the watchful eye of sous-chef Chris to each assemble a course of our meal.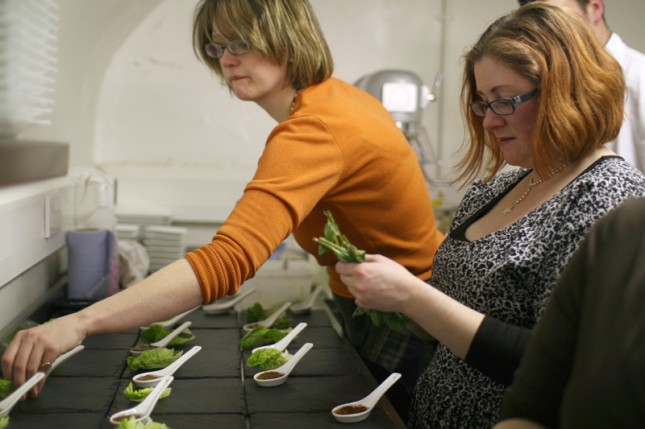 Sensibly intending to get the hard work out the way lest wine overcome us later, I join Helly from Fuss Free Flavours and Michelle from Greedy Gourmet to put together 84 bobotie spring rolls. The mince filling is already made but we're painting spring roll pastry sheets with egg and roll them up neatly before deep fat frying.
Aiming to make 28 rolls each we work out and rather than labour over them one at a time. We multi-tasking ladies soon have a production line of four at once resulting in nearly fifty spring rolls within ten minutes. We're being competitively fast but I laugh that I could never do a job that required me to do the same thing so many times on a daily basis. It's the reason I haven't launched a cake business.
Chris is very surprised. For first timers he's very impressed. We've worked faster than people there who get paid. Which makes us eminently employable in a professional kitchen apparently. My wrists would probably rule me out from this. When it's my turn to tip the bundles out of the deep fat fryer, I limply wave the basket at Chris and ask him to do it for me! He has no idea how terrified I am of deep fat fryers. Perhaps this is an indication of how well I'd have done in my would be catering career?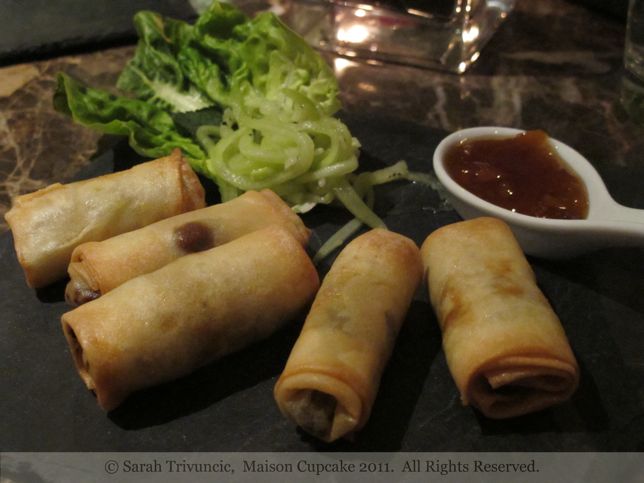 Less swiftly than our asbestos fingered teacher, we plate up the rolls on slates with little gem leaves, mint, marinated cucumber and a serving spoon of Mrs HS Balls' Chutney, a South African favourite.
Next door after photographs we enjoy our spicy rolls – if I ever get over my phobia of deep fat fryers I would definitely make these.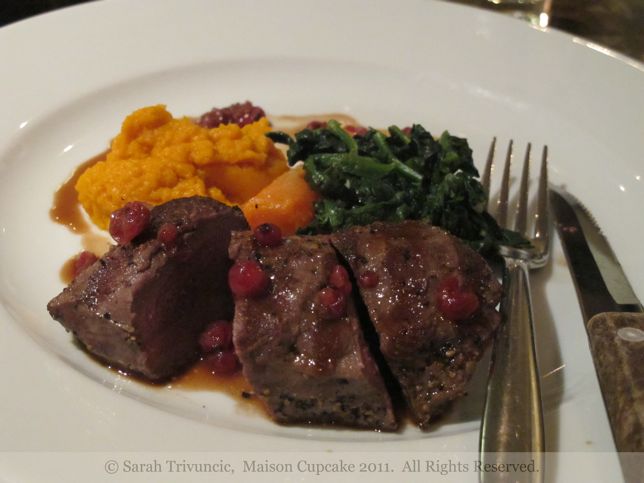 Opting to "cook" first means we get to sit back and enjoy the other two courses undisturbed; springbok with spinach, sweet potato and a cranberry jus features delightfully tender meat similar to venison but less dark and gamey. Like many other game meats, springbok is very low in fat. I'd be low fat too if I spent all my time running away from lions.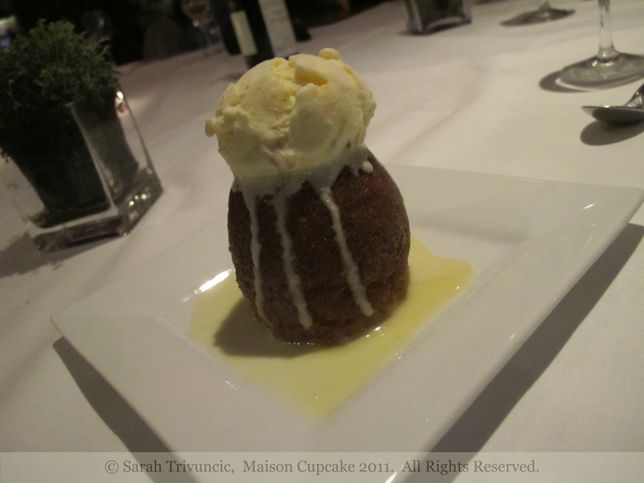 Dessert is a traditional South African Malvapeoding, a sticky warm sponge made with apricot jam. Here it's served with vanilla ice cream made from custard infused with rooibos tea.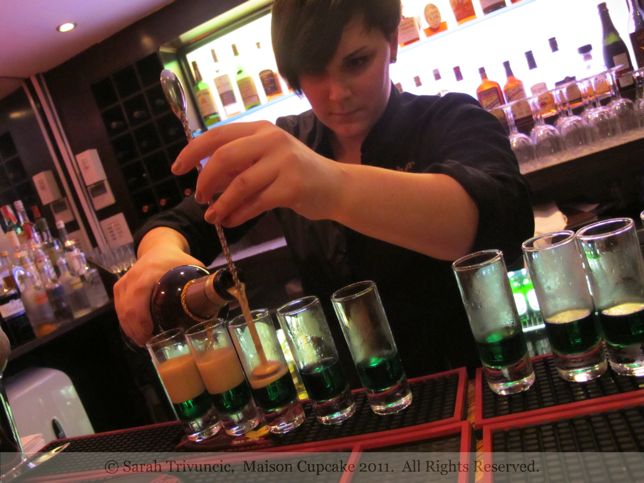 To finish our evening we were served springbok shooters – a shot glass filled with layers of green creme de menthe and cream liqueur amarula.
Despite having two dear South African friends, the country's cuisine is largely unfamiliar to me. Probably the only South African dish with which I was previously familar was the boerewors as sold by my local butcher, East London Sausage Company. Boerewors are the spicy South African answer to hot dogs, char-grilled over an open-flame then typically placed into a bun and covered in mustard and tomato sauce.
With barbecue – or braai season nearly upon us, I will definitely be grilling some boerewors in my garden this year and I was delighted to learn more about South African food. For more South African recipes you can plunder the archives of the lovely Jeanne at Cook Sister and also check out Michelle's version of Malvapoeding at Greedy Gourmet who have published recipes including:
South African Melktart recipe (Cooksister)
South African Klappertert recipe (Cooksister)
Malvapoeding recipe – marshmallow pudding (Greedy Gourmet)
Beef meatballs in curried banana sauce (Greedy Gourmet)
So who or where might you be in a parallel universe? Have you ever had a taste of a career you nearly had?
With thanks to South African Tourism. For further information about holidays in South Africa, visit www.southafrica.net Pictures not credited to myself were taken by the photographer used by Publicasity.