We used our Le Club Accor hotels loyalty card to book our stay at Suite Novotel Calais – amongst the nearest hotels to Calais Coquelles Eurotunnel terminal and Cite Europe shopping complex.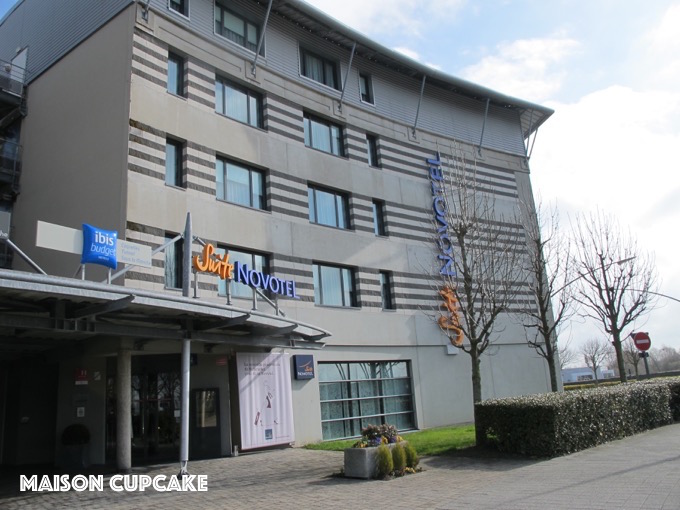 When you exit the Eurotunnel terminal in Calais Coquelles, the nearest hotels are at the Accor complex on Place du Cantorbery opposite Cite Europe shopping centre and Carrefour. Simply disembark from Eurotunnel and they're barely three minutes' drive away. Brilliant for when you want to put your head down before continuing your journey across France the next day.
We have been fans of the Accor hotels group for several years and with the incentive of our Le Club Accor hotels loyalty points card we often book ahead to get discounts. Hotel chains within the Accor group include Ibis, Novotel, Mercure and Sofitel. Especially when driving through France we have found Accor group hotels reliable and easy to book for overnight stops. But the Le Club Accor hotels loyalty scheme is a bit complicated and none of the Accor hotels I've visited in the UK have promoted it beyond the odd leaflet so I thought I'd share how useful it is.
At Calais Coquelles, on one site you have the choice of Ibis Budget (roughly 50 euros per night with breakfast), ordinary "red" Ibis (roughly 75-90 euros) and Suite Novotel (roughly 120 euros). We almost always use one of these for overnight stops in Calais.  The large secure car park is accessible 24 hours a day and handy for late arrivals but can be very crowded at peak times.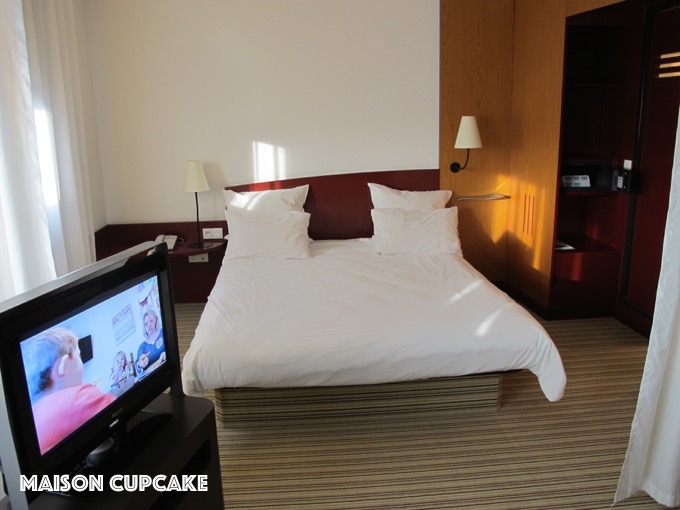 Suite Novotel Calais Coquelles
Our favourite hotel at Calais Coquelles is Suite Novotel offering suite style accommodation at an affordable rate. Rooms are generously sized with a sofa that converts into an extra single bed and separate desk/seating area. So it suits families and business travellers alike.
This isn't a hotel with much personality, but it's clean, modern, spacious and comfortable. Rather than a hurried stop off, Suite Novotel is a treat making broken journeys more luxurious without breaking the bank. For families, compared to booking two rooms in chains where extra beds aren't offered for children, rooms priced between 90-140 euros are fair value.
Nevertheless you can get better value still by using the Accor Le Club hotels card and booking online through cash back websites such as Quido*. I have explained more about this below but first a room tour!
The large room – easily 18 feet wide – is divided by a sheer curtain into two spaces; one half with a double bed and the other with a desk and sofa bed. The TV can be wheeled into either side. We liked that we could kid ourselves we were in the room by ourselves when Ted was sectioned off and asleep in the other half!
Tea making facilities are a rarity in French hotels so we liked having a kettle and enjoyed the premium quality biscuits and dried fruit. Suite Novotel doesn't have an evening restaurant although the reception sells ready meals to microwave in your own room. This didn't initially appeal although having discovered the tired and depressing chain restaurants within the cinema complex opposite, we can see the appeal. Alternatively Ibis next door does have a restaurant which presumably Suite Novotel guests can use.
For the price, this is one of my favourite hotel rooms ever. It's bright and spacious and not remotely claustrophobic or gloomy. If we've just spent two days driving up from Provence or the Languedoc, staying at Suite Novotel in Calais helps us unwind and charge our batteries before returning to the UK. We have also used it as a base when visiting nearby Le Touquet on France's Opal Coast and Bruges in Belgium (respectively 40 and 75 minutes' drive away).
Breakfast at Suite Novotel
Breakfast is a buffet of continental offerings including pastries, fruit and cereal but the presentation is slicker than usual with foods arranged according to which nutrients they contain. A breakfast "wall" has zones for protein, dairy, fruit etc. In theory you pick an item from each zone to make up a nutritionally balanced breakfast.
Arguably it's style over substance – the food itself differs little to other continental breakfasts and many items are unnecessarily over packaged. Although you could take advantage and scoop up extra packaged snacks for your journey if that's your style…
Review of Le Club Accor hotels loyalty card
Asking for a Le Club Accorhotels loyalty points card is well worth it. The Le Club program is a little complicated but worth fathoming out as you can quickly earn points that convert to 40 euro discounts.  Inside two years we will have earned an 80 euro discount based on around 12 nights' of stays in France and the UK.
Points are earned per 10 euro spend (it gets converted from other currencies) including meals, drinks and extras such as car parking and beauty treatments where available. When booking on the Accor hotels website you can log in with your Le Club Accor hotels card number and choose which currency to display prices in. So if the figures look higher than you expect, check they're not Euros rather than sterling as sometimes I've got mixed up myself. Not all bookings are eligible for points i.e. not bookings via Expedia and varying rates of points are given for each chain in the group apart from Ibis Budget which is excluded from the Le Club program as are a few other destinations including some hotels in China.
Saving 2500 points (or 10 nights in one year) unlocks Silver Le Club Accor status offering a higher rate of points plus free wifi and occasional other perks.  For example, my recent stay at Ibis Styles in Birmingham gave us a room upgrade, complimentary welcome drink and breakfast for £58 per night whereas the rack rate without breakfast starts from £69. There are also gold and platinum memberships but these require over 30 nights per year so probably off limits to all but frequent business travellers.
Each brand has its own points level but to put it simply, silver status stays in Novotel or Mercure earn 31 points per 10 euros versus 12.5 points per 10 euros for "classic" status stays at an Ibis or Ibis Styles.  You can also earn some bonus Le Club Accor points by installing the Accor hotels iPhone app and "checking in" FourSquare style. When your app check in has been validated, you get another 50 points per hotel stay with additional rewards available i.e. bonus points for 10 nights in particular countries. But be warned the app is hit and miss crashing a lot with terrible reviews in the App Store. I've had three successful check-ins in Coventry, Calais and Paris but it failed me in Birmingham. So the Accor iPhone app has certainly worked for me but I doubt they will give you the points anyway if you complain it doesn't. Turning your phone on and off can help if your app check in fails first time. Checking in on the app is a fun thing unconnected to your real check in although some Accor hotels let you check in online.
See – I told you it was complicated but there are legitimate discounts to be earned reasonably fast if you get your head around it.
Getting Quidco cashback when booking Accor hotels online
Booking via cashback websites such as Quidco* is another way to save money on Accor hotels – rates up to 15% are often offered depending which chain within the group it is. Cashback rates fluctuate but we've earned 12% cashback on Suite Novotel stays and 8.5% on Ibis Styles stays. This can easily be £5-8 per night refund and is payable around 2-3 months after your stay. At the time of writing Quidco* cash back rates for Accor are lower than this so check back a couple of weeks later if you're not in a hurry to book.
Le Club Accor Hotels advance discounts and private sales
Finally, the Accor website itself often offers discounts of 30% or 40% when booking 3 months or more in advance. There are also private sales lasting a few days held several times per year for Le Club card holders. I've noticed two private sales since February, each time notified by the Accor hotels email list. Accor private sales seem to only allow bookings up to 3 months ahead but can be even better than the advance discount offers.
So five ways to save money booking Accor hotels are:
Get a Le Club Accor hotels loyalty points card.
Use a cashback site such as Quidco* to access the Accor hotels website.
Log into the Accor hotels website with your Le Club points card rather than booking through sites such as Expedia.
Subscribe to Accor hotels email list to access private sales.
Book in advance for discounts of up to 40%.
*Using this Quidco referral link can earn each of us £5 on top of any cash back you might earn for any subsequent purchases via Quidco – subject to any variations in the offer if you are reading this article sometime after publication. How does this work?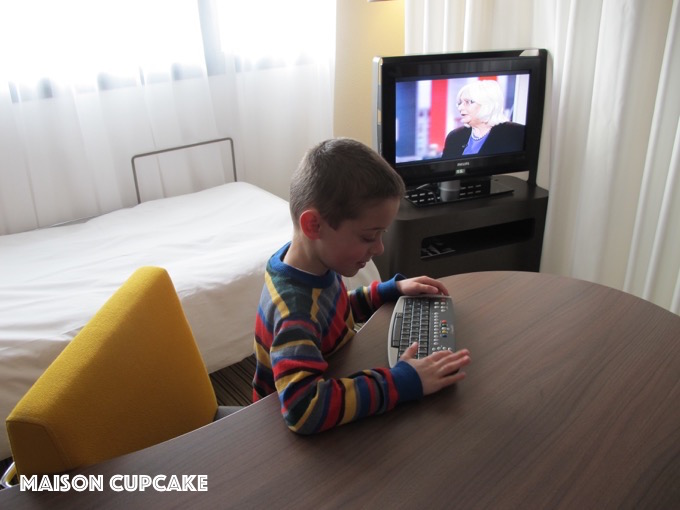 Suite Novotel Calais review in summary
Room – big, spotlessly clean, bright, well maintained and comfortable with king size bed and quality linens. TV channels include BBC1 (common in northern France).
Ambiance – relaxing, modern, slightly corporate but fresh and well ventilated.
Service – friendly and attentive. No problems during our stay.
Bathroom – A bit plasticky with refillable toiletries rather than bottles. But it's spacious with a bath, plenty of towels and we like the loo being separate.
Food – Breakfast is fun but might be tedious if staying more than two nights. It's a shame there's no in house restaurant as the restaurant chains across the road at Cite Europe's Gaumont cinema are truly dreadful.
Extras – Tea making facilities, dried fruit and biscuits. The microwave could be handy if you brought your own food. Parking is free but a squeeze at peak times.
Would we go again? – Definitely worth paying a little extra if we can get a room at a good rate. Otherwise we'd probably opt for Ibis next door which is cheaper and bearable for single night stays.
Don't just take my word for it – see these other reviews of Accor hotels by other bloggers:
Have you ever stayed in any Accor hotels or other hotels in Calais? Feel free to add your recommendations and experiences below.