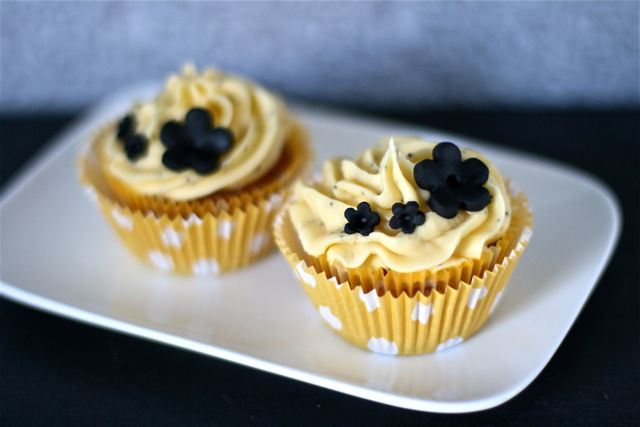 Lemon and poppy seed cupcakes
Makes 12
Ingredients
For the cupcake batter
125g unsalted butter, softened
125g caster sugar
2 large eggs, lightly beaten
1 lemon, zested and juiced
125g self-raising flour, sifted
2 tsp poppy seeds
For the buttercream and decoration
250g icing sugar, sifted
80g softened butter
juice of half a lemon (left over from cupcake batter)
a touch of yellow gel food colouring (optional)
2 tsp poppy seeds
50g black sugarpaste
You will also need:
12 hole baking tin lined with paper cases
piping bag with a large star tip
blossom cutters.
Directions
1. Preheat the oven to 180c/ Gas 4.
2. Using an electric mixer with a large bowl, cream the butter and sugar until pale and fluffy. Next beat in the eggs, lemon zest and poppy seeds.
3. Fold in the flour a third at a time until just combined. Fold in half of the lemon juice taking care not to over mix.
4. Evenly spoon the batter into cases, two thirds full.
5. Bake in the oven for around 15 minutes or until a cocktail stick comes out cleanly.
6. Leave the cakes in the tins for a few minutes before transferring to a wire cooling rack to cool completely.
7. To make the buttercream you can use an electric mixer with a large bowl again although I prefer using the food processor to stop clouds of icing sugar escaping. Beat the butter until very soft.
8. Gradually beat in the icing sugar and poppy seeds. Add a dab of yellow food colouring for a brighter yellow if you wish.
9. Beat in the remaining lemon juice a little at a time until you have a soft piping consistency. If the weather is warm you may need extra icing sugar to stiffen it. Decant the buttercream into a piping bag fitted with a large star tip.
10. When the cakes are completely cool, pipe swirls of buttercream on top.
11. For the decoration, knead the black sugarpaste until soft. Roll out and stamp out blossoms using shaped cutters. Affix the blossom shapes to the buttercream whilst it is still soft.
An alternative decoration to the black sugarpaste blossom shaped would be candied lemon slices.