Dinner with Crayons is my occasional weekend series of child friendly restaurant reviews.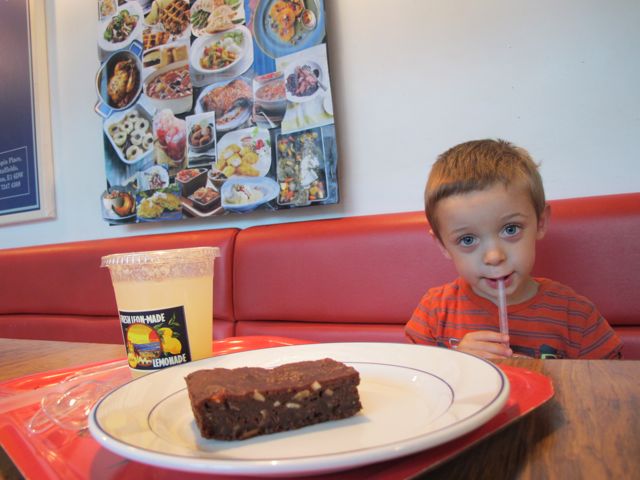 He's one smart cookie my Ted. Even before he could talk, he could identify logos of shops and restaurants. We were in town one day walking around Spitalfields near Liverpool Street Station. Spying their sign in lights, his little hands pulled me towards Leon saying "eat-alls"!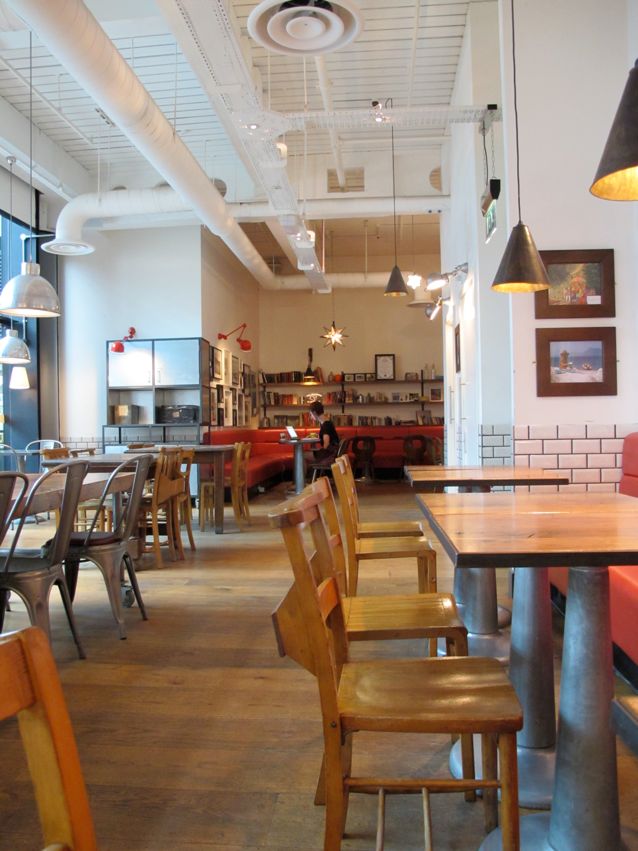 Meatballs are probably Ted's favourite food. Leon do some wonderful ones for children in a little cardboard box with a colourful sticker on it.
Allegra McEvedy co-founded Leon in Carnaby Street in 2004 but has now taken a back seat as share holder concentrating on her television and writing career.
I love the quirky interior, it's a mix of industrial metal and worn wooden furniture. You can imagine these chairs were probably in a draughty Victorian church or a school until they were reborn here!
He was especially hungry on this day so I had smashed his meatballs up before I photographed them.  They come in a tomato sauce with some very substantial brown rice.
To drink we had cloudy lemonade and shared a brownie for pudding. The brownies come how I like them – squidgy.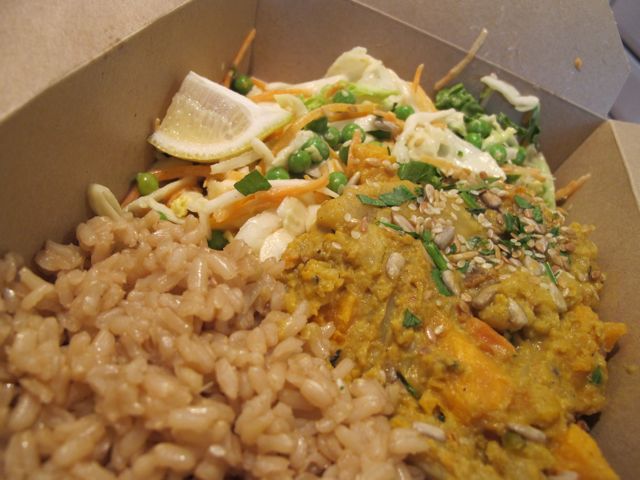 My lunch was a curry with brown rice and coleslaw. I feel so healthy when I eat here. I keep meaning to buy one of the Leon cookbooks but have not yet got round to it.
There's plenty of room in this branch for people with buggies, when Ted was small it was a frequent jaunt from Walthamstow to Liverpool Street to come to Leon because you could get on and off the overground trains without needing to negotiate any stairs.  It's also excellent value for such great quality, healthy food.
One criticism though – the baby changing table in the disabled loo has been installed by a complete idiot. It's mounted on the wall, above the level of the tiles i.e. over 4 feet up. Imagine trying to change a baby lying on a table that is nearly at eye level with your arms right up in the air. Admittedly I'm not very tall but even so it's very difficult. Fortunately I no longer need this facility for Ted but it's worth bearing in mind if you are taking babies to this branch.
Branches of Leon throughout Central London and now at Bluewater.