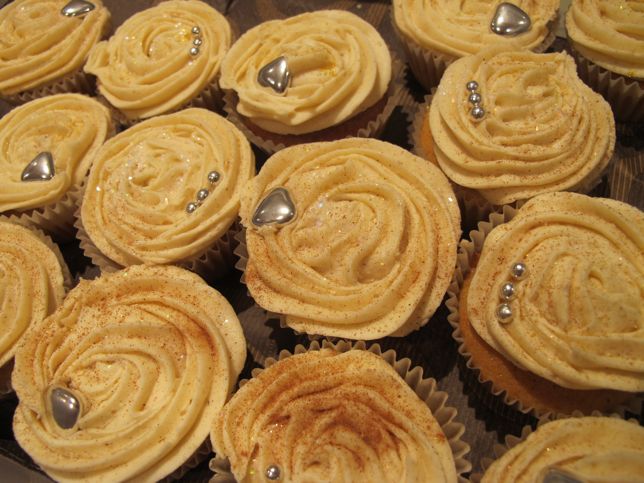 It's definitely bake sale season in Walthamstow Village, with local events from pre-school discos, carols around the Christmas tree and the church bazaar all marked on the calendar.
I baked these pumpkin cupcakes last week, I am embarking on personal challenge how many recipes can be gleaned from a single tin of pumpkin puree so you'll see the others pop up in the next fortnight or so.
Although I love to bake cakes for local causes, I am also reticent as some places under value the products. Well meaning old ladies marking up your hard work at "twenty pence" breaks my heart not only because of the hard work and ingredients I've provided but because they're also slashing the amount of money they can raise.
This recipe has been adapted from the Primrose Bakery recipe. Whenever I'm donating cakes I use baking margarine to cut down on costs but you can replace this with butter if you prefer. I would always use butter for buttercream though. I decorated them with silver balls and dragees, partly because my husband hates them and I seem to be over run with them. They could just as easily be decorated with sugar spiders and used for Hallowe'en.
These cakes were donated to the church's bake sale to raise money for it's new boiler. I gave strict instructions that they should "try to sell them for a pound each" which was met with amusement when I collected my plastic boxes afterwards. "Ah! Here's the lady who told us how much to charge!"
They went like proverbial hot cakes of course, a bargain at one pound! Still, I was amused when someone asked me how much I'd bought them for.
Finally I am also taking part in the November British Mummy Blogging blog hop. They did provide some code for me to share other BMB blog links but apparently it doesn't seem to work for WordPress – only Typepad and Blogger. Oh well, the intention was there. From what I can see, many other participants have fallen down at this hurdle too. If you are a new mummy blogger reader, welcome! While you are here, why not check out my series of child friendly restaurant reviews, Dinner With Crayons?
UPDATE: A couple of you have asked in the comments where can you buy pumpkin puree in the UK. So here goes:
During October and November canned pumpkin puree is usually stocked by Waitrose and Ocado for around £1.29 per 425g can. 2009 was an especially difficult time to find it and I even heard talk of a mass pumpkin shortage but later discovered entire crates of it in Waitrose at South Woodford. They seem to get it in for the Hallowe'en and Thanksgiving seasons but don't usually stock it throughout the rest of the year (despite me pleading with several members of staff on a regular basis). The most common brands seen are Libby's and Paula's. Other likely places to find it in London are Selfridges, Harvey Nichols and Wholefoods but outside of London and vicinities of Waitrose/Ocado you'll have to investigate independent delicatessan or try online with Ebay or online grocer Melburys and Appleton although I note they currently describe the puree as "now back in stock" suggesting they only have it in Autumn too.  So my recommendation on finding canned pumpkin puree is, space permitting, to buy twelve tins to last you throughout the year and be ready next October even if you can't find any then. It's incredibly good in vegetable curries if nothing else.
Pumpkin and Cinnamon Cupcakes
Adapted from Cupcakes from the Primrose Bakery by Martha Swift and Lisa Thomas

Makes 24 large cupcakes or 36 regular bunsize

Ingredients for the bases:
220g baking fat or butter at room temperature
480g soft light brown sugar
4 large eggs
1 tsp vanilla extract
150g canned pumpkin puree
250g self raising flour, sifted
240g plain flour, sifted
1 tsp ground cinnamon
1 tsp ground ginger
220ml milk
10ml lemon juice

for the buttercream:
500g icing sugar, sifted
160g unsalted butter, at room temperature
50ml milk
half teaspoon vanilla extract
1 tsp ground cinnamon

You will also need 12 hole muffin or bun tins lined with paper cases.

Directions:

1. Preheat the oven to 180c/ gas mark 4 and line a 12 hole muffin tray with the appropriate size paper cases.

2. Using an electric hand mixer, beat the butter and sugar in a very large mixing bowl until the mixture is pale and smooth.

3. Add the eggs one at a time and then the vanilla extract and pumpkin puree until just combined.

4. Sift over one third of the flour with the spices. Stir until just combined.

5. In a small jug, tip the lemon juice into the milk for the cake mix and stir a little. It should coagualate a little and look like buttercream. (You can use ready made buttercream if you prefer).  Add half of the lemon juice/milk mixture to the cake batter and stir until just combined.  Repeat with a further third of the flour, then the second half of the lemon juice/milk and finally the last third of the flour.

6. Spoon the mixture into cases, filling them to about two thirds full.  If using full size muffin cases, bake for 25 minutes, if using standard bun cases, bake for around 18 minutes. These times are a guide, your own oven may vary.

7. Remove from the oven when a cocktail stick just comes out of the cakes cleanly.  Leave them in their tins for 10 minutes then transfer to a wire rack.

8. Meanwhile you can make the cinnamon buttercream. Beat the butter and icing sugar and cinnamon together in the food processor until they resemble coarse sand. Drizzle the milk through the funnel until you are happy with the consistency.

9. When the cake bases are cool, spread over your cinnamon buttercream or pipe roses using a star nozzle.