Are you looking for a healthy supper you can mostly leave to cook by itself? Try this low fat sausage and bean casserole recipe – cooked in the Redmond multicooker, find out more below…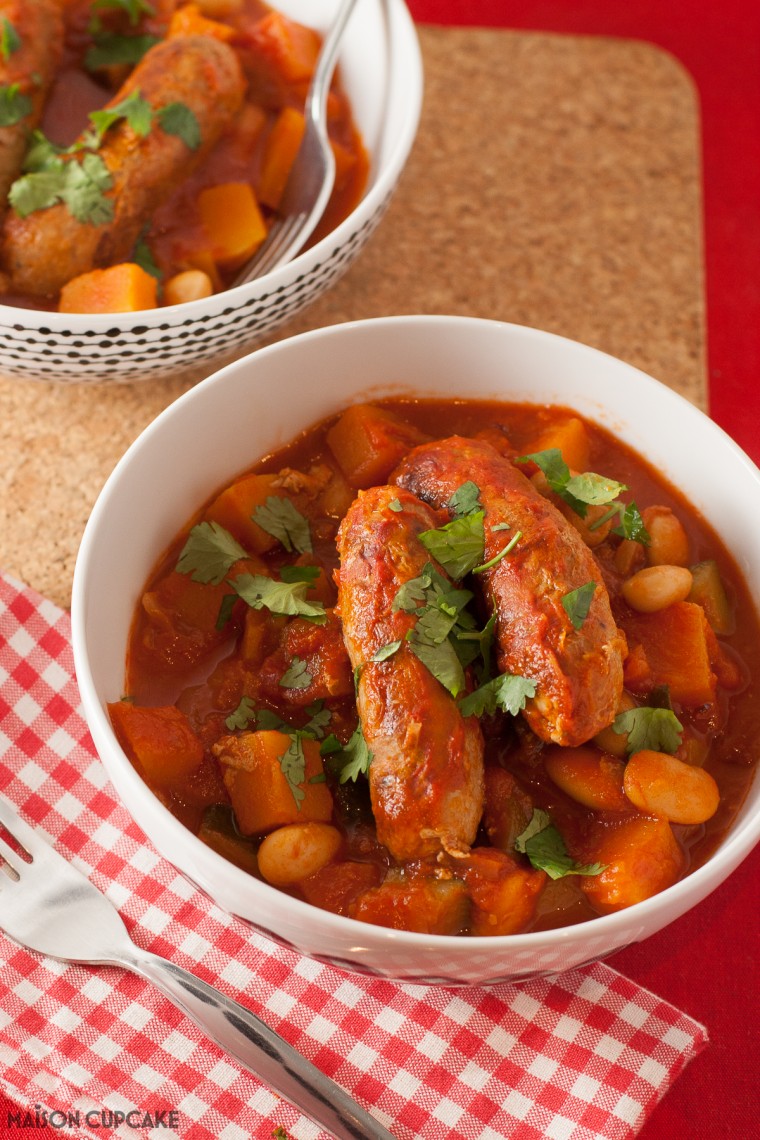 Reduced fat sausages are just one of the ways you can reduce the saturated fat content of your family's meals. Whilst at home we're not absolutely rigid about buying low fat dairy products we do prefer to avoid meat with higher levels of saturated fat.
Most major supermarkets will include a reduced fat sausage amongst their range however if buying from a butcher this is less likely. As an alternative look for chicken or venison based sausages instead as these tend to have lower saturated fat content. Above all, the HECK chicken ones are a personal favourite lately although we only tend to buy them on promotion.
Beans with sausages are a classic combination and just the job for an easy winter supper. This recipe is ideal to make in bulk to freeze portions ahead or to heat up in the microwave at work for a hearty office lunch. It's a crowd pleasing option that families and single people or students alike can enjoy.
Today we are employing the Redmond Multicooker – I previously introduced this gadget last year with my garlic couscous with hazelnuts but here is a completely different dish today.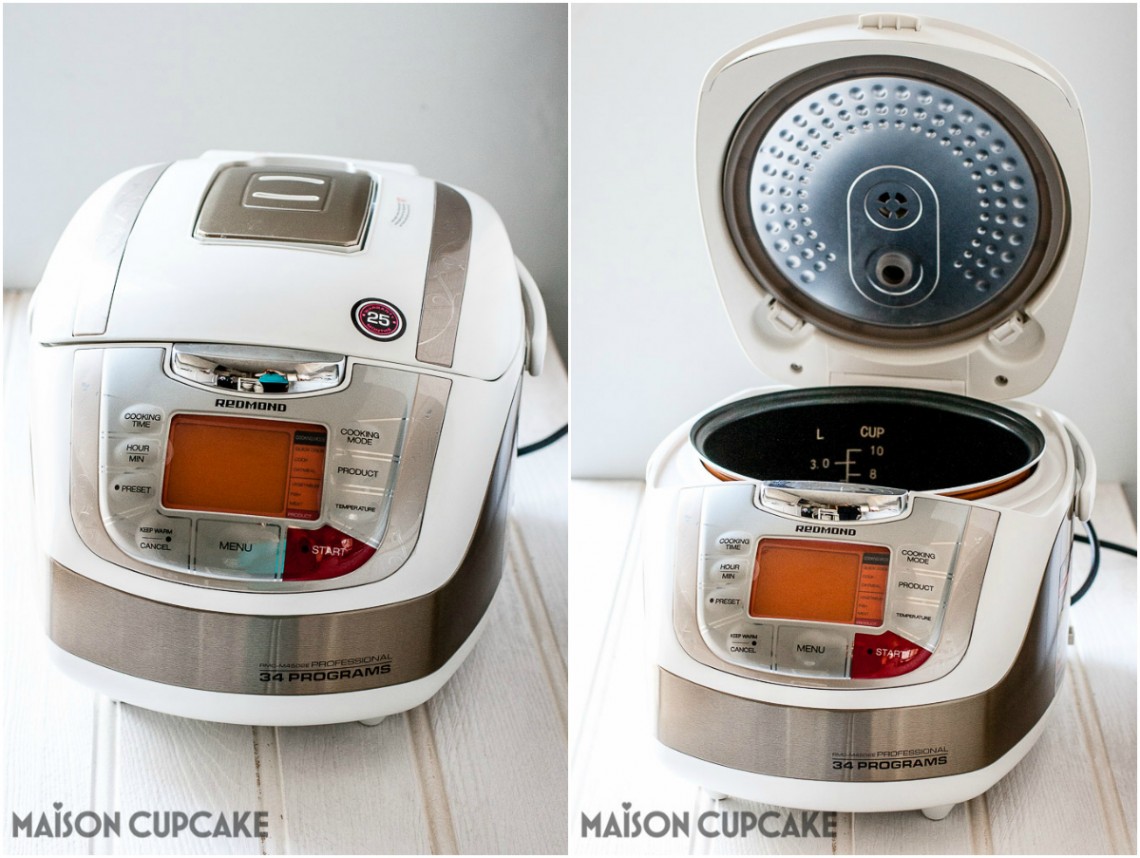 Redmond produce a variety of kitchen gadgets including smart kettles, pressure cookers and vacuum cleaners however it's their multicookers they're perhaps best known for.
Prices currently start from a bargain £59 – for this model shown – which has 16 automatic programs and 18 manual programs. You can cook anything in it from pasta to porridge – even sterilise babies' bottles – and bake cakes too. There are keep warm and delay functions and it even comes with its own 120 recipe book to get you started.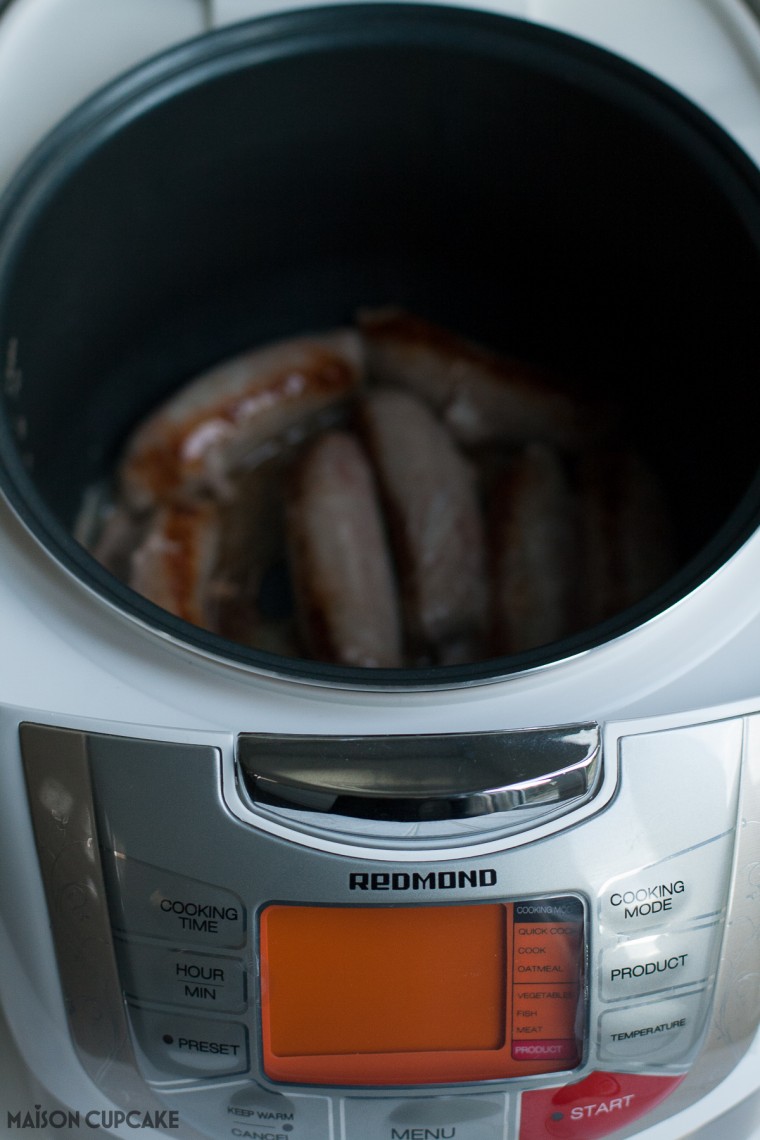 This recipe utilises two different modes to fry and stew; the chamber is big enough to make around 6 portions.
I think this type of Redmond multicooker is perfect for either a busy family who need another hob or oven to cook whilst other appliances are busy or equally for a student or single person in a flat who doesn't have access to a traditional kitchen. What I like about the Redmond model above similar gadgets i.e. when I reviewed the DeLonghi multicooker – is that it's much much quieter which is important if you are in a small space or conversely have a lot of family members around making enough noise as it is.
The Redmond multicooker doesn't take up much space and the carry handle makes it very easy to store away and get out when you need it. The inner cooking pot is non-stick, the lid has a vent to let out steam.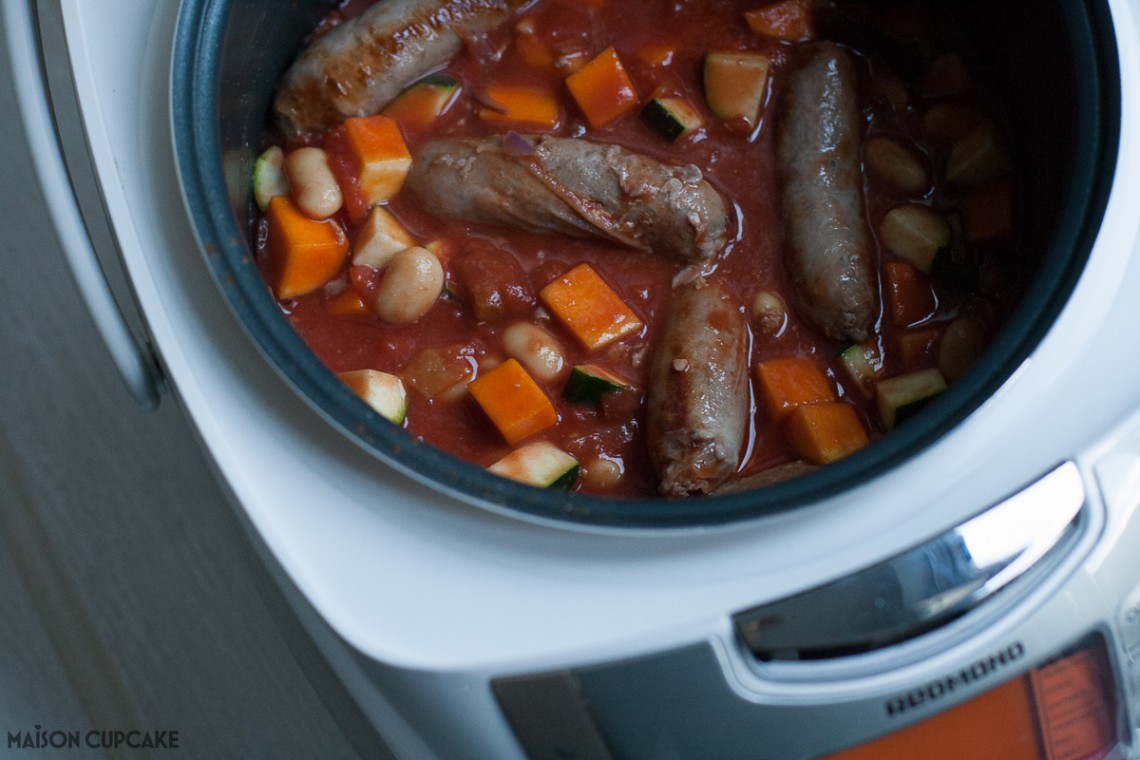 This recipe uses mostly store cupboard ingredients and can be made in around 80 minutes; for the last hour of this you only need to stir occasionally and then dinner is ready. Perfect for getting on with some study or homework!
If you have left overs of this dish these can be made to go further by adding some stock, slicing up the sausages and serving as soup. Whether you puree it or leave chunky is up to you – you might want to adjust the size of the vegetable chunks according to what you think you might do.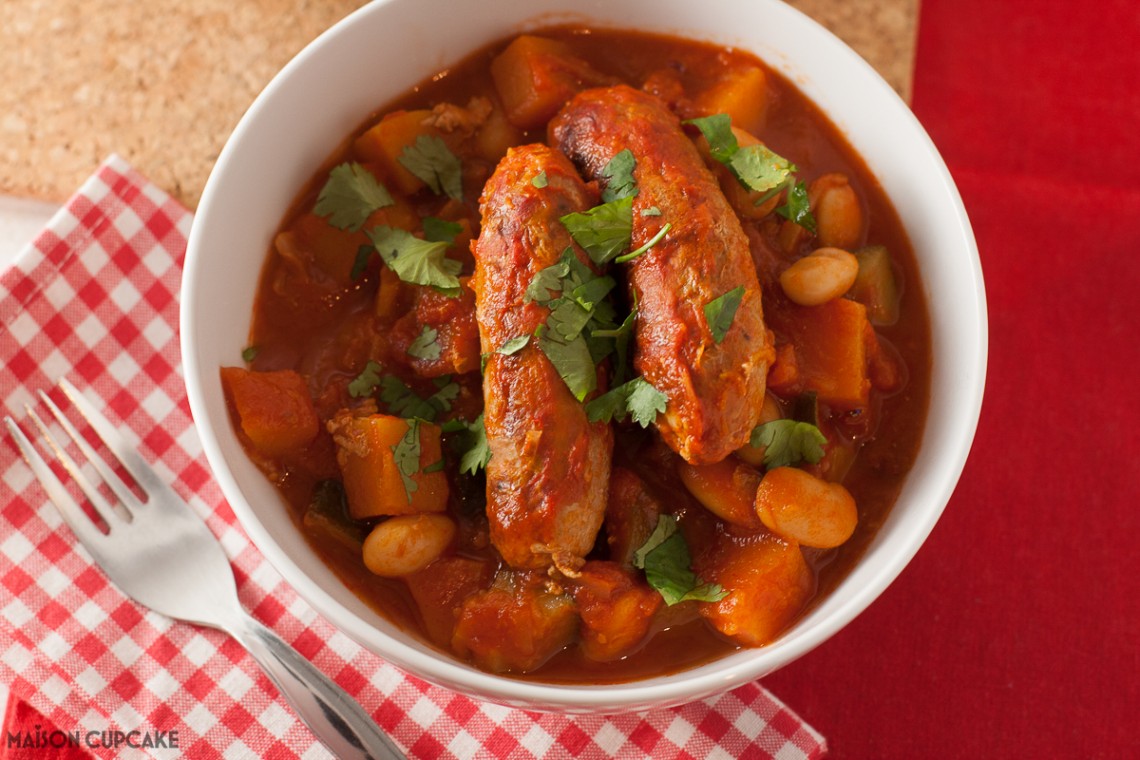 Print Recipe
Low Fat Sausage and Bean Casserole
A humble family meal that's low fat and healthy; suitable for families and students alike.
Ingredients
1

tbsp

light cooking oil i.e. rapeseed or groundnut

8

reduced fat sausages

400

g

butternut squash

chopped into chunks

1

medium courgette

chopped into large chunks

1

large onion

roughly chopped

1

can butterbeans

400g

1

can chopped tomatoes

400g

seasoning

coriander

optional garnish
Instructions
Set the Redmond multicooker to "fry" mode and heat the oil.

Fry the sausages for 10 minutes to brown the outsides. Remove and set aside. Next fry the onions for ten minutes until softened.

Return the sausages to the multicooker pan and add the vegetables, tomatoes and butterbeans.

Switch the multicooker to "stew" mode and leave to cook for 60 minutes, stirring occasionally.

Serve with either mashed potato or crusty bread. Top with chopped fresh coriander if you wish.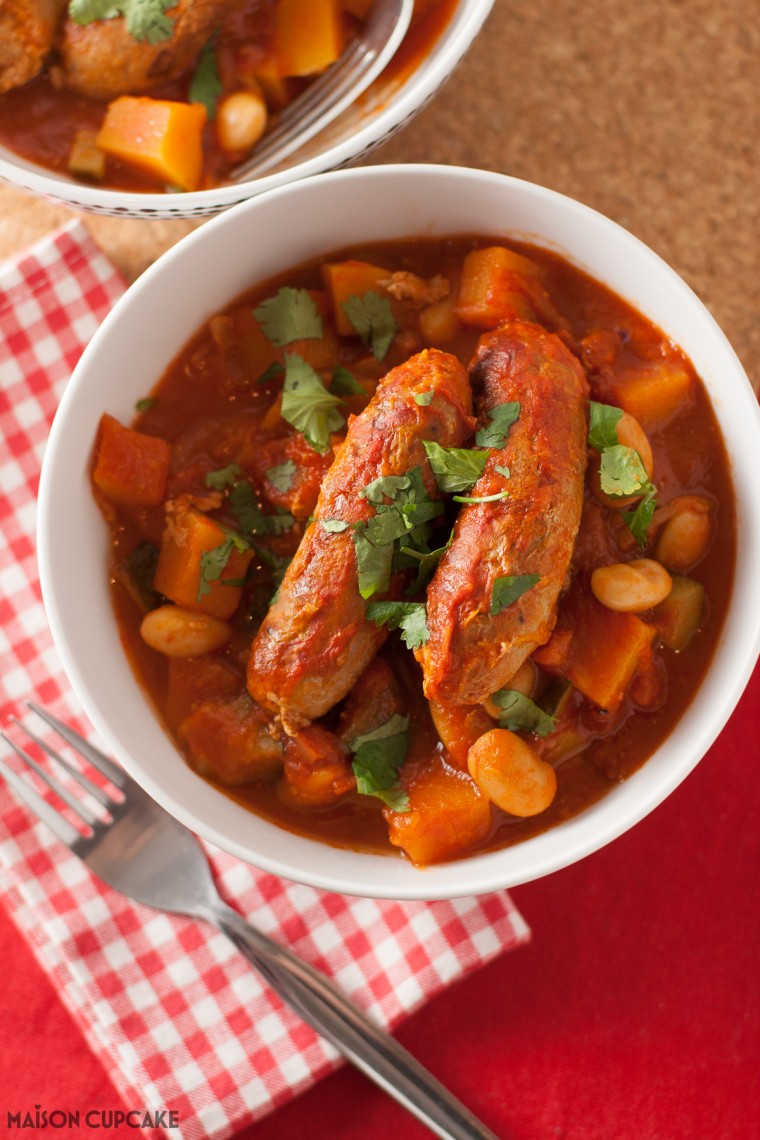 This low fat sausage and bean casserole post was commissioned by Redmond. Find out more about Redmond on their website, Facebook and Instagram.