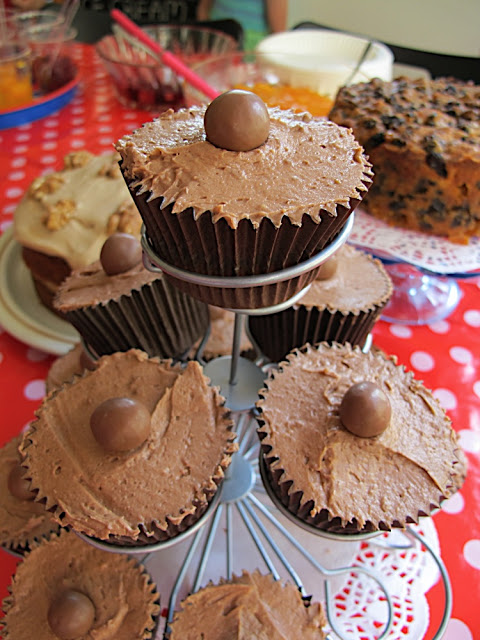 Today is the first of two posts sharing further recipes for cakes I made for
Martyn Cox's
open garden day featured in my previous
post
.  Several of you have been pleading for the marzipan cake recipe but I'm going to taunt you a little while longer for that and today it is Maltesers Cupcakes.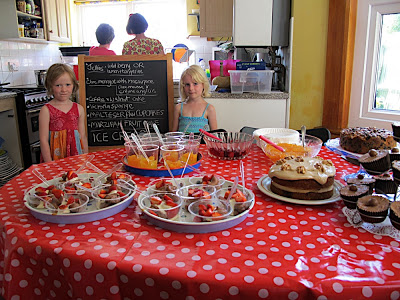 Lily and Ella were very excited about all the cakes and jellies.
There are two reasons for me doing this. The first is that the
Baking Mad
website are currently promoting "Fairy Cake Friday" on Twitter and tomorrow is Friday so I will be able to tweet about these.
Secondly, Maltesers are running a recipe competition and these cupcakes are my submission.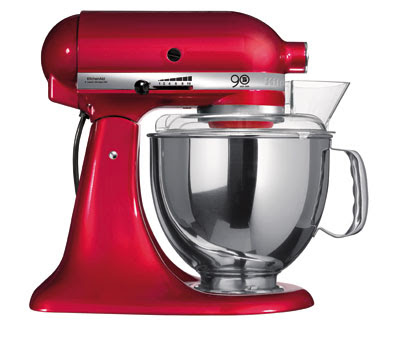 Hands off. It's mine. I hope. KitchenAid mixers, surely the holy grail of bakers everywhere. Chances are if you haven't got one then you want one badly. I've no idea where I'd put it, we'd have to ditch something pointless like the… er… kettle to make space but hell, I'd relocate my kitchen sink if it meant I could have one of these babies.
If, like me, you fantasise about owning a KitchenAid mixer then rather than hand over several hundred pounds, the talented amongst you (and I know there are lots) have a way to win one in return for one of your lovely recipes.  All you have to do is enter the
Maltesers Love
rs Recipe
Competition
by 31st July 2010.  You can even enter more than once so don't be surprised if you see another Maltesers effort from me again this month.
Maltesers have teamed up with foodie social networking site,
My Dish
and Ella's Bakehouse to inspire us to create recipes with their honeycomb chocolate treats.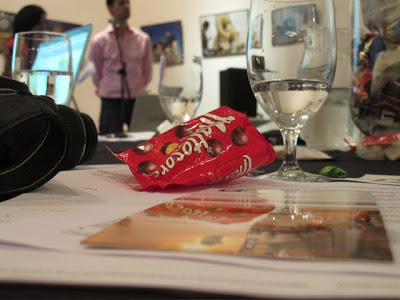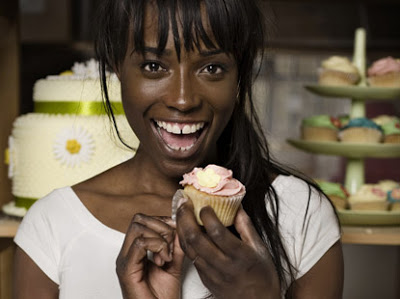 The winning entry will be sold for one day at Covent Garden's Ella's Bakehouse
. Do follow Ella's
Lorraine Pascal
on Twitter, she's lovely. And she gets up
really really early
to make her cupcakes – I know this because she tweeted to me when I was up at 5am watching the finale of Lost!
Finally, just to be clear, I have received no incentive to blog about this competition, I just like Maltesers and thought it was a great prize. Begrudgingly, I wish you good luck with your own creations!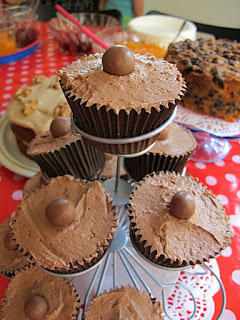 Maltesers Cupcakes
Makes 24 large muffin case sized cupcakesIngredients:
For the cupcake bases
275g self raising flour
275g caster sugar
275g softened butter or baking margarine straight from fridge
4 large eggs
2x 28g sachets of Maltesers hot chocolate drink (or equivalent weight of malted drinking chocolate powder)
50-75mls milk
For the Maltesers flavour buttercream
135g bag of Maltesers (set 24 aside for topping the cupcakes, the rest get blitzed)
500g icing sugar
200g softened butter
40g cocoa powder
50-75mls milk
Method:
1. Preheat oven to 190c or gas mark 5. Simply blitz all the cupcake base ingredients together in the food processor except the milk which you drizzle in last through the funnel before pulsing a few times to a smooth batter.
2. Spoon the mixture into large muffin cases into two 12 hole muffin trays so that they are around two thirds full. Bake for around 15-18 minutes. For large cupcakes  I set the timer for 12 minutes, turn around and leave for another 6 minutes.
3. The centres may erupt like little volcanoes but that's ok, you can lop off these peaks if you want to ice them flat.
4. When they are done a cocktail stick will just about come out dry.  With practice you get the confidence to know how early this is, leaving them even a couple of minutes beyond this point will make your sponge too dry.
5. Leave to cool in the tins for a few minutes before transferring to a wire rack.  Allow to cool completely before covering with icing.
6. For the buttercream, set aside 24 Maltesers to top the finished cupcakes. Whatever is left, blitz in the food processor until well broken up. Then add the softened butter, icing sugar and cocoa powder and blitz until totally incorporated. Drizzle in the milk until you have a spreadable consistency. Remember that although it will be soft and squidgy now, the surface of the buttercream will go harder when it's had a couple of hours to dry out on the surface of a cake. If it lasts that long.
7. Paste your buttercream over the cupcake bases using a small palette knife. Position a whole Malteser on top of each cake.