First bash at cake pops part two. Like most things you see up here, these were pulled together in a bit of a hurry using ingredients in the cupboard and my convenient local branch of Spar. I chose lemon to match the left over buttercream in my fridge although actually the quantity used here was tiny. With hindsight, I think a lemon drizzle cake is sweet enough to mix with cream cheese for cake pops without buttercream but it depends what you have to hand. Initially I'd planned to also cover these in white chocolate but the previous batch required more than I expected and Maya Gold was the only other chocolate I had in the cupboard.


I will definitely be making more cake pops, they've been a huge hit with my friends who without fail delight at the explanation, "cake on a stick". I am seeking however a block of polystyrene to stand them in for photos! These ones were even more badly behaved than the white chocolate and ginger ones.


I am a bit zonked out to say much today, following three very busy days on the trot; a trip into the West End, trotting around Canary Wharf on Saturday and then a jaunt to Brighton today for a barbecue with Beth from Dirty Kitchen Secrets and several other blogging friends.  Ted has managed this all without his buggy. I don't know where he gets his energy from, I would have gladly been wheeled about this afternoon.  He goes back to pre-school tomorrow, which is fortunate because the last fortnight has worn me out. Quite how we manage the six week summer break is anyone's guess…


When did your feet last hurt?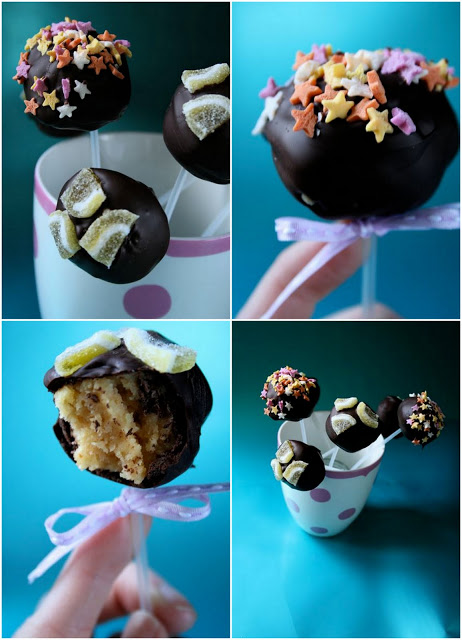 Maya Gold Lemon Drizzle Cake Pops
Makes 12-14 cake pops

Ingredients:
1 bought lemon drizzle cake approx 250g weight unless you are crazy enough to blitz your own cake
2 tbsp lemon buttercream (see this post)
2 tbsp cream cheese such as Philadelphia
200g dark chocolate (I used Green and Blacks Maya Gold)
crystalised lemon slices or sprinkles to decorate
12-14 sticks


NB: You could just use Philadelphia if you don't have or don't want to make buttercream. The result will be less sweet but that may suit you anyway.




1. Pulse the cake in the food processor a few times until you have crumbs.
2. Drop in 3-4 tablespoons of buttercream or cream cheese. Pulse again until you get a ball of dough. Don't over pulse otherwise the blade chops it up again.
3. Roll golf ball sized blobs of dough with your fingers. Place on a baking tray lined with parchment paper. Put in the fridge for 2 hours or overnight or cover with cling film and put in the freezer for 30 minutes.
This post
has more pictures of this stage.
4. Break the chocolate into squares and melt either in a double boiler or the microwave.
5. When the chocolate is melted, roll the balls in it and spear with one of the sticks to remove. Use a teaspoon to drip chocolate all around the ball and let the excess drip from it.
6. Press pieces of crystalised lemon onto the chocolate before it starts to set. Finally, stand the cake pop in a cup just the right height to support it but not to smudge the chocolate. Allow to set before serving. Chill if desired but this is not essential.