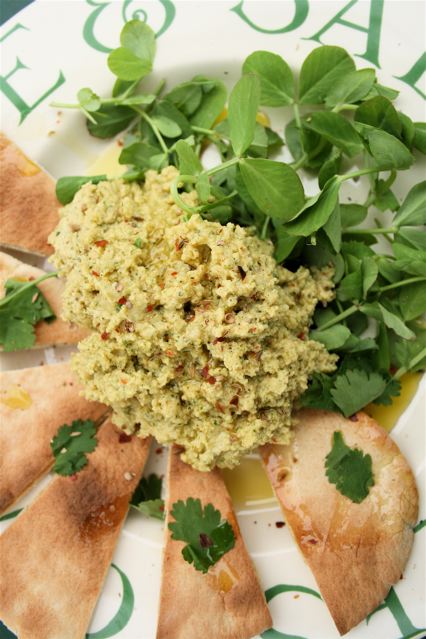 It wasn't strictly a master class but I witnessed a whole new way of mixing hummus when visiting Bethany of Dirty Kitchen Secrets a few days ago.

Apparently the trick is, when the processor is doing it's thing, you grab it and rock it back and forth violently on the kitchen work top.I was impressed with the results, Beth's hummus was a lot smoother than ones I have made in the past. I will post pictures of our food blogging barbecue meet up soon.

Ted loves supermarket hummus but always rejects mine. Having watched Beth make hers, I don't think I've been mixing it long enough. I have a feeling Ted would take much delight in me shaking the food processor about but I don't want to give him any ideas.  He's already attacked my kitchen scales this evening, pretending to weigh oranges, limes and lemons, it's wonder I can weigh anything accurately.

Fortunately with hummus you don't really need to and although I've given instructions below, there's barely a recipe either. I do like to flavour my hummus, traditionally it would be made with lemon juice but lime and coriander are one of my favourite flavour combos and I decided to give it a try. To serve I ground some harissa spices on the top that I had ready mixed but you could sprinkle over some chilli flakes and coarse salt if you can't track these down.

You may also like my sweet potato hummus post here.

Do you have any unorthodox cooking tricks you'd like to share?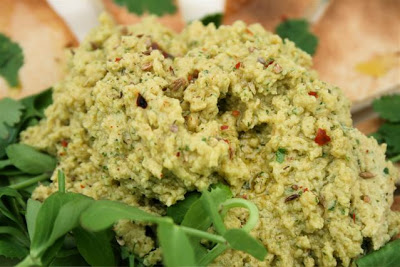 Lime and Coriander Hummus


Ingredients:
1 x 400g can chick peas, drained
2 tbsp tahini
100ml extra virgin olive oil
4 cloves crushed garlic
Juice of 1 lime
4tbsp chopped fresh coriander
Salt and pepper to taste


Method:
1. Blitz the chick peas, tahini, crushed garlic, lime juice and olive oil in the food processor.  Add more oil if you want it smoother. Rocking the processor backwards and forwards on the counter is optional but do it if you dare.
2. When you are more or less happy with the texture, add the coriander leaves last.  Add enough so that the hummus is tinted green but do not pulverise too much so that the colour stays as large flecks.
3. Season to taste and drizzle some olive oil over before serving with triangles of toasted pitta bread.