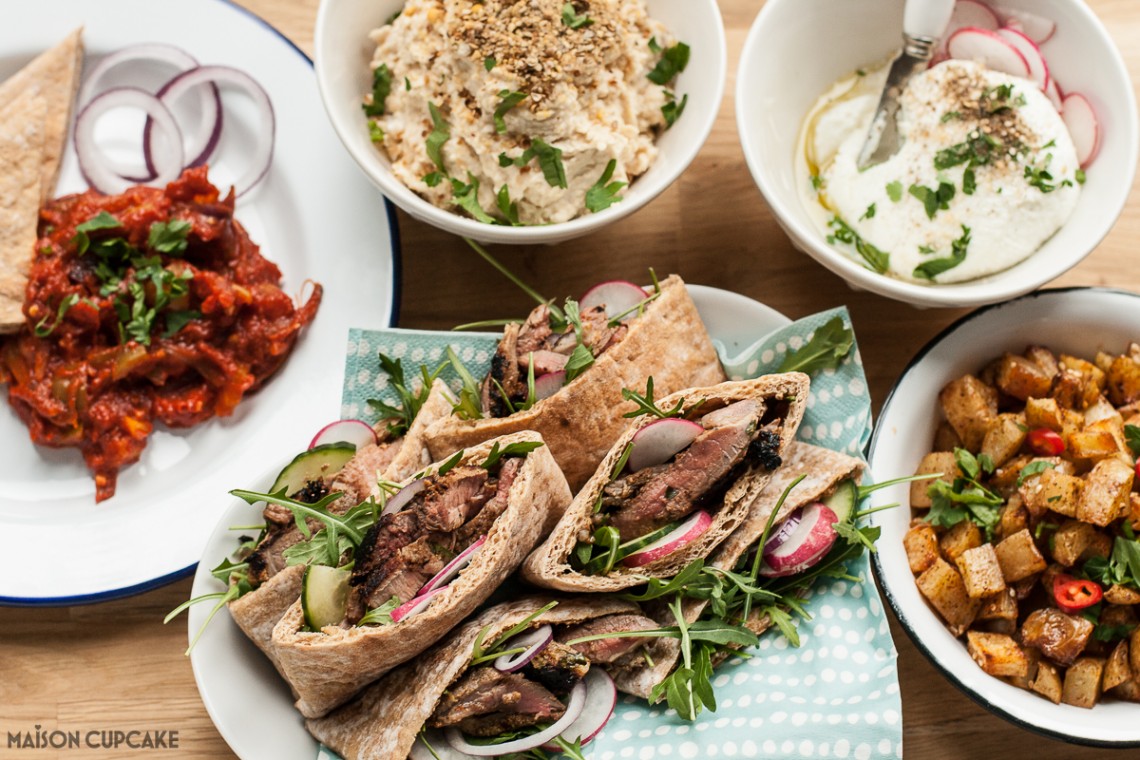 I declare January officially over and to lead us towards spring, here is a winter friendly Mediterranean style mezze feast to evoke memories of summer.
There are three easy ways shown here to incorporate sheep yogurt into one family friendly meal that's rich in protein and will fill those grumbly tummies;
Lamb steaks marinaded in sheep yogurt and ras el-hanout spice mix;
Homemade hummus made with sheep yogurt and topped with dukkah;
Labneh strained sheep yogurt, a cream cheese you can easily make yourself.
Alongside these are served with a spicy tomato and pepper sauce and diced za'atar potatoes for which I will publish recipes subsequently.
I have used smoked salt flakes throughout but you can substitute with ordinary sea salt if you don't have this. Indeed whether you use much salt at all is a personal choice. There's a lot of overlap with the various ingredients in the components of these dishes so it's relatively straight forward to pull it all together as one meal. The lamb needs to be marinaded for at least 3-4 hours and overnight if possible. The labneh needs to be strained for 12+ hours but requires barely 2 minutes' attention otherwise. You can prep the diced potatoes and do the veg chopping ahead but otherwise everything else can be comfortably done inside one hour.
Left over hummus and labneh can be spread on pitta breads or tortillas as snacks.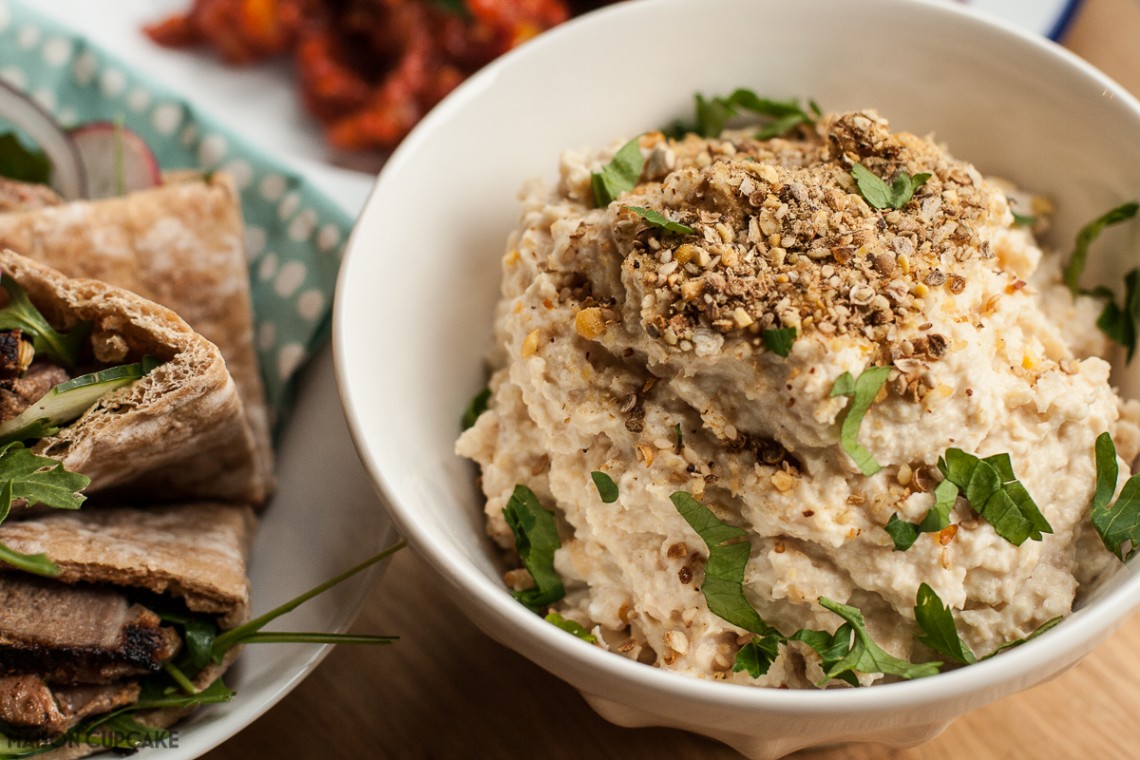 Like goats' milk, sheep milk is also easier to digest than cows' milk; this is to do with fats being found in smaller globules that human digestive enzymes can breakdown more rapidly. Sheep milk is also a high source of vitamin D and richer in vitamins A, B and E than cows' milk.
The fat content of the sheep yogurt is higher than standard cows' milk yogurt at around 6% but this is still lower than a full fat Greek yogurt made from cows' milk. I have found the sheeps' yogurt to have a pleasingly substantial texture making it robust enough to use in cooking and also satisfying to eat with cereal for breakfast. The taste is fresh and milk but somehow more 3 dimensional than usual cows' milk yogurt.
Here are the three ways I have used sheep yogurt in this meal;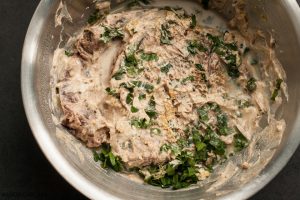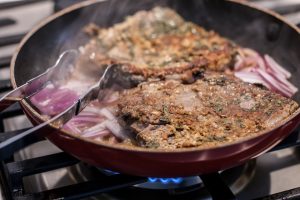 Lamb steaks in sheep yogurt marinade
Ingredients
3 x 150g lamb steaks
250g Delamere Dairy Natural Sheep Yogurt
large pinch smoked salt
2 heaped tsp ras al-hanout spice mix
1/2 tsp smoked paprika
1 tbsp finely chopped fresh flat leaf parsley
1 tbsp rapeseed oil
1 red onion, finely sliced (optional)
Directions
1. Place the raw lamb steaks in a bowl with the sheep yogurt, salt, spices and parsley. Turn so all the meat is well covered in marinade. Cover the bowl with clingfilm and chill in the fridge for at least 3-4 hours or preferably overnight.
2.  Fry the lamb steaks in rapeseed oil; two minutes each side for rare, 3-4 minutes each side for medium/well done. Alongside, you can fry the red onions in the same pan if serving these also.
3. Slice the meat into thin slices to stuff into the pitta bread. Fill pitta pockets with rocket, cucumber, sliced radish, cooked onions and meat slices. (You might also add some hummus or labneh if you wish.) Serve immediately.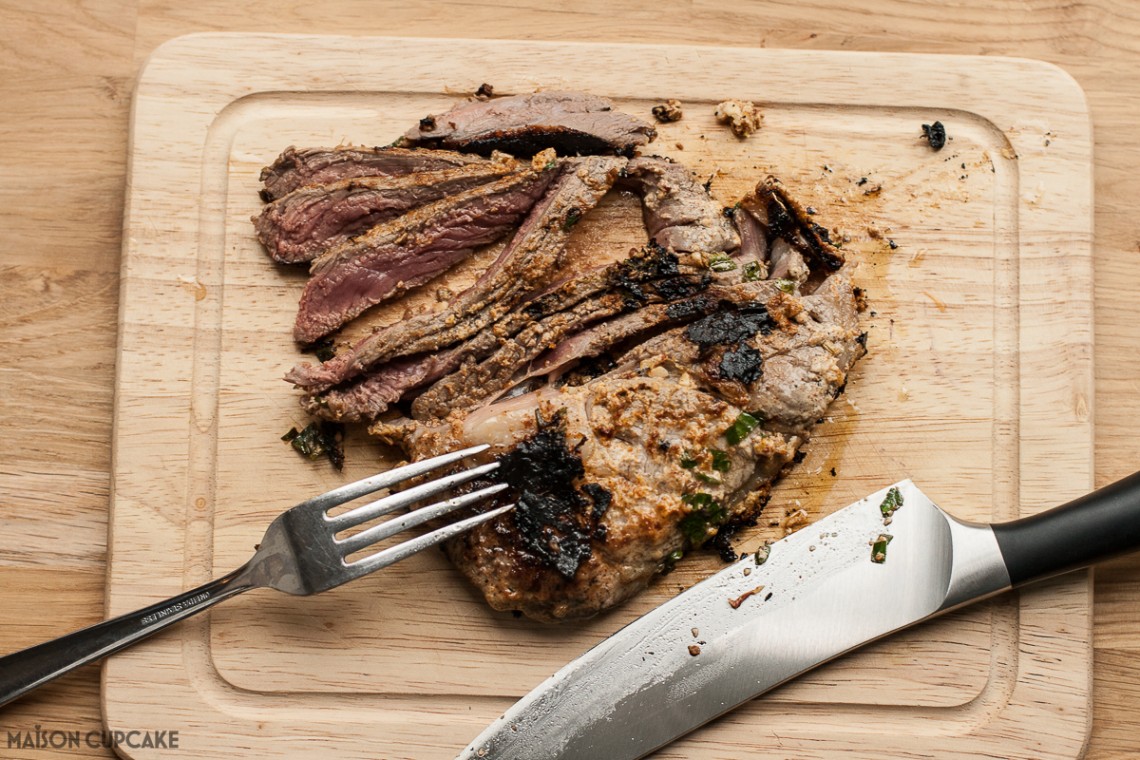 Note – Ras al-hanout is a Middle Eastern spice mix easily found in major supermarkets but you can substitute with a teaspoon each of cumin and paprika as a less complex alternative.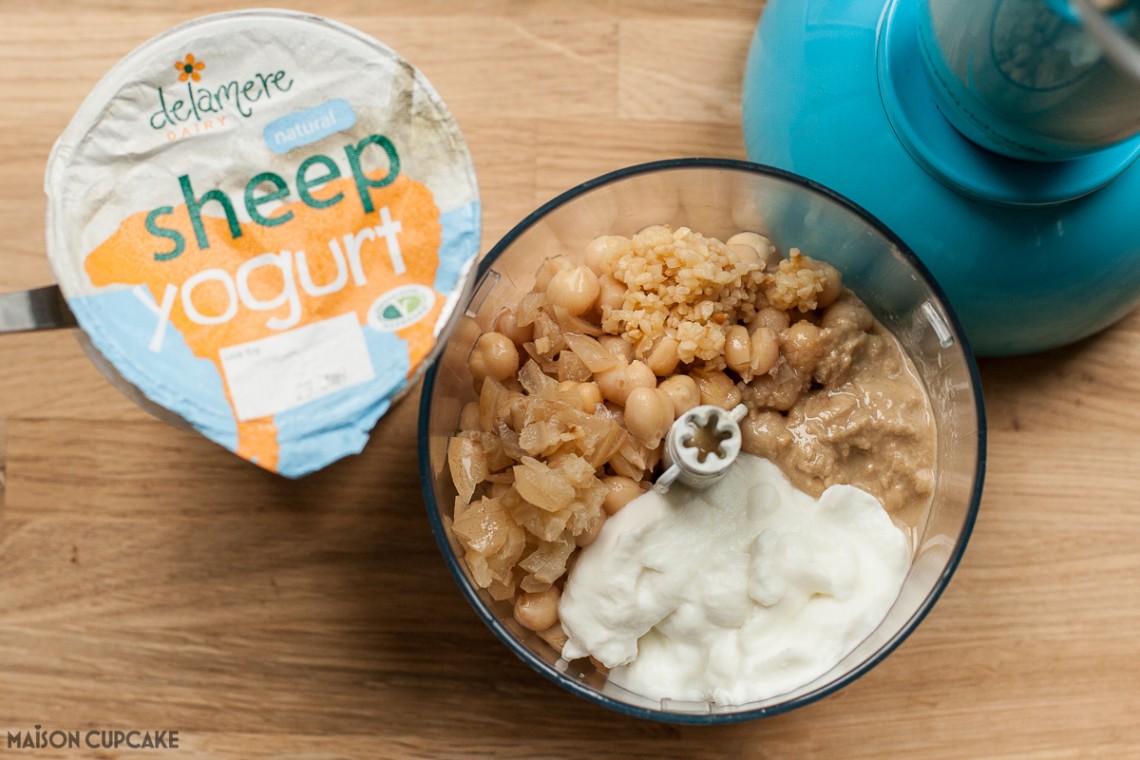 Next for the hummus with sheep yogurt; you can use whichever type of blender you like according to your preference. Personally I like my hummus a little rougher than that bought in the shops and less smooth than if you'd blitzed it in the power blender. But whether you mash it, blitz it or whizz a few seconds in a mini processor like me, it's down to you.
I have used half a preserved lemon, you may prefer a tablespoon of lemon juice. If you cannot find dukkah spice mix then a sprinkled mix of sesame seeds, dried cumin, coriander and cracked salt is comparable.
I have previously used yogurt in hummus as a way to get the wetness without adding extra oil. Actually I'm told you shouldn't put oil into hummus beyond what is in the tahini and water is the correct means to thin it down. Personally I prefer my hummus quite thick and I've found this version with sheep yogurt kept a stable texture in the fridge rather than separating and needing a stir before use.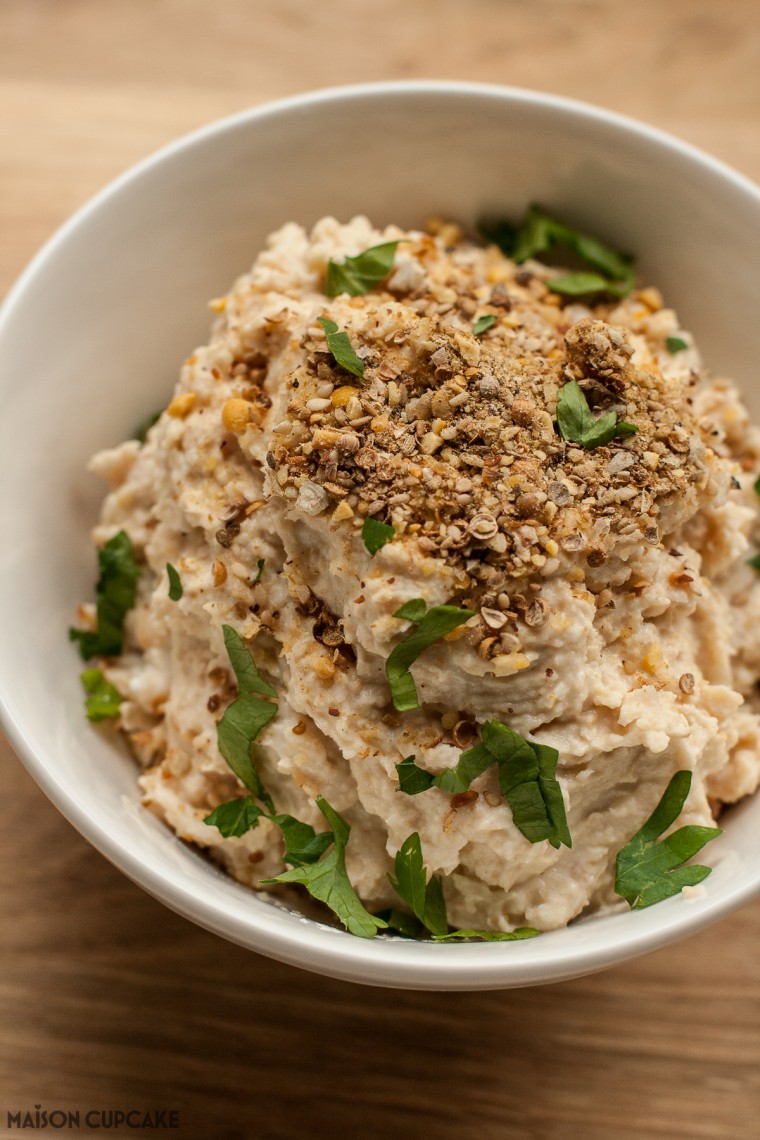 Hummus with Sheep Yogurt
Ingredients
1 x 400g can chickpeas
1/2 of a preserved lemon, finely chopped
2 heaped tbsp Delamere Dairy Natural Sheep Yogurt
1 tsp "lazy" chopped garlic (or one finely chopped fresh clove)
a pinch of smoked salt
2 heaped tbsp tahini
1 tbsp finely chopped flat leaf parsley (optional garnish)
1 tbsp dukkah spices (optional garnish)
Directions
1. Drain the chick peas and put in the blender with the preserved lemon, sheep yogurt, garlic, salt and tahini.
2. Blend to a consistency of your preference; top with dukkah spices and chopped flat leaf parsley.
3. Serve immediately or keep covered in the fridge for 2-3 days.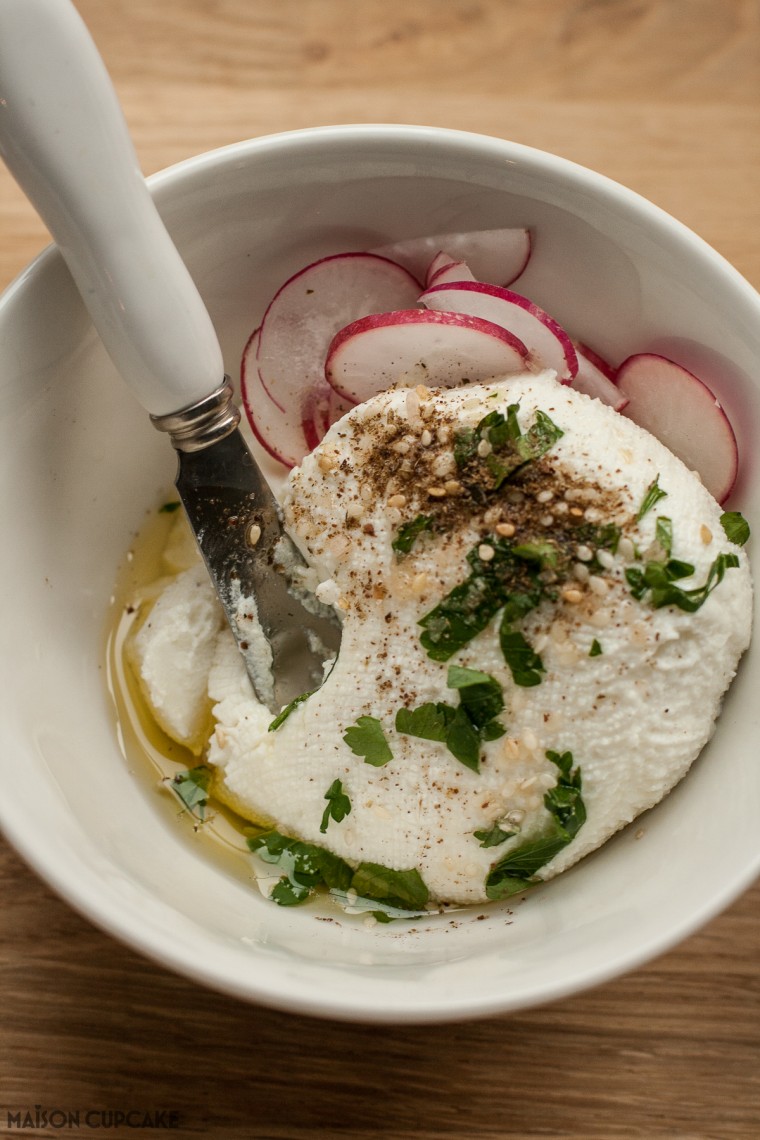 For the labneh, you really only need the yogurt and a muslin cloth to strain and to allow time for gravity to do its job. The other ingredients in the list are really only garnish but it does make it look more interesting on the table as well as adding some characteristically Middle Eastern flavour. You can actually roll the solid mass of labneh into balls and cover with oil but today I have used it as a single bowl in the manner of cream cheese.
Sheep Yogurt Labneh
Ingredients
1 x 450g pot Delamere Dairy Natural Sheep Yogurt
pinch of smoked salt
1/2 tsp za'atar spice mix
1 tbsp finely chopped flat leaf parsley
1 tbsp olive oil
sliced radish (as garnish)
You will need a muslin cloth and sieve
Directions
1.  Arrange the muslin cloth in a sieve resting in a medium size bowl. Spoon the sheep yogurt onto the muslin and cover with clingfilm. Leave for 12+ hours.
2. After the time has passed, tip away the watery liquid (or use it to make bread!) and peel the now more solid mass of "cheese" away from the muslin. Transfer to a bowl and scatter over the salt, spices, parsley, oil with radish to look pretty.
3. Serve immediately, or keep covered in the fridge for 2-3 days.
So there you have it; three ways to incorporate sheep yogurt into one family meal. You could also increase the quantities and serve as a party buffet or casual lunch with friends. If you're looking for a dessert where you could also use sheep yogurt try my honey and pistachio gibanicas , based on a Yugoslavian dessert served by my husband's family.
Have you tried sheep yogurt? What did you think?
This post was commissioned by Delamere Dairy Natural Sheep Yogurt.