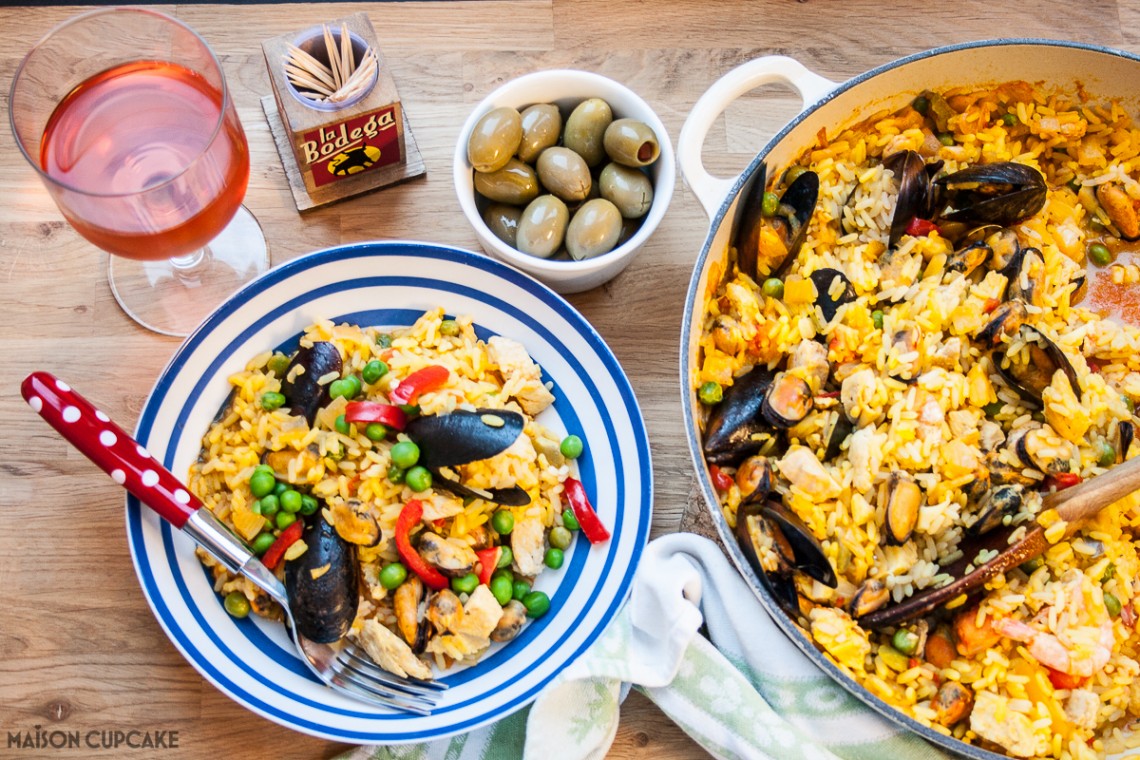 Are you craving summer? Whilst it's not been especially cold it has felt a gloomy winter so this easy supper made last night really made life feel brighter now the light nights are here.
With the exception of a generous sprinkle of saffron from the storecupboard, the ingredients above were all frozen ingredients from Iceland so you could knock up this cheerful dish for friends or family from the freezer at a moment's notice. No one would ever guess you'd not slaved over the shopping and cooking for hours.
Cast away any prejudices you have about frozen food products; it took barely twenty minutes to make without compromising any of the taste or nutrients – in fact frozen foods retain more vitamins than fresh. And if you're not sure whether you have a handy Iceland near you, or find it tricky by car you can order with confidence online; Which UK recently named Iceland as the best online supermarket.
Iceland have really souped up their product lines in the past year or so with their #PowerOfFrozen campaign. There are many exciting goodies in their freezers waiting to be discovered – as you can explore some more in a couple of my previous posts around Christmas and last summer. It's not just about ready meals in boxes, Iceland also do a lot of frozen ingredients to cook in your own recipes as I demonstrate with this convenient paella dish.
Paella is a traditional Spanish dish comprising rice, seafood, chicken and vegetables brightly coloured with saffron. I've not spent much time in Spain however it's also a highly popular dish at street markets and festivals in the Camargue region of southern France where we have been many times. The market stall holders cook giant platters of it. Just the sight of this dish bubbling away got me thinking about holidays.
In the absence of sangria we served the paella with some Echo Falls fruit fusion summer berries rose wine also available from Iceland for just £4.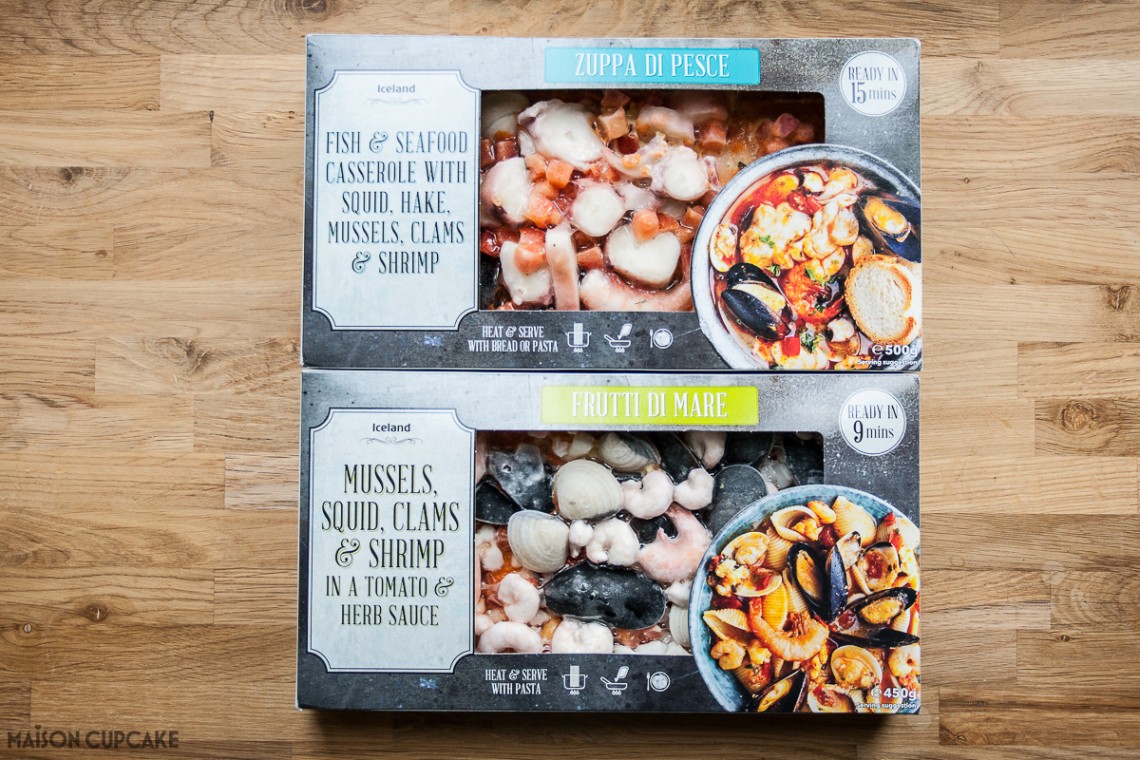 Here are the ingredients used:
Frutti Di Mare frozen fish selection of mussels, squid, clams and shrimp in a tomato and herb sauce (£3.50 a box);
Or alternatively use a similar product from the same range; Zuppa Di Pesce fish and seafood cassserole with squid, hake, mussels, clams and shrimp (also £3.50). Either would be fine.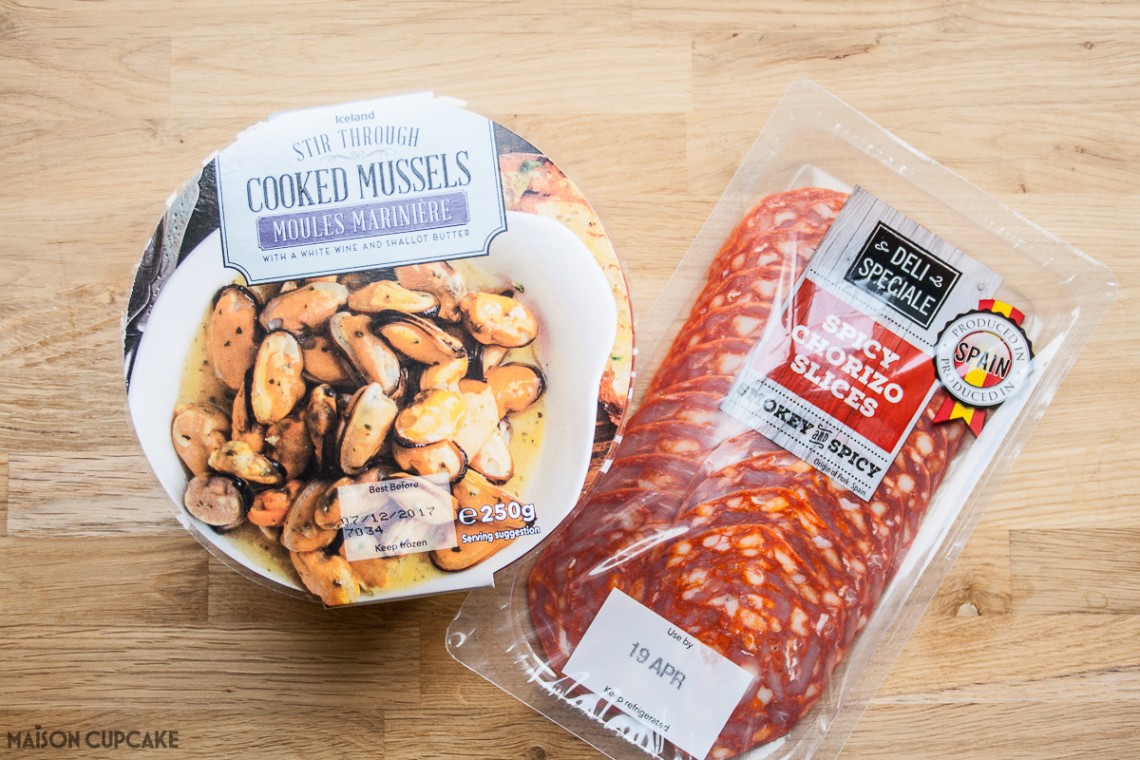 Stir Through Cooked Mussels "Moules Marinere" (£2.50) – these include shelled mussels with frozen balls of white wine and shallot butter;
Spicy Chorizo Slices (£1) – these aren't frozen and actually at the last minute I forgot to include them. Chopped up, they make a great addition if you remember! Or alternatively you could nibble pieces of chorizo as an appetiser.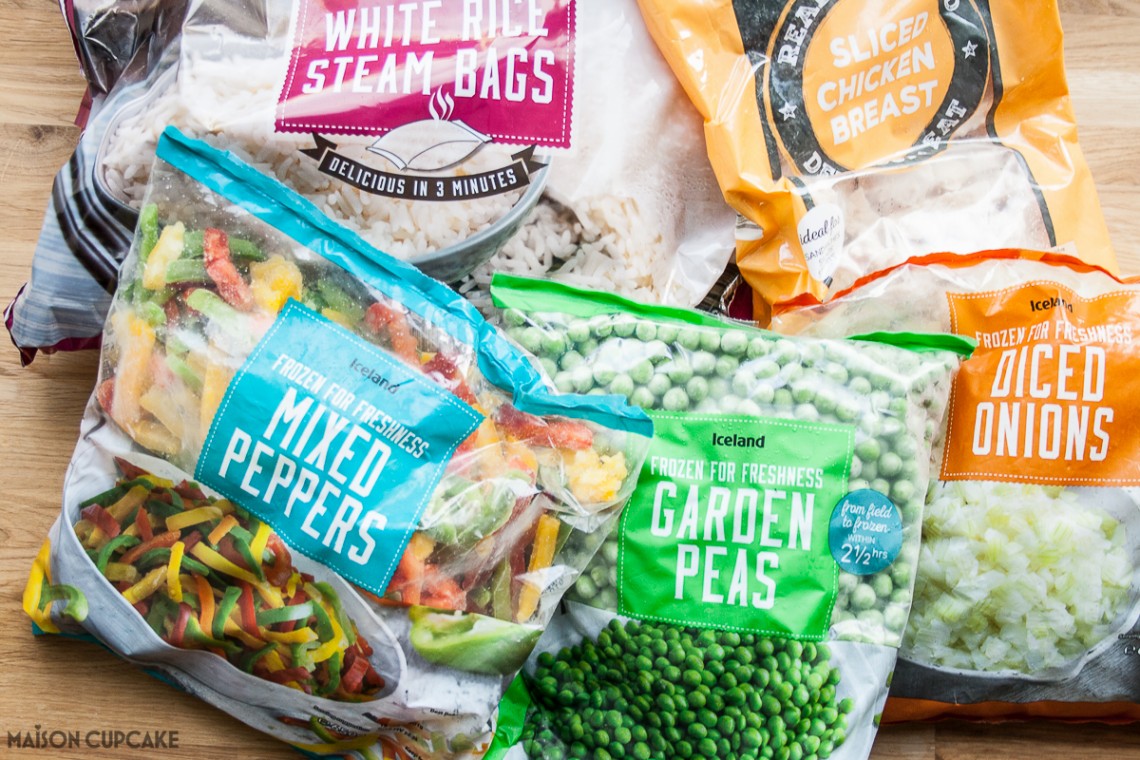 And then precooked bags of white rice in handy bags (£1.69), cooked pieces of Sliced Chicken Breast (£3), Mixed Peppers, Garden Peas and Diced Onions (all £1.29 each). Using these pre-prepared frozen ingredients slashes the preparation time and effort required to make this dish without compromising the flavour or texture. So whether you're helping kids with the homework or chatting to friends round for dinner this recipe is your friend!
If you want to keep things pescetarian you can of course omit the chicken and chorizo.
The recipe is super simple, barely more than staggering the time you add everything to the pan. After heating everything through and bubbling off the excess liquid your paella will be ready to enjoy. My husband was very surprised to be served this last night as paella is not something I ever cook as it would be too faffy to get the ingredients together – he couldn't believe it when I said I'd only started cooking a few minutes earlier and has asked me to make it again.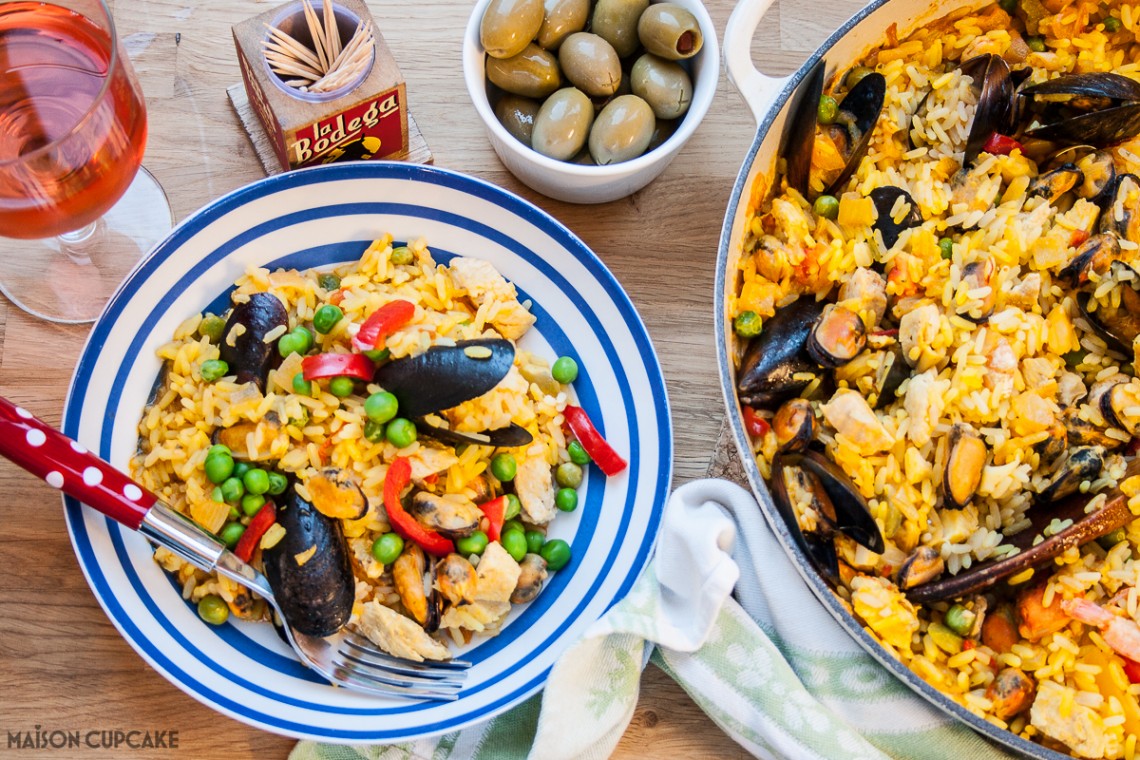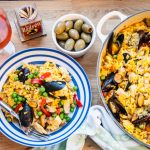 Print Recipe
Twenty Minute Paella (with Iceland Frozen Fish)
An easy convenient version of the Spanish classic paella using only frozen ingredients.
Ingredients
1

tbsp

cooking oil

2

generous handfuls Iceland frozen diced onion

2

generous handfuls Iceland frozen mixed peppers

1

generous handful Iceland frozen garden peas

1

box Iceland frozen fish "Frutti di Mare"

1

tub Iceland frozen Moules Marineres

2

generous handfuls Iceland frozen cooked chicken strips

3

bags Iceland frozen White Rice Steam Bags

1/3

mug boiling water

1/2

tsp

saffron threads

1

pack Iceland chorizo slices
Instructions
Boil the kettle and pour 1/3 mug boiling water over 1/2 tsp saffron threads, leave to steep for a few minutes.

Heat the oil in a large flat cooking pan. Cook the onions first, when softened add the Frutti di Mare, Moule Marinieres and chicken strips.

Meanwhile, microwave the peas and peppers for 2 minutes and set aside.

As the seafood and chicken defrost, add the bags of rice and stir. Pour over the saffron in water and stir thoroughly. Turn the heat down and leave with the lid on for a few minutes.

As the rice has defrosted, remove the lid and turn up the heat to bubble off most of the saffron water.

A minute or two before serving, put the microwaved vegetables in at the last moment so not to over cook. Add the chorizo if desired.

Serve immediately with a cold glass of something summery!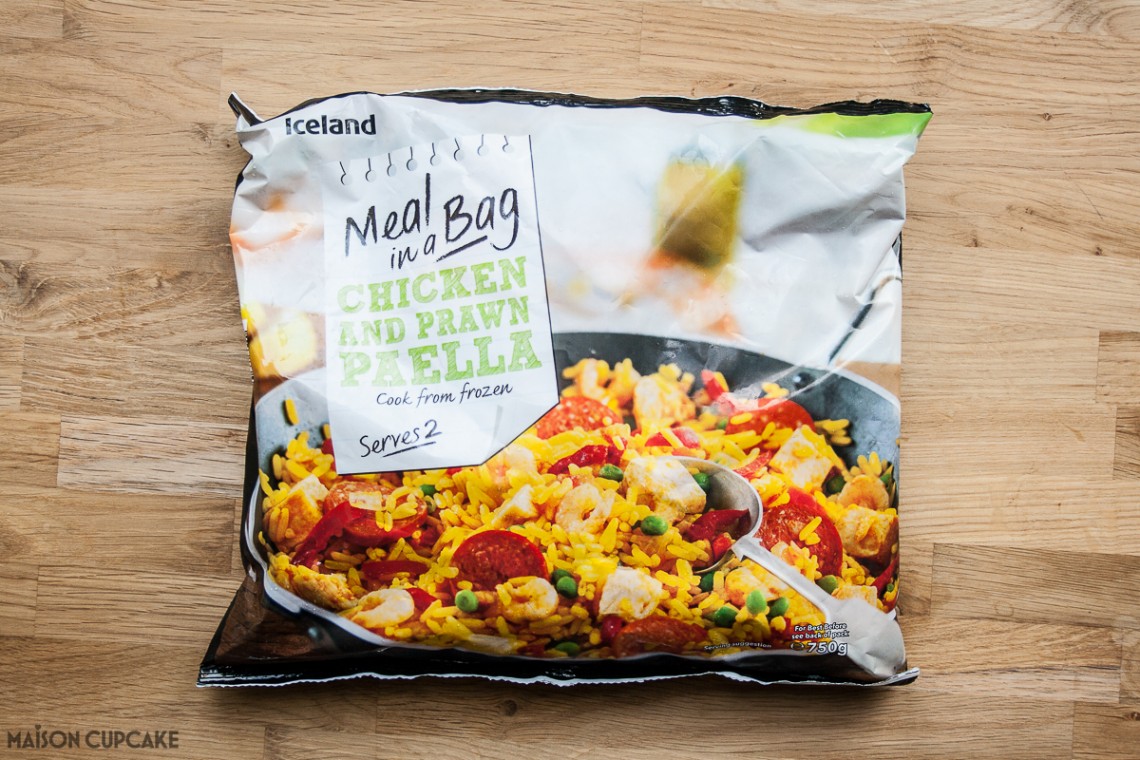 And if you get SRSLY lazy, Iceland also sell a "Meal in a Bag" of chicken and prawn paella. Maybe I'll leave one of these in the freezer as an emergency dinner for my husband!
This Twenty Minute Paella recipe post was commissioned by Iceland as part of their #PowerOfFrozen campaign. For further info visit Iceland.co.uk 
If you like this recipe see also my Iceland ingredients Five Minute Fish Pie.