Easy summer menu with Mediterranean flavours – with a few ready made frozen items you can feed six people in around 30 minutes. This post was commissioned by Iceland for their #PowerofFrozen campaign.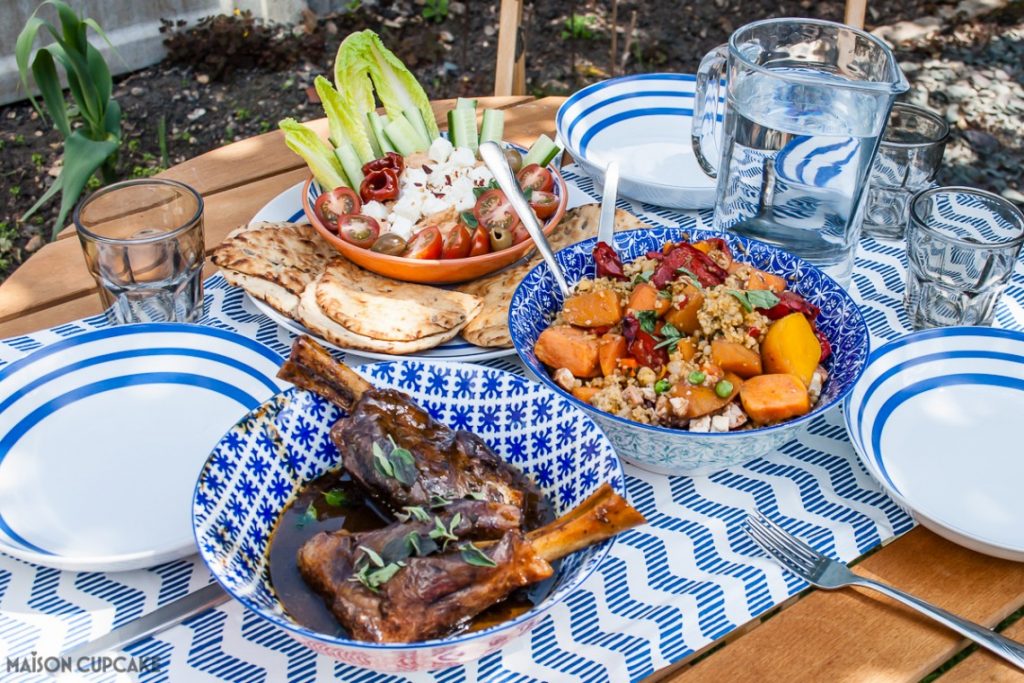 Is it me or is everyone just crazy busy these days? I've reached the conclusion I work pretty much 7 days a week throughout term times to compensate for the interruption of school holidays and inevitable sick weeks.
A holiday would be nice, and we have one soon. Only the sheer franticness of getting things finished before signing off for a week followed by chaos upon returning makes me wonder sometimes whether it would be easier not to go at all.
So last weekend I took solace in a day that was way sunnier than forecast and revelled in how easy it was to pull of this al fresco lunch menu. We were feeding just three of us in these pictures but I was so impressed by the effortlessness of this summer menu, we are doing it all again tomorrow when we have guests. So I have adapted the timings/quantities I'm talking about for six people.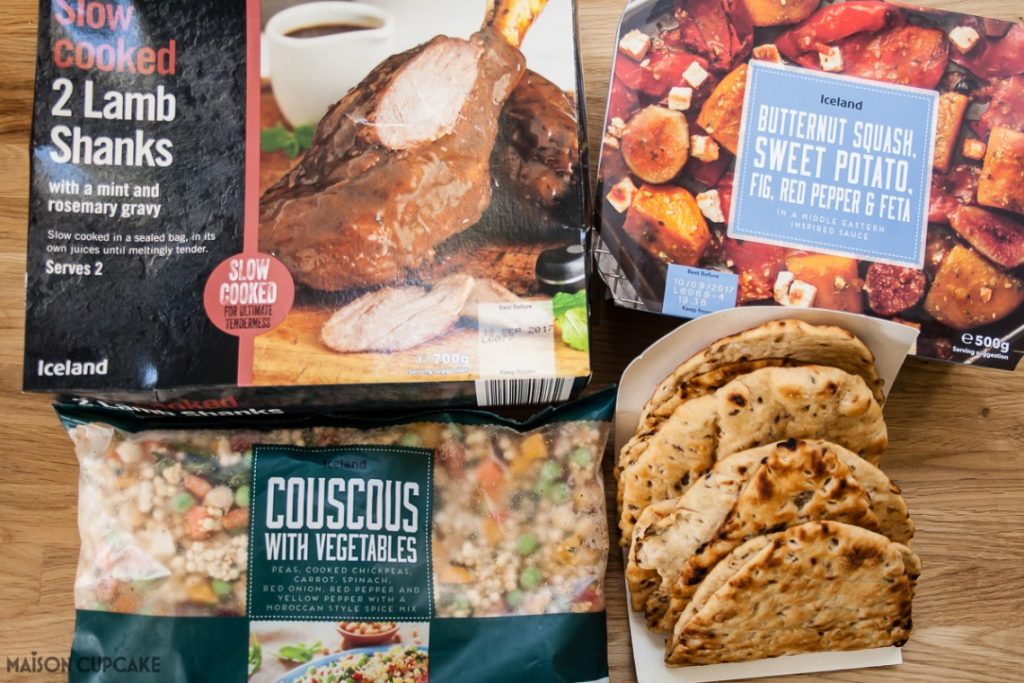 This is definitely a reason for mum going to Iceland – although tomorrow I think it will be a case of Dad sent to Iceland with a list.
We chose:
Slow cooked lamb shanks in mint and rosemary gravy – ready from frozen in an astonishing twelve minutes in the microwave. And if you did as I did and defrost them first, they heat up even faster. (buy 3 packs to feed six)
Butternut squash, sweet potato, fig, red pepper and feta in a Middle Eastern inspired sauce – which I baked in the microwave combi oven in around 15 minutes.  (buy 2 packs to feed six)
Couscous with Vegetables – which has all the veggies and some chick peas already in it so you just heat it up although I hacked it slightly as I'll explain below. (buy 2 packs to feed six)
Seeded folded flat breads from the Luxury range – served dipped in hummus. (buy 2 packs if you want plenty for snacking with drinks before main meal)
I actually made my own hummus which I'll blog separately but you could save time by subbing with Icelands:
Global Deli Be Inspired Olives, Feta and Tomatoes – shown here and
Iceland Red Pepper Houmus – shown here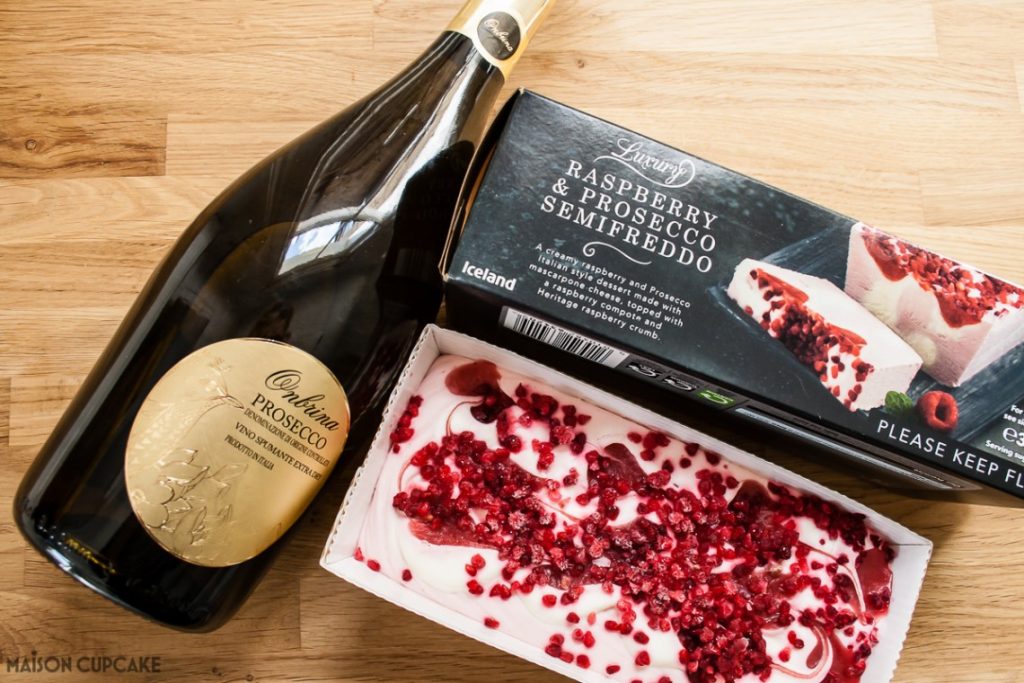 Which we served with this Prosecco (just £6.79 a bottle) and Iceland's new Luxury Raspberry & Prosecco Semifreddo frozen dessert.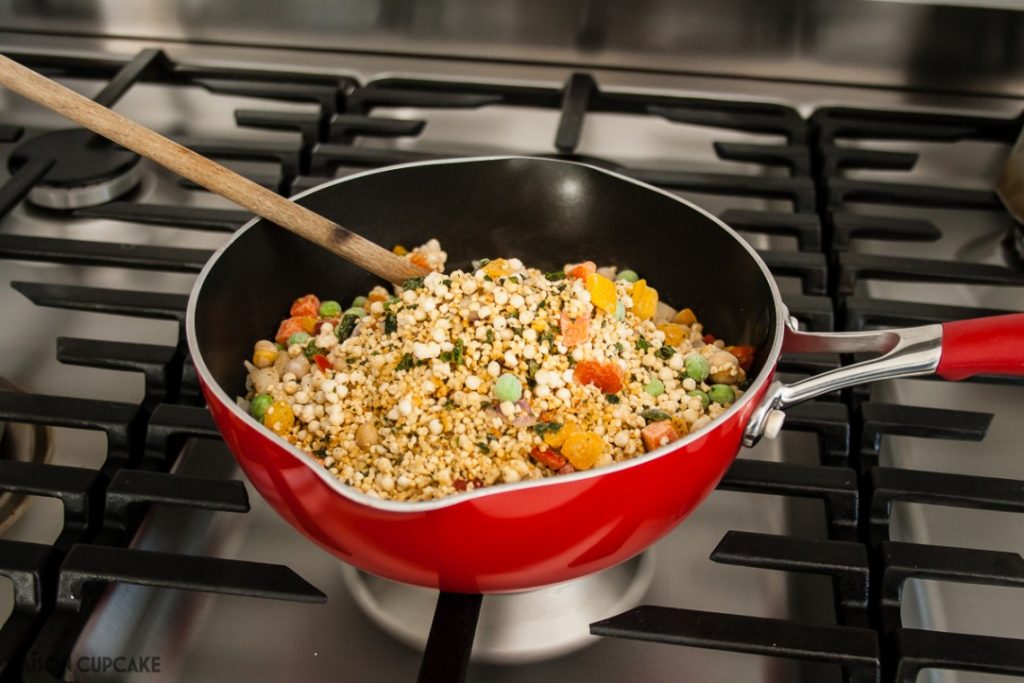 So to hack this couscous then – not pictured but I fried some of Iceland's super convenient ready chopped onions in olive oil underneath. Then you add the packs of frozen couscous mix and just keep stirring it until it defrosts. I also added a crushed vegetable Oxo cube.
On serving the couscous, I mixed it together with the roast vegetable mix. The Middle Eastern inspired sauce in the roast veg mix goes perfectly with the couscous.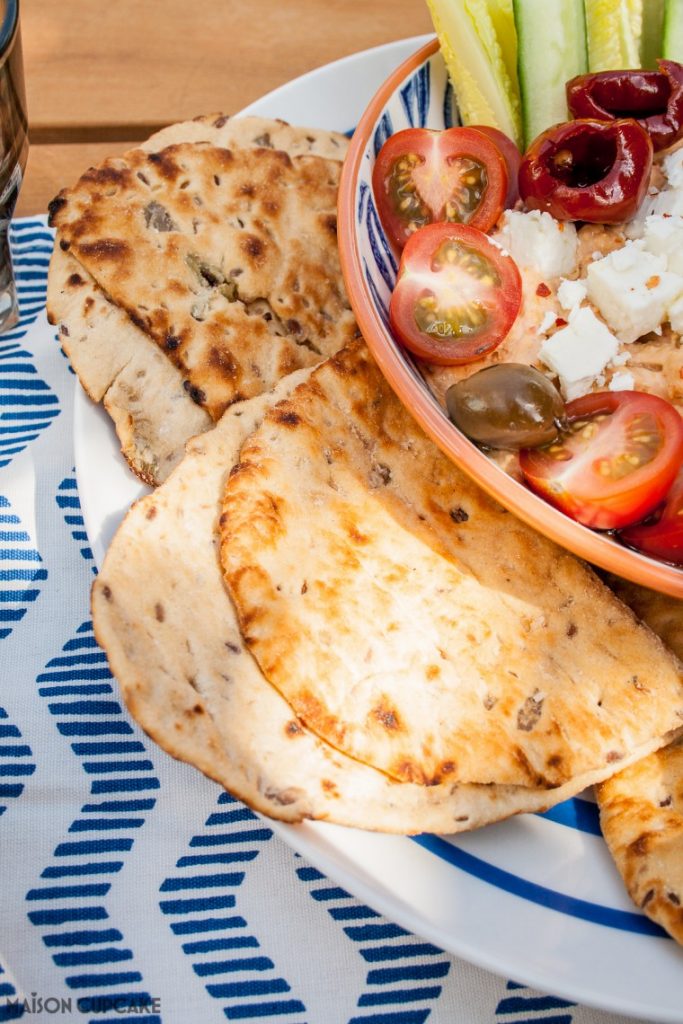 Lovely toasted seeded pitta breads for scooping all that hummus. I added some fresh salad veg too.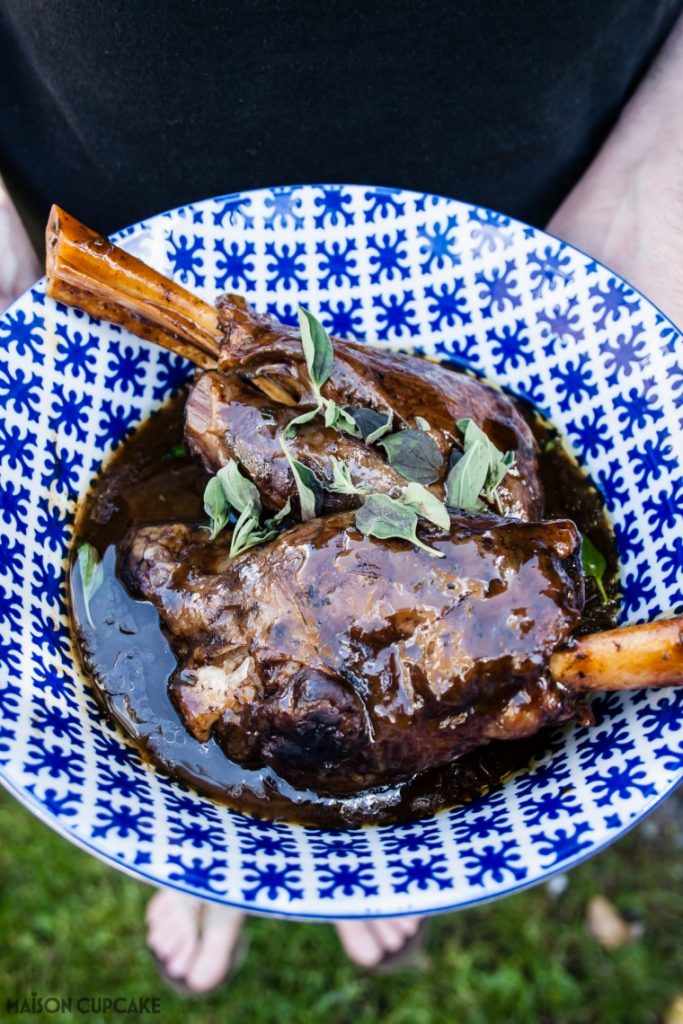 And these are the miracle lamb shanks. Excuse my husband's toes, he's been castigated for bringing the tone down. These lamb shanks in rosemary and mint gravy come already cooked and you simply blast them in their pierced bag in the microwave for 12 minutes. This product is quite simply going to revolutionise my too-lazy-to-do-Sunday-Roast feeling forever.
Having already defrosted mine (due to the freezer being rammed with bargains) we were able to reheat 2 lamb shanks in around 7-8 minutes per pair. So if you were doing this dinner for six you'd need to allow 24 mins microwave time plus 15 minutes for the roast veg. Or you could bung the lot in a hot oven for around 30 minutes. Bingo.
The meat is SO tender. It fell of the bone and Ted who is normally fussy about red meats gobbled it all up with the tasty gravy.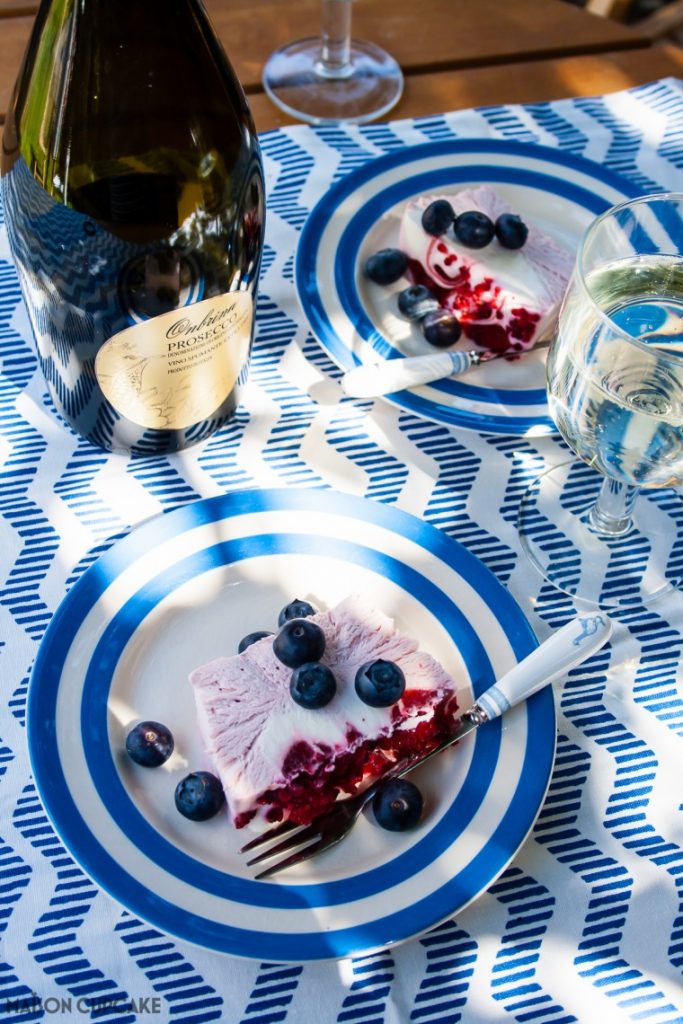 And under the dappled sunlight we lazed away the afternoon with chilled Prosecco and a wedge of the raspberry semi freddo served with a few cheeky blueberries.
So picture me if you can, Prosecco in hand, ranting to the husband about everything that needed doing this week and then pausing to point at our lunch saying, "I am so doing this again." And think of me with our guests tomorrow – they have four year old twin boys so the less attention required to cook the better!
For more meal solutions with quality and convenience in mind, here are a couple of other outdoors-y posts by my blogging friends also created to celebrate #PowerofFrozen with Iceland:
Chicken & Chorizo Paella by Jo's Kitchen
Barbecue Sardines with Wild Garlic Salsa by Foodie Quine
Chunky Barbecue Relish by Fab Food 4 All
And a few more easy recipes all using frozen foods from Iceland: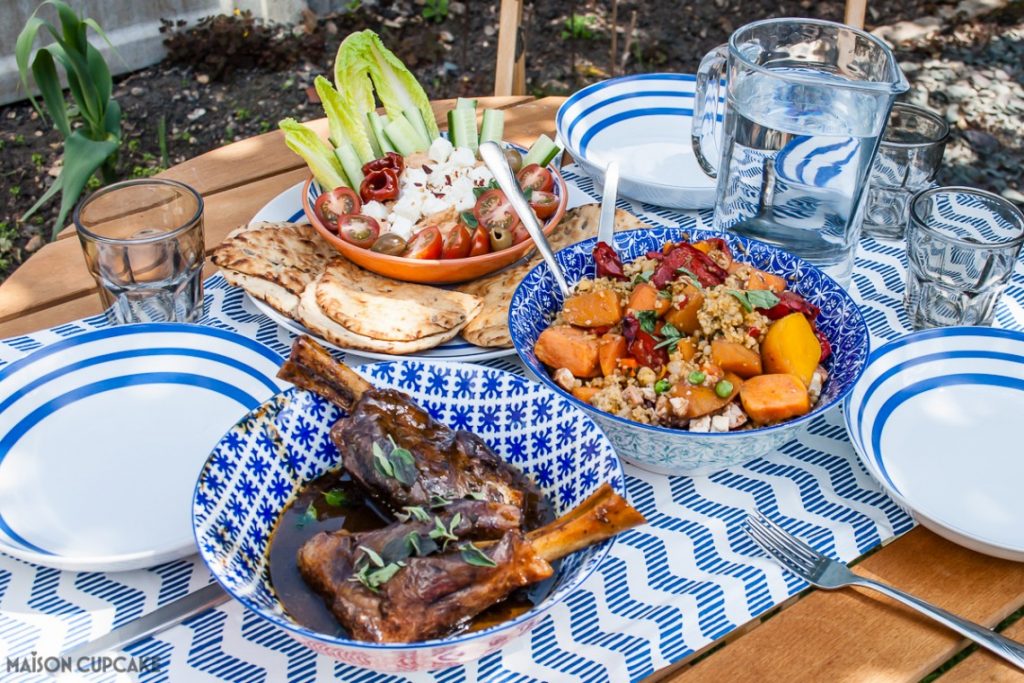 This easy summer menu post was commissioned by Iceland for their #PowerofFrozen campaign. For further info visit Iceland.co.uk