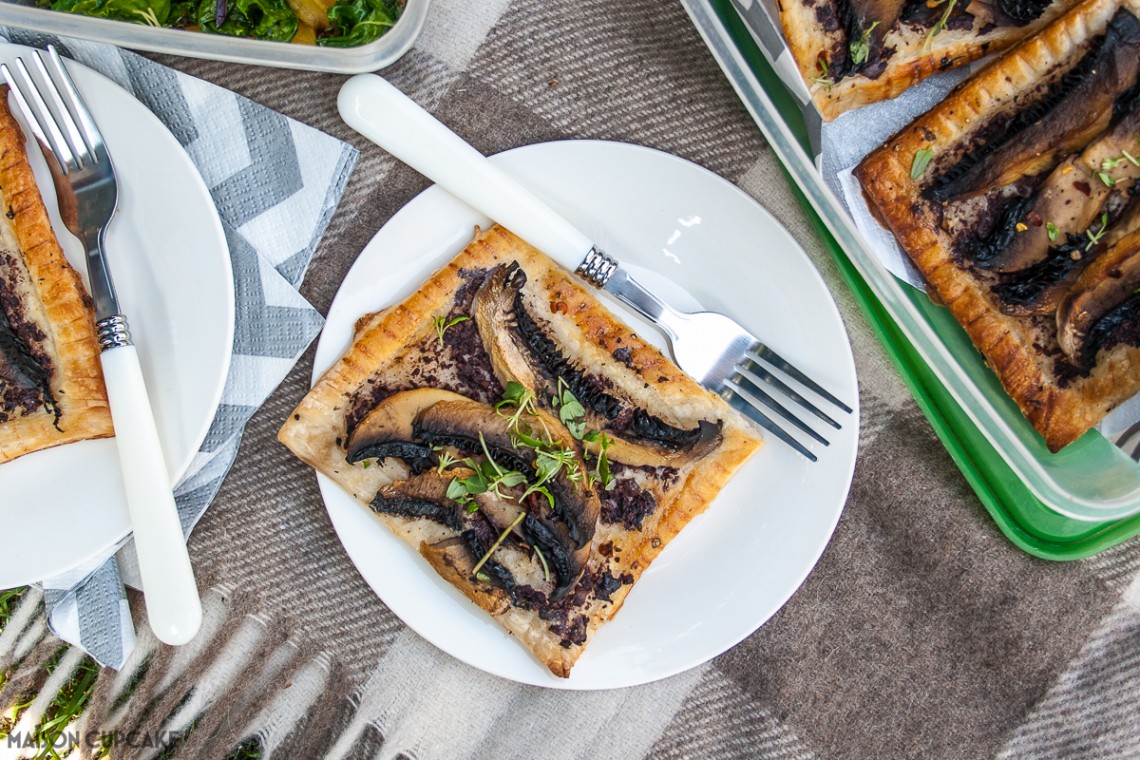 These tasty portobello mushroom puff pastry tarts only need five ingredients, around 30 minutes to make and are the perfect addition to your picnic or packed lunch.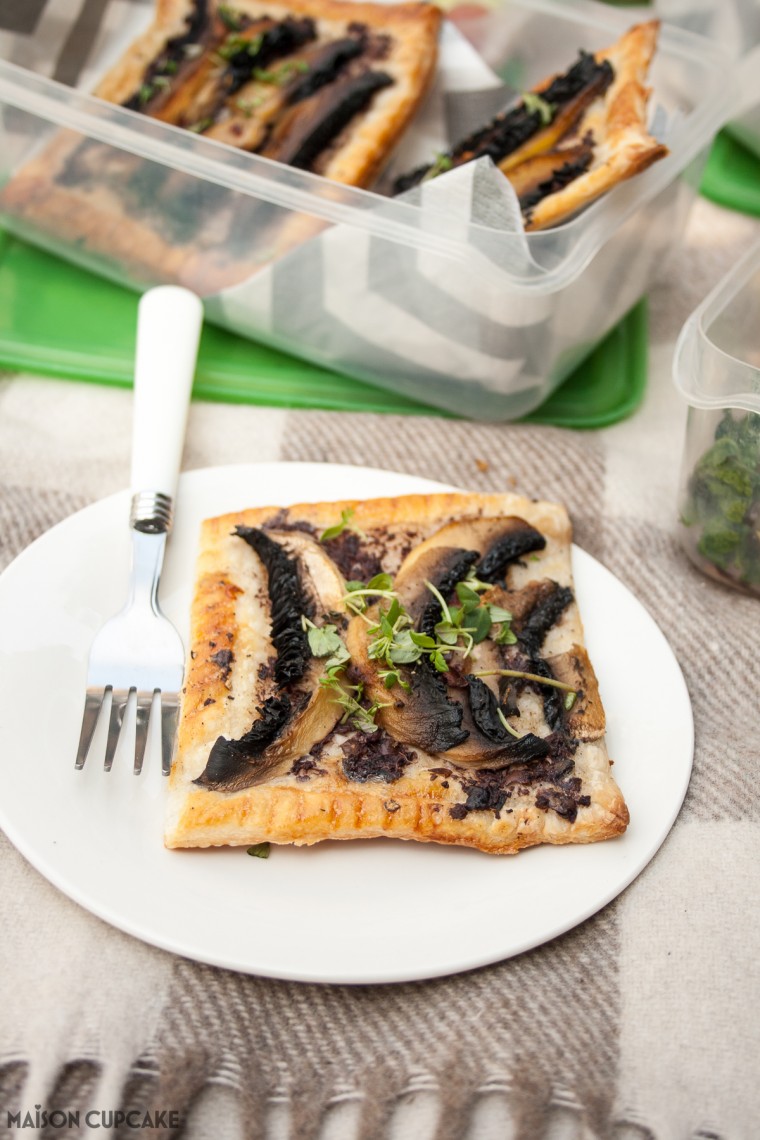 June 11-19 marks the UK's optimistically scheduled National Picnic Week. The weather has been hit and miss so far this summer but as a family we've grabbed every opportunity to eat al fresco. I've already shared my summer Mediterranean menu for six and then last weekend we got the picnic basket and blanket out for this mushroom filled feast on the back lawn.
These lovely dark portobello mushrooms are packed with flavour and laying them on sheets of baked golden puff pastry is a portable way to enjoy them outdoors. A pastry base spread with black olive tapenade boosts the umami factor. A 500g block of puff pastry is enough to make eight of these savoury puff pasties or you could use half the pastry to make something sweet for dessert. Baking time is under 15 minutes meaning you can maximise your time in the great outdoors.
Mushrooms are a versatile vegetable you can enjoy all year round and can make a valuable contribution to a healthy diet. Mushrooms are a good source of B vitamins, dietary fibre, anti-oxidents, a vegetarian source of protein and one of your five a day. What's not to love?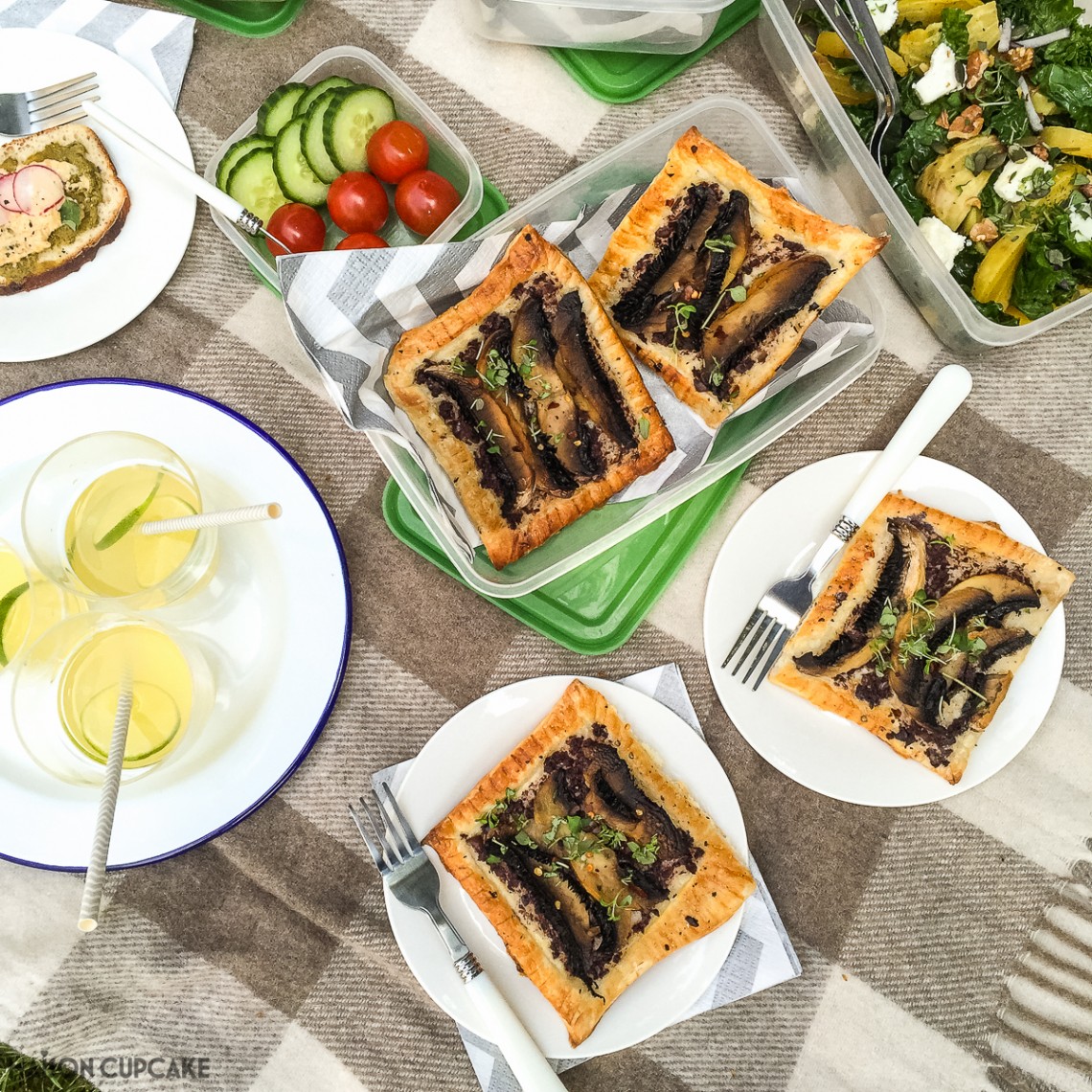 You could serve these mushroom pastries also as a light vegetarian lunch or make them smaller as party appetisers. Truffle oil really ramps up the mushroom flavour if you have this but otherwise olive oil is fine.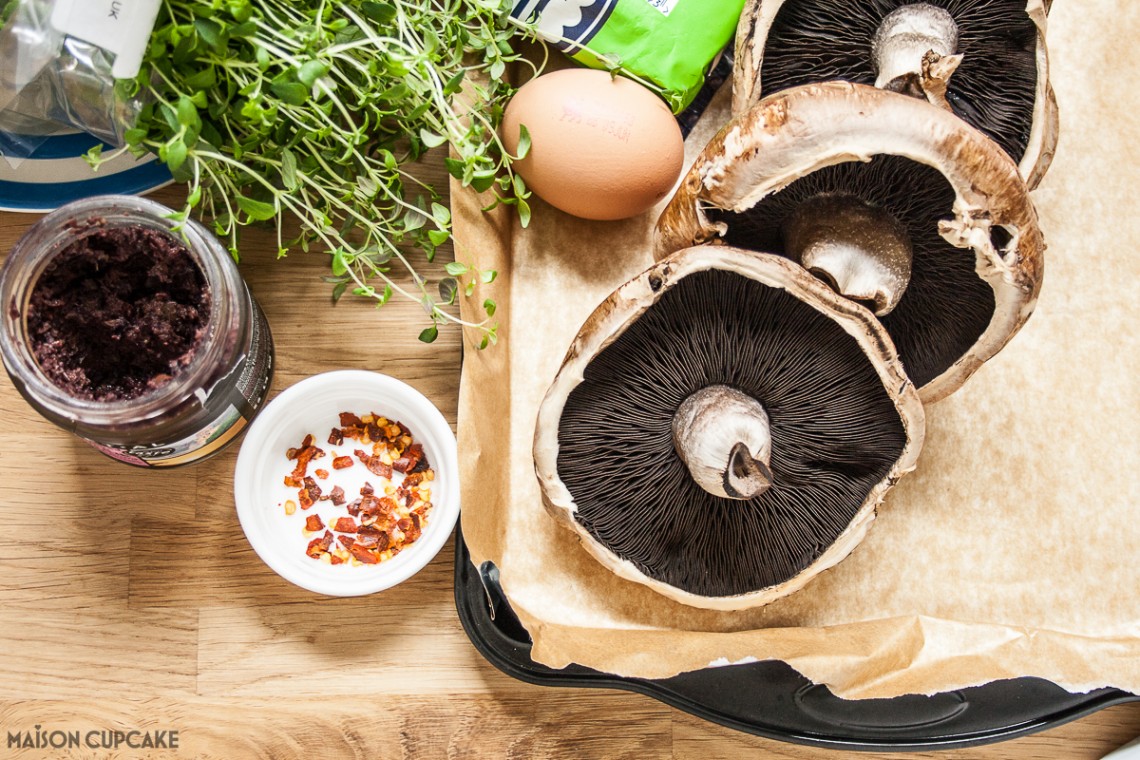 Making portobello mushroom puff pastry tarts
You only need five ingredients to make these portobello mushroom tartlets – puff pastry, nice big dark portobello mushrooms, black olive tapenade, oil and a dab of egg wash to make the pastry golden.
Optionally you can add chilli flakes and garnish with fresh thyme. I admit, I add chilli to virtually everything I eat but you don't have to!
This is a vegetarian recipe easily adaptable for vegans if you sub the egg wash with something else such as a mix of soy milk and agave nectar. Pre-rolled puff pastry in boxes is often made only with vegan ingredients rather than butter so you might not have realised you were already eating a vegan friendly product.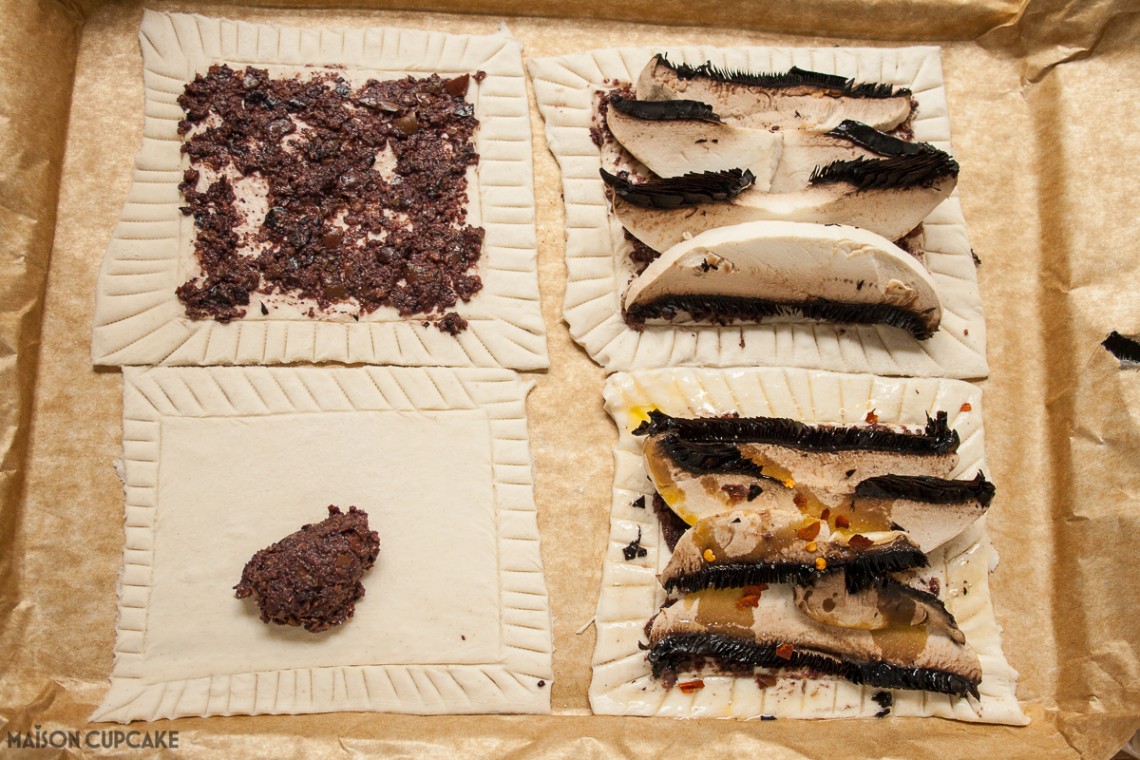 Here is a visual aid to how to build up your mushroom pastries – score the pastry, spread black olive tapenade, just add mushrooms slices and finally drizzle over the oil. Remember that sprinkling of chilli flakes is optional. A printable recipe sheet is available for you below.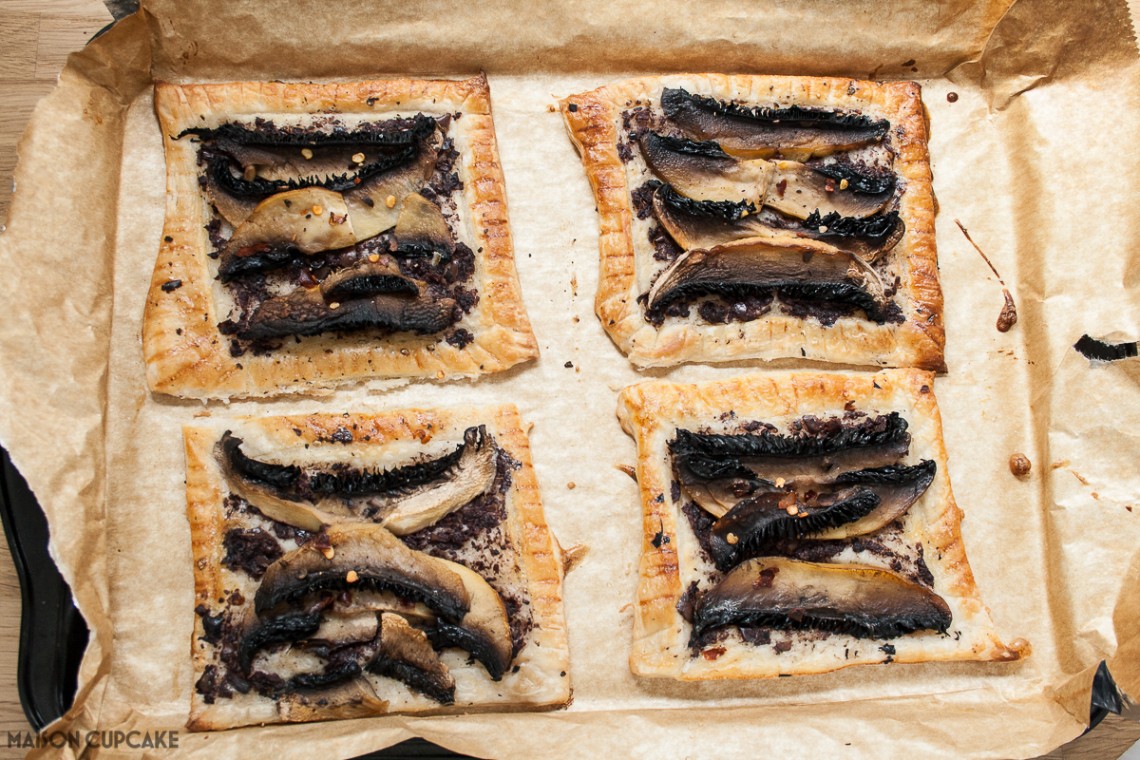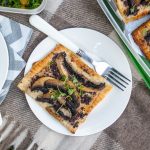 Print Recipe
Portobello Mushroom Puff Pastry Tarts
Ingredients
1

x 500g block puff pastry

4-5

portobello mushrooms

peeled and cut in thick slices

8

heaped tsp black olive tapenade

1

beaten small egg to glaze

olive oil or truffle oil to drizzle

chilli flakes

optional

fresh thyme to garnish

optional
Instructions
Preheat the oven to 200c / gas 6.

Roll out the puff pastry to 5mm thick. Cut into rectangles around 9 x 12cm.

Score the edges of the puff pastry rectangles to leave a 1cm border.

Lay the rectangles on baking sheets lined with non-stick baking parchment paper.

Spread heaped teaspoons of black olive tapenade on each rectangle leaving the borders clean.

Lay slices of portobello mushroom on the tapenade, drizzle with oil and scatter with chilli flakes if desired.

Brush beaten egg on the pastry borders. Bake for 12-15 minutes until puffed up and golden brown.

Can be served immediately or cool and box them up for your packed lunch or picnic.
We enjoyed our mushroom tartlets with open sandwiches spread with hummus, pesto and radish slices as seen in my recent focaccia in a stand mixer post. The salad on the right is kale, golden beetroot, feta and walnut which I may blog separately elsewhere soon.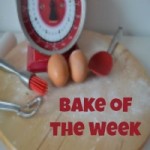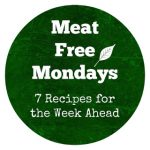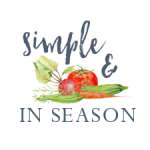 I am sending these portobello mushroom tarts to these events:
Bake of the Week hosted between myself and Casa Costello
Simple and In Season hosted by Feeding Boys
Meatfree Monday hosted by Tinned Tomatoes
Eating Al Fresco hosted by Munchies and Munchkins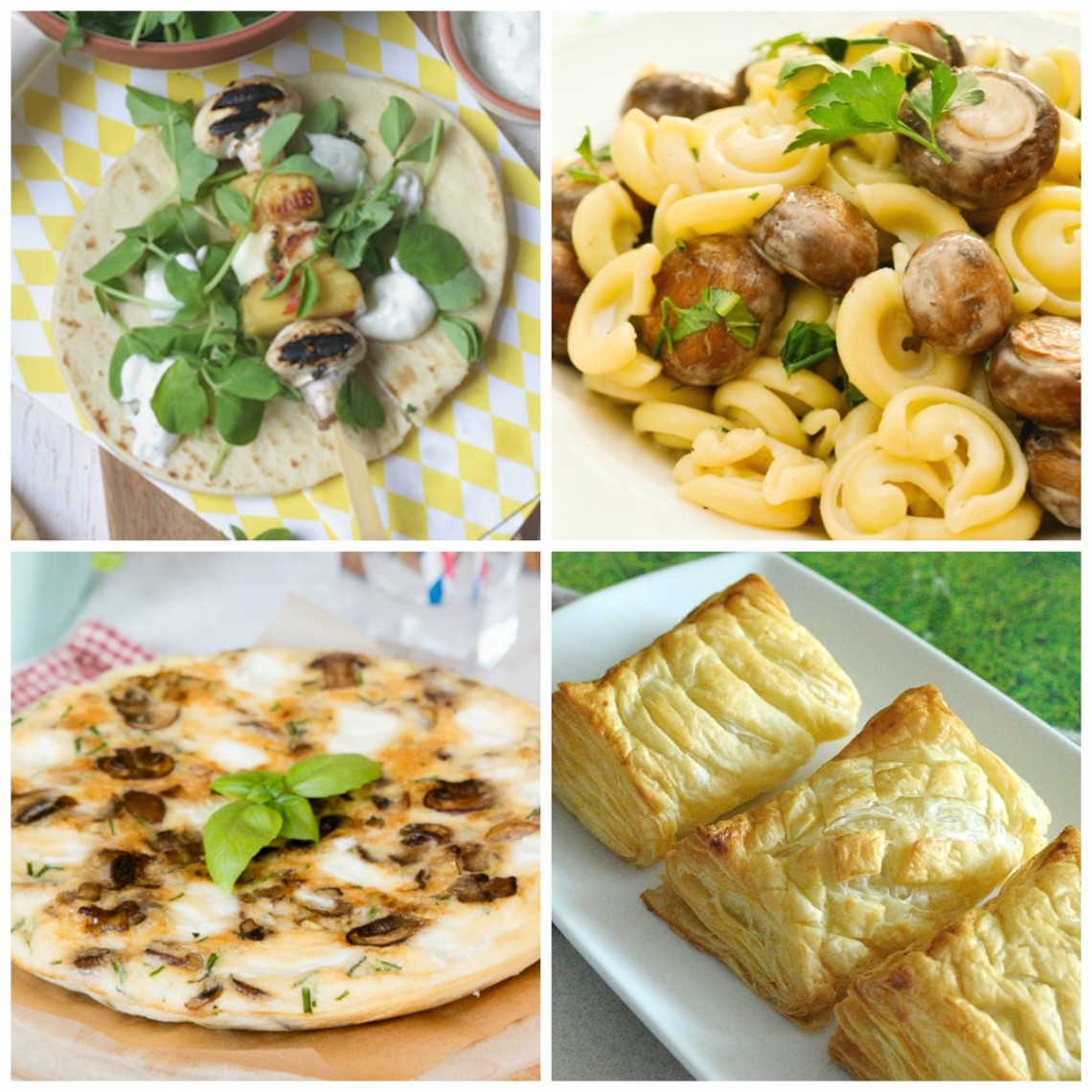 Some more summery mushroom recipes for picnics
Here are some more ideas from fellow blogging friends to Just Add Mushrooms – go check them out!
Sticky Mushroom Halloumi Kebabs by Feeding Boys (top left)
Creamy Chestnut Mushroom and Fresh Herb Pasta Salad by Tinned Tomatoes (top right)
Mushroom Frittata with Goat Cheese by Fuss Free Flavours (bottom left)
Meat Free Mushroom Pastries and Stuffed Mushrooms by Utterly Scrummy (bottom right)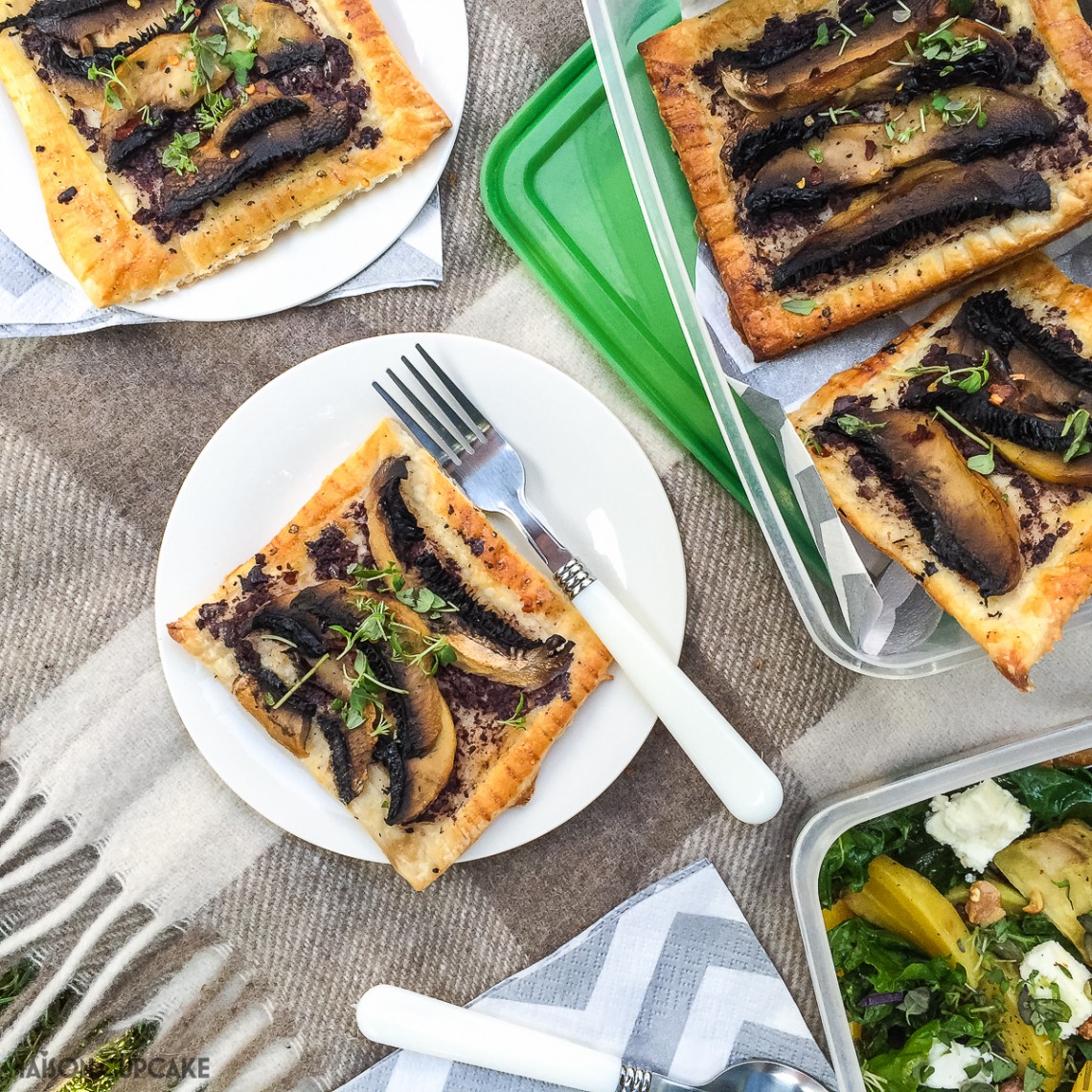 This portobello mushroom puff pastry tarts recipe post was commissioned by The Mushroom Bureau – follow them on Twitter @moretomushrooms – as part of their #MTMsummer Just Add Mushrooms campaign. 
How you do like your mushrooms?