A twist on the traditional strawberry jam sponge cake, recipe made in association with Typhoo.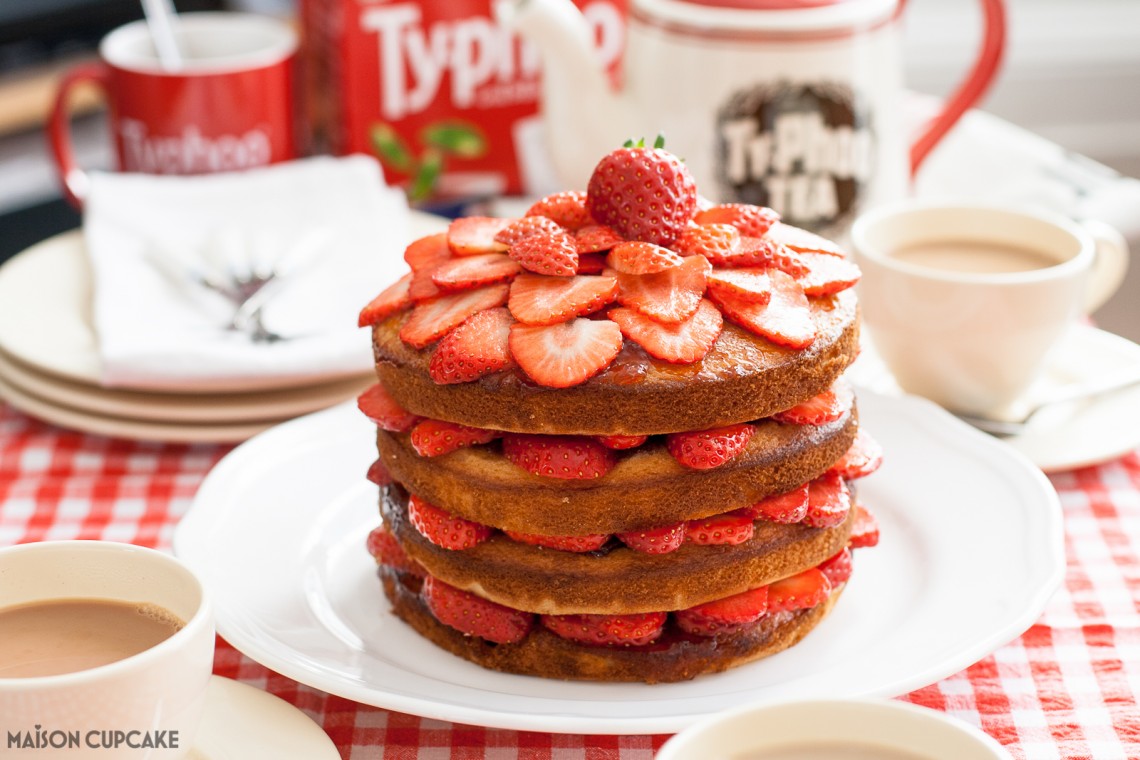 Strawberries… the great British summer fruit. I am making the most of them this year because normally we are awash with so many homegrown raspberries we have no reason to buy any other berries. Having pruned the bushes back for a smaller raspberry crop I am enjoying one big punnet of strawberries after another.
PYO "pick your own" Strawberry picking was a summer highlight when I was a child, my grandparents used to take me to farms around north Warwickshire every summer. I remember the smell of the huge scarlet fruit piled into giant pale blue cardboard baskets with metal handles; crouching on straw between rows of laiden strawberry plants. The quietness of the strawberry field, every member of the family silently picking whilst scattered in different corners. The horror of putting your hand in a clutch of furry mouldy ones quickly erased by scoffing some better specimens too irresistible to box. Obviously you'd eat as many as you'd pick but that was part of the fun.
Back home after weighing our bounty, I would still delight at having them for dessert that Sunday evening. My grandmother never owned a fridge so the smell of the fruit was heady, it was my job to pull the stalks off, sprinkle them with sugar and arrange them in individual stainless steel dishes whilst my grandfather made a pot of tea to serve after we'd finished our salad and sandwiches. When I asked my grandma why grandad took so long to make the tea she told me it was because he went all the way to China to fetch it.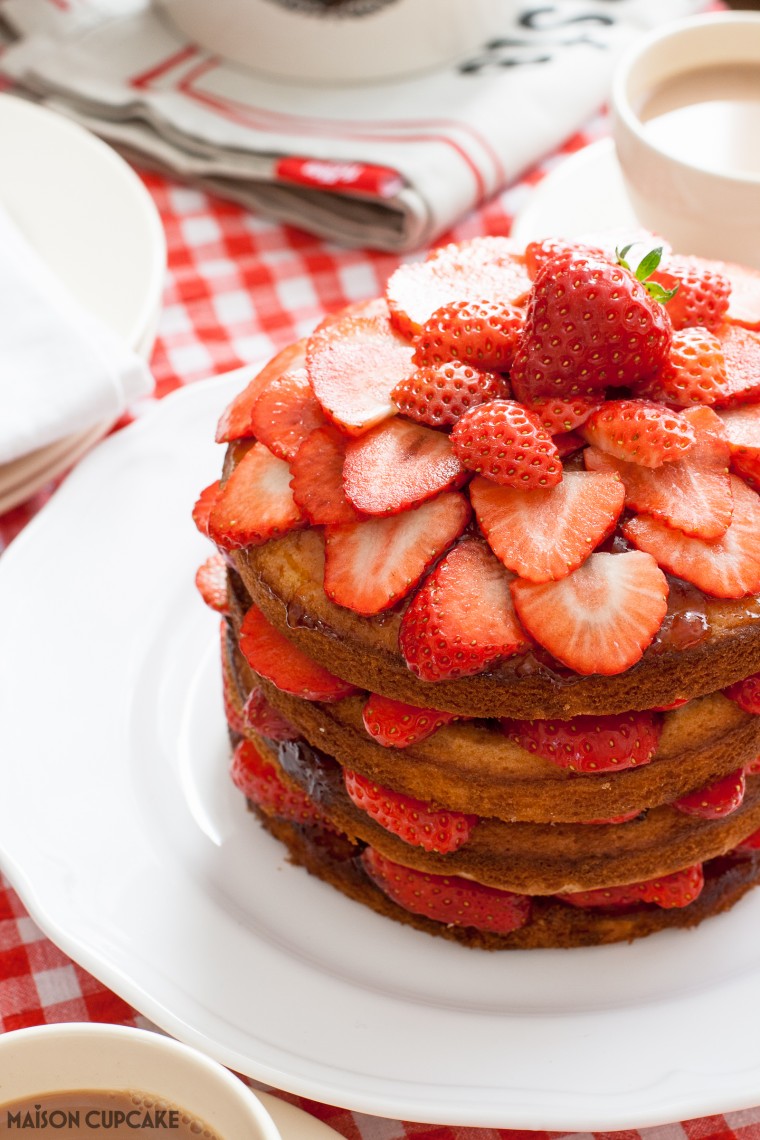 Strawberries are forever associated with Wimbledon fortnight and watching tennis on the telly. Consider this cake a type of naked trifle if you will; the juice from the strawberries seeps into the sponge giving off the most wonderful fruity aroma with every slice of nicely damp sponge. My grandma would have liked this cake very much.
Wimbledon fortnight always coincides with my birthday; I never forget the excitement of coming home from school to see my mum watching tennis on BBC2 on the portable telly in the kitchen whilst she cooked my tea. It was always a signal, along with the longest days and best weather of the year that my birthday was getting near.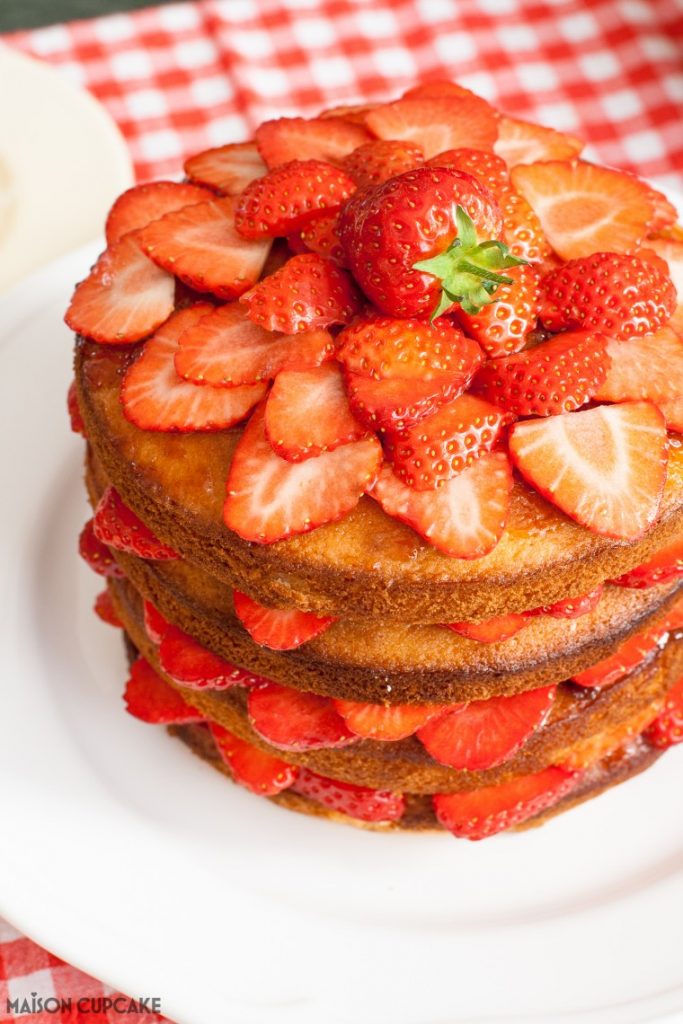 It makes for a tall cake with fresh strawberries lining every layer. You will want to serve this cake within 24 hours whilst the berries are still fresh. Cut it with a sharp knife and give people a fork to eat it – it's a bit unwieldy otherwise!
As much a part of British heritage as Wimbledon and strawberries, and inspired by their Nigella ad campaign #WhichTyphooAreYou, a cup of Typhoo tea is the perfect thing to wash down our layer cake.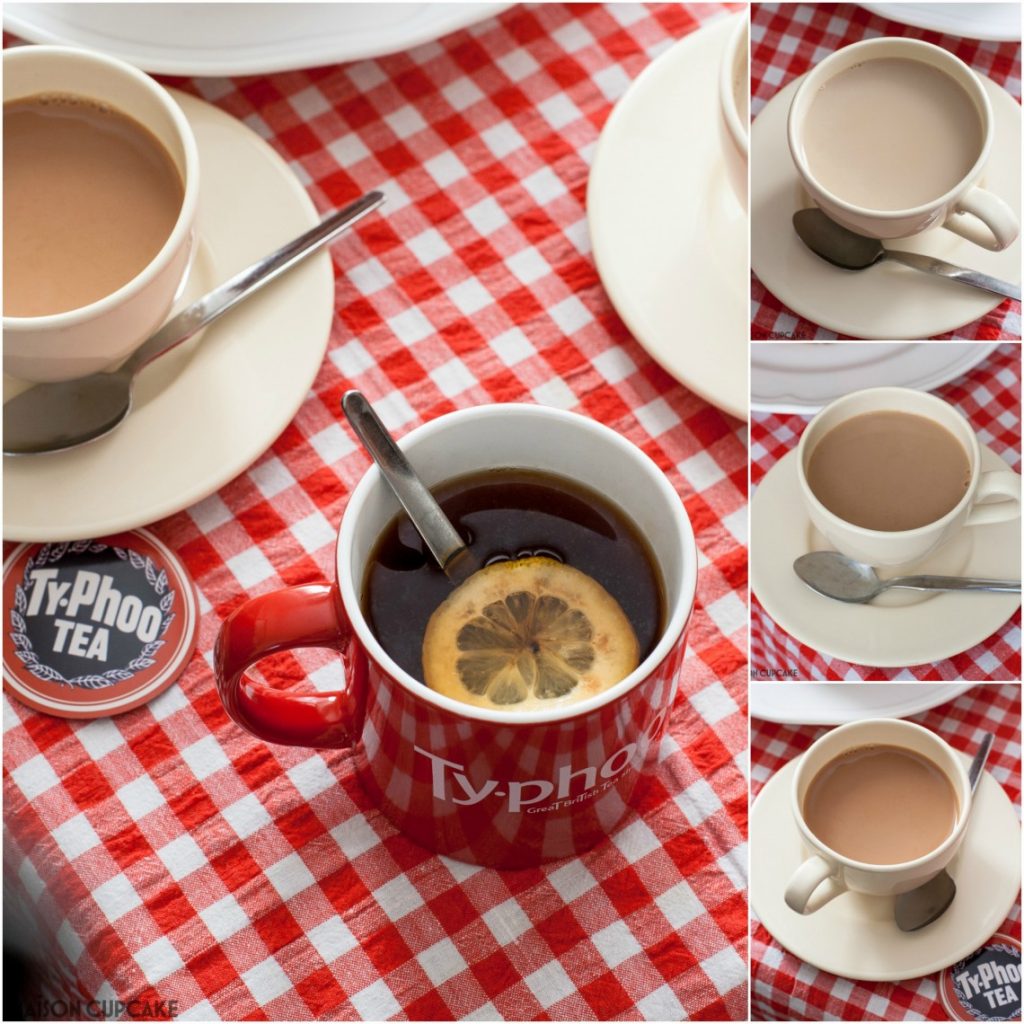 Most rounds of tea making involve tweaking the "recipe" to keep everyone happy; I don't go to China to fetch mine but making tea requires brief focus on the task at hand rather than wandering off to get it right. I am something of a freak preferring strong black tea with a slice of lemon in a mug to traditional tea with milk.
My mum drinks what I term "normal tea" whereas my dad likes "builders brew". My grandmother favoured slightly milky tea with a little sugar but would only drink her tea out of a willow pattern china cup and saucer. The check tablecloth shown here belonged to her and I think Typhoo was one of her favourite brands because of the jolly red boxes. Red was her favourite colour as I previously mentioned in this Nutella semolina post. "Red is always cheerful" she would say. I kept various red items of tableware after she died ten years ago and always think of her when we use them. It's a regret of mine I didn't keep the stainless steel teapot but I do have one of the willow pattern ones she had on display but never used.
If you admire the vintage Typhoo teapot shown here, these are by Robert Opie of the wonderful Museum of Brands in Notting Hill. We visited this museum last autumn and Typhoo was one of the iconic brands where they had each design of packaging through the years on display.  I think I recognised a few from my grandma's house… it was also my job to decant new bags of teabags from the box in the pantry to the aged scratched steel tin on the dresser where they were kept. It was something of a ritual on emptying the box that I'd tip all the loose tea dust into one corner of the box to see how much of it there was before throwing the box away. I still do that now.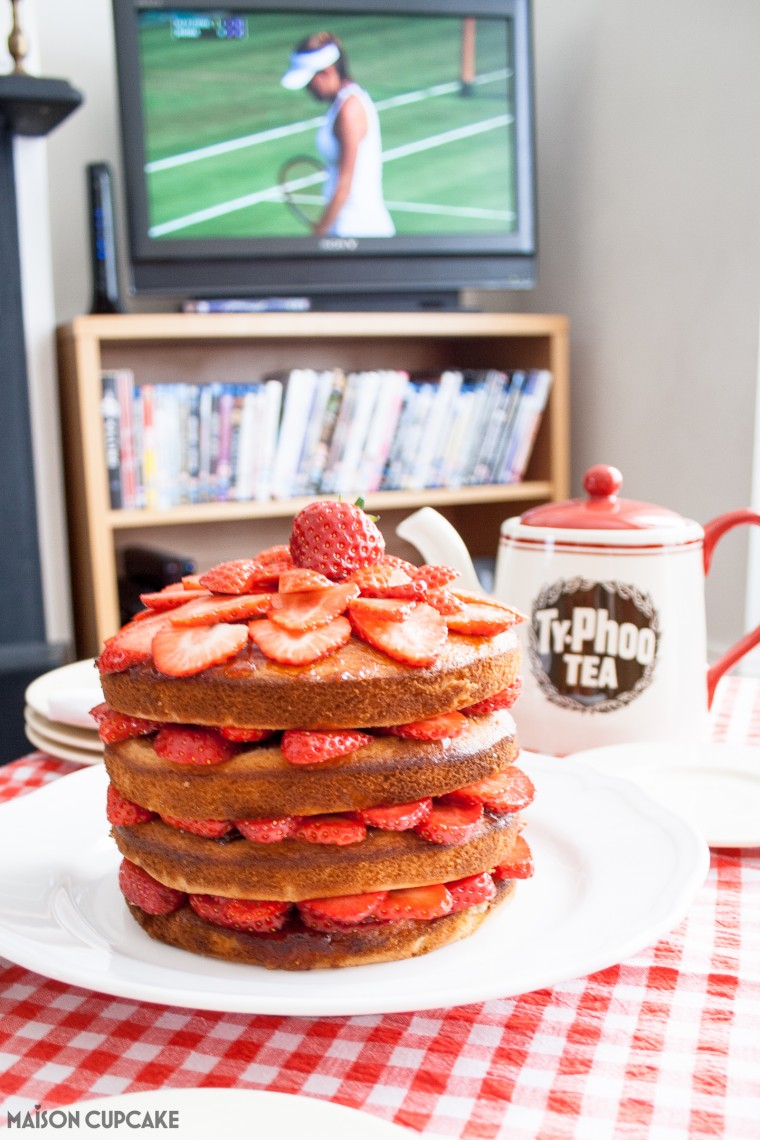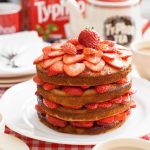 Print Recipe
Wimbledon Strawberry Sandwich Cake
A twist on the traditional strawberry jam sponge cake.
Ingredients
250

g

softened butter

250

g

caster sugar

4

large eggs

250

g

self raising flour

1

level tsp vanilla extract

300

g

red jam - I used Rhubarb & Ginger by Baxters

400

g

fresh strawberries cut into slices
Instructions
Preheat the oven to 190c / gas mark 5.

This cake uses the "all in one method"; using an electric mixer beat the butter, sugar, eggs, flour and vanilla together until smooth.

Decant the batter into the four lined cake tins in even quantities and smooth the batter towards the edges of the tins.

Bake for 15 minutes or until the sponge springs back to the touch and a cocktail stick/cake tester comes out cleanly.

Allow the cakes to cool for a few minutes then remove them carefully from the tins, peel off the paper lining and leave to cool completely.

When cooled, choose the sponge with the most rounded top to put on top; use a serrated knife to cut flat tops on the other 3 cakes. Put the discarded bits aside in a bag as a snack!

Slather jam and arrange slices of strawberry on each layer. Also slather jam on the very top so strawberries there will stick.

Serve immediately.
Notes
You will also need 4 x 6inch loose bottomed sandwich tins lined with non stick parchment paper.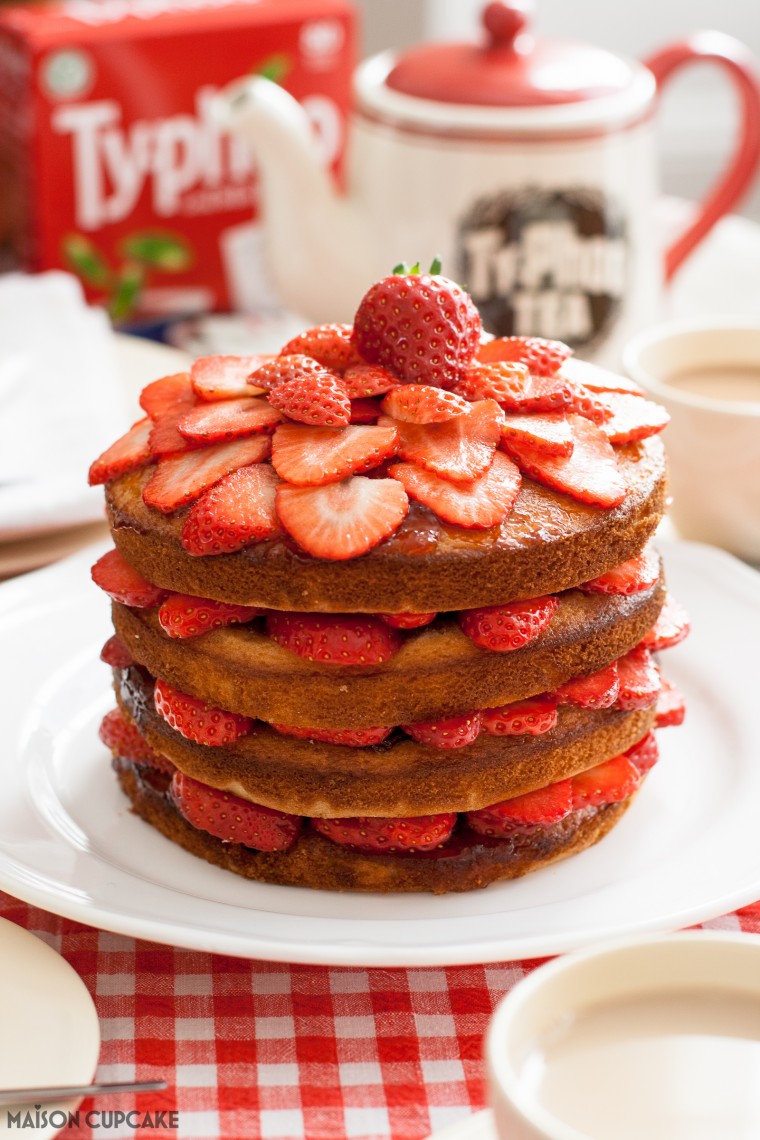 This Wimbledon Strawberry Layer Cake recipe post was commissioned by Typhoo as part of their #WhichTyphooAreYou campaign. Find out more on the Typhoo Facebook page.