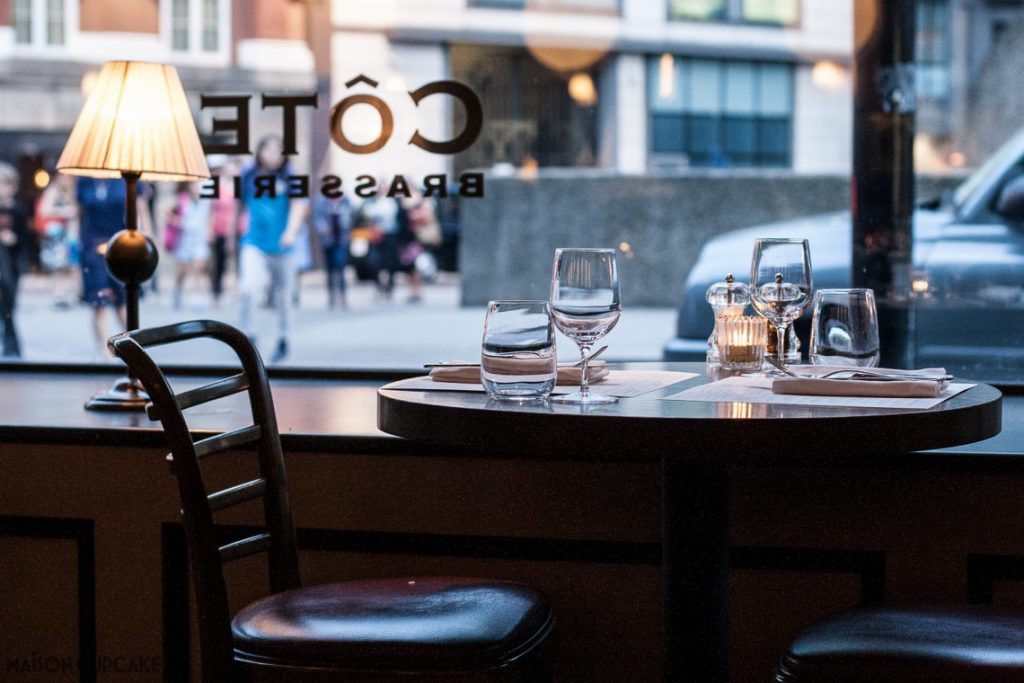 All things French, as you may know, are my passion. We visit France 2-3 times per year. As a rough estimate I have been to France over fifty times, the equivalent of over a year of my life spent there.
Bridging the gap until my next French fix this August, Côte Brasserie invited me to visit one of their branches and try out their July menu in the run up to Bastille Day on July 14th.
French themed chains are less prevalent in the UK than our ubiquitous pizza pasta chains. I can name check 3-4 French influenced restaurant chains none of whom seem as omnipresent as their Italian equivalents. The independent French bistro seems rarer still these days. And yet to my surprise, eighty five branches of Côte Brasserie are hiding in plain sight in the UK. They have restaurants all over the country from Glasgow to Exeter. Quite why I've never been inside one until this year is a mystery although my friend Jeanne of Cook Sister has long raved about them.
Perhaps I was under the misapprehension that Côte was expensive, their signage and interiors are understatedly chic, believably French without being clichéd. My husband coincidentally attends regular meetings at the building in soft focus through the window above; he walks past the Barbican branch of Côte most days during the week but had never been in either although he says it's always very busy.
So with a babysitter sorted we popped along after work last Friday. Would a visit to Côte spirit me to France? We each chose a dish from the July specials menu (asterixed below) alongside something more traditionally French. Here's what we ate…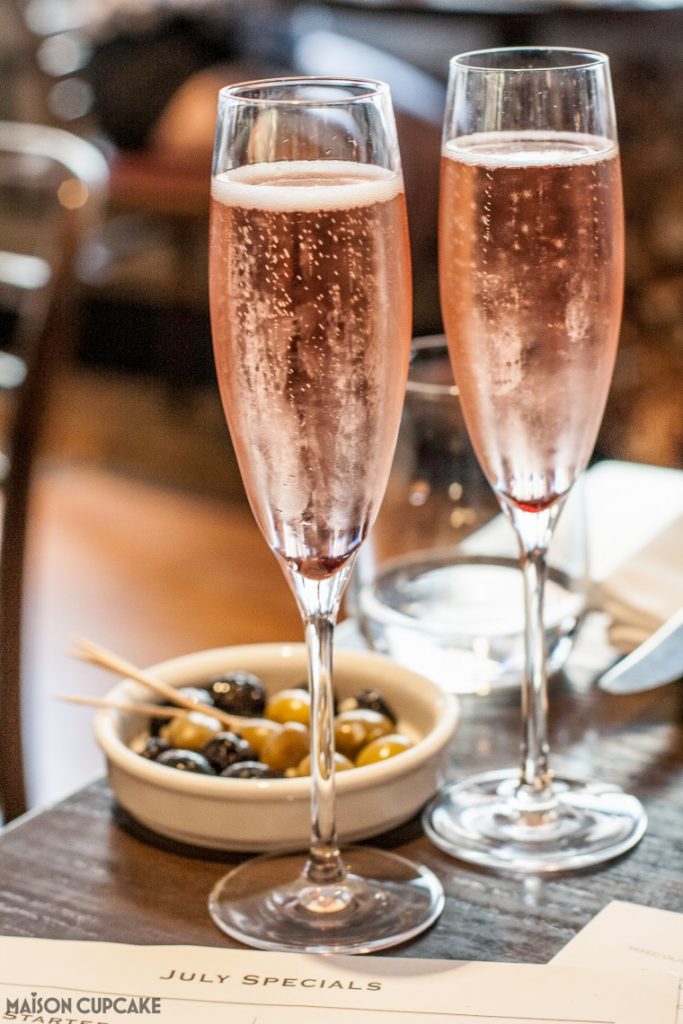 Opening aperitif of Kir Royale (£4.95)  and Piquant Mixed Olives (£3.90)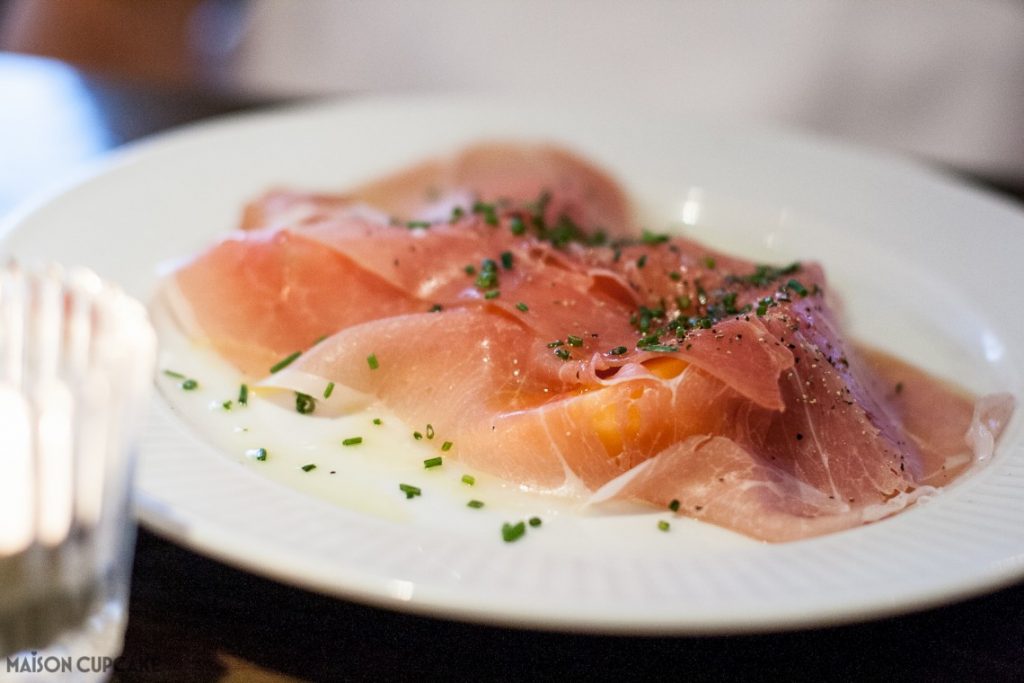 Charentais Melon (hiding) under Savoie Ham (£6.50)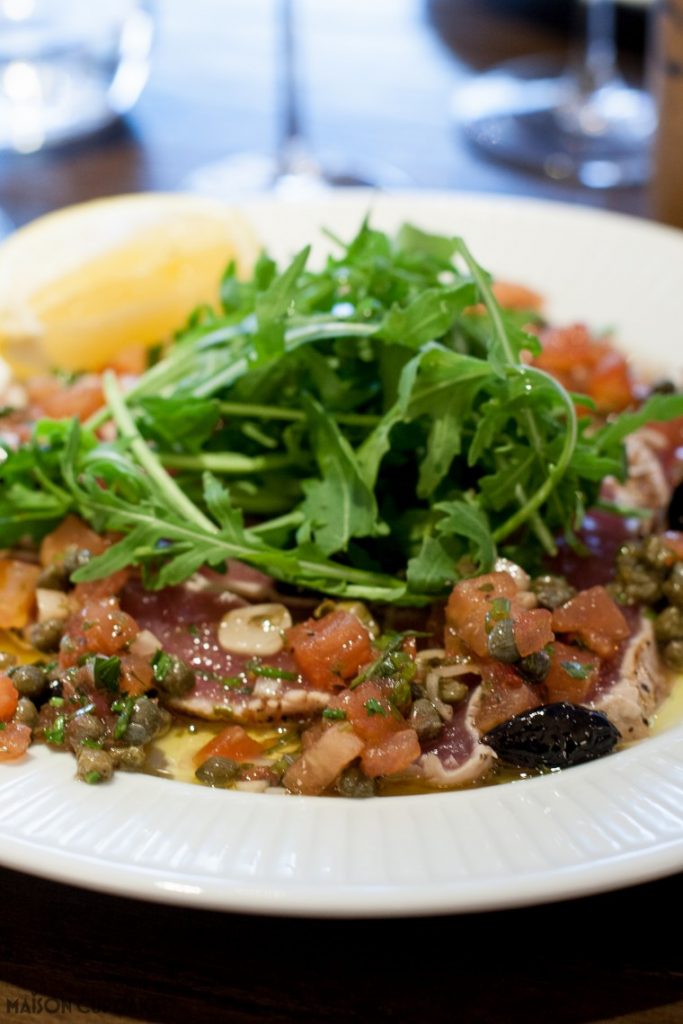 Tuna Carpaccio (£9.50) – generous slices of seared yellowfin tuna served with black olives, capers, rocket and tomatoes.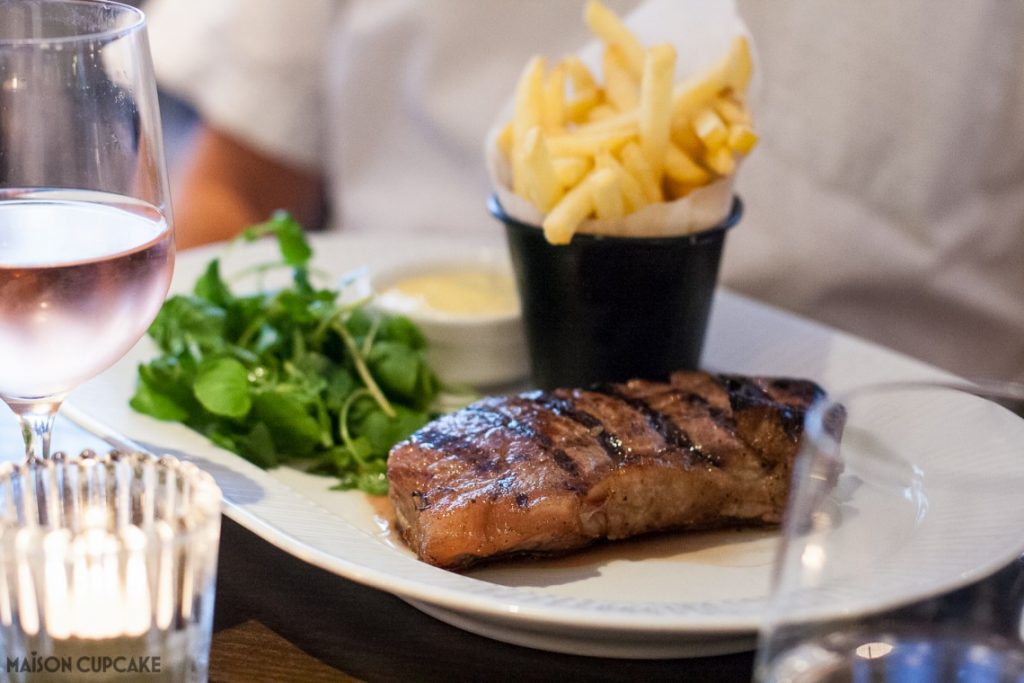 Chargrilled sirloin steak with frites, watercress (£18.50) and a choice of sauce – my husband opted for béarnaise (£1.95).
My main course above, Rump of Lamb* (£14.95) served on mash with fennel and a black olive and garlic jus.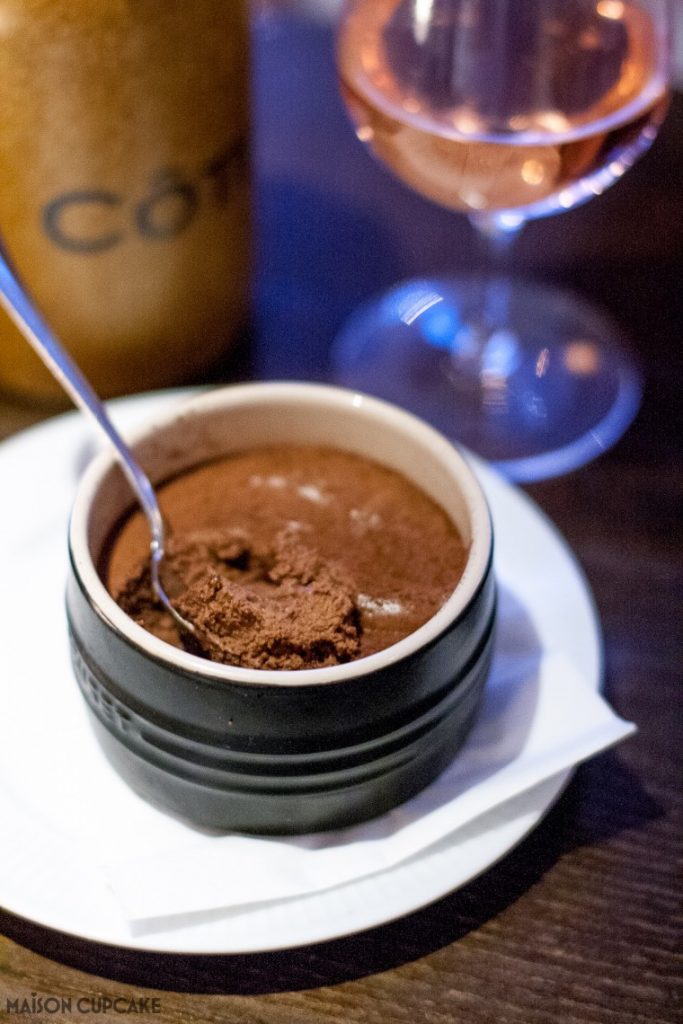 For dessert we tried a traditional chocolate mousse (£4.95) and…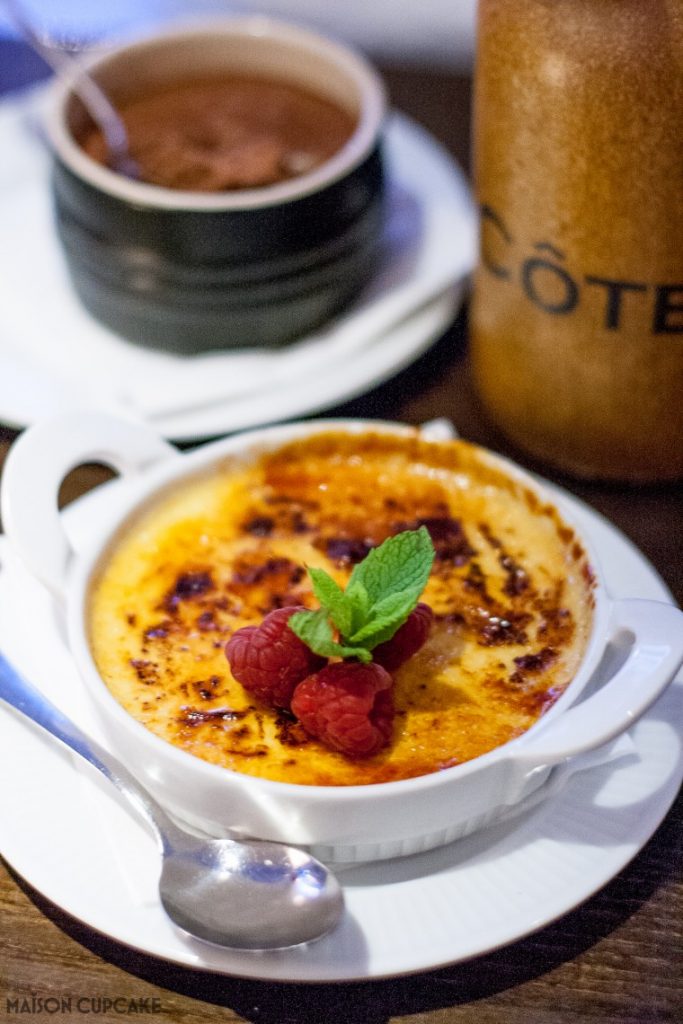 Lemon crème brûlée with raspberries* (£5.95)
So what did we think?
Côte would equally be the place to go for a smart client dinner, a cosy date night or a family lunch. It has a more upmarket feel than a Carluccio's or Cafe Rouge yet still casual, it has a gentle hum without feeling rowdy. The service is polished without being stuffy, the menu is of a quality where it feels like a treat but won't break the bank. The lighting is soft so it feels quite intimate and there's no loud music trying to make you chew faster. You can imagine the French having a relaxed two hour lunch over a bottle of wine here. For a three course meal for two with wine allow a budget of £80-£100 although for a quick lunch you could do it for around £15 per head for a main course and a coffee.
We were very happy with our menu choices; my star dish was the juicy rump of lamb which with its black olives and roasted garlic transported me to Provence. I would go back for this dish again next week in a heartbeat. The portions were generous and good value. The house rosé wine, Cuvée Laborie 2016 (£4.95/£17.95) was a perfect partner with the lamb and again very fairly priced. It's the type of place where they put your wine in a chiller on its own stand and the waiter notices to pour the next glass before you end up doing it yourself. This level of service would be typical in France so it's that type of detail we enjoyed; Côte had an authentically French atmosphere albeit in a British tone. And that's fairly ironic considering the few chain restaurants there are in France tend to be somewhat less soignée than Côte Brasserie – Buffalo Grill and Leon de Bruxelles, yes I'm thinking of you… My husband's isolated niggle was that the steak was cooked to what he calls a "British medium rare" rather than a redder French one. Probably he'd ask for rare here in future or be more specific when ordering.
Vegetarians don't always fare well in French restaurants but Côte has a dedicated vegetarian menu with half a dozen options rather than being fobbed off with one veggie option. Current choices include a green risotto, braised puy lentils or spinach and mushroom crêpes. A demonstrable effort has been made for gluten free diners, a glance at the full gluten free menu shows how easily a coeliac diet can be accommodated by French cuisine. If you are eating with children, Côte offer several main courses serving size appropriate for up to 7 years; these can be paired with a starter or dessert from the main menu to suit older children. Finally if you are doing business over lunch in a hurry, Côte highlights several "Plats Rapides" around the £12 mark for those too busy to dine with Gallic languor.
As they say in France, "Au Revoir" – meaning "until we see you again" rather than farewell. We will be back to Côte – and I say that with an air kiss past both cheeks.
With thanks to Côte Brasserie for hosting this review meal, dishes marked with an asterix * were selected from the July menu 2017.  Keep track of Côte Brasserie via Instagram or check restaurant locations and menus via their website Cote.co.uk.