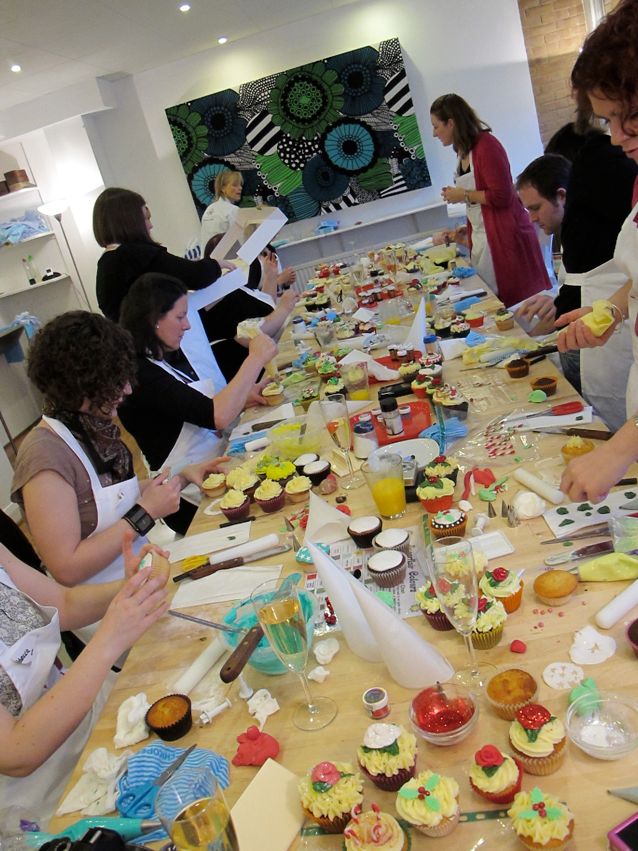 Being purely self taught, a chance to pick up some tips from Little Venice Cake Company's Mich Turner at a cupcake decorating class was an opportunity not to miss.
Several bloggers had been invited to judge a Tesco Real Food cupcake decorating competition and joined the winners to brush up their sugary skills at a special masterclass at Islington's Make Lounge.
I must apologise today for the graininess of the pictures – my camera was stuck on the "candlelight" setting and I didn't realise this until afterwards.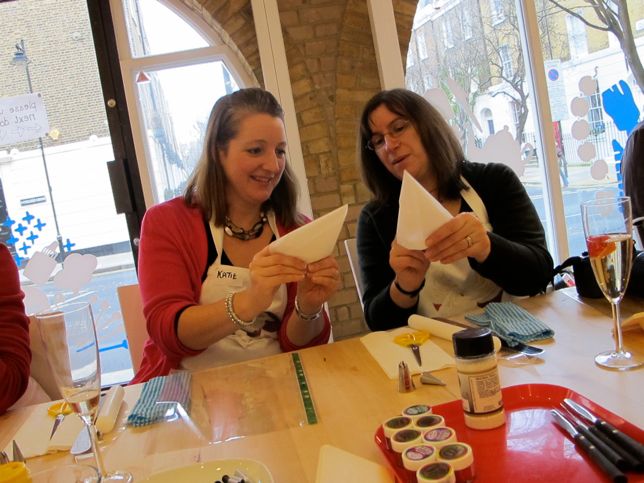 Kitted out with work stations of cutters, nozzles, glitter galore and compulsory glasses of champagne, we had a demo from Mich then attempted to do our own using a newly honed techniques.
Such as making paper piping bags – Katie and Nic get to the point.
Next up, DIY sugar roses. Mich says when you get really good at this you can make squillions of them per hour.
First roll your sausage of fondant, flatten the bottom edge a bit then chop semi circular shaped chunks out – six per rose.
Arrange them inside an A4 plastic sleeve that's been cut around the edge to be able open it right up. Squash each semi circle with your thumb.
Flatten upwards to make petals, leave the lower end fatter, take care not to make too thin as this makes them tear when you peel them off the plastic. Roll the first one into a coiled tube, the inside of your rose.
Curl another petal round in the other direction. Then another. Keep doing it with all six til you build up a rose shape.
Twiddle with it and make it look really gorgeous. Chop it's bottom off so it's flat enough to sit on a cake. Hey presto!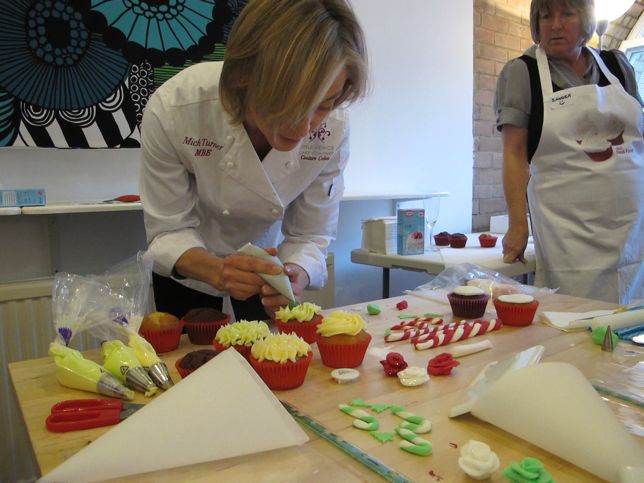 Next Mich showed us a variety of ways to pipe our buttercream, spirals, zig zags, pointy bits. Provided you use a star nozzle on your piping bag, all will look surprisingly grand even with a minimum of piping experience.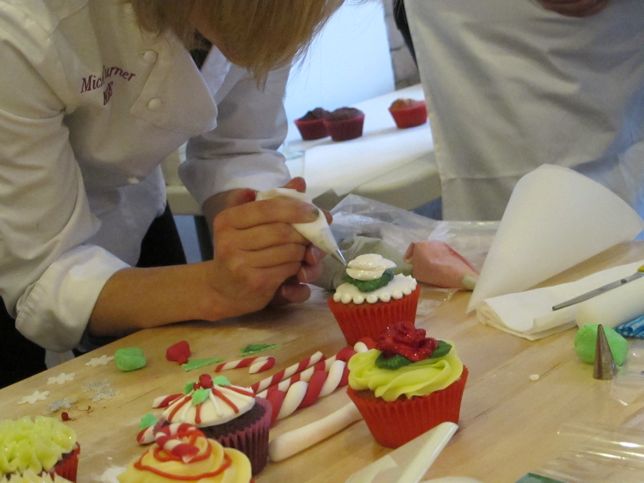 Finishing touches…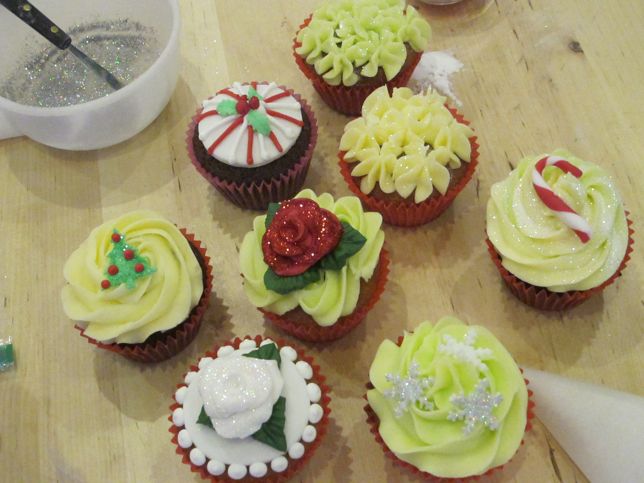 Et voila!
Then it was our turn. Katie and Helly start making candy canes and roses to decorate our own cupcakes. The bases were already baked for us and we had ten each to decorate.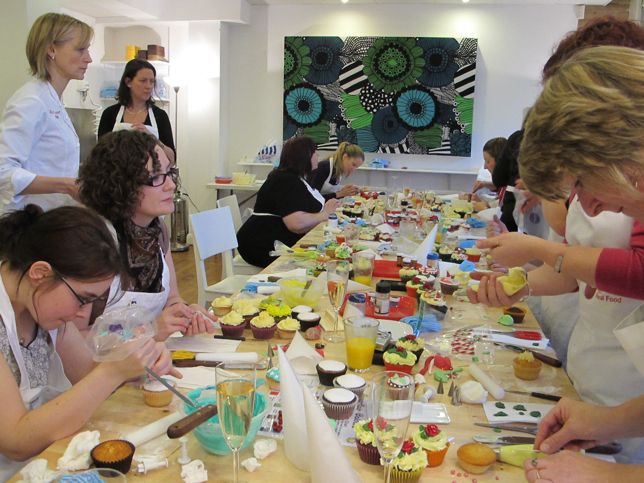 Busy busy busy! Mich on hand to help us out.
Anne of I Heart Cupcakes did fabulous glittery roses (above left) and someone else did these groovy tricolour candy canes.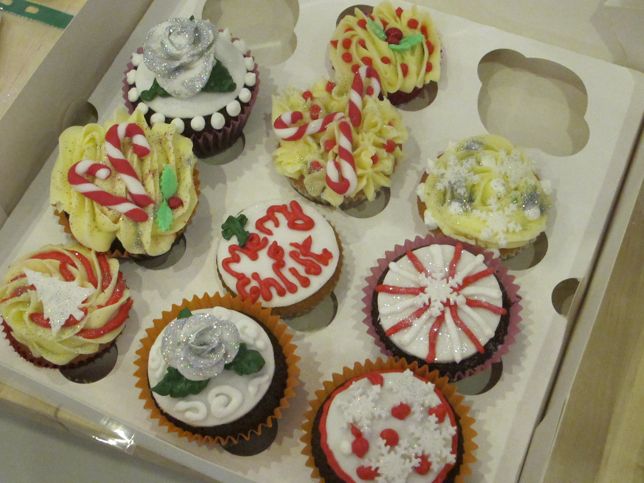 And me? I manage to pipe "Merry Christ" on one of mine. Bad planning and ineptitude meant I ran out of space.
This would never happen to Mich Turner.
"How long was it until you were really good?" I asked her brandishing a wobbly piping bag.
"My first stripe was dead straight perfect." She replied seriously.
Let's move on shall we? Here are everyone else's efforts…
All twelve of us had a fabulous afternoon and I image everyone else had a similar journey home… try travelling on public transport with a clear lidded box of cupcakes on your lap and you're suddenly everyone's best friend with mesmerised stares at your cargo.
Thanks very much to Tesco Real Food, Mich and the Make Lounge for putting together such a fun afternoon.