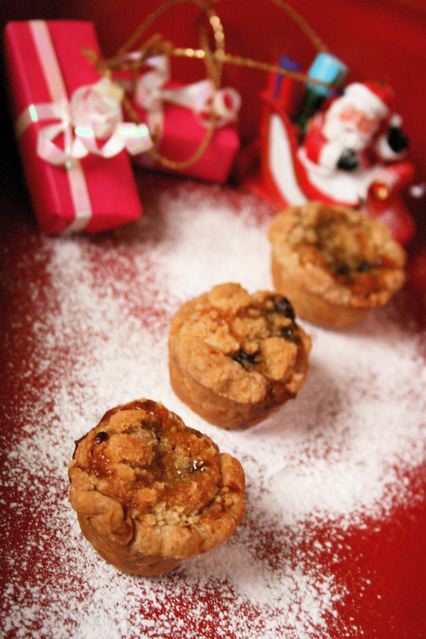 "That's NOT Father Christmas! It's GRANDAD!"
…said my diminutive self in around 1979. Probably the last time my grandparents persisted with dressing my grandfather up as Santa. The familiar red and white costume hanging around the house, amongst those my grandmother supplied to the local amateur dramatics society during the year, had exposed the myth. That my grandad might be the real Father Christmas was a push too far for my imagination, even if he had a white moustache and it was a plausible excuse for dinner always being served after 4pm – with no lunch! We were on the verge of eating the furniture most years!
My grandmother always made dozens of mince pies at Christmas. She used to mix her pastry with orange juice instead of water. Today I bring you the second of three mincemeat recipes featured this month but the only one which could be called a mince pie.
I came about the idea for putting this crumble on them after accidentally mixing too much sugar with ground almonds whilst making the Mince Pie Macarons for MacTweets.  I didn't dare risk another batch of failed macarons and after asking for suggestions on Twitter (sorry I can't remember whose genius suggestion this was but will amend this post if you remind me), rubbed in some butter to turn it into crumble mix.  The most common complaint I hear about mince pies is that they are too heavy with all the pastry so I had the idea to do mini mince pies but with a crumble top instead of the pastry lid. They are much lighter.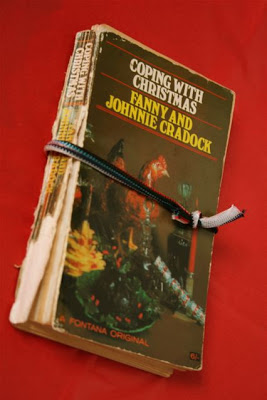 Fanny Cradock's "Coping with Christmas"
Although she lived in her kitchen, surprisingly, my Grandma Kitty didn't have that many cookery books. From her modest collection I have acquired two Fanny Cradock books, "Coping with Christmas" and "The Cook Hostess' Book", a Galloping Gourmet book, The Cadbury's Chocolate Cookbook and a photocopy of her Be-Ro flour book from the 1940s. She did however hoard magazines, hundreds of copies of Woman's Realm and Prima. Sometimes I used to buy her my favourite, The Sainsbury's Magazine but I don't think it was her thing. After having received copies of Delia's "How to Cook" series several years in a row, I requested Jamie Oliver's "The Naked Chef" for Christmas. I'm sure it was her increasing inability to get to the shops that scuppered my receiving it, but I titter to myself that the word "Naked" appearing in the title would have disturbed her somewhat.
I am yet to digest Fanny Cradock's "Coping with Christmas" beyond observing that she lectures you to start preparing in July. Oops too late. Maybe next year…
My Christmas Magazine Stash
To my husband's horror, I seem to have inherited the magazine hoarding gene.  Above you can see just part of my collection of Sainsbury's, Waitrose Food Illustrated and Delicious Christmas magazines together with a couple of Delia Smith Christmas Specials. I omitted from this photo two Martha Stewart Holiday Baking magazines which I picked up in Selfridges years ago… they were left downstairs when I took the photo. My favourite cover is the Waitrose one with Nigella Lawson in her party frock. As a food blogger I am putting these magazines to good use: I have arranged them seasonally so I can compare ideas for different times of the year easily. This year I have bought three more Christmas issues bringing the number of December/January issues to around twenty! I have over one hundred altogether.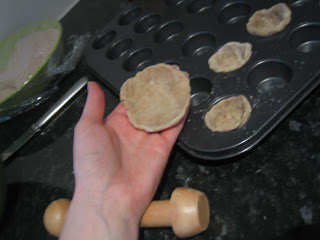 My baking tray for these mini mince pies comes with a wooden dibber for moulding balls of pastry – actually I found fingers more effective but I still use this rather than a mini muffin tin as the shape of the holes are more bucket-like and ideally proportioned for little bites. It is called a "My Kitchen Cook and Bake Mini Morsel Set". You can find one at Lakeland
here
.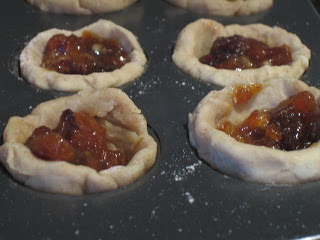 Mini Almond Crumble Topped Mince Pies with Cinnamon Pastry
Ingredients:
50g butter for the pastry
50g Cookeen, Trex or other vegetable fat
200g plain flour
1 tsp ground cinnamon
salt to taste
few tbsp water to mix – or use orange juice like my grandma did
150-200g shop bought mincemeat
40g ground almonds
60g caster sugar
50g butter for the crumble
A mini morsel or mini muffin tray
Makes around 24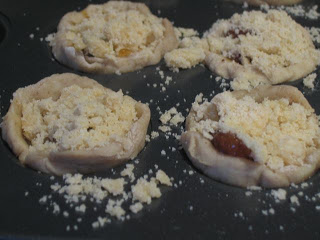 Method:
1. Set oven to gas mark 5 / 190c. Make your shortcrust pastry in the usual way only adding cinnamon with the flour. Rub the fats into the flour, salt and cinnamon until have you have a breadcrumb texture, add tablespoons of water and stir in to bring the dough together. Knead gently then flatten into a disc and wrap in plastic and leave in the fridge for 30 minutes.
2. Mix the ground almonds and caster sugar in a medium sized bowl. Rub in the remaining 50g of butter until you have a breadcrumb crumble mixture. Set aside.
2. Fashion little baskets of pastry by flattening little discs with your fingers and pushing into the holes in the tin. Marvellous! No need to roll out the pastry!
3. Spoon mincemeat into the pastry cases so they are 2/3 full.
4. Sprinkle over your almond crumble. Be generous.
5. Bake for 20-25 minutes until the bases are cooked.
6. Allow to cool in tray then transfer to wire cooling rack. Naturally they are best eaten when still warm!