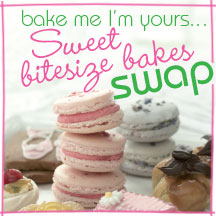 Would you like to get something sweet and lovely by mail? Everyone likes surprise parcels and how exciting it will be to swap Sweet Bitesize Bakes by post with a mystery Bake Swap pen pal!
You bake something for someone else and they bake something for you. It's a sweet and simple gesture and lots of fun.
The deadline for my Sweet Bitesize Bakes Swap has been extended for another 24 hours to Wednesday 13th June.
Simply click through to http://bakeme.com/swap to register now.
Bake Swappers will be allocated their swap partner later this week and have until Monday 2nd July to post their goodies.
Who knows you might strike up a new friendship over some biscuits? I can't wait to see who gets what!