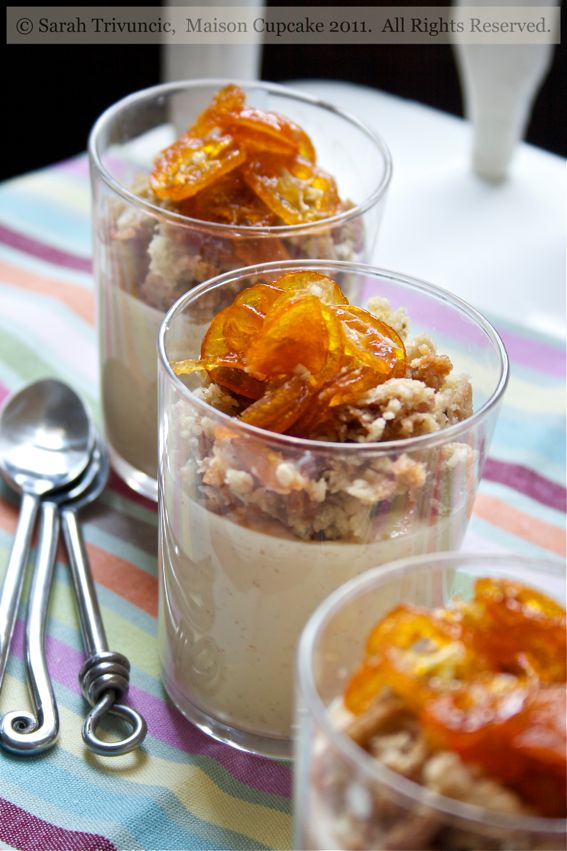 The February 2011 Daring Bakers' challenge was hosted by Mallory from A Sofa in the Kitchen. She chose to challenge everyone to make Panna Cotta from a Giada De Laurentiis recipe and Nestle Florentine Cookies.
I had a couple of problems with this challenge. I made the biscuit batter nice and early but it was far too runny and even when I added more oats, the blobs of batter spread much too far in the oven. The cooked mixture tasted fine but it was more like a wafer thin flapjack than a florentine.
I visited the Daring Bakers' forum expecting other people to be saying the same thing but noone else appeared to have this problem. Having said that, I did see in Rosa's Yummy Yum's post today that she has said something similar and added more flour to the batter. Then on the Daring Bakers' challenge instructions today, I saw a change had been made to the cookie recipe. Only it's still the same ingredients that I had used. So I'm confused.
I didn't have time to fiddle about with a hit and miss recipe though and kept meaning to remake the florentines with more reliable ingredients. However I run a pretty tight schedule on here and it's not very forgiving for doing stuff twice so after presuming for several days I'd be sitting this challenge out, Sunday morning deadline day found me with a change of heart candying kumquats and mixing panna cotta in my dressing gown!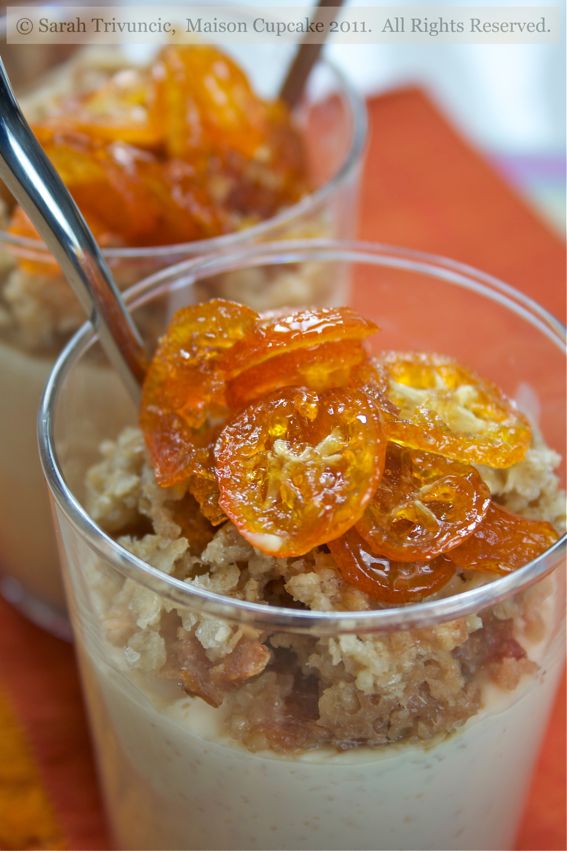 Since I was making the panna cotta so late, I'd read that agar agar sets quicker than gelatine decided to use a really old pack of agar agar that had been sat in my cupboard for years. Now I don't know if being six months past the expiry date is the cause or whether it would be like this anyway but the agar agar really didn't dissolve fully leaving flecks in the panna cotta. It all tastes fine but it's more the texture of fine tapioca rather than panna cotta. So next time I'd stick with gelatine. I'm not one of these people who gets icky about gelatine and unless they're vegetarian, I don't understand people who do.
Candying kumquats was a first for me, doing anything with kumquats was a first for me. I didn't like them raw but candied they're intensely citrusy and I'll definitely be using them like this again.
Finally, because I never got around to making new, more traditional florentines and my oaty ones were all limp and floppy by now (but still tasty), I crumbled them up on top. Doing it this way, this was a very easy dessert. You could crumble up some bought flapjack or any kind of biscuit for this topping.
So it's not the result I expected but nevertheless one I was pleased with. There's something very satisfying about sitting on the sofa with a dessert in a glass.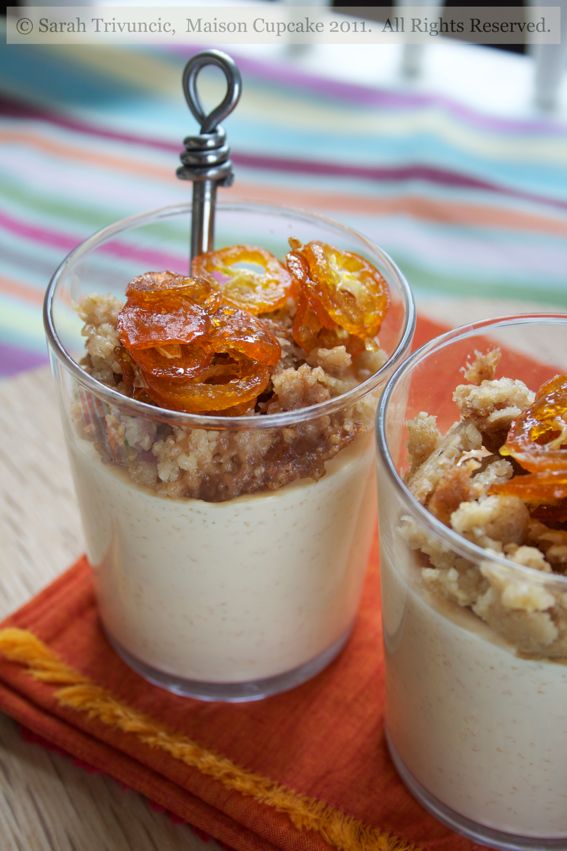 Orange Panna Cotta
Based on Giada's Vanilla Panna Cotta as set for the Daring Bakers' Challenge
Serves six

Ingredients
For the panna cotta
1 cup (240 ml) whole milk
1 tablespoon (one packet) (15 ml) (7 gm) (¼ oz) unflavored powdered gelatin or 4 level tablespoons of agar agar.
3 cups (720 ml) whipping cream (30+% butterfat)
1/3 cup (80 ml) honey
1 tablespoon (15 ml) (15 gm) (½ oz) granulated sugar
pinch of salt
1/2 tsp orange extract
A touch of yellow and red food colouring (optional)

For the candied kumquats
12-15 kumquats finely sliced and seeds picked out
2 tbsp water
3 tbsp granulated sugar

For the "florentine" crumble
Since I thought the florentine cookies were such a disaster, I am not reproducing the recipe here. However you can visit its source here.
As an alternative, you could crumble up a bought flapjack (or home made if you just happen to have any knocking about) or use other crumbled biscuits.

Directions:

1. Pour the milk into a small saucepan and sprinkle gelatin (or agar agar) evenly and thinly over the milk. Let stand for 5 minutes to soften the gelatin.

2. Place over medium heat on the stove. Heat this mixture until it is hot, but not boiling, about five minutes. (I whisk it a few times at this stage). For agar agar the packet directions said not to stir but I did so lightly.

3. Next, add the cream, orange extract, honey, sugar, and pinch of salt. Making sure the mixture doesn't boil, continue to heat and stir occasionally until the sugar and honey have dissolved 5-7 minutes. Add a touch of red and yellow food colourings with a cocktail stick if you want to give it an orange tint.

4. Remove from heat, allow it to sit for a few minutes to cool slightly. Then pour into glasses or ramekins.

5. Allow to cool completely.

6. To make the candied kumquats, pour the water, sugar and kumquat slices into a small saucepan and heat gently until the sugar melts. Raise the temperature a little so it starts to bubble.

Continue to cook for 5-8 minutes just until the sugar starts to go brown. Allow to cool although beware that the kumquat pieces will solidfy and be more difficult to remove from the pan if the caramel hardens.

7. When the panna cottas are cool, sprinkle over with flapjack or cookie crumbs and some candied kumquat. Refrigerate at least 6 hours or overnight. Agar agar will set quicker than gelatine.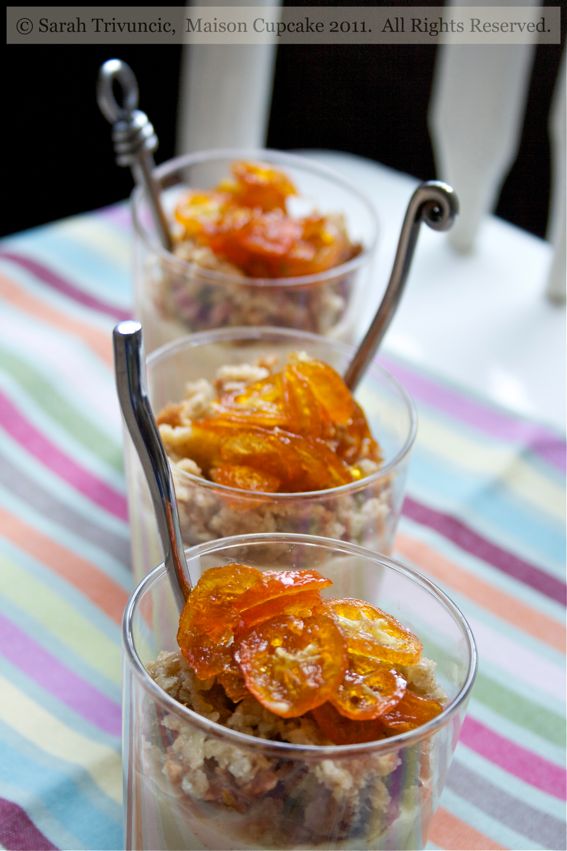 If you like these kumquat pots then you'll love my Pinterest board "Lovely Things in Jars".
Follow Sarah Trivuncic Maison Cupcake's board Lovely things in Jars on Pinterest.