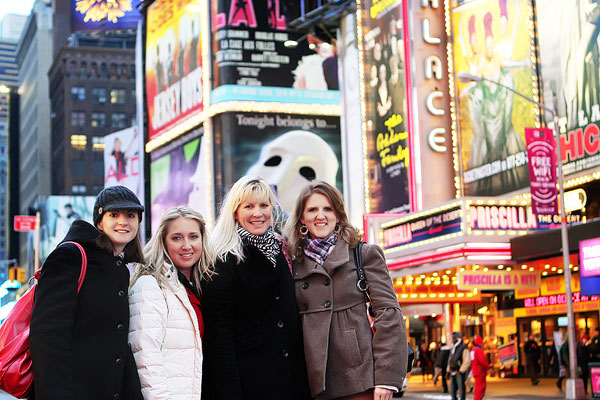 Image credit: Kevin and Amanda
At the end of January I started what I hope will be a monthly feature on Maison Cupcake, a top 10 of my favourite eye catching posts of the month. Although I'm a sucker for additional work for myself, I thought you'd get a lot more out of this post if I had pictures to go with all the links. So a big thank you to everyone who has let me use their pictures.
My February Top 10 (in no particular order)
1. A couple of months back when I had dinner with some food blogging friends who'd flown into London from Europe, I had several people leave comments saying how envious they were that I'd had chance to get together with some of their favourite bloggers. Now it's my turn to get the green eyed monster because Maria at Two Peas and Their Pod recently posted about her trip to New York (shown above) where she met up with a bunch of my favourite bloggers ostensibly for a product launch but with the added bonus of visiting a heap of fabulous NYC bakeries. I'm desperate to visit New York and have plans to go in two years' time. These two posts at Two Peas and Their Pod and Kevin and Amanda are proving wonderful inspiration which cakey places I should track down when I get there.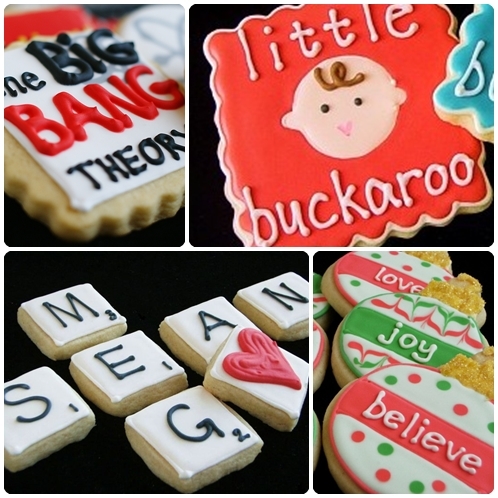 Image credit: Bridget at Bake at 350
2. Piping words on cookies and cakes is a hit and miss affair for me – for instance, the cupcake that said "Merry Christ" instead of "Merry Christmas". I think the consistency of my royal icing is usually to blame but I'm ever happy to practise. Bridget from one of my favourite baking blogs, Bake at 350, gives a few tips how to get your words piped nicely with the added advice that your cookies are made by humans and not robots so a little non-uniformity is a good thing.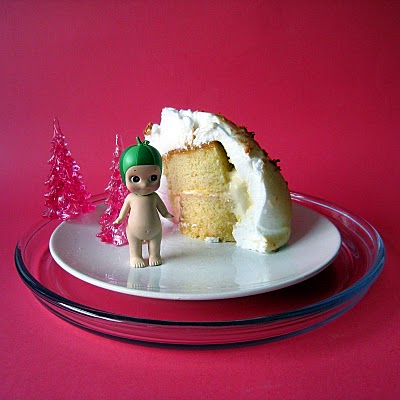 Image credit: Mr P at Delicious Delicious Delicious
3. Mr P at Delicious Delicious Delicious can always be counted on to come up with a whacky challenge – my personal favourite being to recreate a giant version of your favourite biscuit – and this month he concluded the round up of his internationally renowned Re Inventing the Lamington Challenge – now in its second year. Some lamingtons dressed as sputniks walked away with first prize although having looked at other entries I think Kryptonite Lamington spiked with lurid green shards and surreally based on a River Cottage victoria sponge cake recipe is my favourite. This picture above is Mr P's own Baked Alaska Lamington featuring his trademark funny little naked dolly people. To check out the other entries visit the Reinventing the Lamington 2011 Round Up.
4. Gooey and chocolatey is a feature of most of my favourite puddings but gooey, chocolatey and salt caramel absolutely ROCKS – as I discovered whilst reading Baking Bites' salted caramel filled molten chocolate cakes. Some cakes just make me give a little sigh looking at them and this is one of those.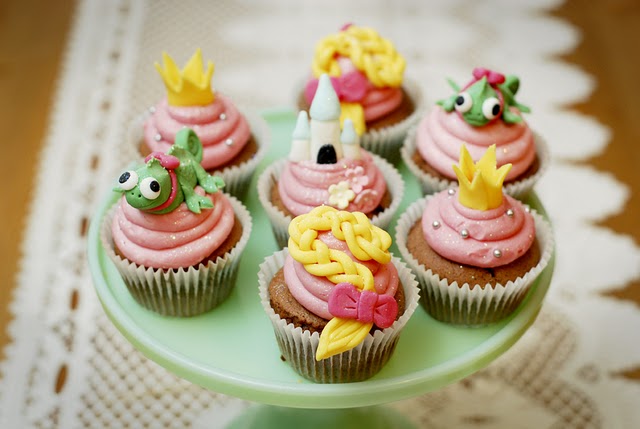 Image credit: Katie Cakes
5. I do love a good cake tribute to anything topical and it's all the better for combining it with something child friendly… Katie Cakes has made these gorgeous little cupcakes inspired by the new Disney Rapunzle animation "Tangled".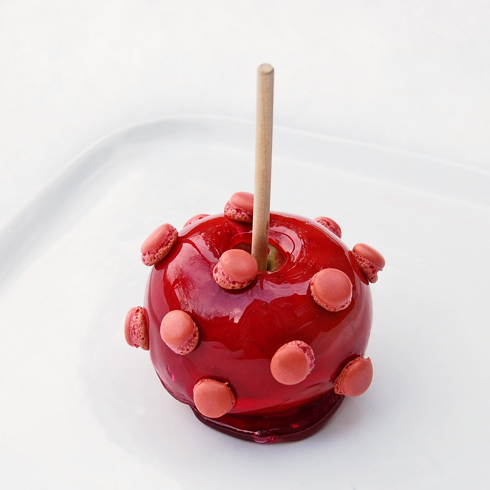 Image credit: Mardi at Eat Live Travel Write
6. Mardi at Eat Live Travel Write gave a super tribute to the Apple Mac, the macaron and the McIntosh apple all in one go with this giant red macaron covered mac-candy toffee apple.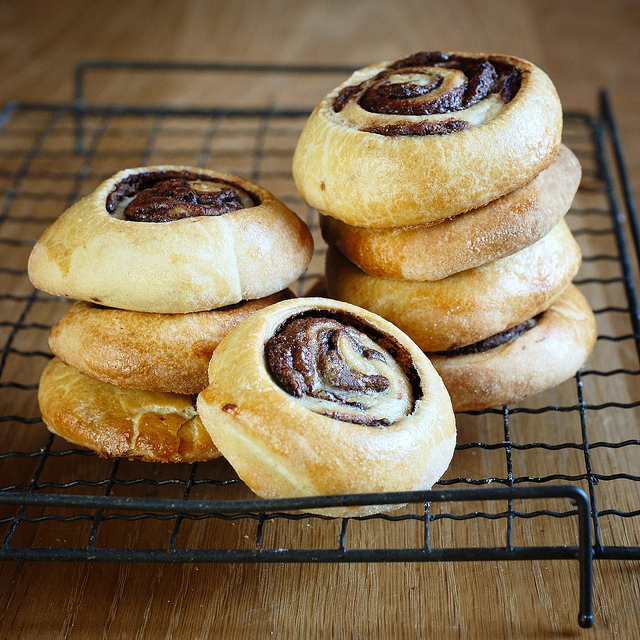 Image credit: Claire at Things We Make
7. I was a little (ok a lot) late getting my Fresh From the Oven Krushchev dough up on here but Claire at Things We Make was much more prompt. I was deeply impressed with her Nutella Pinwheels made with the ever adaptable Kruschev dough and she takes fab pictures too.
8. Keeping to the straight and narrow with the New Year diet has been a tad challenging lately. Fortunately Gingerbread Mum has come up with a solution: sew your own food. Why didn't I think of this? Rather than bake, if you make cute cakes about of felt you get all the satisfaction of making something pretty to look at but don't have to eat it. Better still, they last forever. Check out Gingerbread Mum's creation here.
Image credit: Megan at Clutzy Cooking
9. I already mentioned Superbowl Super Calorie Consumption in my last round up however I couldn't resist showing you these Rainbow Cupcakes from Megan at Clutzy Cooking. I first encountered rainbow and zebra cake on Not Quite Nigella and am amazed by the patience of anyone to do this. Still, never say never, I may try some myself soon.
Image credit: Diary of Faithy the Baker
10. My husband is a massive fan of Star Wars and is doing a good job of indoctrinating Ted to be the same. I pray they never see these Star Wars cookies and R2D2 cake over at Faithy the Baker or else I'd be under a lot of pressure to make some myself.
I hope you enjoyed my February Top 10… apologies I ran out of time to contact no.4 and no.8 – do click through and take a look.