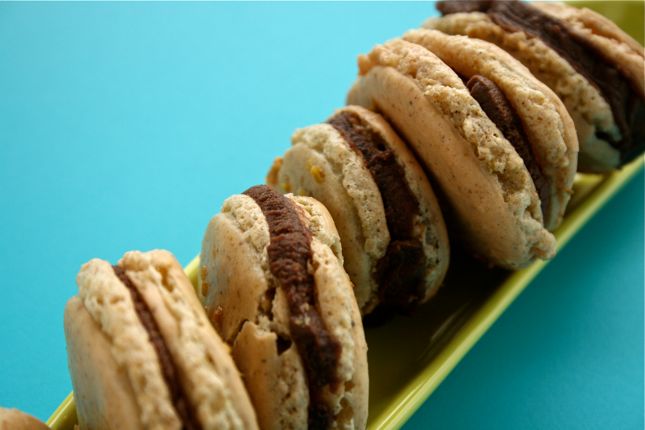 This was me on Sunday morning. Slightly wonky and untidy, a bit crushed after too much excitement but just about still managing to put in an appearance.
We fly, as you are probably familiar by now, by the seat of our pants on Maison Cupcake quite a bit and I botched up these macarons on the same frenetic Friday that I also produced my Kiflice Serbian cheese rolls, some fro-yo and a baked chicken recipe (to be blogged after Christmas) and put the finishing touches to my pumpkin crostata and the Tesco Christmas Cupcake Decorating Challenge.
Yes really, it was one of those days where you astound yourself what you fit in.
Saturday just gone was another. Lunch was at Village East in Bermondsey with a wonderful group of blogging friends, Meeta and Jamie who were visiting from Germany and France together with Hilda, Jeanne, Anne, Michelle, Julia, Catty, Kavey and Eunice.
By 3pm it was time to whizz on to the Food Blogger Connect Pot Luck in South London where I met up with more old friends Beth, Nando, Sari, Arthi, Caroline, Chris and some new ones too! When I got home in the freezing cold at 8pm, I was exhausted but happy.
So it is fitting this month to feature my Mactweets entry in my first post written after seeing my lovely friend Jamie, one of my greatest inspirations in macaron making and blogging full stop for that matter.
I have pictures also of Meeta but they didn't do her loveliness justice so I thought she wouldn't thank me for posting them here!! Check out everyone else's blogs for their recaps of Saturday which will no doubt appear soon for they are likely to have taken better pictures than I did in my laziness that day.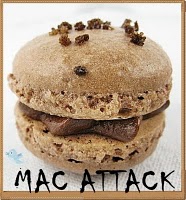 Mactweets is Jamie and Deeba of Passionate About Baking 's monthly macaron challenge. I try to get to their mac party most months although despite foolhardy success in front of Greg Wallace and John Torode back in July, lately I seem to have lost my macaron-acity again.
This month's theme was autumn. I have a confession. My homage to autumn was filling them with pumpkin pastry cream as used in the Daring Bakers pumpkin crostata.
Whilst this appeared to work at the time, those that were not eaten immediately (!) went unpleasantly soggy in the fridge. Sweet but very messy. Fortunately, I had filled the other half of the macarons with left over chocolate "mousse" which had been hiding under pumpkin pastry cream for Daring Bakers but can be seen properly here.
Grinding pistachios was a rip roaring success, they ground down far more effectively than pecans producing a wonderful bright green fine powder. And after last month's raspberry macaron debacle – not blogged but seen here (last but not least) in the Mactweets October round up I managed to get my macaron batter to form skins by sitting it next to the radiator. Sadly, they dried out quicker than I expected which meant most of them cracked on breaking. I forgot about them for maybe ten minutes too long. Maybe delicate macarons were crying out for personal attention I was not able to give them in the maelstrom of dough rising, ice cream churning and chicken browning that was taking place in my little factory that day!
Although foot-less and a bit foot-loose to look at, my pistachio and chocolate mousse macarons tasted delicious – and that after all folks, is what counts isn't it?
So tell me, what did you get done on your most productive day lately?
Pistachio Macarons with Quark and Chocolate "Mousse" filling

Ingredients:
for the shells
200g icing sugar
55g ground almonds
55g ground pistachios (reserve any big bits for sprinking over the shells)
3 free range egg whites (90g worth), left to age for 2 days
40g caster sugar

for the filling
Spread some of this easy quark chocolate mousse mix.

Method:

1. Sift the icing sugar, pistachios and almonds into the food processor and blitz to give yourself an even finer powder.
2. In a large mixing bowl, whisk the egg whites to a foam using an electric mixer then add the caster sugar gradually and continue beating until you have a meringue that stands in stiff peaks.
3. Tip all the icing sugar and nuts on top. Using a silicon spatula, sweep around the bowl in a circle and then cut sideways strokes with the thin blade of the spatula through the centre backwards and forwards ten times. Repeat sweeping around the edge of the bowl and doing your ten strokes five times so that you've done fifty strokes. Your batter should be roughly ready by this point, you are looking for a flowing lava effect. If it is too stiff continue sweeping around the edge of the bowl and doing another ten strokes until you are happy with the flow.
4. Fix parchment paper to your baking sheet with a blob of meringue batter in each corner. Fill piping bags with the batter, I use disposable ones with around 1.5cm width snipped of the end.
5. Pipe discs in a circular movement around the size of a two pound coin. Allow a similar distance between the piped circles incase they spread. Pick the tray up with both hands and rap on the table firmly to make the circles settle.
6. Preheat the oven to 150c. Leave the piped circles to dry out for 20-30 minutes. The surface of the circles should dry out so that they are no longer sticky to the touch. The feet develop as the surface has toughened before the centre has cooked, the pressure that builds up under heating forces the top of the macaron to rise, then you should get feet.
7. Bake for 12-18 minutes depending on size. The length of time really is trial and error. I put mine on the lowest oven shelf but again you will need to experiment.
8. Hopefully, if you've cooked them enough but not too much, you'll have that happy medium of a surface that peels beautifully off the baking parchment but a meringue which remains soft and gooey like a truffle inside. If you are having trouble removing them from the paper, some drops of water sprinkled under the parchment whilst still warm will help steam the macarons off. But I find that they come off best when completely cool and don't need this. So don't be impatient!
9. For the filling, fork your quark/chocolate/honey "mousse" until it is soft. When the shells are cool, spread the filling on the flat side of a shell and sandwich with another, squeezing gently. Allow to set for a couple of hours. I find they keep in an airtight tin for a week. If you can resist them.