My son has a favourite game on in the Christmas section of the Cbeebies website, we call it the ice skating game. It's on the site all year through so he actually discovered it in July but I've been suggesting it to him to play now.  The background music echoes like in an ice rink, I love that sound, nostalgic for childhood visits to Silver Blades, feeling the icy cold on my face and listening to the criss cross sound of scraping ice.
I had fantasies of course of being one of Noel Streatfield's characters in White Boots but alas reality was more like re-enacting Bolero on roller blades on a housing estate.
Bubble burst. Oh well, I might not be up for Dancing on Ice but who'd have thought that I'd have been attending cookery sessions with celebrity chefs. And here's how you can do the same…
Win an afternoon cookery session with a celebrity chef
Tesco Real Food are running a cupcake decorating competition in the lead up to Christmas.
Two lucky winners will get to cook alongside a celebrity chef for the afternoon.
There are also 10 runner up prizes of a cupcake decorating kit.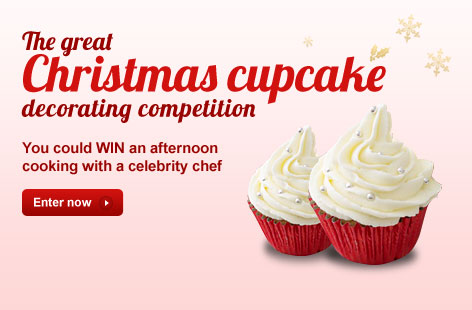 To take part is dead easy, all you need to do is create your own Christmas cupcake and up load to the Tesco Real Food site at The Great Christmas Cupcake Decorating Competition with a few words about your creation.
Closing date November 29th.
Christmas came early for me this week with Tesco sending me one of said cupcake decorating kits featuring everything I'd need to make a batch of Christmassy cupcakes.
There was a lot of liquid food colouring, which long term readers will know I had an issue with during the hungry caterpillar cake so I kept things straightforward today with plain vanilla but ever so wintery cupcakes.
I was especially delighted to find a PME mini snowflake plunge cutter in my kit. Using some glitter powder and white fondant paste I pressed out the little snowflakes you see on these cupcakes. They're fragile bunnies though so be careful if you try making these yourselves.

And guess what, I can't win this competition. Because I'm one of the people judging it! Mary Berry watch out!
To make these Winter Wonderland Cupcakes simply follow my basic cupcake recipe.