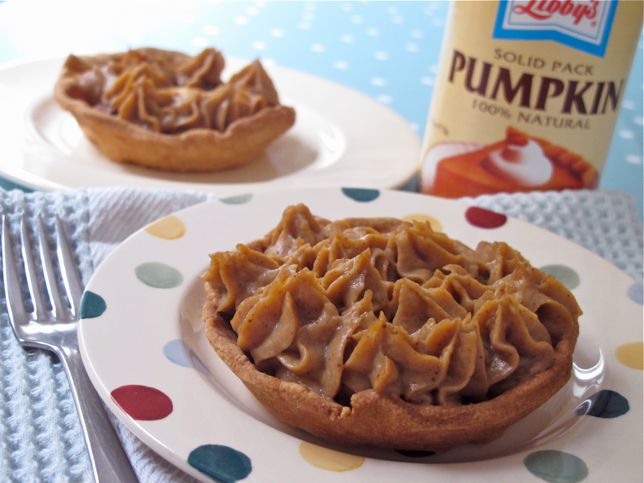 Several months have passed since I last took part in a Daring Bakers' challenge. I decided I'd had the whole process all backwards and that instead of frantically finishing posts right up on the deadlines I should start the recipes nice and early and be photographed in plenty of time and just be a whole lot more relaxed about the whole process.
I took a peek at The Daring Kitchen, assuming I would have been locked out after non performance but in fact I could still access the forum and took a look at the November challenge, Italian crostata.
Not a dish I was familiar with but for once it looked pretty easy – verging on jam tart at its easiest – and I decided it was the ideal chance to dip my feet back in those daring waters.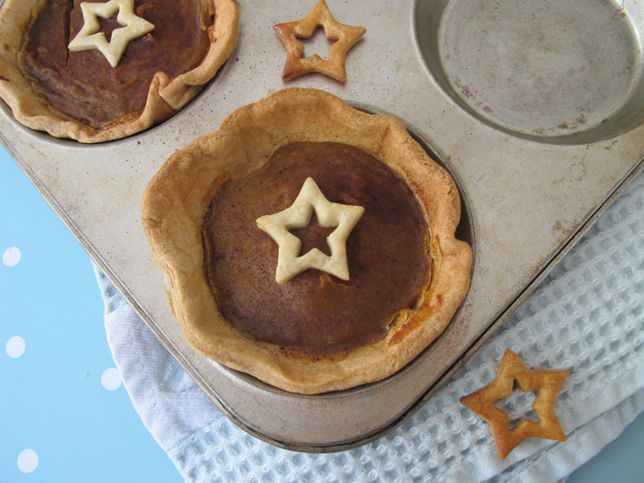 The 2010 November Daring Bakers' challenge was hosted by Simona of Briciole. She chose to challenge Daring Bakers' to make pasta frolla for a crostata. She used her own experience as a source, as well as information from Pellegrino Artusi's Science in the Kitchen and the Art of Eating Well.
Simona said, "I am inviting you to make crostata (tart), an Italian dessert. The base of a crostata is pasta frolla (or pastafrolla), sweet short crust pastry (or sweet tart dough) made of flour, sugar, butter and eggs. Pasta frolla is versatile: it provides the base to make crostata with fruit preserves, pastry cream, fresh fruit, ricotta, and other ingredients, and, by itself, it makes very nice cookies."
There were numerous fillings we could use to fill our crostata case, traditionally either pastry cream or a fruit conserve but in any flavour we liked. As mentioned in my pumpkin cinnamon cupcakes, I have been stretching the number of recipes that can be gleaned from a single can of pumpkin puree so scoured the internet for a pumpkin pastry cream – I didn't have to look far, the recipe which fills the first page of google results is from frenchfood.about.com although I tweaked this a little to reflect my love of strong spices and my caution for recipes having too much liquid so the version you see below is my own. Last time I tried to make Donna Hay creme patissiere it was like vanilla soup. I am wise to this now…
I also decided to make a series of small crostata or crostatine so that I could experiment with a couple of fillings. As you can see above I filled some very small cases with peach conserve and chopped pine nuts which were delicious although verging into jam tart territory. I used my tiny tiny star cutter to cut out little dough shapes for decoration as Simona had suggested.
But for my medium sized cases I used the pumpkin pastry cream; two cases were filled with the cream on its own and baked with a star decoration, the latter two were filled with a layer of chocolate mousse and cold pastry cream piped with my new best friend, the star nozzle. The chocolate mousse was a recipe I'd long meant to try by Sunita at Sunita's World, a former Daring Baker hostess herself. Sunita's mousse was so ridiculously easy that I fear I may never pass by quark in the chiller cabinets in the supermarket ever again. You have to try this stuff! It's not visible in my pictures here, covered by the pumpkin pastry cream but there's no way I could improve on Sunita's beautiful pictures, take a look there and see.
Although it looks long, the crostata recipe was actually very easy to follow. I did mess up with the edges of my crostata cases, I should have shaped them differently so that they'd have stood up to being baked blind and re-baked more adequately. As it was, I was distracted by a small boy who was impatient for his dinner, got mixed up which thing the cooker time was reminding me about and left the crostata cases in the oven too long. They survived but they would have been less brittle had I been taking more notice!
Ah well, this is what you get when you take Daring Bakers less seriously. I finished it over a week early and I didn't break my neck doing so. Hopefully a pattern I will manage to repeat in that tricky month, December!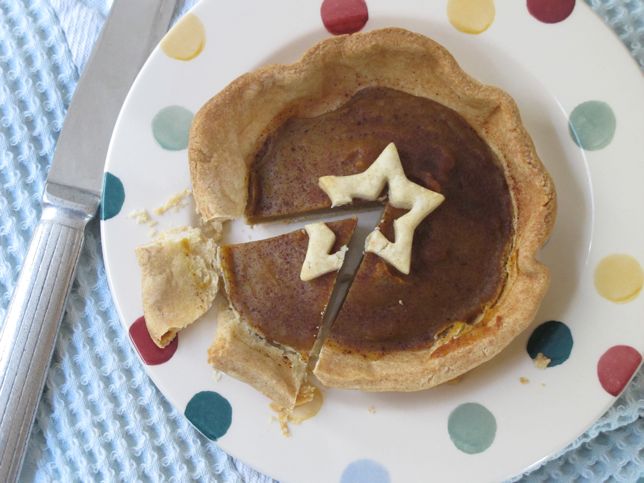 Pumpkin and Chocolate Mousse Crostata

Makes enough for a 7-8″ flan case or several smaller ones.

Ingredients:
For the pasta frolla
100g caster sugar
235g plain flour
a pinch of salt
115g cold unsalted butter
a few drops of vanilla extract
1 large egg and 1 large egg yolk, lightly beaten in a small bowl

For the pumpkin pastry cream
200ml whole milk
3 egg yolks
75g canned pumpkin puree
50g granulated sugar
15g plain flour
1/2 tsp ground cinnamon
1/2 tsp ground nutmeg
1/2 tsp ground cloves
2 tbsp cornflour
1 tsp vanilla extract

For the cheese and chocolate mousse
One batch of Cheese and Chocolate Mousse as seen at Sunita's World.

Directions:

For the pasta frolla case

1.Put sugar, flour and salt in the food processor and pulse a few times to mix. Add butter and pulse a few times, until the mixture has the consistency of coarse meal.Empty food processor's bowl onto your work surface.
2. Make a well in the center of the mounded flour and butter mixture and pour the beaten eggs into it (reserve about a teaspoon of the egg mixture for glazing purposes later on – place in the refrigerator, covered, until ready to use).Add the vanilla extract to your flour/butter/egg mixture.Use a fork to incorporate the liquid into the solid ingredients, and then use your fingertips.Knead lightly just until the dough comes together into a ball.
3. Shape the dough into a flat disk and wrap in plastic wrap. Place the dough in the refrigerator and chill for at least two hours. You can refrigerate the dough overnight.
4. Heat the oven to 350ºF [180ºC/gas mark 4].
5. Take the pasta frolla out of the fridge, if you want to reserve any for decoration refrigerate a little of it while you work on the tart base. To help roll the crostata dough, keep the dough on top of the plastic wrap that you had it wrapped in. This can help rolling the dough and can also help when transferring the dough to your pan. You can also use parchment paper for this. However, you can also roll the dough directly on a work surface if you prefer.
Lightly dust the top of the dough and your work surface (if you're rolling directly on a work surface) with flour. Keep some flour handy to dust the dough as you go along.If the dough is very firm, start by pressing the dough with the rolling pin from the middle to each end, moving the rolling pin by a pin's width each time; turn the dough 180 degrees and repeat; when it softens, start rolling.Roll the dough into a circle about 1/8th inch (3 mm) thick.
If you used the plastic wrap or parchment paper as rolling surface, flip dough over the pan, centering it, and delicately press it all around so the corners are well covered. Peel away the plastic wrap.
6.Trim the excess dough hanging over the edges of the pan. Press the remaining dough around the border into the sides of the pan making sure the border is an even thickness all the way around. Prick the bottom of the dough with a fork in several places.
7. Take out of the fridge any reserved pasta frolla you had cut away earlier. Roll it with your pin and cut into strips or use cookie cutters to make small shapes (this is not traditional, but it looks cute); or roll with your hands into ropes. In my case I cut out stars. Brush any decoration with the reserved beaten eggs. You can add a drop or two of water to the beaten eggs if you don't have enough liquid.
8. Fill the case with a square of baking parchment and baking beans to "bake blind". Put the tart in the oven and bake for 30 minutes (or less if you are baking smaller ones). After 30 minutes, check the tart, and continue baking until the tart is of a nice golden hue.
9.When done, remove the tart from the oven and let cool. If you have used a tart pan with a removable bottom, then release the tart base from the fluted tart ring. Make sure the tart is completely cool before filling.

For the pumpkin pastry cream
1. In a small saucepan, warm the milk gently until it is just steaming. Meanwhile whisk together the egg yolks, pumpkin, sugar, flour, spices and cornflour until the mixture is completely smooth.
2. Once the milk is steaming, add half of it, whisking constantly to the pumpkin mix. Add the milky pumpkin mixture back to the hot milk and carry on stirring and heating for a couple of minutes until it is very thick. Remove from the heat and stir in the vanilla extract. If you wanted to bake the pastry cream you could put it in the cases after they'd been baked blind and give them a further 20 minutes in the oven. My preferred use of this cream was to chill it and pipe into the cases when completely chilled.

To assemble:
1. Spread your cheese and chocolate mousse thickly onto the base of the tart case.
2. Pipe chilled pumpkin pastry cream on top in a pattern of your choice.
3. Re-chill and serve cold with single cream.