You may be familiar with Harry Eastwood from her Channel 4 series, "Cook Yourself Thin". Her book Red Velvet Chocolate Heartache is full of cakes made from vegetables.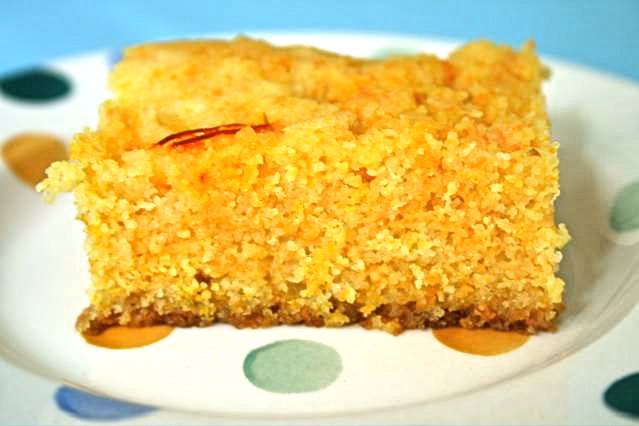 I'm not going for obvious Hallowe'en references this year but I can promise you this blog post features bleeding and stabbing.
If you can't face the full on sugar hit of a cupcake and brownies are too chocolatey for your taste (in which case you may be on the wrong website), this flowery – not floury – sticky juicy cake from Harry Eastwood's new book Red Velvet Chocolate Heartache may just be the thing for you.
In the way that a lemon dessert can refresh the taste buds after a rich menu, so too could this delicate orange and saffron cake.  When I say delicate, I mean flavour. I don't mean it's going to fall apart – perhaps over cautiously Eastwood suggests serving it from the baking tin whereas I found mine to be pleasingly sturdy.
It's another cake without wheat flour or butter and despite it's size, there are only 2 medium size eggs in the mix.  The ingredients come together in a clumsy clumpy fashion – not dissimilar to Playsand so maybe that's how she picked the name.  I jest.  The sandy texture comes from a stonking 300g of ground almonds and polenta.
I must admit I was apprehensive making a cake with such a high quantity of polenta.  With bad memories of a River Cafe polenta cake that bit back with a gritty revenge.  I feared it was happening all over again when the mix struggled to reach the far edges of a 22cm square x 5cm deep brownie tin.  It did look a bit gritty and well, dry.  "This cake is going to fall to bits!" I wailed.
It didn't but it was a slow burner – a lengthy 1hr 15 mins was required in the oven.  For a cake as thin as a crisp at the edges this was a worry.  She does however tell you to cover it with foil and with good reason.  My cake was in the centre of the oven so it did go golden around the edges – I only noticed afterwards that I'd ignored instructions to put it on the bottom shelf.  It survived and had risen but I would do as I was told next time.
The magic of this cake is in the honey, orange and saffron syrup. She doesn't tell you to do this but while the cake was baking I steeped my saffron in the orange juice in the microwave for 30 seconds which bleeds all the colour out into the juice. After a satisfying moment stabbing the cake with a skewer you drizzle over the syrup and leave it to soak for at least 15 minutes before serving.  I left mine a good hour.  Again I feared that my sandy cake was going to be washed away with what seemed like a lot of liquid but the mix just slurped it up.  On serving, you have a textured, firm, moist cake that doesn't drip onto the plate and doesn't fall to bits when you pick it up.
A triumph.  Well, the cake was anyway.  The photo was taken before I went to the food photography session at Scandinavian Kitchen so I will mark my own report card down for that.  "Could do better."
Ingredients:
160g caster sugar
2 medium free range eggs
100g ground almonds
200g fine ground polenta
2 tsp baking powder
1/4 tsp salt
Generous pinch of saffron
Zest of 2 small oranges
200g grated carrot

For the syrup:
Freshly squeezed juice from the two oranges
150g clear honey
Pinch of saffron

You will need a 22cm square x 5cm deep brownie tin.

The recipe can be found on page 58 of Red Velvet Chocolate Heartache by Harry Eastwood, Bantam Press RRP £20.  

See how I got on making other Harry Eastwood recipes for check out the original version in Red Velvet Chocolate Heartache on Amazon.