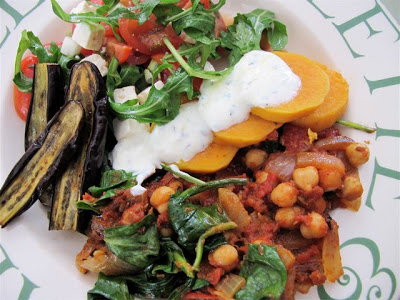 A little snack to keep you all going.  The past week has been very frustrating whilst my blog was refusing to pitch up at it's new host but we got there eventually.
So today I will share a little Ottolenghi recipe lunch with you that I made for my in-laws recently.  The Ottolenghi recipe in "The Cookbook" prescribes using dried chickpeas but I wasn't able to do that this time. I am sure it was tasty enough with canned even if dried ones would take it to another level.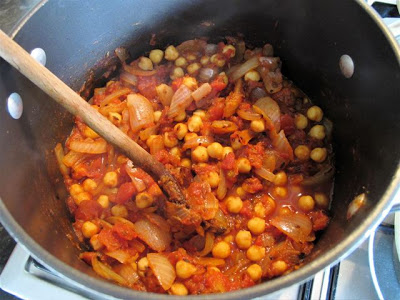 Ottolenghi recipe: chickpeas and spinach with honeyed sweet potato
Adapted from Ottolenghi: The Cookbook by Yotam Ottolenghi
Ingredients:
For the sweet potatoes
500g sweet potatoes peeled and cut into 2.5cm thick slices
700ml water
50g unsalted butter
4 tbsp honey
0.5 tsp salt
For the chickpeas and sauce
400g can of chickpeas
2 tbsp olive oil
1 onion, finely chopped
1 tsp cumin seeds
1 tsp coriander seeds
1 tbsp tomato puree
400g tin of chopped tomatoes
1 tsp caster sugar
1.5 tsp ground cumin
100g baby spinach leaves
10g coriander leaves to garnish (I didn't have any that day)
salt and pepper to taste
For the yogurt sauce
100g Greek yogurt
1 crushed garlic clove
juice and grated zest of 1 lemon
3 tbsp olive oil
1 tsp mint sauce (I didn't have dried mint)
The original recipe text is available in Ottolenghi The Cookbook.
Take a look at other Ottolenghi recipes previously featured on this site.