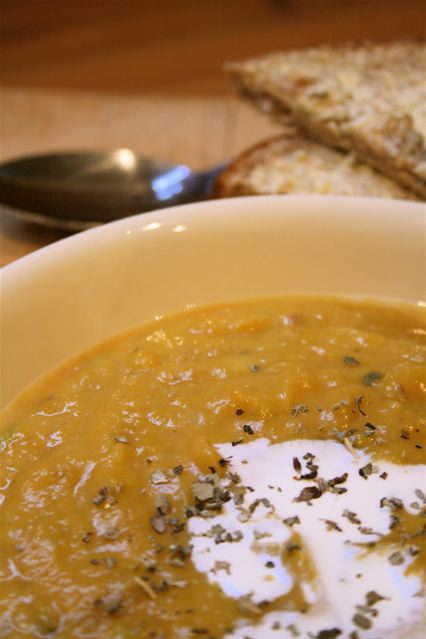 "Instant" conjures up images of Smash potato and that horrid powdered soup in sachets. I wanted to convey how quick this soup was hence my calling it "immediate" soup instead.  Healthy food that can be produced virtually immediately is a jolly useful thing when you're trying to eat healthily in the New Year. The key is to have your butternut squash already cooked. I cooked 2 entire butternut squashes in my slow cooker the night before and they were ready for me to pop straight into this soup and also a curry.
Re-visiting soup for the latest
Monthly Mingle
after it was the subject last month was not my plan. However, with this month's theme being "winter vegetables" and having some already cooked butternut squash and some left over vacuum packed chestnuts I found myself sucked into soup. It's that time of year.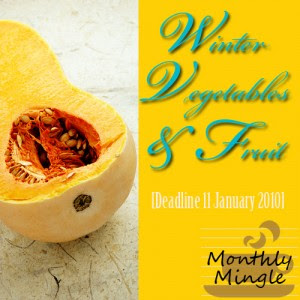 This is my second in a mini-series of three posts showing ways to use up seasonal ingredients you may have left over from Christmas and New Year.  Today's ingredient being those chestnuts.  I also have some fresh ones in my fridge so I may be making this soup again, only this time I will omit the cream as I am now doing so well with my 10 week commitment to healthier living; Ten in Ten as seen on
Recipe Girl
. Click the button in my side bar for more details.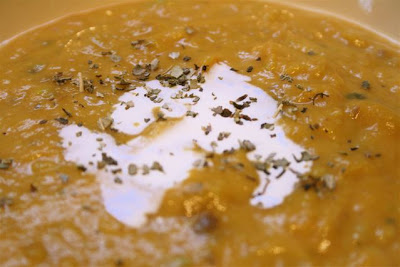 Quick and easy butternut squash and chestnut soup
Ingredients:
1 butternut squash, peeled and chopped into medium size chunks.
500ml vegetable stock (I use Marigold powder)
1 tbsp olive oil
1 leek, cleaned and sliced into rings
100g vacuum packed chestnuts (I use Merchant Gourmet)
100ml single cream or half fat creme fraiche (optional)
1 tsp chopped sage
seasoning to taste
Method:
1. Cook your butternut squash in advance. I bunged mine in slow cooker the night before and left it there until I finished making the soup.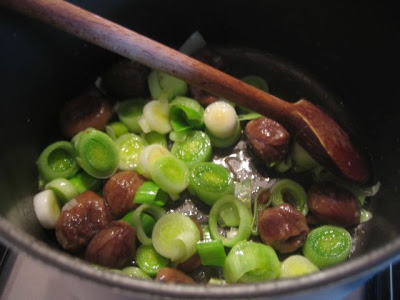 2. Fry the leek rings in the olive oil in a large saucepan.  When they are softened add the chestnuts and continue to cook for 2-3 minutes.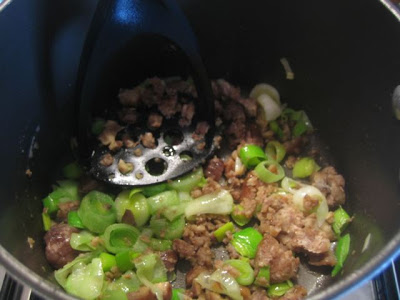 3. Mash the chestnuts gently into the leeks. (Use plastic masher if using non-stick pans)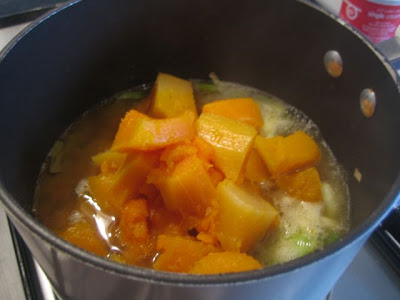 4. Tip in the cooked butternut squash and your stock and heat up.  Alternatively you could add raw butternut squash and stock here but you will need to allow extra time to cook it now.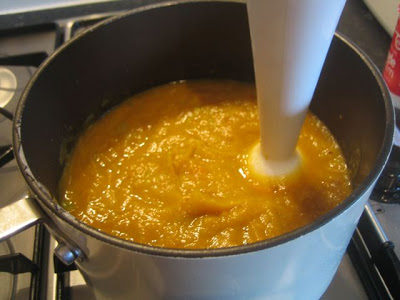 5. Use a stick blender to puree your soup to whatever texture you prefer.  By the way, I really don't rate KitchenAid saucepans. As you can see in the photo the non-stick surface is wearing off. I thought I'd done something horrible to them but I visited a friend with same saucepans at the weekend and it's happening to him aswell. KitchenAid saucepans look lovely, have nice rubber handles but they're not guaranteed for 10 years or a lifetime like certain other brands and well, I can see why now.
6. Season to taste and serve immediately. I sprinkled the sage over the top of mine here with some cream but as I say this was before New Year when I started my diet.  It would be equally nice without or alternatively you could use a blob of low fat yogurt.
Enjoy!
Next time, in my third installment of using up things you may have left in the fridge after Christmas, I have something very enticing to show you with some left over soft cheese. It's not for dieters!