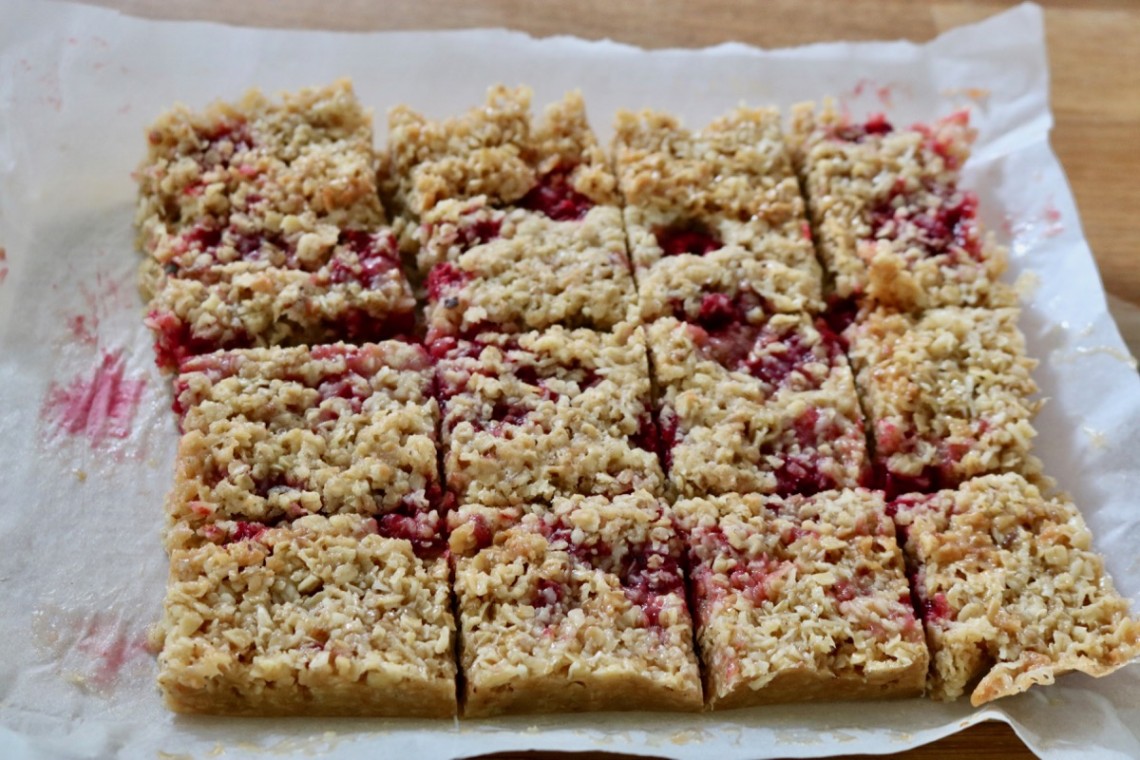 Raspberry and Coconut Flapjacks
Makes 12-16 flapjacks depending how big you dare eat them.
You will need a lined baking tray approximately 9"x12"
Ingredients
225g unsalted butter
225g demerara sugar
75g golden syrup
1 tsp vanilla extract
275g porridge oats
50g desiccated coconut
100g fresh raspberries
Method
1. Preheat the oven to 180c/Gas Mark 4.
2. Melt the butter, sugar and golden syrup in a saucepan on a low to medium heat. Turn off the heat and stir in the vanilla extract.
3. Mix the oats and coconut in a large mixing bowl.
4. Pour the melted mixture onto the dry ingredients and stir until well incorporated. Gently stir in all but 6-7 of the fresh raspberries. Mix it as little as possible or else the entire mix will bleed with pink juice in a less appealing manner. You're aiming for pleasingly squished fruit here and there rather than red sock in a white load of laundry.
5. Pour the batter into your lined baking tray. Spread to the edges and pack the mix flat with the back of a wooden spoon to compress it a little. This prevents crumbling. Push the remaining fresh raspberries into the surface.
6. Bake for around 25 minutes in the middle of the oven.
7. Allow to cool completely in the tin before cutting into rectangles.
It wasn't exactly intentional to blog flapjacks twice in little more than a week but since my new modus operandi is publishing what we really cooked in order rather than feeding the Google monster. Think of project flapjack as a work in progress and indeed you will probably see more flapjacks simply because I like them and kid myself they're healthier than brownies.
In order to stop myself repeat ordering limited edition KitKats from Amazon during lockdown, I had thought being self sufficient in home made flapjacks for elevenses would be more virtuous. Only having SEEN how much fat and sugar goes into a single tray of these babies it's clear this is a highly dubious claim. Despite adding an extra 50g of coconut to the previous cinnamon and raisin flapjacks, these came out obscenely caramelised. I'm going to tweak at upping the oat ratio in future until I achieve a happy balance of chewy but not falling apart. Doubtless Felicity Cloake will already have published her perfect flapjacks and I could look at her ingredients. But where's the satisfaction in that?
Moreover you could say that because these flapjacks contain fresh raspberries (from our current garden glut) that they qualify as one of your five a day. Hmm, what do you reckon?