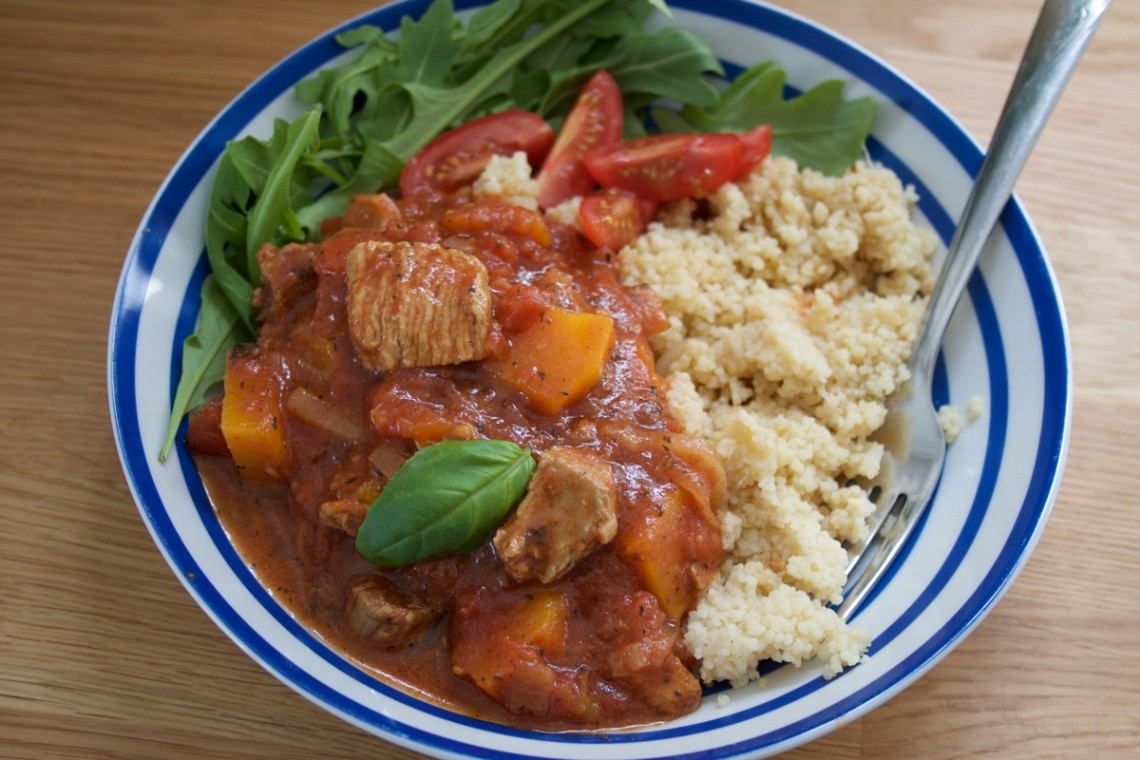 Turkey Thigh Tagine
Serves 6, takes 25 mins prep time, 30 mins cook time, 55 mins total
Ingredients
• 1 tbsp light olive oil
• 1 large red onion, finely sliced
• 3 cloves garlic, finely sliced
• 400-500g turkey thigh chopped into cubes
• half a red chilli, finely chopped
• 300ml vegetable stock
• 400g can chopped tinned tomatoes
• 1 level tsp ras-al hanout spices (or mild curry powder if you can't get that)
• 1/2 tsp ground cinnamon
• 300g diced butternut squash
• 1 medium courgette, chopped into chunky dice (around 300g)
• 1 tsp chopped or dried thyme
• 12 dried apricots cut in half
• ½ tbsp fresh mint, finely chopped or glob of jarred mint sauce if I'm being honest here
• 1 tbsp fresh coriander, finely chopped (although it would appear I used basil on the day I took the photo)
Method
1. Preheat the oven to gas 6 / 200c.
2. In an oven proof casserole dish on a medium heat, heat the olive oil and fry the red onion and garlic for 2-3 minutes. Once the onions and garlic are starting to soften add the turkey thigh and stir around to sear the sides of meat pieces. Next add the chilli and ras al-hanout spices and continue to cook on a low heat for a few minutes more.
3. Next add the vegetable stock, tomatoes, butternut squash, courgette, thyme, mint and dried apricots stirring occasionally. Bring it up to a simmer then give the casserole a final stir before putting the casserole in the oven. Cook for 25-30 minutes in the middle of the oven until the vegetable cubes are cooked.
4. Serve with cous cous, rice or flat breads. Scatter coriander (or basil) over to serve.
Around 20 years ago, whilst browsing online and eating al-desko in my former job, I printed since lost tagine recipe from The Guardian. For many years the slip of paper floated around my bookshelf, normally stored and increasingly stained, in the front sheet of my copy of Anjum Anand's Indian Food Made Easy (great book!). I kept thinking how lost I'd be without this slip of paper but having used the loose direction of the recipe for so many years I eventually stopped getting the slip of paper out and did my own thing as I went along.
I liked making this kind of dish because it didn't seem to matter if you deviated from the original recipe (which was vegetarian with chickpeas) so long as the sauce had 80% of the original ingredients. On a previous occasion I blogged a variant, Meatball Tagine where I referred to it as my "stone soup recipe" because so long as there was tomato you could chop and change pretty much everything else. That said, I feel it's the combination of cinnamon, dried fruit and mint that make me feel I'm eating something close to the original format.
I can feel this post is leaning towards a more "talky" version where I need to unpick a few things about authenticity of recipes and appropriation so sticking to my new resolution, you will need to read the partner Journal post when I imminently publish it.
And if you aren't reading that, may this dish cheer up your rainy July. It's my birthday this week and the weather sucks.