Chicken and leek pie is just what you need now the nights are drawing in and the temperature dipping. It's that comfort food time of year again already.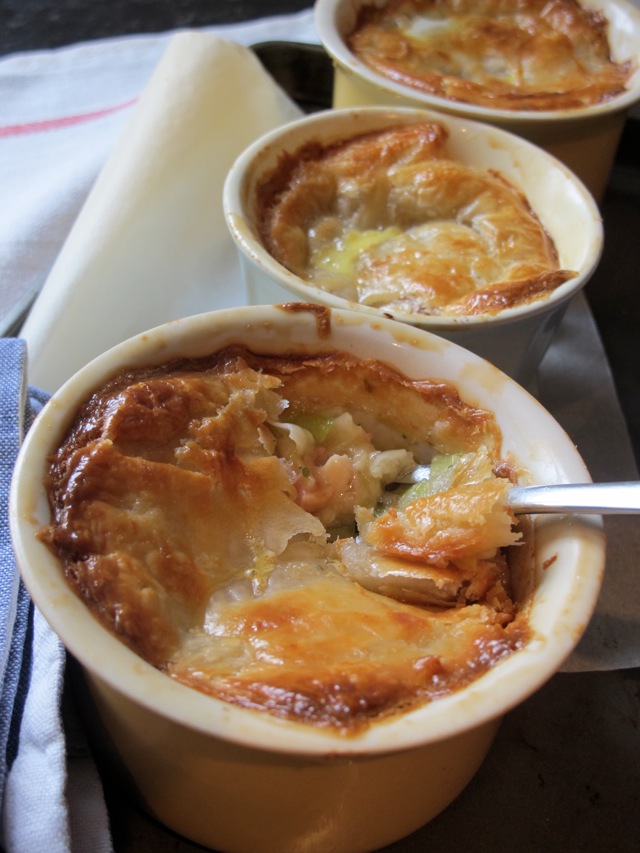 Pop over to my post at BabyCentre blog to read the full post and recipe for this mini chicken and leek pie.  There's a secret guilty pleasure ingredient used in them, I wonder if you can guess what it is?
Lightning fast bakes using pre-rolled puff pastry are becoming a speciality of mine over there – I should probably make it clear that I do not have a special deal with Jusrol!
I first discovered the chicken pot pie when I worked near a branch of EAT and they used to sell them on a particular day of the week. Come Friday I would do a detour to buy a hot chicken pot pie served in a waxed paper cup! They were the highlight of my working week.
Pot pies are so easy I am looking forward to a winter season of slow cooker meat recipes I can use up as pie fillings and soups. The classic combination of chicken and leek pie seemed an obvious place to start. My husband and I have a long term disagreement about the status of our chicken brick – he loves it, I hate it. I much prefer using our Crock pot.
My dislike of using the chicken brick to make roast chicken is that the chicken falls apart, the chicken brick gets full of juices and it's all rather messy to clean up afterwards. Does anyone know whether you can clean a chicken brick in the dishwasher? I suspect not….
So go on, take a look over at BabyCentre at what my secret guilty pleasure ingredient was in these pies.
I use them all the time and reckon a lot of mums keep them as a store cupboard essential even if they're not very cool in foodie circles. Will you think any the worst of me for it?