A guest post by Helen of Fuss Free Flavours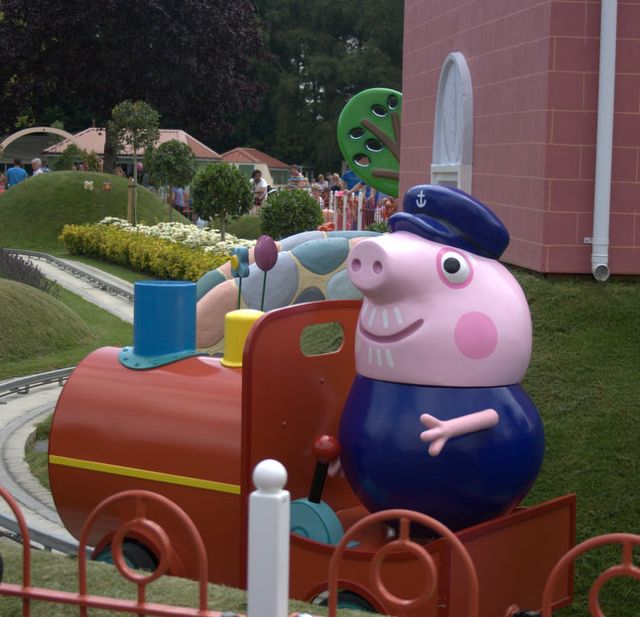 My two and a three quarter year old goddaughter, E, is crazy about Peppa Pig. Last Christmas nearly all her presents were Peppa related. Peppa is her favourite programme to watch and I am surprised that her Peppa DVDs have not worn out yet.
Her 15 month old brother, T, has absorbed the Peppa love through osmosis. Any parent of a preschooler will know of Peppa, for those not in the loop, she is a charming little girl pig, I would guess 4 or 5 years old who lives with her parents and little brother, George.
Peppa does everything that little children do. She loves to jump in muddy puddles, she goes to visit Daddy in his office, feeds the ducks and goes on picnics. What I find particularly charming about the programmes is that the stories are all so gentle and there is usually a little moral, or lesson learnt, at the end of each 5 minute episode. The stories are engaging, well produced, non scary – a Peppa DVD can easily "baby sit" your little ones for half an afternoon.
My pre Christmas google search to find a suitably Peppaesque present for E had lead to all manner of products, including the discovery of Peppa Pig World, at Paultons Park on the edge of the New Forest. I told her parents about it, and thought no more of it until I was approached by the PR company that looks after Paulton's and invited to an entirely different event. An exchange of e-mails later and a trip to Peppa Pig World was arranged! Oink Oink!
On the first Thursday of the school holidays, E, T, Mummy, Daddy and myself drove down, all in a state of high excitement. E had known for a week that she was "going to Peppa Pig's house and that Helly was taking her".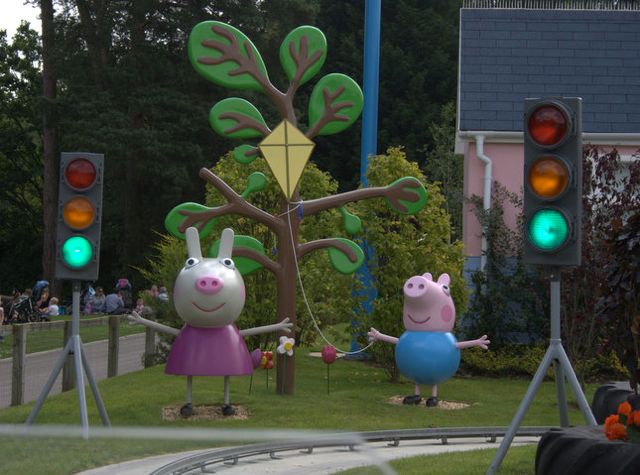 Travel to Peppa Pig World
The Paulton's site gives clear instructions on how to get there, once off the motorway there were clear signs to the park.
Arrival at Peppa Pig World
We drove into a huge dusty car park, and were swiftly directed to our parking spot. With small children it was a good five minute walk to the main entrance. Given the number of children present, a clearly marked walking path was needed, given the size of the car park more signs were needed, both the ticket office and in the car park so you knew where you had parked and could find your car again.
I estimate that the queue for tickets was about 5 minutes.
Once through the gates signage to different parts of the park was clear. Sensibly there was a stand providing stickers for parents to write their mobile number on and stick to their children in case they got lost, sadly they had run out of stickers.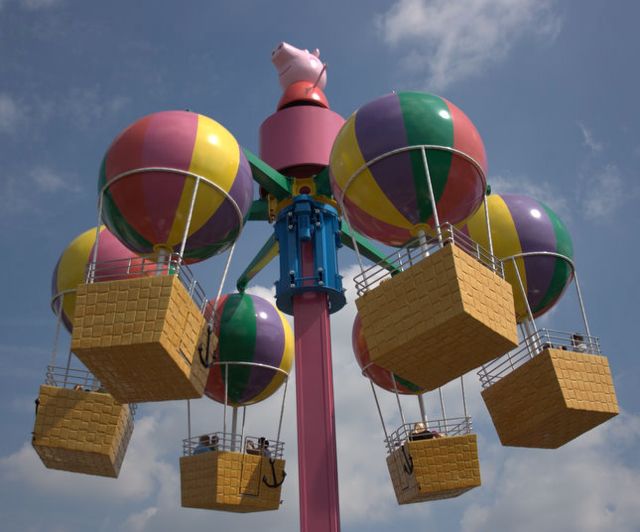 Rides at Peppa Pig World
The attraction is brand new this year, and is set in the corner of Paulton's Park, about a five minute walk from the main entrance. Peppa Pig World has been put together extremely well and looks just like the cartoons, with everything being clean and bright. E easily identified the many buildings and characters, her eyes were wide and she smiled for the entire visit.
There are seven rides, all featuring characters from the programme, a large playground, with obligatory muddy puddles area with sprinklers (thankfully the "mud" was painted and not real" and a large indoor soft play area.
Most of the rides are suitable for all children over twelve months old, apart form George's Dinosaur ride where children need to be over 900mm tall.
E loved the all the rides apart from the Dinosaur ride which she was scared of as the dinosaurs roar as they more around the track. All the rides were very gentle and very suitable for small children. I think that E the speed queen and thrill seeker would have enjoyed something a little faster.
There were queues, about 20 mins per ride. Most of the queues snaked around each ride so the children could watch the ride and know what to expect. We felt that had there been more staff working on each ride getting people on and off could have been speeded up considerably. Safety was paramount with sturdy fences around the queue, careful direction to get on and off the rides, and secure, sturdy doors.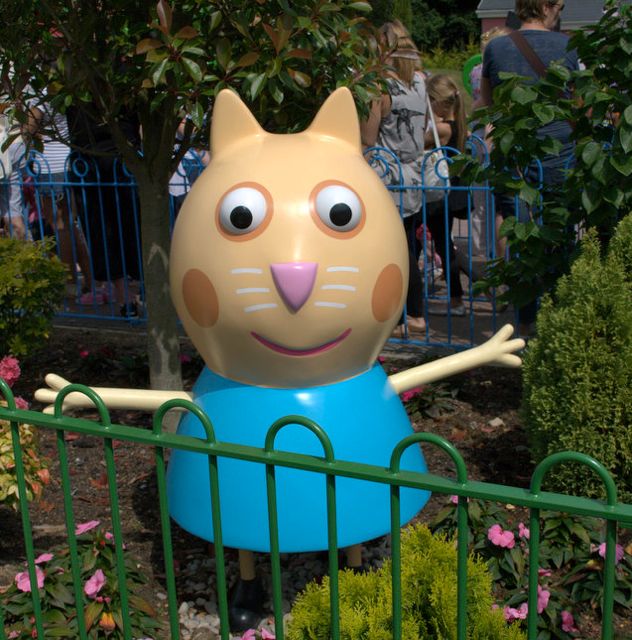 Peppa and George make an appearance several times a day at the school house, sadly E was terrified as they are huge so did not want to go and meet them!
The indoor soft play area is fantastic, the main area is suitable for children up to 8, with two smaller areas for younger children. Had we let her E would have happily spent the entire day in here. Children (and adults) must wear socks so remember to pack some (they are for sale in the shop)! I went down both the slides with E which was great fun! There could be a little more seating for weary parents here.
The loos, shop, cafe and play area are all in one large building, which has a fantastic living roof. The shop is right at the edge of Peppa Pig World and quite possible to avoid if parents do not wish to be badgered into spending more money. Many items in the shop were more expensive than they are on the High Street.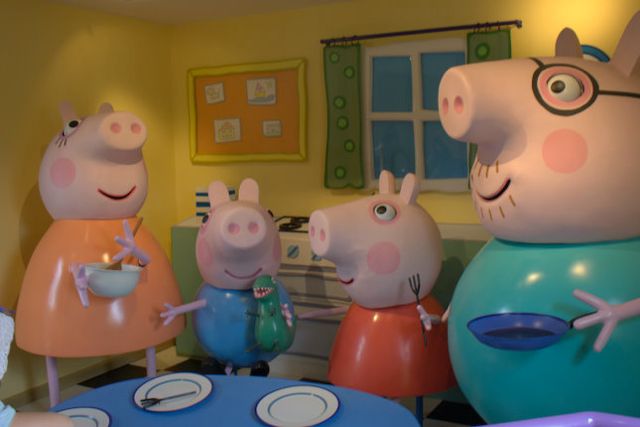 Food at Peppa Pig World
There are numerous cafes / restaurants within the park.
In Peppa Pig World there is "Daddy Pig's Big Tummy Cafe" which served snacks and children's meals consisting of a selection of five items (sandwich, cheese portion, juice, crudities etc.) and a piece of fruit for a reasonable £4.05. No sweets or chocolates to be seen, although there were muffins (excellent) and cookies. No hot food. Staff were happy to refill my water bottle for me. We would have liked to have seen pasta pouches that would be microwaved to give your child a hot meal without having to go out of the Peppa Pig area.
However if your child does not like sandwiches then there are few options. We went to the nearby Station Restaurant which was a bad choice. Abysmal fast food, greasy tasteless nuggets and pale fatty deep fried sausages. Yuck. There were some pale and uninteresting salad boxes filled with uninspiring iceberg and pale watery tomatoes.
Paultons can run a theme park really really well, but please outsource the catering to someone else. Pret, EAT, Leon, even, I hate to say even MacDonald's would have been better. Poor quality, at high prices on top of the not inconsiderable admission literally leaves a bad taste in the mouth.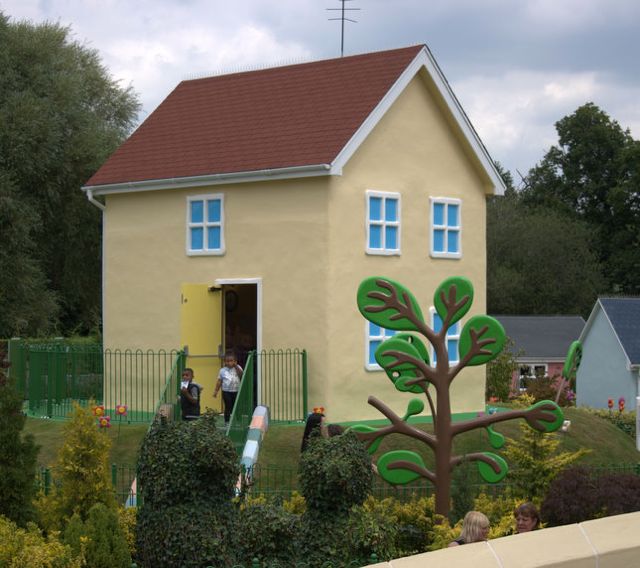 The Loos
Clean and well ventilated. All the toilets had child seats attached, changing rooms were clean, and despite the heat of the day there was not a hint of a whiff from the nappy bins. We would have liked to see more cubicles that were large enough to take a double buggy into and family changing rooms so Dads do not have to take their inquisitive little girls into the gents.
Verdict
A lovely day out, the attraction is fantastic but marred by poor catering in the rest of the park.
I would recommend taking your own food, remember socks for the indoor play area, bathers for the muddy puddles area. Also with pre schoolers, visit during term time. Everything was much quieter after 3pm.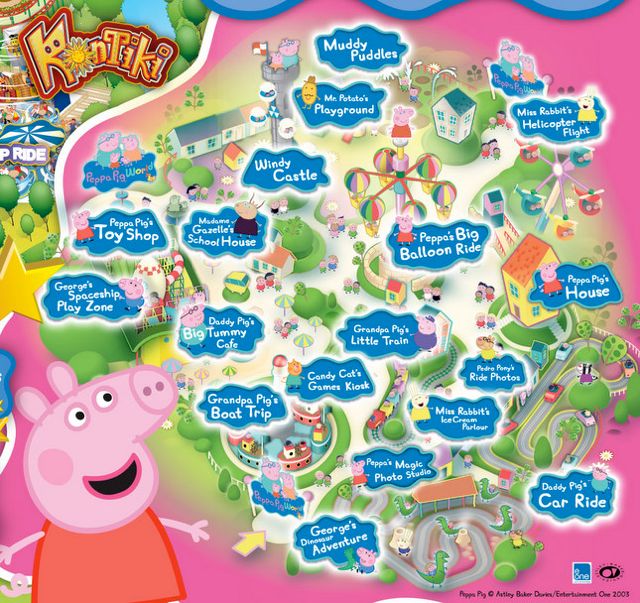 Admission is £19.50 per ticket (£21 on the gate) with children under 1m going free. A ticket gives access to the whole park.
Fuss Free Flavours, E, T and their parents were the guests of Paulton's Park