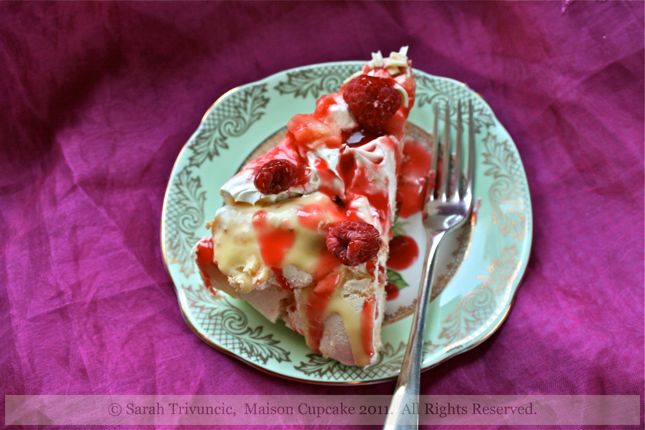 Although not a girly girl, I do love fuschia. Baby soft shades have their place on sugared almonds but I prefer deep tones. My wardrobe is full of deep pink cardigans, t-shirts and skirts, even a pair of fuschia linen trousers. The pride of my scant make up bag is a Chanel lipstick in same shade as this fabric above (a Monsoon organza wrap I draped over a similarly coloured velvet dress at an autumn wedding over ten years ago).
So this is why this pavlova started out just as rhubarb and white chocolate but I felt it lacked a bit of oomph. So a handful of last summer's raspberries from the garden came out of the deep freeze to scatter over the top and splash with a nail varnish toned raspberry sauce. Like a washed out face with a puff of blusher added, that's better.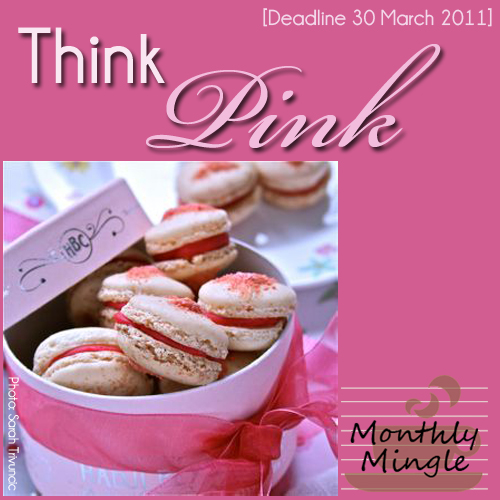 I am honoured this month to be hosting Meeta's Monthly Mingle from What's for Lunch Honey. Meeta has plenty of oomph and I've been fortunate enough to meet her a few times at various blogging get togethers. I wanted to think of a theme with as much pizz-azz as the lady herself and after several discarded ideas, struck upon THINK PINK.
You can submit anything to this month's Monthly Mingle so long as it prominently features an ingredient that is pink. Quite what shade of pink is down your personal preference.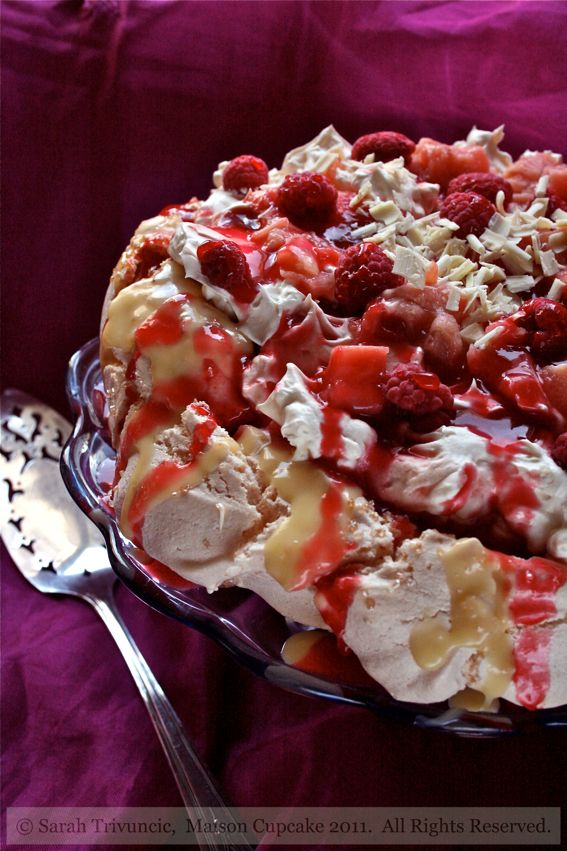 My pictures today are channelling "Walls Vienetta Ad circa 1986" or whatever that product was that a much younger Catherine Zeta Jones used to dive into, possibly cream cakes. It's so fashionable to have stark white background to your pictures today that when I peruse old cookery books in charity shops, the moody lighting always looks very strange.
Alas today it was my way of dealing with dim February light, I've grown rather used to holding up bits of cardboard covered in foil at 3pm struggling to bounce the slightest bit of light that crawls in through my not very big kitchen window.
Warmer weather can never be guaranteed but at least longer days can – and by the time we have our Mingle round up, technically it will be summertime.
Right now I have a fixation with pasteurised egg whites sold in tetrapaks. I use them for macarons since I'm clumsy separating eggs and cannot bear wasting the yolks which often perish in my fridge before I can use them. There's only so much egg white omelette a girl can eat. How could I use 200mls of egg white sensibly? Pavlova of course!
There are a lot of pans required here to make the meringue, compote, the ganache and the syrup. In my defence however, I must point out that all four of these components can be made in advance at your leisure. The meringue will keep for a week in an airtight tin and the ganache can be melted in the microwave to bring it back to the right consistency. So piles of washing up are not compulsory here (at least not all at the same time).
I'd possibly only made pavlova once before this and it was a very long time ago. Not being a huge fan of cream, it's a dessert I normally pass by. Not so my neighbours though… two sets of neighbours were each given a third of this beauty leaving the rest for my husband. "I loooooove pavlova, it's my favourite!" said each of them. Which was fortunate else my husband would have been eating it for a week. I'm sure he wouldn't have complained.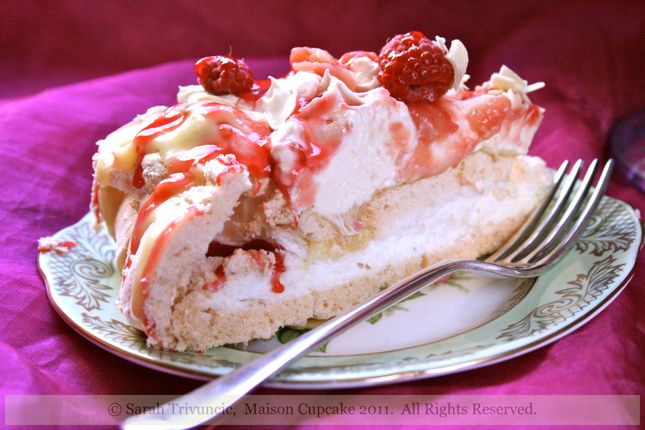 How to Mingle:

Create a dish that fits the Think Pink theme as described above.
Post about it on your blog from now till 30 March 2011 (entries must be in English, please).
Your creation should be prepared for the current Monthly Mingle theme and shared with a maximum of 2 other blog events. Let's try and keep the creations as fresh as the ingredients you use.
You must provide a link to this post and the official Monthly Mingle page.

Once you've posted your dish, please email me sarahATmaisoncupcakeDOTcom with:

Your name
The blog name
The name of your dish
A picture no wider than 300 pixels

The round up will be on the weekend of 2/3 April. Happy Mingling!
Rhubarb, Raspberry and White Chocolate Pavlova
Based on Christmas Pavlova by Nigella Lawson, How to Be a Domestic Goddess
Serves 8-10

Ingredients
For the pavlova base
6 large egg whites
pinch of salt
375g caster sugar
3/4 tbsp cornflour
1 1/2 tsp vinegar

For the rhubarb compote topping
3 sticks rhubarb, chopped into 3cm pieces
2 tbsp water
2 tbsp sugar
75g raspberries

For the raspberries and raspberry syrup
100g raspberries
100-120ml water
3-4 tbsp sugar

For the white chocolate ganache
100g white chocolate, broken into squares (save a few for grating over the top of the fruit)
100ml single cream

You will need a baking sheet lined with baking parchment.

Directions
1. Preheat the oven to 180c /gas mark 4. Beat the egg whites and salt until you get satin peaks. Beat in the sugar a little at a time until the meringue is shiny and stiff. Sprinkle over the cornflour and vinegar and fold in lightly.
2. Mound onto the baking sheet in a round shape. Put in the oven and immediately drop the heat too 150c /gas mark 2. Cook for 1 hour 20 minutes then turn off the oven leaving the pavlova inside to cool completely. (If using an electric oven, Nigella says to open the door. Maybe they take longer to cool down?) When completely cool, put on a pretty plate or cake stand.
3. For the compote, heat the rhubarb, sugar and water in a small saucepan and cook gently for 8-10 minutes until soft but not disintegrating. Leave aside to cool.
4. Repeat a similar process for the raspberry syrup. Heat half of the raspberries, sugar and water in a small pan until the sugar dissolves and the fruit bubbles up. If it turns into jam (very easy with raspberries!) add a little more water until it goes back to a syrup consistency. When happy with the syrupy-ness, strain and set aside.
5. Put aside 3-4 chocolate squares to grate over the finished pavlova. In another pan or a double boiler, melt the cream and white chocolate squares together until smooth. Allow to cool slightly but before it thickens again, spoon liberally over the pavlova shell.
6. Whip the double cream until thickened. Pile the cream on top of the white chocolate and pavlova base. (Nigella talks about inverting the pavlova shell but I didn't do this.) Then spoon over the rhubarb compote and drizzle with the raspberry syrup. Dot over the rest of the raspberries and finally grate over the remaining squares of white chocolate.