A selection of interesting goodies we have tried recently.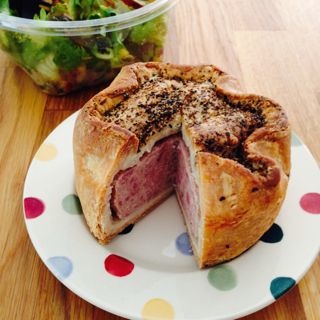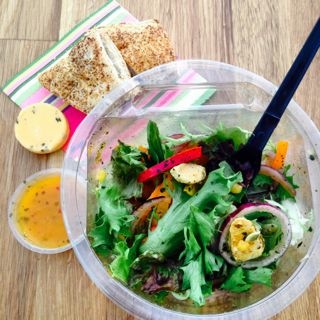 My latest picnic package celebrating #AsdaSummer included this monster pork pie, individual circles of cheese and some chargrilled chicken and mango salads. I don't tend to buy ready made salads but if you were buying picnic supplies on the hoof – as opposed to preparing ahead and lugging to your destination – this would be a decent choice. I was less keen on the Tiger style speckled sausage rolls. They were too much pastry, too much air and not enough sausage. They may have benefited from being reheated, even if this does contradict them being intended for picnics. Say hi to Asda on Twitter @asda (strangely enough).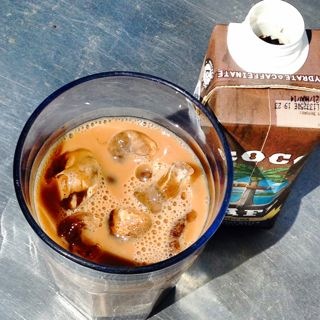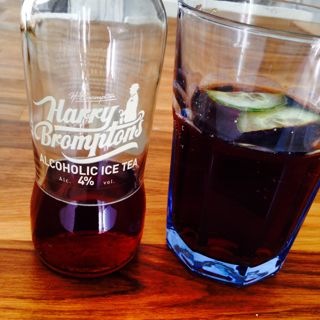 Coconut water has been having a moment; I blame Rihanna. Having tasted the plain version my reaction had been borderline disgust hence when 2 cartons of Coco Cafe coffee flavour coconut water turned up out of the blue I was not especially excited. I am a new convert to coffee – albeit iced versions only – and to my surprise I liked this drink a lot. Despite coconut water's reputation as a healthy drink, the nutritional payback from this beverage is on a par with a Mars Milkshake. So don't go mad on them no matter how tempting this may become during a heatwave. Say hi to Coco Cafe on Twitter @cococafeuk or Instagram @cococafeuk.
Harry Bromptons is apparently the first premium alcoholic iced tea in the world. Whether this means until now all the others were substandard I have no idea. Nevertheless, the cheeky bottle popped into my Waitrose party goodie bag slipped down very nicely Pimms style with cucumber on a hot day. I have fond memories of a bad date in Covent Garden's Long Island Tea Bar so "cin cin" to Mr Brompton reminding me of this. Say hi to Harry Bromptons on Twitter @MrHarryBrompton.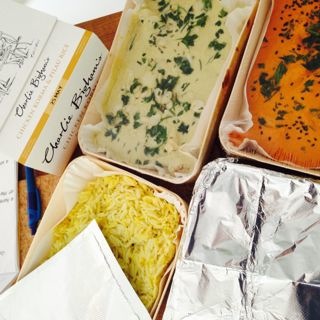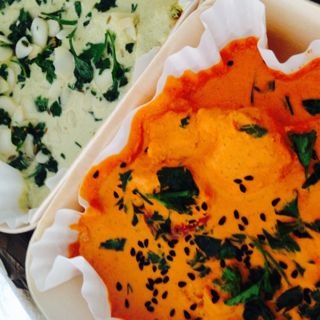 Curry, which is admittedly scantly served on these pages is in fact my favourite cuisine. Charlie Bigham's posh ready meal range has expanded into serving curries and we road tested Thai and korma versions, Packs arrive with separate portions of the rice and sauce; unlike most ready meals their wooden containers are not to be microwaved. You get a square of foil to cover the rice; I'd say the rice portions were very generous for two but that the sauce only just went far enough. Priced around the six pound mark, these aren't the cheapest of ready meal ranges but the contents are superior with no yucky oily covering. It's as if someone lovingly cooked supper for you and brought it round – as opposed to some mess in plastic dish going ping in the microwave. Well worth it for a Saturday night indoor date night. Say hi to Charlie Bigham on Twitter @charliebighams.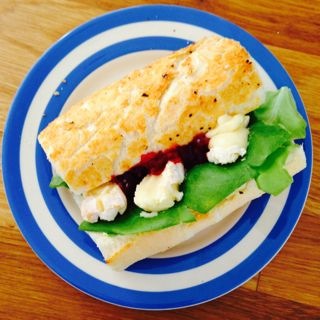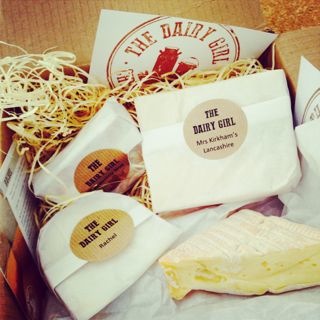 The Dairy Girl is a new cheese delivery subscription service. I had a close call with this – the parcel ended up being left with a neighbour whom I could not get hold of for 48 hours. Fortunately the contents were still cool having been in a shady place and the ice packs only just melted. I did however catch said neighbour at 9am when they were about to go away for the weekend so that might have been interesting when they came home on Sunday night.
But I digress – The Dairy Girl lets you specify whether you like soft, stinky, blue cheeses a bit / a lot and tweaks your package accordingly. My portion of Pont L'Eveque, having hummed in my neighbour's hallway for 48 hours was reaching its crescendo of cheesiness and I served it in big blobs inside a Tiger baguette with round lettuce and the last scrapings of some IKEA lingonberry jam. It was a mighty lunch I may struggle to live up to for a while. Also in our box was some Lancashire and Scottish Badentoy Blue. Each cheese comes with a pretty postcard explaining its provenance, serving suggestions and what to drink with it.
Personally, being in London, I have various sources of interesting cheese thus I would find receiving the parcel and dismantling the packaging a bit of a hassle. But if you live in the sticks and are sick of what your supermarket offers, The Dairy Girl could be your new best friend. Say hi to The Dairy Girl on Twitter @thedairygirl and tell them your favourite cheese of the month using hashtag #favefromage.
With thanks to Asda, Coco Cafe, Waitrose, Charlie Bighams and The Dairy Girl for sample products.