This cheerful meaty wrap topped off with fried egg makes a colourful lunch. Recipe commissioned by British Lion Eggs as one of a series, find out more below.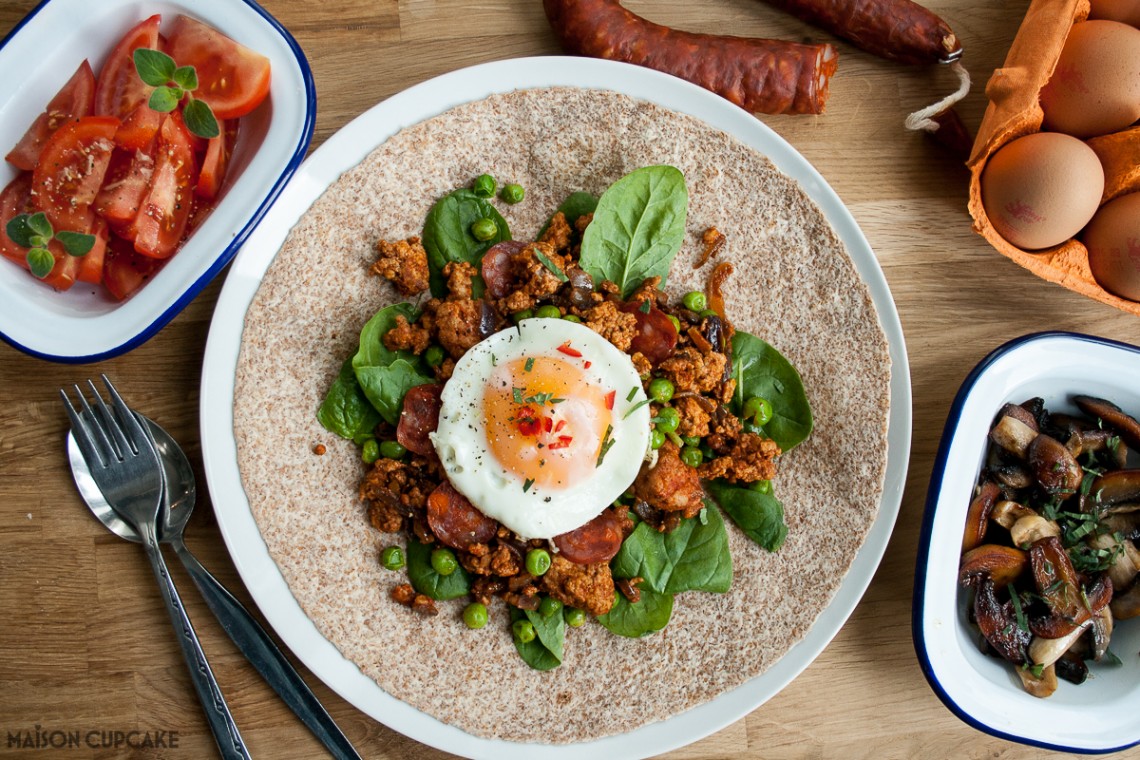 Love huevos rancheros? Love keema spicy mince? This spicy egg wrap with paprika spiced pork is halfway between the two.
Recently I spotted a tasty looking keema matar lamb dish on Greedy Gourmet that was served on a wrap and topped with fried egg. I got to thinking how good this would taste Spanish style with lots of hot paprika and minced pork.
My local butcher, the East London Sausage Company actually sells chunky chorizo flavoured sausages, a couple of which I opened up and added to the meaty mix here. But if you couldn't get anything similar to those you can add extra slices of ordinary chorizo to the meat instead.
This makes a filling lunch, the protein in eggs keeps you fuller for longer. Certainly I'm less likely to snack in between meals if I've had an egg for breakfast or lunch.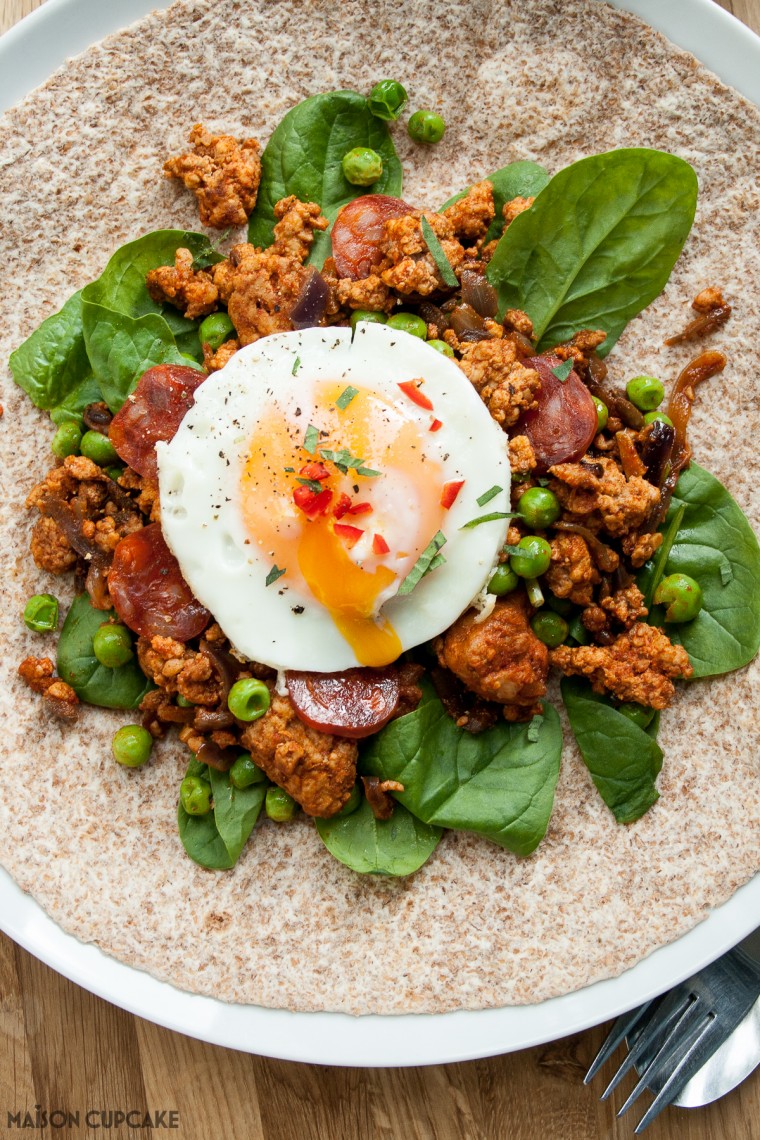 And if you're wondering just how to eat this feast, take a tip from my method featured in my recent spicy rainbow chicken wraps post. You tuck the ends in then roll the bread inside parchment paper twisted in the manner of a Christmas cracker before slicing in half. Make sure the egg yolk is central and it will drip though pleasingly when you open it up.
You could serve this as shown for lunch or a light meal. Alternatively, ditch the wraps and serve the filling on top of some rice or potatoes with salad as a main meal.
Do you have a twist on an egg sandwich? Tell us all about it in the comments below!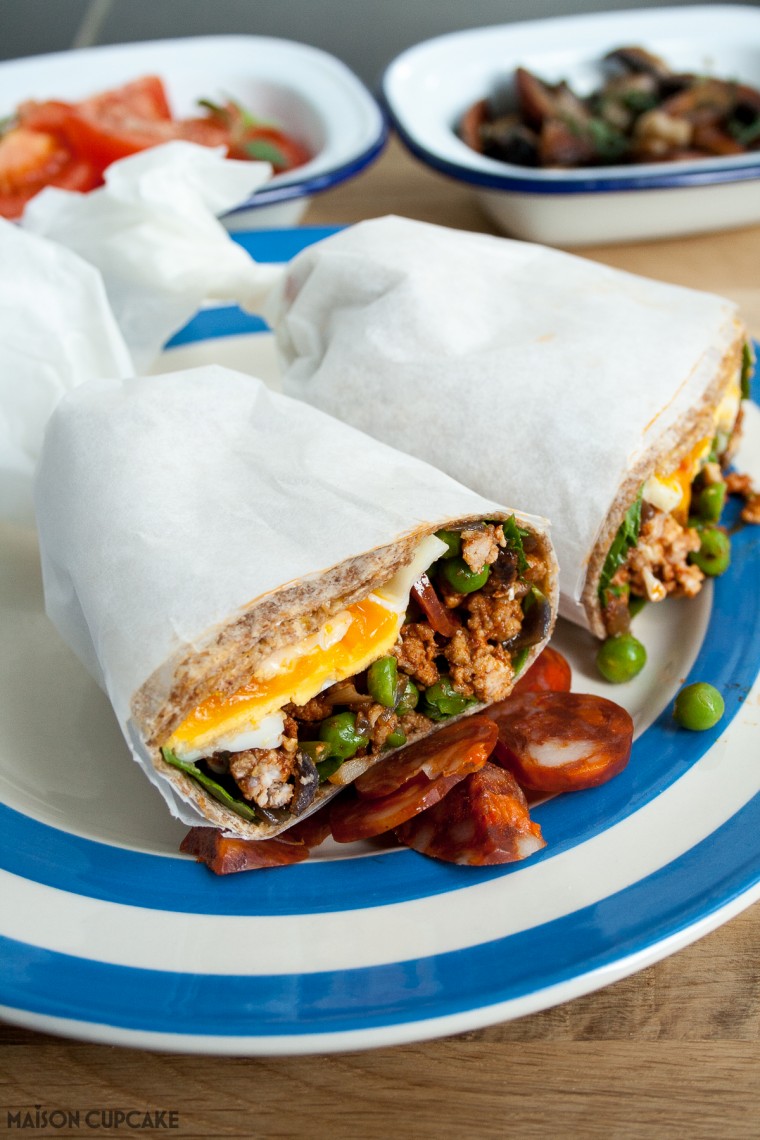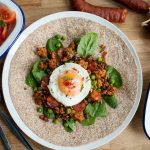 Print Recipe
Spicy Egg Wraps with Pork and Chorizo
This cheerful meaty wrap topped off with fried egg makes a colourful lunch ready in under 30 minutes. Alternatively serve as a main course on top of rice or potatoes with salad.
Ingredients
2

tbsp

rapeseed oil

or sunflower or groundnut

1

red onion

finely sliced

2

cloves

garlic

finely sliced

300

g

minced pork

2

chorizo flavoured pork sausages

or replace with 100g extra mince

2

heaped tsp ground hot paprika

1

heaped tsp ground cumin

sprinkle of crushed dried chillies

100

g

frozen peas

50

g

chorizo cured sausage

thinly sliced

chopped oregano leaves to garnish

optional

chopped red chilli to garnish

optional

4

large eggs

4

tortilla wraps - I used wholemeal ones today

Several handfuls of washed baby spinach leaves
Instructions
In a large pan heat 1 tbsp of the oil and fry the chopped red onion and garlic until soft.

Add the minced meat and raw sausage and continue to cook. At the same time add the spices and turn over the meat until cooked through.

Meanwhile in another pan heat the remaining oil and fry the four eggs to however you like them.

Lay tortilla wraps on plates with the baby spinach leaves arranged between them in the centres.

Top the spinach covered wraps with a couple of spoonfuls of the cooked pork mix and several thin chorizo slices each. Then place a fried egg on top of each one. Scatter with the oregano and red chilli if using.

To serve burrito style roll, push the filling into a rough rectangle and drap up the tortilla edges along the shorter sides of the rectangle. Hold it together whilst rolling the longer edges over. Wrap inside parchment paper kept secure by twisting the ends and slice in half and eat immediately.

Roll in parchment paper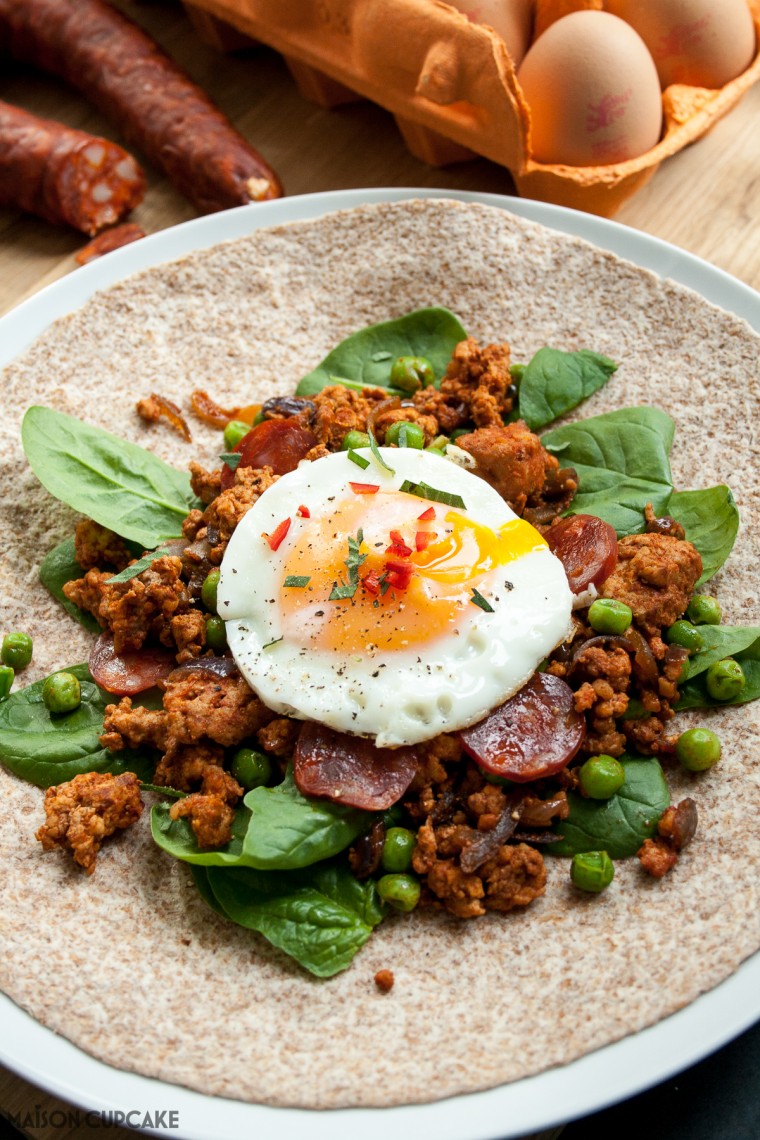 If you like this recipe try also these alternative egg sandwich recipe ideas:
Avocado, Egg, Bacon and Butter Bean in Garlic Mayo (Foodie Quine)
Duck Egg Sandwich with Gruyère and Wilted Spinach (Supper in the Suburbs)
Parmesan Waffle with Ham, Cheese and Egg (Supergolden)
Or my previous recipe for British Lion Eggs, Egg and Bacon Shakshuka on the Barbecue (below)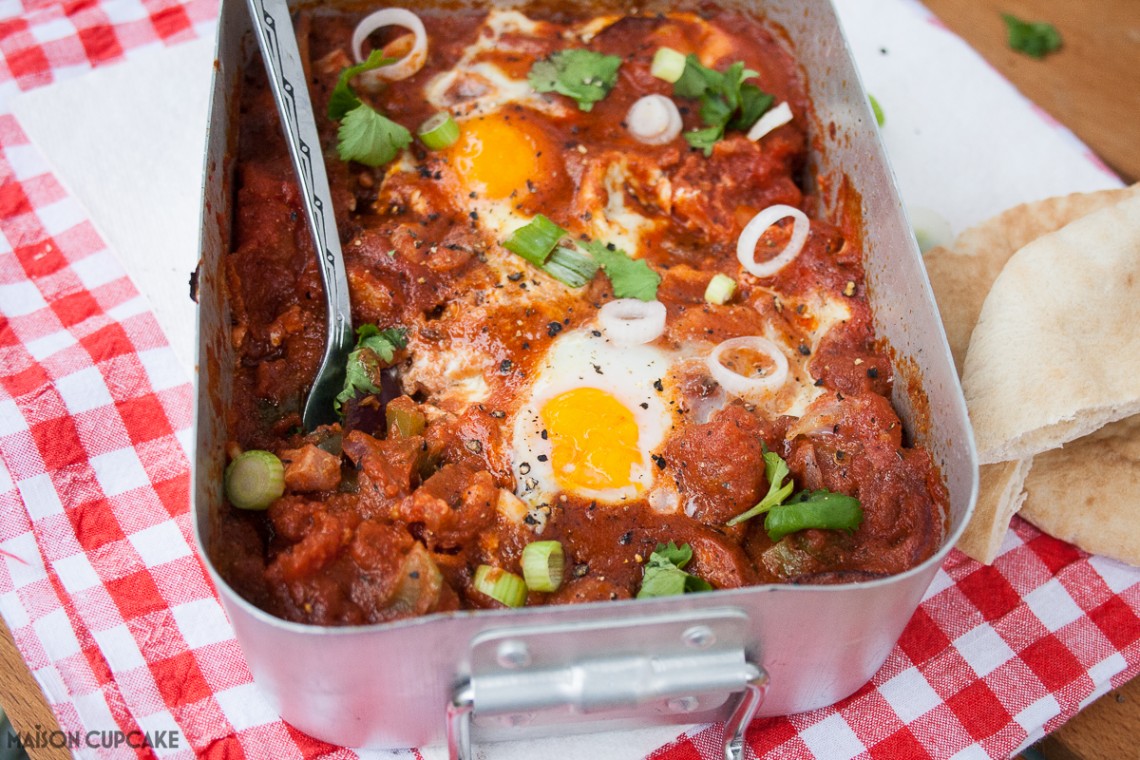 This spicy egg wraps with chorizo recipe is one of a series commissioned over the course of a year by British Lion Eggs. For more egg recipe ideas take a look at their Egg Recipes Instagram account.