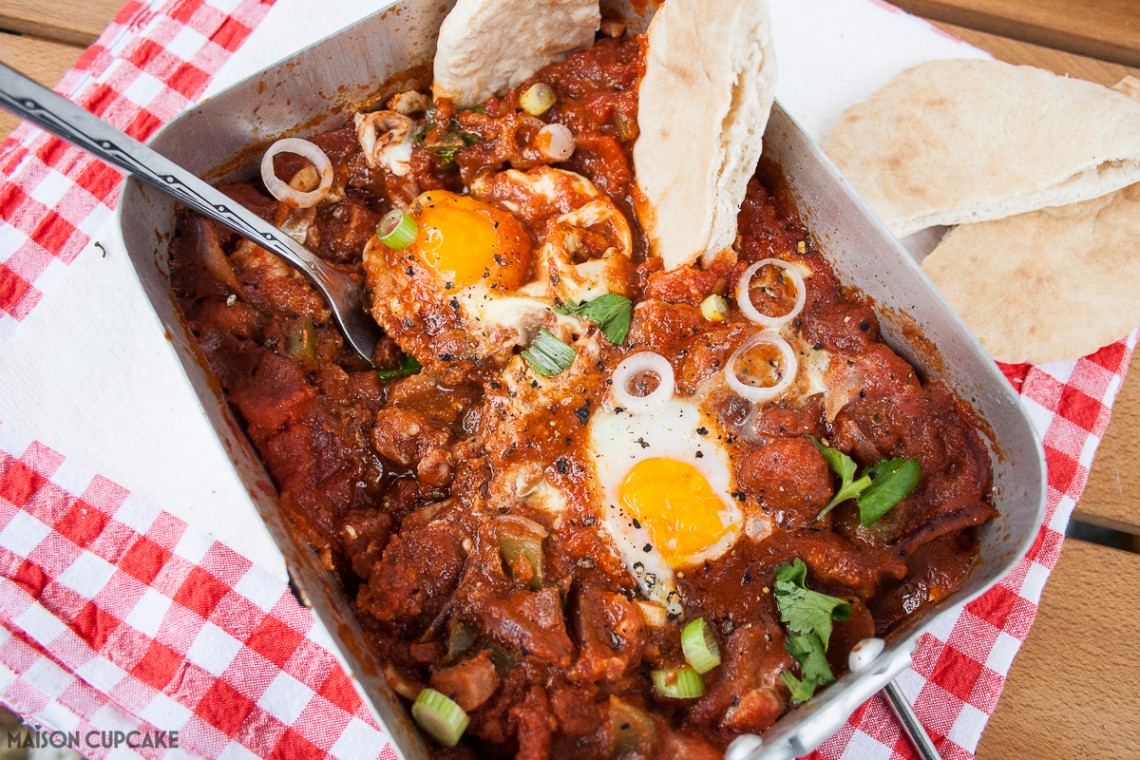 Well. You can't make an omelette without breaking a few eggs so the saying goes. But once you've broken your eggs, why just scramble, poach or boil them when you could do something more exciting instead.
I had actually photographed today's recipe prior to last week but the thunderstorms since had removed my appetite for mundane yearnings for barbecue weather. If nothing else, I think we can all agree this year so far has been foul and the slightest ray of sunshine has had me skipping outside appreciating it.
These camping mess tins were a bargain I picked up in Poundland of all places. The moment I saw them I knew this was the dish I wanted to make. It's easy to cook, could be quickly made either when busy at home or on an active summer camping holiday. The eggs are a great source of protein, vitamins and minerals to keep you fuller for longer and combined with the vegetables here it's a tasty meal in minutes.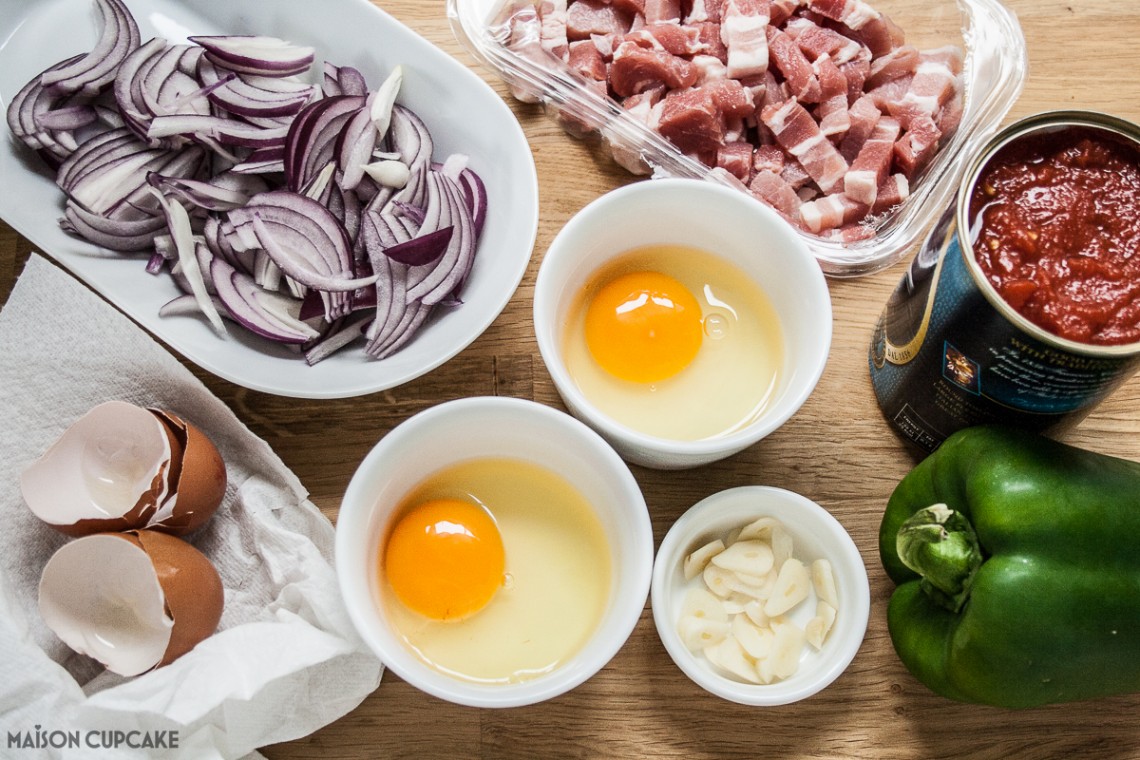 Shakshouka is something I'd not really come across until this year but like buses, Shakshoukas on menus seem to be coming at me all at once. I first tried it at the British Lion Eggs' event at Neil Rankin's Bad Egg Diner. Technically this dish isn't a shakshouka because it has bacon in it and pork is not generally used in the Middle Eastern countries from which shakshouka derives. But with a cupboard to clear before I went on holiday I considered egg, bacon, tomato? What's not to love?
Essentially it's a stew of spiced tomatoes topped with eggs. And since we all seem to be in such a mess right now, a mess tin is wholly apt.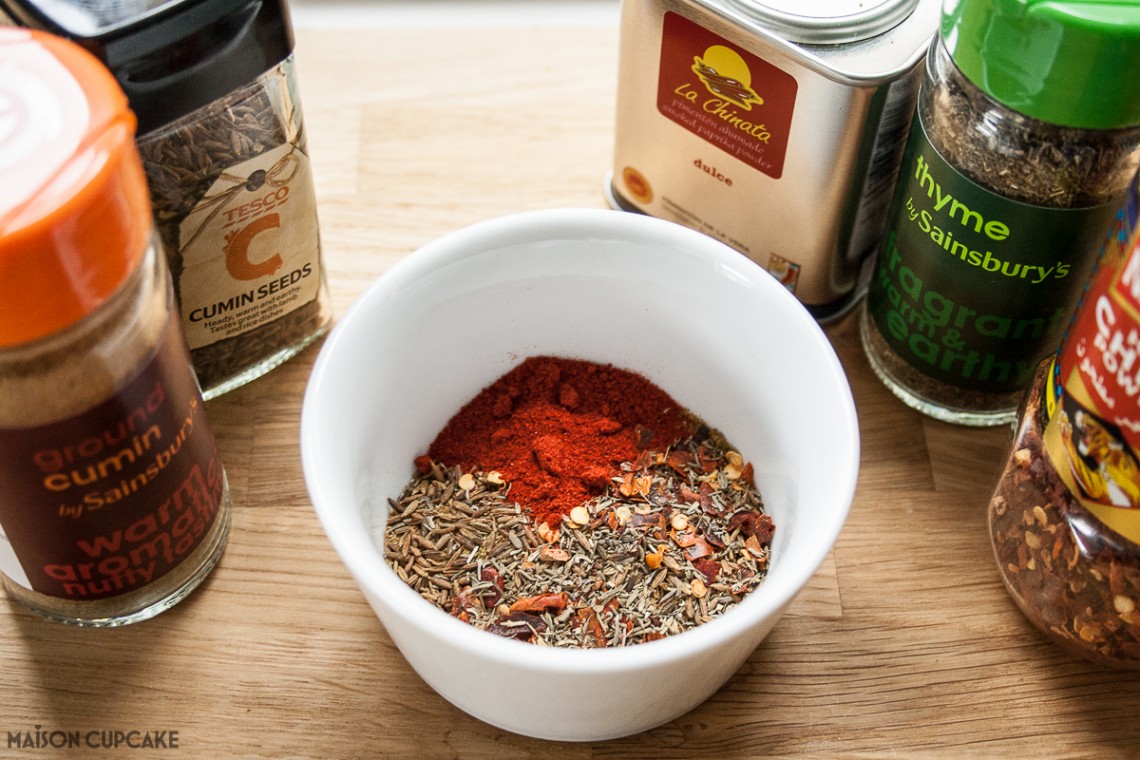 Into the melange, comes a home blend of spices, specifically smoked paprika with this fabulous rusty colour.
In the 1980s, instead of Keep Calm and Carry On, we had humorous office signs saying "You don't have to be mad to work here but it helps."
Well you don't need a barbecue to make this dish but it helps. Or you can use the hob if it's chucking it down.
This dish is a simple to cook stew of fried onions, garlic, spices, tomatoes and in my version, peppers and bacon into which when well heated and thickened, you create wells to pour in whole eggs and leave them to cook.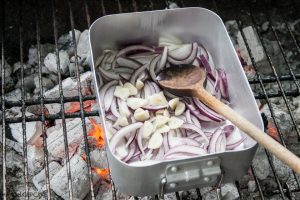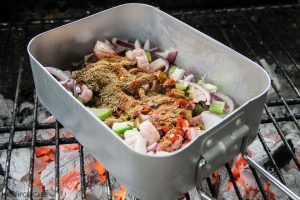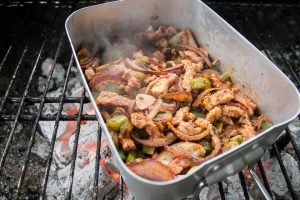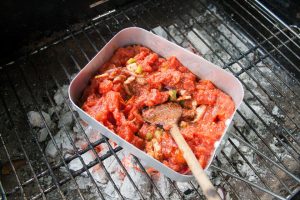 You need the barbecue to be very hot. You could cook 2-3 of these tins full of this dish at once. With pitta breads to scoop, one mess tin serves two people. If you have a barbecue with a lid, this will help you keep the heat in to cook the eggs faster.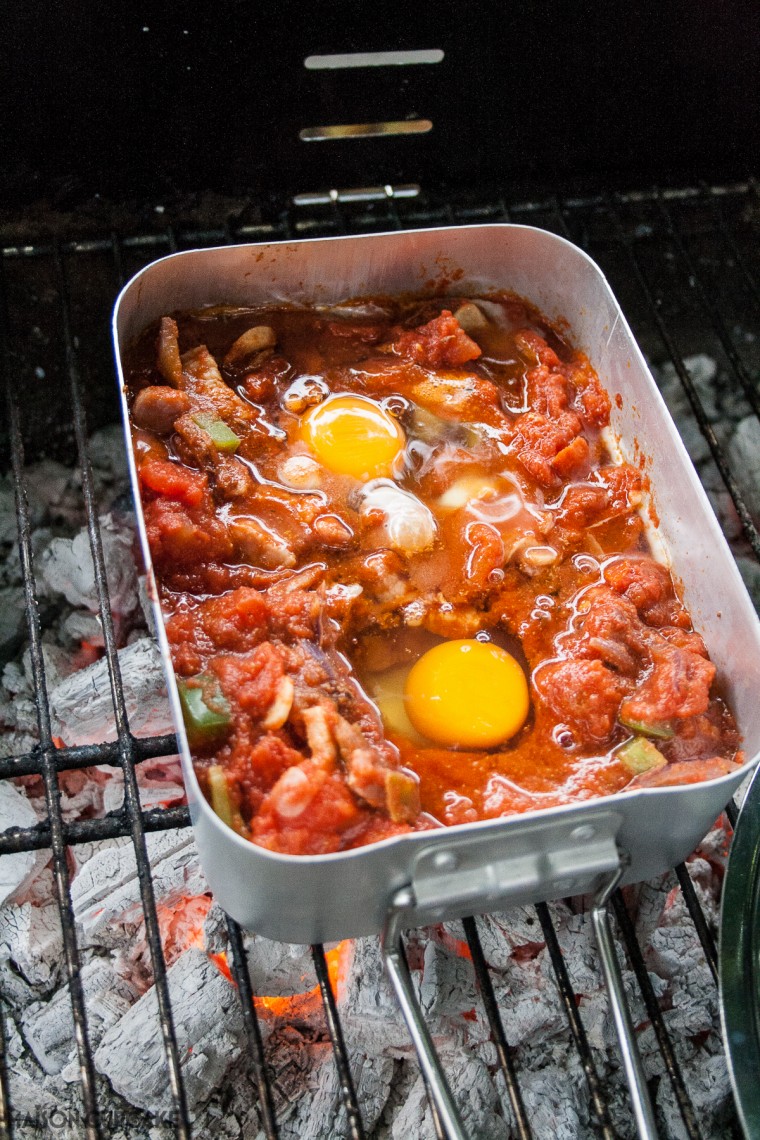 Whilst standing upon this dish, I remarked to my husband how much I liked cooking outside. It was great fun, I brought everything I needed outdoors on a huge tray and set up camp under the giant bay tree in our garden.
Admittedly whilst praying it wouldn't rain again but this lent a certain edge to the proceedings!
If you can't stand the heat should you get out of the kitchen?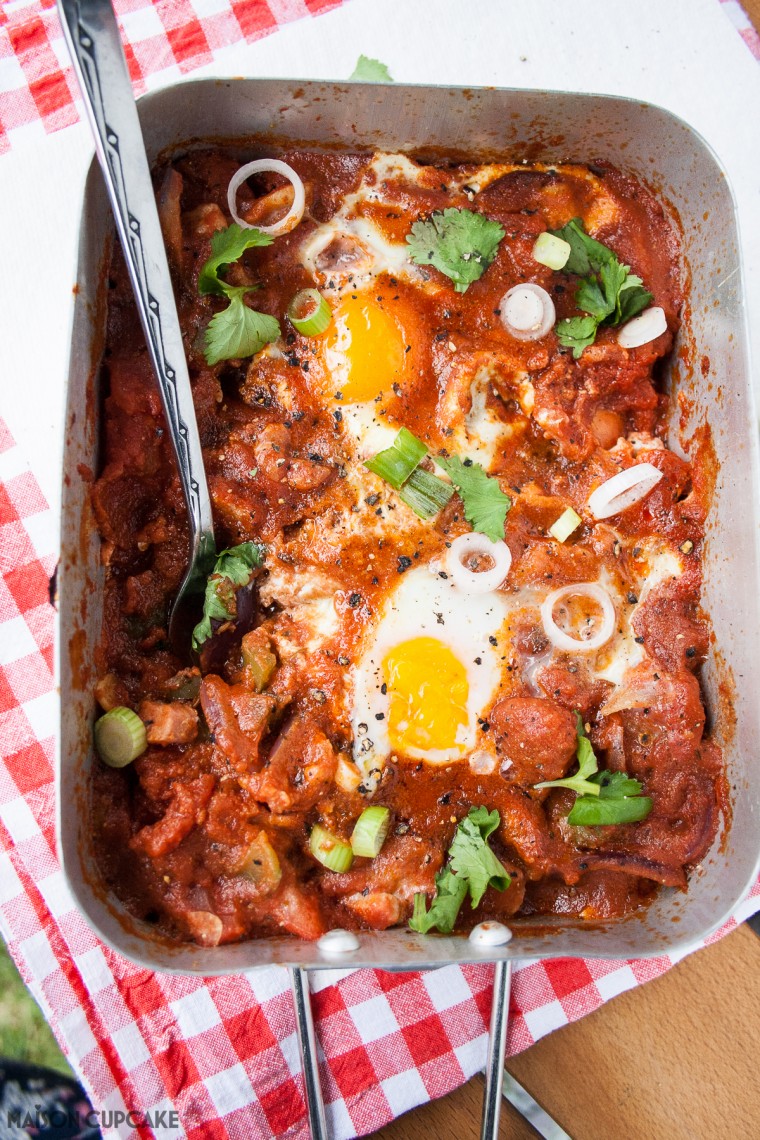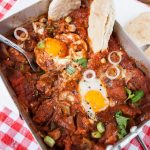 Print Recipe
Spicy Barbecue Egg and Bacon in a "Mess"
A tasty supper dish that can be made on a barbecue with a mess tin. Great for scooping with toasted pitta breads.
Ingredients
1

tbsp

rapeseed oil

or other oil suitable for frying

1/2

red onion

sliced

1/2

green pepper

diced

2

fat garlic cloves

peeled and sliced

100

g

lardons

400

g

can chopped tomatoes

2

large eggs

spring onion and coriander to garnish
Instructions
Light the barbecue and start to cook as soon as the flames have died down. (Or use a hob indoors).

Heat the oil in the mess tin then fry the onions. When softened add the garlic then the peppers.

Next add the lardons. Turn these with a spatula until cooked through.

Then incorporate the spices and add the canned tomatoes.

Leave to simmer for several minutes until thickened.

When the tomato is very hot and thicker, create wells for the raw eggs and tip these in.

Leave the eggs to cook. The time this takes will depend on the strength of your barbecue. A sheet of foil will help keep the heat into the mess tin.

When the eggs are cooked, serve with a scattering of spring onion, fresh coriander and grindings of salt and pepper.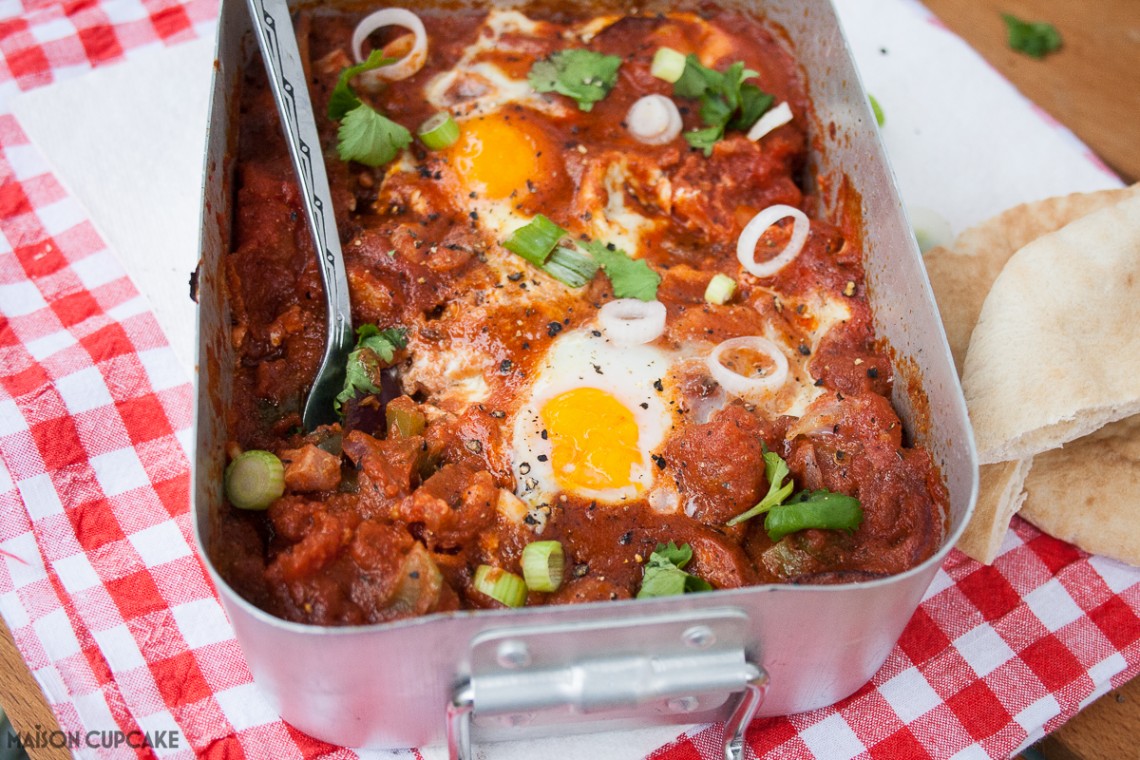 Recipe post commissioned by British Lion Eggs as part of a series. Keep up with British Lion Eggs on Instagram at @egg_recipes and also Pinterest – see also these egg recipes I've published previously here:
Crustless Quiche with Peas and Feta
Vegetable Frittata with Avocado