A sticky chocolate Easter nest cupcake recipe made in collaboration with Stork.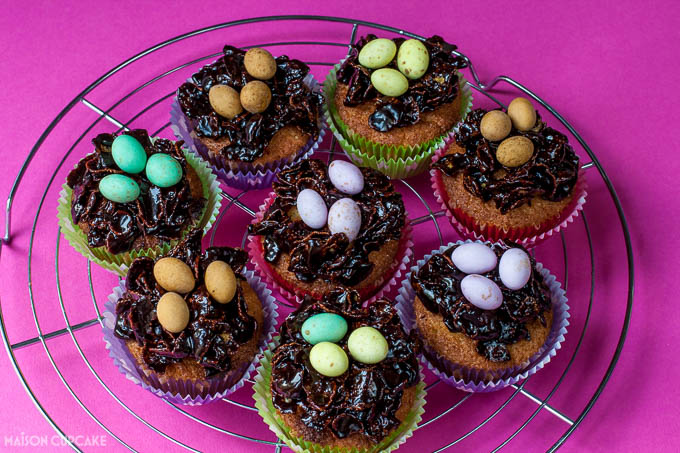 It seems the cupcake is the perfect shape and size for mini Easter nests and I have seen a few versions around this week. Some have chocolate buttercream swirls, others rice pops but this version uses cornflakes, golden syrup, drinking chocolate and Stork.
I was a little apprehensive that without any actual chocolate that these Easter nests would not solidify on top of the cupcakes. Making these in a hurry before I swoop off to Paris I spooned the sticky chocolate covered flakes onto a sheet of non stick parchment paper in piles. This helped the mixture cool down and as I formed little nest shapes, they were firm enough to transfer to the cupcakes within minutes.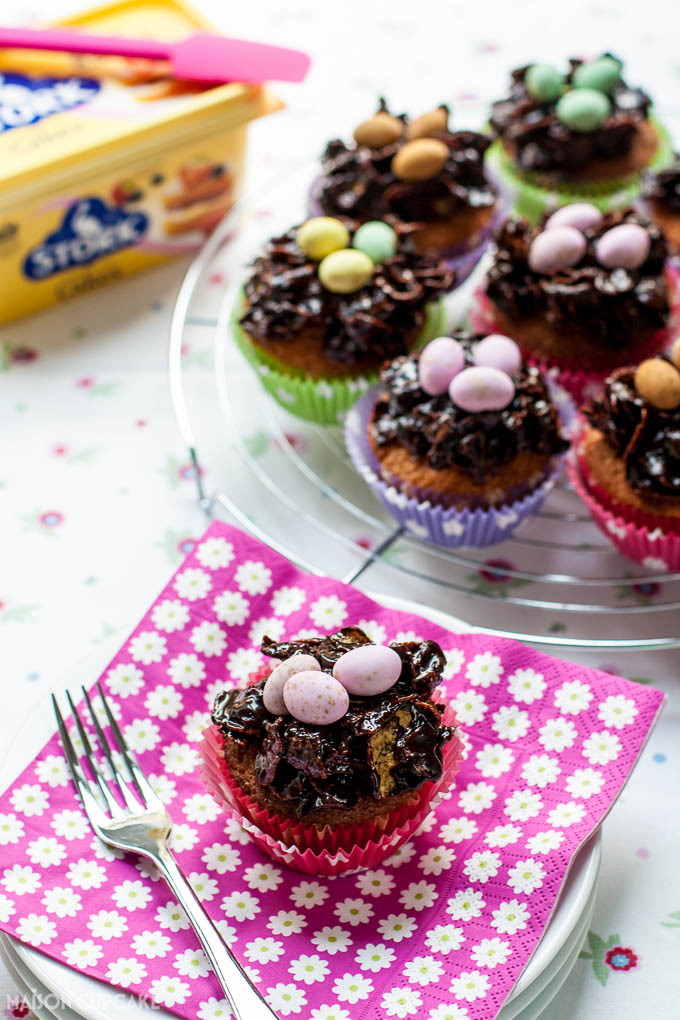 These sticky chocolate Easter nest cupcakes are ideal to make with children, they use a classic sponge batter with Stork baking margarine. I have been baking with soft baking margarine a few times lately and have been impressed with how easy it is to work with straight from the fridge and that it gives great results. I am often baking things last minute and forget to get butter out of the fridge in advance. I have tried microwaving butter for a few seconds but often it goes liquid in the centre very quickly but stays hard around the edges. I don't have any such problem if baking with soft margarine.
I often bake with margarine rather than butter if I'm doing any batch baking for school bake sales. The price strategy of virtually every bake sale I attend seems to be stuck firmly in 1990 so baking margarine, being more economical to bake with than butter, will help you spend less on ingredients and give your fundraising efforts a boost!
The glossy cornflake mix has reminded me of a favourite pudding served with school dinners. I might have to recreate one of those soon!
When did you last bake with Stork?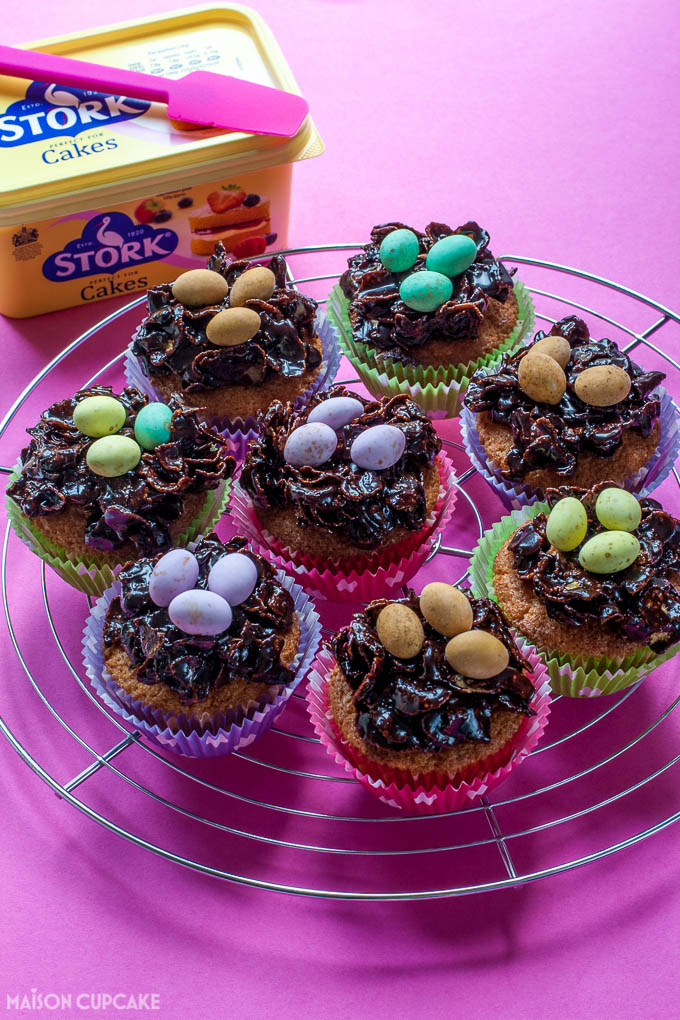 Easter Nest Cup Cakes
Servings: 12
Preparation time: 25 minutes
Cooking time: 20 minutes
Ingredients
For the cupcakes
115g (4 oz) Stork tub
115g (4 oz) caster sugar
2 large eggs
115g (4 oz) self-raising flour, sieved together with
½ teaspoon baking powder
For the chocolate nests
40g (1 ½ oz) Stork tub
3 tablespoons golden syrup
6 tablespoons drinking chocolate powder
18 tablespoons cornflakes or branflakes
To decorate
Sugared Mini Eggs
Directions

1. Place all cake ingredients in a mixing bowl and beat until well mixed. Place in 12 muffin paper cases
2. Bake in preheated oven 190°C, 170°C fan, Gas mark 5 for 15 -20 minutes. Cool.
3. For chocolate nest, gently melt Stork and syrup and stir in chocolate and cornflakes. Place a tablespoon of mix on each cupcake in a nest effect and leave to set. Serve decorated with Easter eggs.
Post commissioned by Stork. Recipe by Stork. Follow Stork on Twitter @bakewithstork and check out other peoples' Stork creations on hashtag #bakewithstork