This week's sugar showcase features Cake Decorating Bible author Juliet Sear in her role as ambassador for Cake Boss in the UK.

Making Mary Berry look rather tame, the latest celebrity endorsed baking collection by Buddy Valastro AKA the "Cake Boss" has finally hit our shores.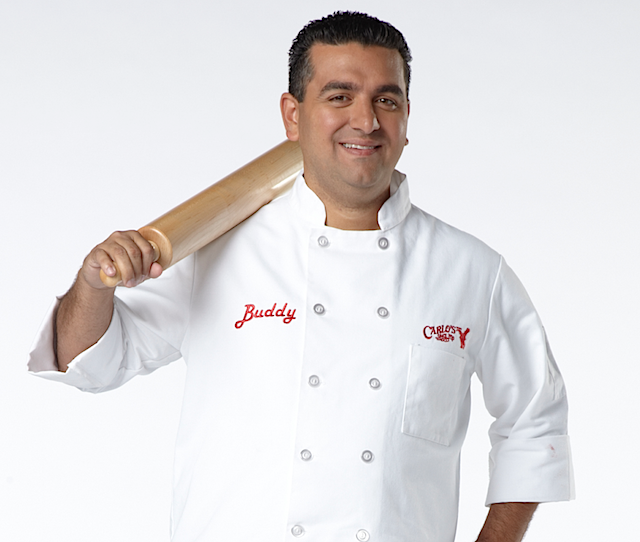 But who is this Cake Boss? Viewers of digital TV channel TLC – home to Here Comes Honey Boo Boo and described by Grace Dent as a girl's "answer to Dave" will be familiar this this larger than life New Jersey Italian American baker and his family run Carlo's Bakery.
Buddy has been personally involved in the creation of the range and many items have features rarely seen elsewhere – the lockable cake turntable, palette knives with serrated edges for instance.
Heading up the brand in the UK is our own cake decorating guru Juliet Sear, author of The Cake Decorating Bible. Whilst deftly decorating several cakes Juliet talked us through various features of these baking tools and gadgets.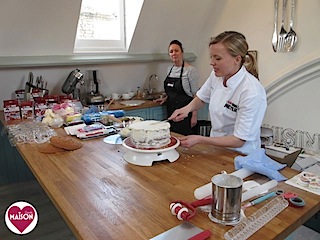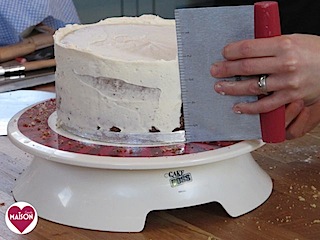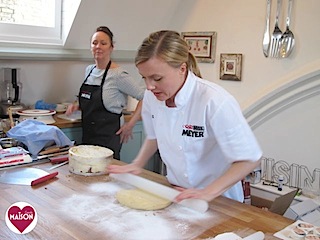 Possibly the most covetable piece on show was this red and cream cake decorating turntable. Fitted with a lock it enables you to comfortably frost or pipe borders on cakes. The professional looking scraper – looking similar to one used by builders for plastering – is for smoothing off crumb coatings prior to covering with sugar paste.
Acrylic rather than wooden rollers are invaluable for rolling out icings and marzipan. The Cake Boss range features patterned acrylic rollers too for creating cakes with textured surfaces. These looked pretty on their own but can also be highlighted using cake lustre dust.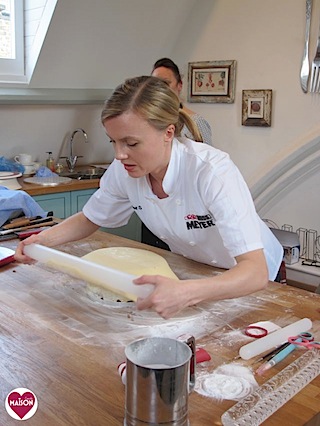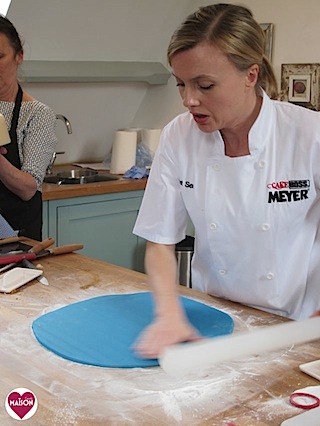 The range also features a variety of sugar craft tools including these bits pictured below:
A smoother is an invaluable tool (again similar to one used by bricklayers!) for smoothing sugar paste surfaces, acrylic rolling pins with guides to stop you rolling sugar paste too thinly, textured mats for indenting patterns into sugar paste and also pastry wheels, shaped cutters, 6 holed shaped "cakelet" pans and an array of Cake Boss spatulas.
I was impressed by the number of items in the range, even well stocked bakers are likely to find a tool or two to add to their kit. I especially liked the flour sifter with squeezy handle to drop icing sugar wherever you wanted it (illogically more appealing than a simple shaker!) and these clever rubber rolling pin rings.
Items in the range start at £3.50 to around £26. I found them to be nicely finished and substantial – they're all made by Meyer, generally known for their saucepans and bakeware. Prices are higher than supermarkets but items felt more substantial than similar ones I've seen by PME and Wilton. The wooden handles on the palette knives and spatulas feel less flimsy than plastic versions available elsewhere although obviously dishwashing practicality is a consideration.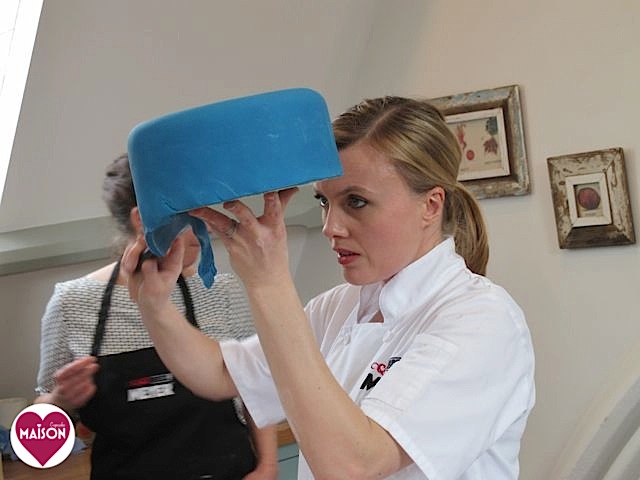 But easily the most impressive thing of the morning was Juliet happily and precariously waving heavy cakes around and cutting away spare sugar paste in a carefree manner.
Clearly this is a lady who is very confident about her cake decorating! You can find out more about Juliet's cake decorating business on her website Fancy Nancy or investigate her book The Cake Decorating Bible. Seeing she's only down the road Essex you may well read more here about Juliet's work soon.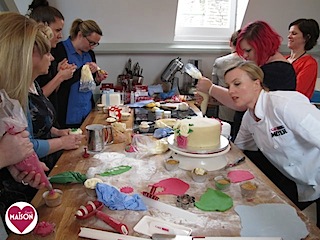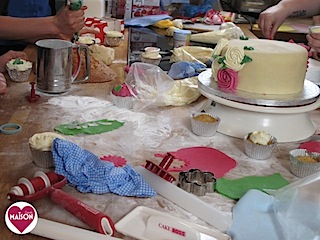 The rest of us later pitched in to make a pig's ear of some cupcakes and I tried my shaky hand at ruffle icing (see Juliet's tidier example below!)
The Cake Boss range is now available in shops including John Lewis, Amazon, Bentalls and various independent places. Availability of the range across different stores may vary. For a selection of items and prices as seen on Amazon check out the selection below:
Clockwise from top left: Cake Boss Cake Carrier £30 / Cake Boss Polyamide Square Cutters £12 / Cake Boss 6 Cup Mini Fluted Mould £15 / Cake Boss Bench Scrape £9 / Cake Boss Pastry Brush Set of 2 £20 / Cake Boss Decorating Turntable £26 / Cake Boss Basic Tip Set (12 pieces) £15 / Cake Boss Circus Cake Kit £25 / Cake Boss Fondant Ribbon Cutter £20 / Cake Boss Flour Sifter £15 / Cake Boss Trucks and Dinosaur Cutters £17 / Cake Boss Numbers Mini Cutters £10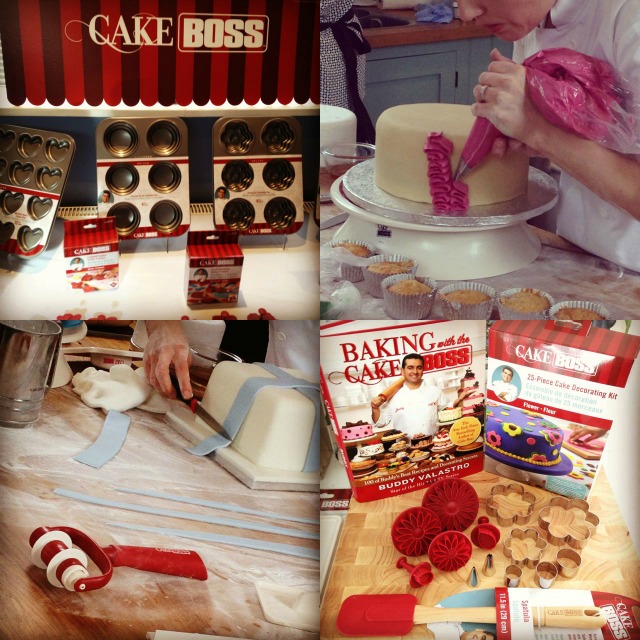 You may also like:
With thanks to Meyer for Cake Boss product samples.