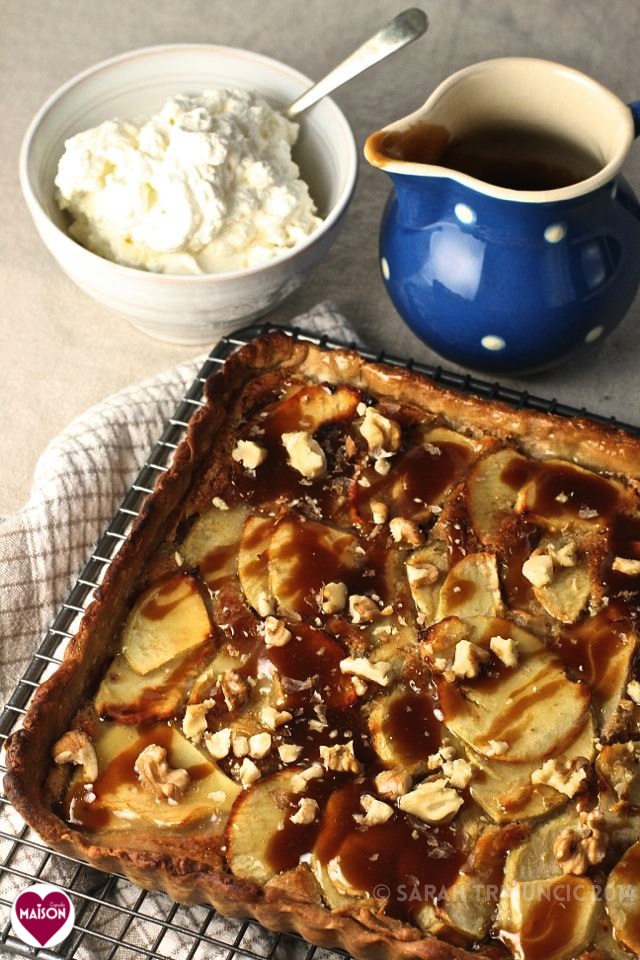 In cyberspace – if not in person – this week I have been dining Come Dine With Me style enjoying a series of dishes especially created using some whizzy new gadgets by Russell Hobbs.
This not being the TV series, neither Camilla at Fab Food 4 All nor Michelle at Utterly Scrummy have journeyed to Walthamstow Village where they might poke in my cupboards and compare notes about my lampshades.
Instead we've slurped spoonfuls of Camilla's chilled picante soup, savoured Michelle's spicy marinated lamb and today it's my turn to dish up dessert.
But first let me give you some background to the toys we've had our paws on in the build up to this feast.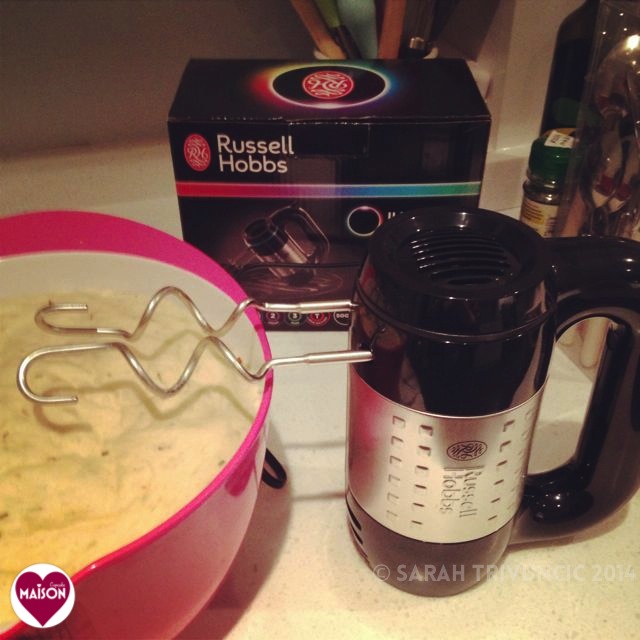 Illumina by name, Illumina by nature. Each item in this swanky little set of gourmet gadgets features an illuminated ring that changes colour according to the strength of power selected.
The hand mixer above comes with dough hooks that I put to the test making some focaccia earlier this week.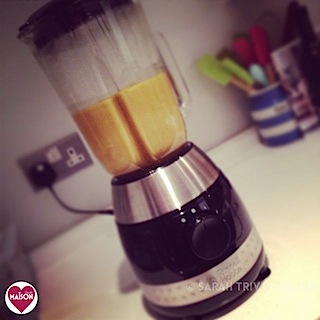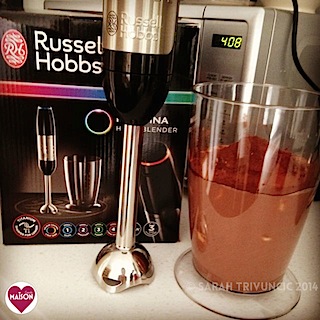 To go with the focaccia there was some superbly smooth chickpea soup blitzed up in the Illumina jug blender. For breakfast we also whipped up one of my infamous chocolate detox drinks AKA The Shrink Mummy Shake.
Not pictured here yet but also road tested was the 3 in 1 blender which is stick blender, whisk and mini chopper in one. We used the mini chopped to make an instant pasta sauce from artichoke, Philly and rocket – which will shortly feature as my next #SpeedySupper.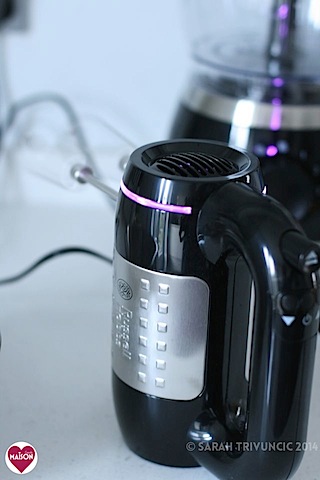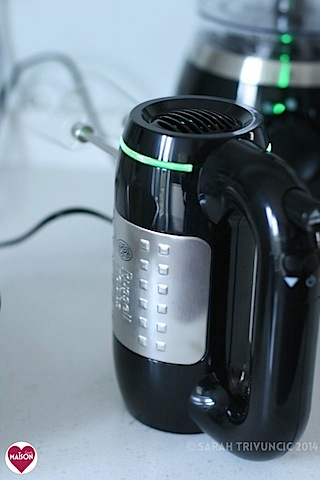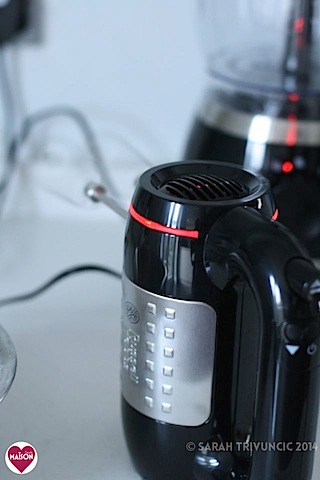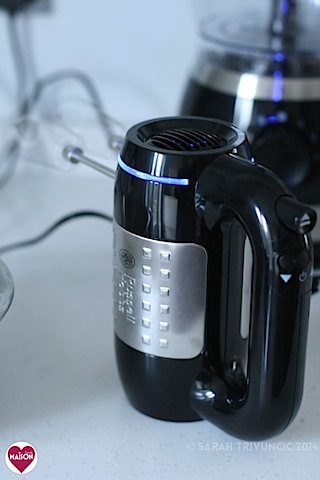 We found that these gadgets to be high on visual appeal with powerful motors. Prices range from £39.99 for the stick blender to £89.99 for the food processor (which also includes a plastic version of the jug blender).
My favourite piece has been the hand mixer which feels weighty enough to do the job but not so heavy it makes your arm ache.
The lights changing colour on all four gadgets has been a source of amusement to my six year old and does look pretty – I'm not convinced it's technically necessary as one can tell by sound which level a gadget is working. But it looks nice, especially alongside that silver and black styling.
It's all very well having a pastel pink mixer but if you're not the Legally Blonde type you may well prefer this slicker look anyway. Plus it removes any potential excuses the man in the house might make about not helping with the cooking. This range is more Come Dine With Me rather than Great British Bake Off – so it's totally relevant we celebrated the range with a homage to the former rather than the latter!
So what did I cook for my Come Dine With Me blogging guests?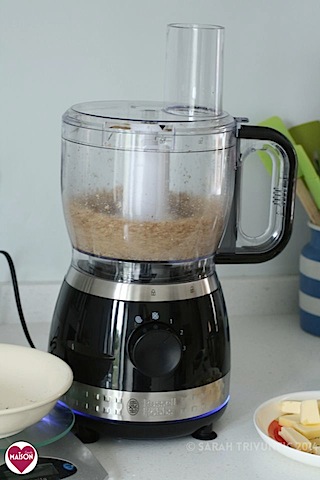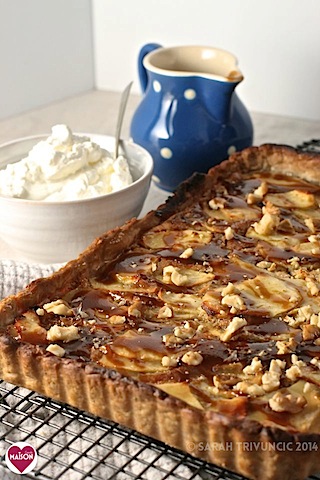 I wanted to use at least two gadgets in my dish, for dessert the hand mixer was a natural choice – I use this to whisk up my walnut frangipane and whip up the side serving of whipped cream.
The food processor was put through its paces with 3 tasks; initially to blitz the walnuts, secondly to mix the butter and flour for the pastry and finally using the slicing blade to cut the apples.
All five gadgets have proven very speedy and efficient in their tasks with the exception possibly of the stick blender which I felt lacked a strong enough "current" to mix the ingredients. Conversely, I found the jug blender to be more effective and quieter than my antiquated KitchenAid version (that's always been noisy and left bits in things).
The food processor has a smaller blade and jug than the Magimix but would be big enough for someone buying their first model. The suckers on the base make the processor and jug blender very stable during use.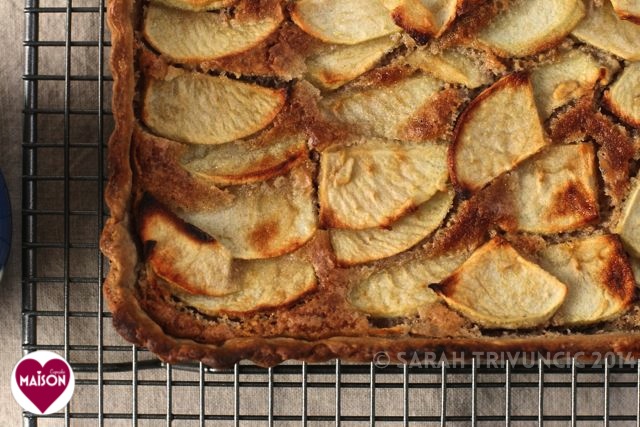 Cooking for friends who are good cooks themselves is always nerve wracking. Whilst Camilla and Michelle aren't really eating this, in real life I am feeding it to two other food blog friends, Jeanne at Cook Sister and Helen at Fuss Free Flavours who I'm seeing today – so I will get the food bloggers' verdict in real life after all!
As the tart came out of the oven, I realised it needed a little va-va-voum to perk it up hence the addition of a toffee sauce drizzled over the top.
The husband has been fed a slice tonight, declared it one of my best so I'm feeling a little more confident!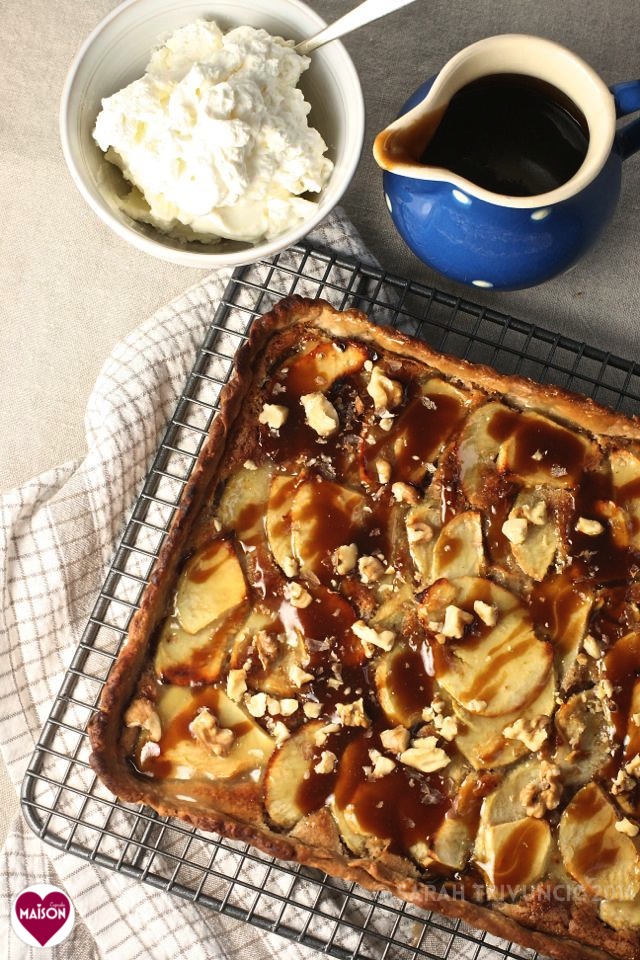 Toffee, Apple and Walnut Tart
Serves 8-10

Ingredients

For the frangipane and fruit topping
75g walnut halves
75g caster sugar
1 large egg
60g butter, softened
1/4 tsp vanilla paste
4 Bramley cooking apples
Icing sugar in a shaker

For the pastry
200g plain flour
100g cold butter, cut into dice
1/4 tsp salt
A few tablespoons of cold water

For the toffee sauce
70g butter
70g light brown sugar
30g dark muscavado sugar
2 tbsp cream (I used a bit of whipping cream before whipping it)

To serve
Whipped cream
A few extra walnut halves, crushed into smaller pieces
2 tbsp apricot glaze or lemon curd to glaze the apple.

You will need a loose bottomed metal tart dish approximately 9 inches diameter (I used a rectangular one approximately 6 x 10 inches) and some baking beans.

Directions
1. Using the food processor with chopping blade, chop the walnuts for around one minute on medium or top speed. Tip the walnuts into a bowl and set aside – but don't worry about leaving scattering of walnut bits in the processor bowl because these will go into the pastry.

2. To make the pastry, decant the flour and butter into the processor bowl and chop on low power for around 15 seconds and then pulse until you have a mixture resembling bread crumbs.

3. Tip the flour and butter crumbs into a medium mixing bowl and spoon over 2-3 tablespoons of water. Stir with a knife until lumps form and roll the mixture together into a ball. Knead lightly, wrap in cling film and leave in the fridge for 30 minutes.

4. Meanwhile, preheat the oven to 190c / gas 5. Continue making the frangipane by using the hand mixer to mix the ground walnut, caster sugar, egg, vanilla paste and softened butter in a medium mixing bowl. It will become a soft paste.

5. When the pastry has rested, roll it out and line the tart dish. Cover the pastry with parchment paper and baking beans and bake for 20 minutes.

6. When the pastry has been in for around 10 minutes, peel the cooking apples and chop away the cores. Fit the food processor with the slicing blade and affix the lid. Drop large chunks of apple down the funnel and on low power use the black funnel thingy to push the apple down. Repeat until all apple is sliced.

7. By this time you can remove the pastry case from the oven and carefully remove the parchment paper and beans (I tip it into a large mixing bowl and separate the beans from the paper once they're cooled down).

8. Working quickly, spread the walnut frangipane on the tart base and smooth to the edges. Arrange the apple slices on top, covering evenly. Shake icing sugar over the raw apple liberally.

9. Return the tart to the oven for a further 25 minutes until golden brown. When cooked, allow the tart to cool slightly in the tin before transferring to a wire baking rack to cool completely.

10. Whilst the tart cools you can whip the whipping cream with the hand mixer and start the toffee sauce.

11. For the toffee sauce, simply melt the butter, sugar and cream in a small saucepan and bring to the boil. Simmer for a few minutes until thick and turn off the heat and allow to cool.

12. When the tart has cooled a little, brush over a little molten apricot glaze or lemon curd to make the apple slices shine. Finally drizzle over some toffee sauce and scatter with broken walnut pieces. Serve alongside the whipped cream and extra toffee sauce for those who want it – and who wouldn't?!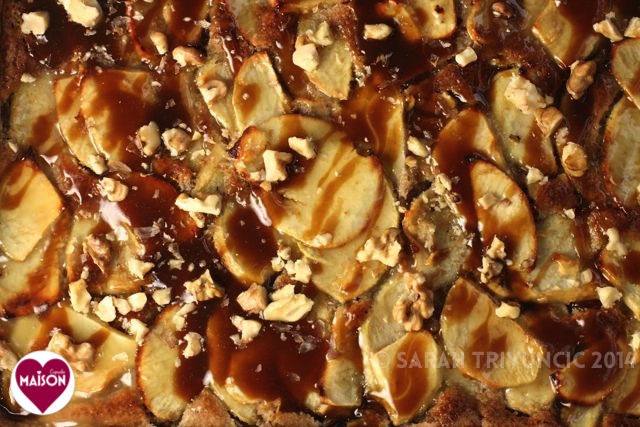 With thanks to Russell Hobbs for sample Illumina products and voucher compensating time and ingredients creating this post.