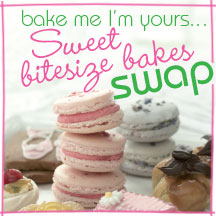 The time has come, Bake Me I'm Yours… Sweet Bitesize Bakes has started shipping from online retailers even though it's not due to be available in shops until later in June (maybe 29th although these things seem flexible!).
I'm extremely proud to be the writer of a title in the highly successful Bake Me I'm Yours series – joining sugarcraft queens such as Lindy Smith and Zoe Clarke.  Existing titles have covered cupcakes, whoopie pies and cake pops but this is the first one to be a general title, its uniting theme being that all the bakes are bitesize with an element of sugarcraft decoration that my publisher David & Charles specialises in.
To spread the word about my new book, BakeMe.Com are hosting a Sweet Bitesize Bakes Swap,  if you register by Wednesday June 13th* you can swap cakes and bakes by post with someone else and it's all going to be heaps of fun.
(*deadline extended 48 hours)
To register with the swap and find out more details hop over to BakeMe.Com at http://bakeme.com/swap
I hope lots of you can take part in the swap and if you'd like to help support the book in other ways beyond buying it you might want to:
Tell your friends – both on social media and in real life
Share this post on Twitter and Facebook using the buttons below – and Pinterest although I don't a button for that yet!
Ask for the book in shops
Join in with the Bake Swap
Tell everyone you know about the Bake Swap on social media… and in real life of course!
To give you a flavour of what's inside, you can see two extracted recipes on The Lady and some more are due to appear in other publications soon.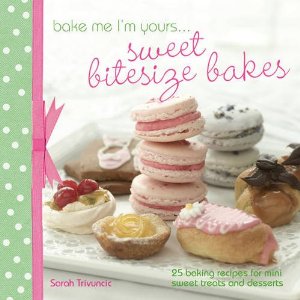 RRP £9.99 although currently available at £7.49 through RUCraft.  If you spend £25 on the site, delivery is free.
Also available in the US on Amazon.com and Barnes & Noble.