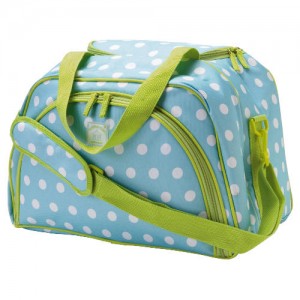 Rising temperatures and longer days mean picnic season is upon us. Each year I swear to replace my battered cool bag and dull plastic plates for something groovier.
Flicking through the Tesco Direct catalogue's homeware section, this pale blue spotty bag edged in lime green has caught my eye – you know I'm a sucker for lime green kitchenware from this earlier post here.
The Navigate Vintage 4 Person picnic set (£40) is bowling bag shaped with a zip down pocket containing 4 plates, wine glasses, napkins and cutlery sets. You also get a "waiter's friend" (whoever he might be), cruet set and cheese board with a knife. There's plenty of space to snuggle up on a picnic blanket with sandwiches and salad boxes in the middle compartment.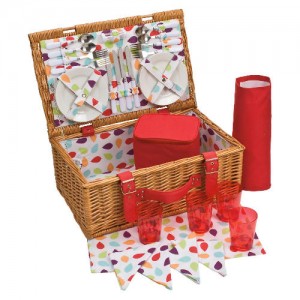 More traditional but with a funky twist, the Carnival Pip 4 Person Picnic Basket (£70) made from retro wicker nods towards a romantic date on the riverbank. The picnic equivalent of sexy underwear beneath twin set and pearls, inside a quirky apple pip style polka dot lining with matching napkins co-ordinates with red insulated food cooler, salt and pepper shakers and acrylic tumblers.
For barbecues and eating outdoors in the garden, I could also satisfy my lime green obsession with this Tesco clear lime jug set (£17) with 4 tumblers and wine glasses and from the same range, the Tesco clear lime plate set with matching bowls and cutlery (£14).
All products are available now from Tesco Direct.
For some good picnic food recipes and packed lunch ideas check out my newly tagged recipe archive.
Post sponsored by Tesco Direct.