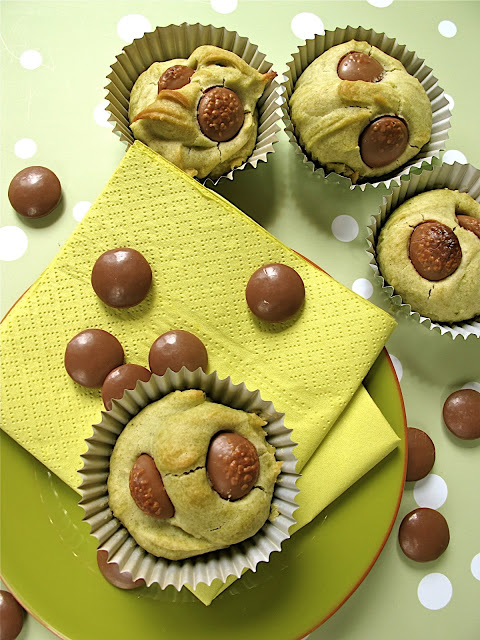 One more post after today then Maison Cupcake officially breaks up for summer.  There are a couple of reasons for this, a) Ted is off pre-school so I have less free time on the computer, b) I want to finish my new WordPress site without the pressure to post new material at the same time.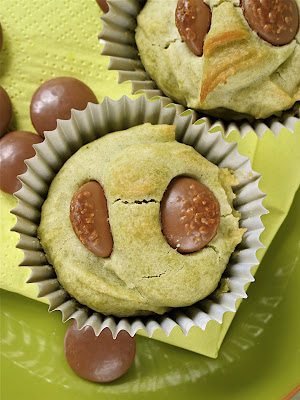 I dare say I'll end up posting brief things during August and I will still be my usual chatty self on Twitter and the new Maison Cupcake Facebook page (which you should "like" by the way if you haven't already… I promise it won't be a mere repetition of the material on here).
On the whole though I will be enjoying the pause to reflect on how to make sure the WordPress site is as good as it can be. A few changes are afoot.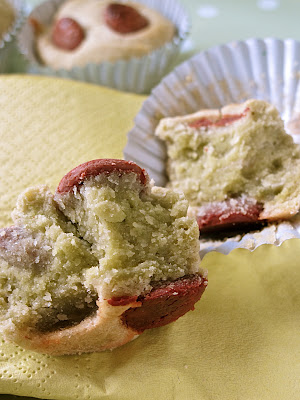 Today I can share a couple of things, these peculiar looking fairy cakes are my rather odd contribution to
Matcha Madness
over at The Catty Life, and some pictures from a tea and chocolate tasting event I attended a couple of weeks ago. (Matcha = Green Tea, you see my logic here).  I won't win but then I've probably exhausted my winning dust with the holiday won at Cybermummy.
Said fairy cakes look so odd because they were my first attempt at gluten free, egg free baking.  I'm not going to include the recipe here as I think it needs tweaking – consider this an appeal for help, where the hell did I go wrong?!
Take one standard fairy cake batter mix, substitute the flour with gluten free flour and the eggs with vegan egg replacer, replace butter with vegetable fat and this is what you get.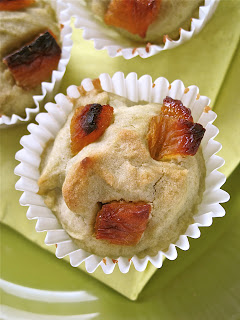 I added matcha and some Galaxy Counters to half of the batter, the rest was either studded with chopped apricots or whole cherries.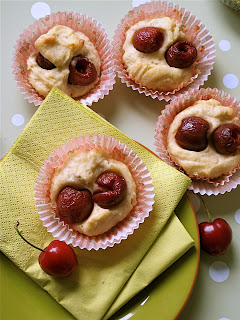 They don't rise (no gluten I guess), they look a bit funny but actually were quite compelling to eat, dense and comforting, almost like fudge but not sweet. A case of, they taste better than they look.  But that's not a lot of help to a food blogger.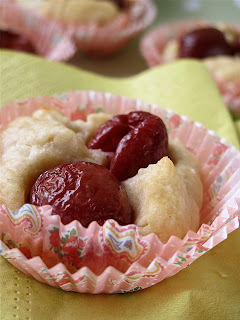 But why you cry?
Well erm… I have a genetic predisposition to sky high cholesterol levels that I've been in denial about. Certainly the low fat angle is one I'm going to have to take seriously in my own diet from now on even if I still blog about lots of stuff that I can't eat myself.  How long I can motivate myself to do that remains to be seen…
The gluten free experiment is inspired by my mother who recently cut wheat from her diet and looks fantastic. I may not manage to eliminate wheat completely but I can embrace my inner Gillian McKeith and seek out alternatives wherever practical.
So I need to look deeper into this gluten free, egg free lark, but certainly I promise not to darken my shiny new WordPress blog with any of it unless I get better looking results.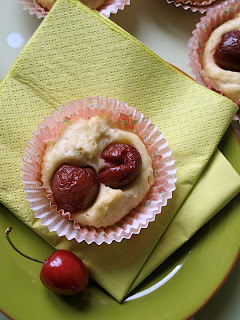 Onwards then to the Green and Black's tea and chocolate tasting event which I recently attended at
Tapped and Packed
in the West End,
before I promised my doctor I'd eat nothing but porridge and steamed fish for three months.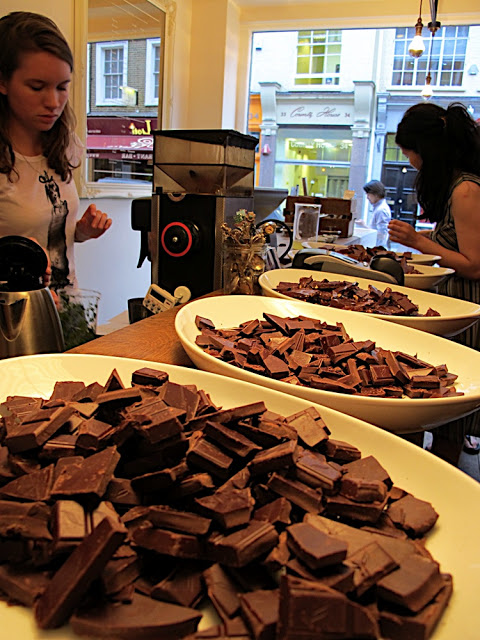 Truth be told, for me at least, an evening of tasting chocolate alongside varieties of tea and coffee was highly challenging, not least because of the heat that evening. It was flipping hot that night and I was gasping for a cold drink.  I had a long wait!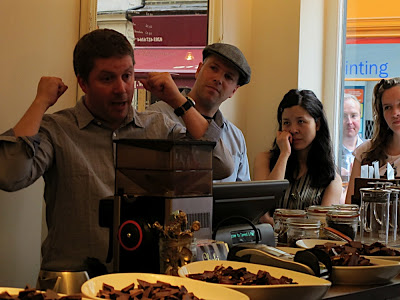 After a couple of talks about tea and coffee production we were given five types of Green and Black's chocolate to taste alongside five types of tea and then repeated the chocolate tasting alongside five types of coffee.
I don't touch coffee. I could possibly pinch my nose and swallow black or green tea (no milk please, milky tea is the drink of the devil so far as I'm concerned), the only brown stuff you'll find me drinking is fizzy and comes in a silver can with red lettering on it. But not at the moment.*
* My diet coke addiction is a serious matter although it's generally met with hilarity when I try to explain it to people. I am currently ON the diet coke wagon as of three weeks ago but this has been an on off situation for around ten years. My longest period not drinking diet coke was 18 months. I do not take my current status as a non diet coke drinker for granted, were there support groups for people battling with diet coke addiction, I would be attending them, it's that bad.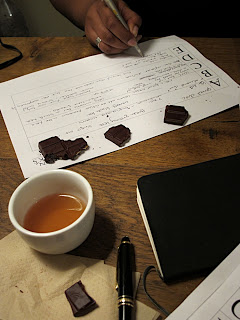 I'll be the first to admit I'm out of my depth doing any kind of in depth taste analysis. My verdict on wine is generally restricted to "if it's pink or fizzy I like it" and for chocolate the equivalent is "I prefer the milk one".
We didn't get to taste my favourite Green and Black's chocolate, their creamy milk variety in the pale blue wrapper. I'm fully aware that this preference may be sacrilege to seasoned chocolate connoisseurs but well, I know what I like!
We tasted one yummy (and increasingly squidgy as the evening went on) milk chocolate containing caramel and then four dark ones. Personally I'm not wild about dark Green and Blacks unless it's Maya Gold but there wasn't any of this tonight either.  The only tea I said I liked was the one everyone else said didn't taste of anything.
The good news though is that Green and Black's peanut flavour which is apparently incredibly popular in the states, is coming to the UK later this year. Well it's good news to people who can eat chocolate and peanuts at least…
I was a good sport and tasted the cappuccino but instantly wished I hadn't. Bleugh. I passed on the remaining four coffees.
Due to my newly faced up to health situation, I will not be eating my bag full of Green and Black's chocolate. I will though be giving it all away to a lucky reader/friend/relative in the near future but you'll no doubt agree this should wait until the temperatures dip some more. Melted chocolate through the post is not a good thing.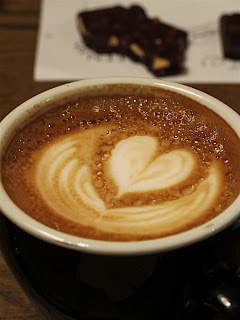 A very cliched food blogging picture of a cappuccino… it might love me but the feeling is not reciprocated!